It's hot…finally, and we've been testing flattering swimsuits that not only look great but also stay put when you want to move about
The sun is finally here and oh my, isn't it glorious? Shops are full to the brim of swimwear and beachwear – you can't move for swimsuit options right now.
Swimsuit shopping can be fun but it can also be frustrating. You try on dozens of swimsuits only to find that they won't give your curves the support they need and look like they wouldn't leave very much to the imagination, this is no good if you plan to actually swim in your swimwear…
Teeny tiny bikinis may be what most people look for during the summer months but they are pretty useless if you want to do anything other than lie by the pool sipping a Pina Colada. If you're going to be swimming, surfing or diving, you're going to need swim gear that's slightly sturdier than your average kini.
Swimwear can cost a pretty penny too and many of us don't want to part with our cash to buy a skimpy bikini that we'll only wear once. We want beautiful looking swimwear that we can wear to the beach but also to the gym pool.
That's why we've rounded up the best looking fitness swimwear that you can still wear to the beach.  Our top picks are all comfortable, supportive and functional.
Best for function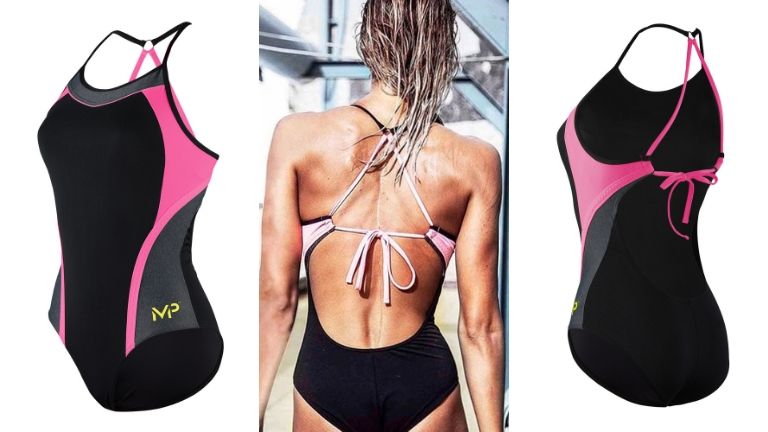 Michael Phelps – do you recognise that name? Of course you do, he's only the most famous American swimmer like ever, who by the way, won a whopping 28 medals!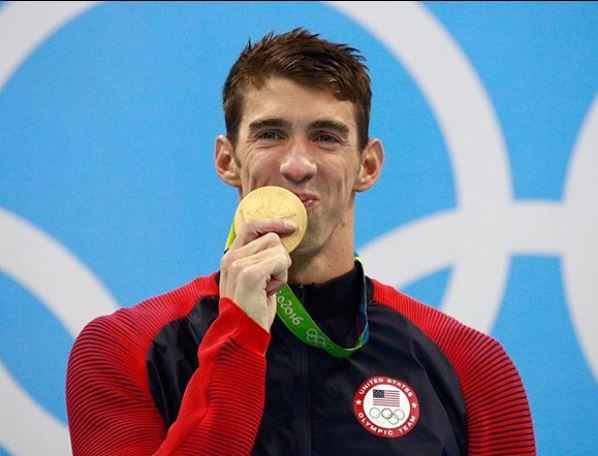 Well now you can swim like an Olympian in his very own swimwear range. The swimsuits are made in long-lasting Aqua Infinity fabric which means that the swimsuit will keep its shape and elasticity for over 200 hours in a chlorinated pool.
So if your go-to gym workout is a swim in the gym pool then this swimsuit is the ideal choice.
The Olympian approved swimwear also provides sun protection with UPF 50+ for when you hit the beach.
The relaxed tie cross back and adjustable straps allow for a perfect fit and again is perfect for a relaxed yet functional beach look.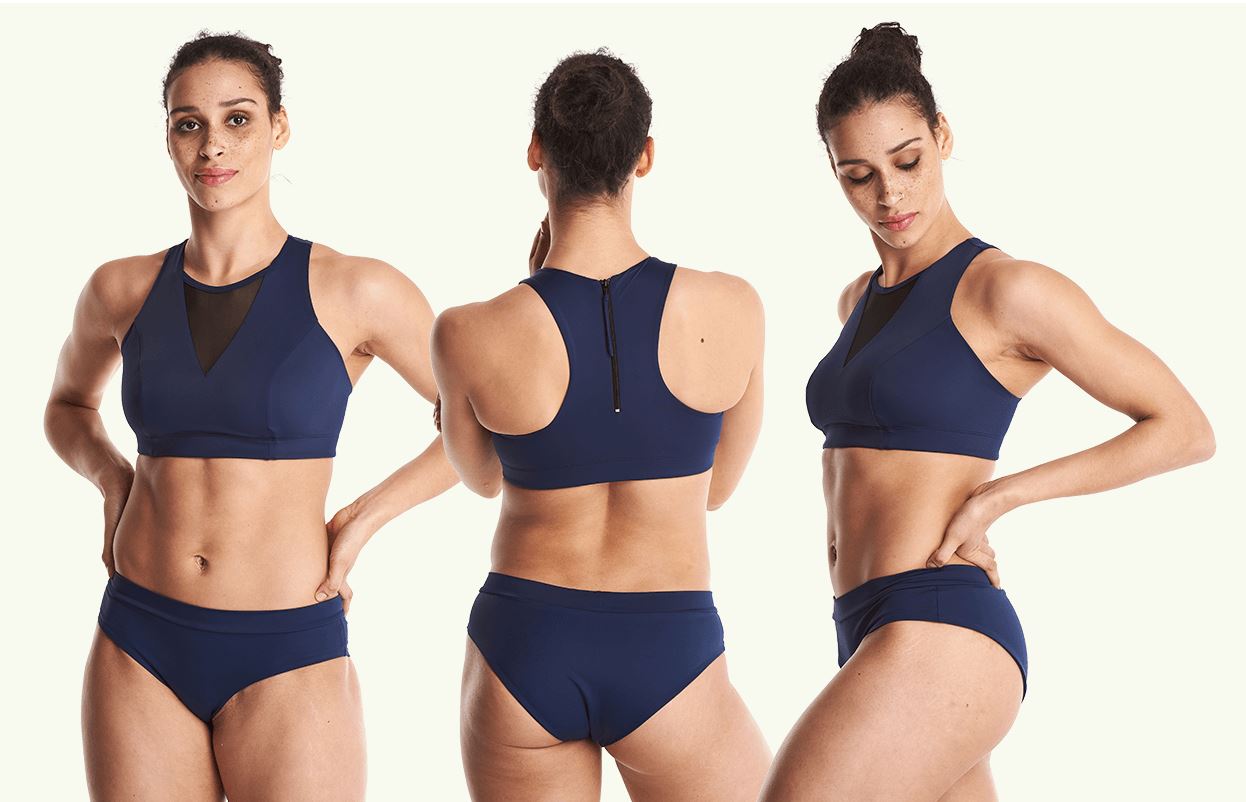 Deakin & Blue make swimwear that not only feels incredible to wear, but provides comfort, stability, style and sustainability, combining fabrics made from regenerated ocean waste.
This Deakin & Blue swimbra is a best-seller, the swimbra set is perfect for those of you who want a great choice of swimwear that you can be still be active in. The top has built in breast support for all those bigger boobied ladies out there, plus it is low cut under the arms to minimise chaffing.
Oh and the bottoms are dive proof and won't be going anywhere. Sleek, sculpting and sustainable. We're totally sold.
Best for sexy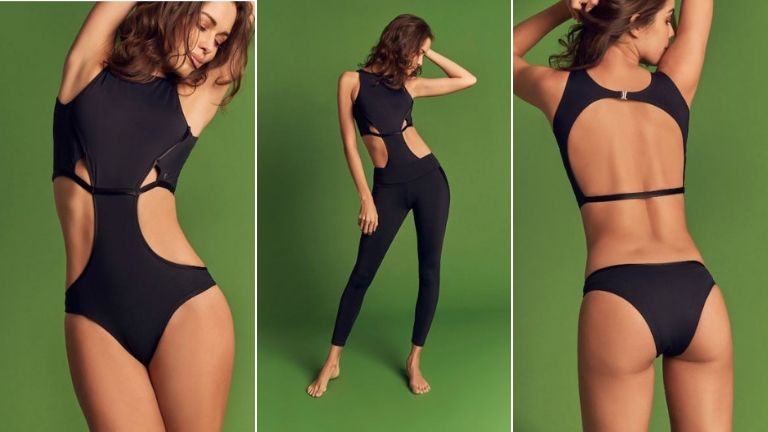 Push Rio active wear was inspired by a love of movement, so you can bet your boarding pass you'll be able to move around just fine in this stylish and sexy one piece.
Push Rio's active wear is no doubt fashionable, and when creating their designs they keep in mind the increasing need for a high performance and functional swimsuit that can deliver on all fronts – fashionable, functional and multi-purpose.
The Gabriela swimsuit can also be worn as a bodysuit – take my money now. Seriously.
Often on holiday people wear their swimwear under their clothes, and this swimsuit will look great underneath any dress or matched with some funky trousers.
And can we just take a moment to appreciate how sexy this swimsuit looks. The high neck, the sensual middle panel the bikini-looking back – just gorgeous.
The Gabriela swimsuit comes in two colours, black and pink, both are available for £60 each.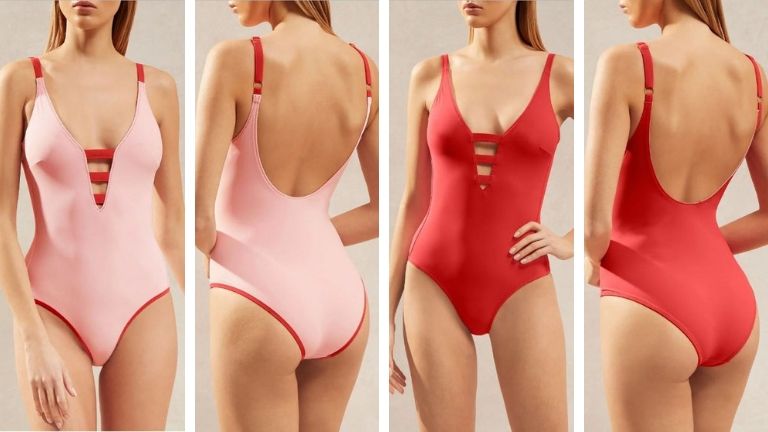 Heidi Klein is one of Healthista editor Anna Magee's absolute favourites, 'not only do they look amazing but they literally do not move, Heidi Klein is perfect for the gym pool and the beach'.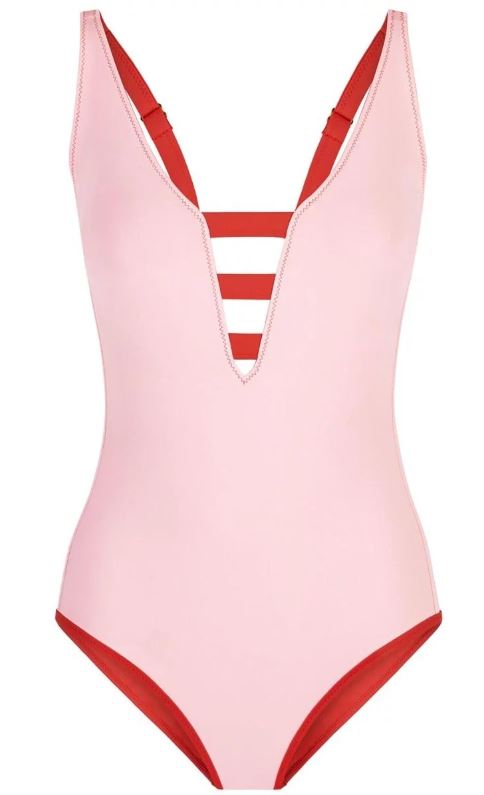 Focussing on exclusive styles and prints, Hedi Klein has earnt a celebrity following from the likes of Kate Moss to Olivia Palermo, to Sienna Miller and Jennifer Aniston.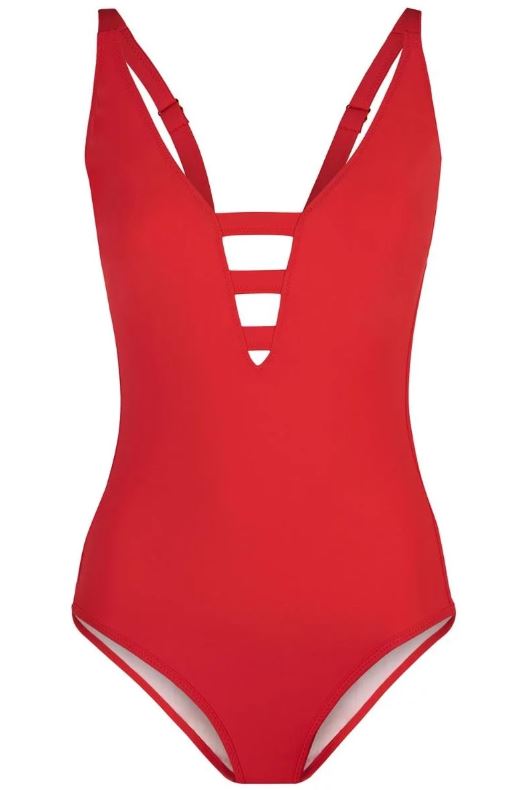 The colour and fit of this swimsuit just oozes sexy. The front neckline is cut as a low plunge V, with some contrast elastic strapping detailed at the centre. The back of the costume is scooped and the legs are finished with contrast binding.
Oh and this swimming costume is fully reversible, meaning you get two swimsuits for the price of one.
So not only is it sexy, its versatile too. Perfect for those who worry about going over their luggage allowance.
Best for sustainability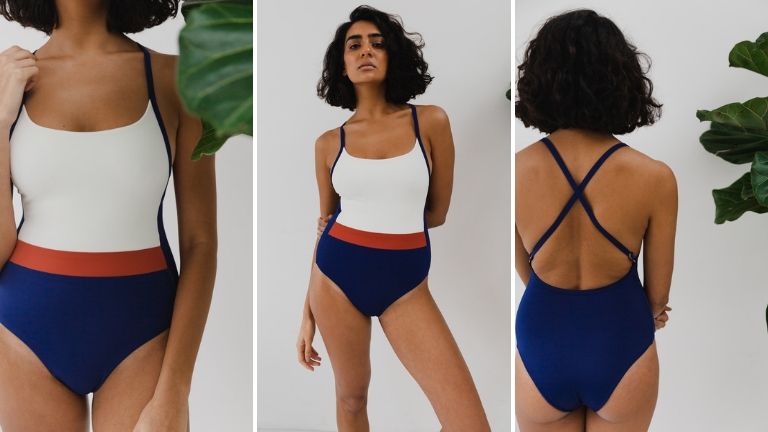 Protecting our oceans has become paramount, something that co-founders Natalie Glaze and Zanna van Dijk of Stay Wild Swim are extremely passionate about.
After growing up exploring the depths of the open water and developing a connection with marine life, the pair believe that the ocean is the lifeline of humanity, and feel a responsibility to give back to the ocean and Stay Wild Swim is their way of doing just that.
Describing it as their passion project, they are fighting the marine plastic problem facing our oceans one swimsuit at a time. Stay Wild Swimwear is created using ECONYL, a yarn made from regenerated ocean plastic and other waste
The swimwear is stylish yet simplistic and flatters every woman. Our favourite swimsuit is the Lunar One Piece, designed by Zanna and Natalie to be flattering, feminine and functional.
The coloured panels flatter your silhouette and the adjustable straps mean the piece perfectly fits to your body. We can definitely see this swimsuit and the beach and at the gym.
https://www.instagram.com/p/BwMOOSMlrBw/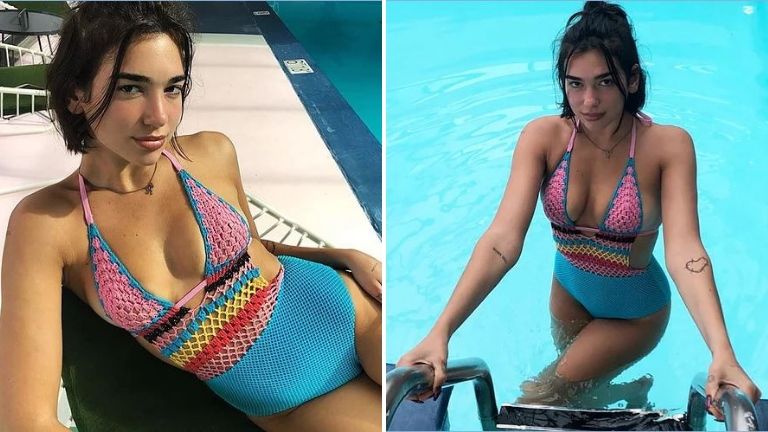 As you can see, superstar Dua Lipa is a fan of Auria so that means we totally are too. Another environmentally friendly brand, Auria is made using ECONYL regenerated yarn, recycled from discarded fishing nets and other Nylon waste.
This groovy one piece may look slightly out of place in the gym, but who cares we couldn't not add it to our round up because well it's just so trendy!
Best for sport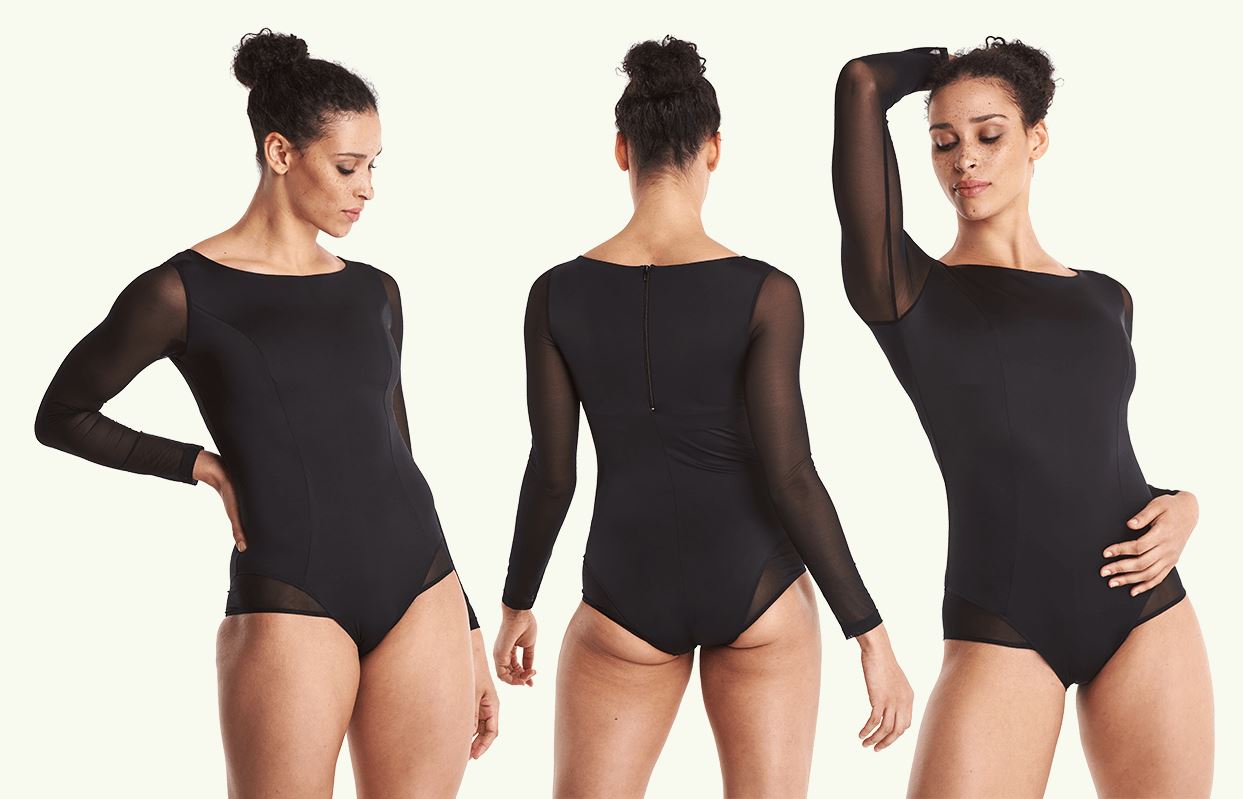 Are you a surfer chick? Do you need a cossie that's half swimsuit half wet suit? Deakin & Blue have you covered with their stylish long-sleeve swimsuit.
Sleek, elegant and versatile, this swimsuit really is a must have for surfing, swimming or simply just worn with a pair of denim shorts at the poolside bar.
Deakin & Blue's swimwear is created in a small London factory, using 100% recycled material from old fishing nets and industrial plastics, so it ticks the sustainability box too.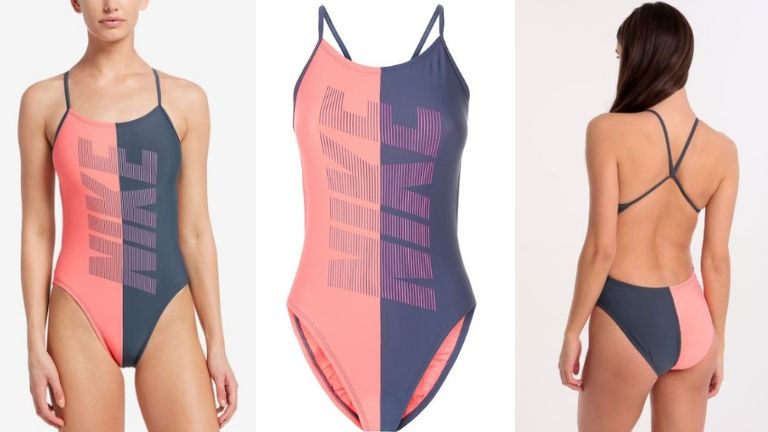 Nike Swim Women's Rift Cut-Out One-Piece is a sporty yet very cool looking swimsuit if we do say so ourselves.
Bust support? Check. Chlorine-resistant? Check. Comfortable? Check. Flat seams to reduce chaffing? Tripple check.
Not only does this swimsuit tick all of those boxes but it also has high leg openings, setting the swimsuit higher on the hips. This offers a better range of motion but with a sexier look – ideal for all you surfer chicks out there.
Best for versatility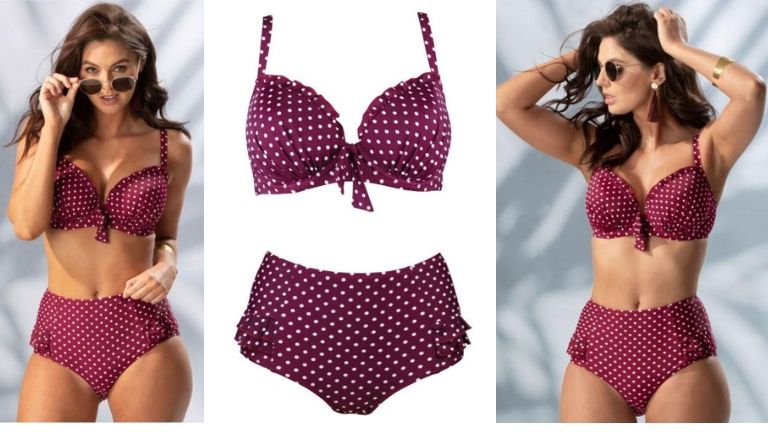 Pour Moi founder Michael Thomson believes that people shouldn't have to overpay for good-fitting lingerie, swimwear and nightwear, no matter what their size. In fact, Pour Moi even go up to cup size J.
This bikini is going to hold you in place – trust us. The high waisted shorts offer generous coverage meaning you wont have to worry about anything falling off (or out), plus the frill detailing to the sides makes them oh so fun and flattering.
But the big bonus – the set is SO affordable.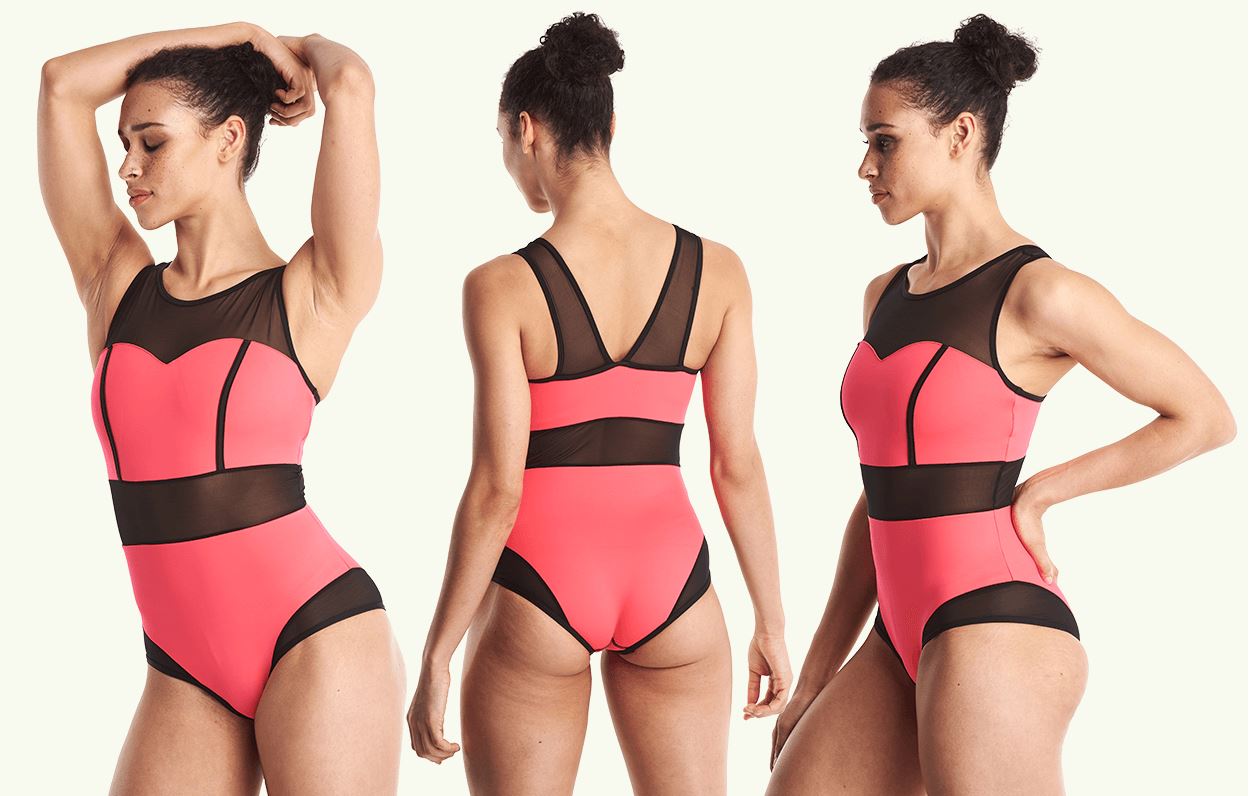 Another feature from swimwear brand Deakin & Blue because, well need I say more, just look at this swimsuit. It literally screams groovy chick and looks like it would fit you perfectly in all the right places.
Th bright coral colour will look great on holiday, but it isn't so bright that you'll look to out of place at the local lido or spa pool.
The Signature Swimsuit includes a super soft mesh that sculpts and enhances your silhouette and elongates your legs. The contrasting mesh waistband highlights your waist and will emphasise an hour glass figure beautifully.
Oh and don't forget Deakin & Blue make their swimwear by combining fabrics made from regenerated ocean waste, so this swimsuit gets sustainable approval too.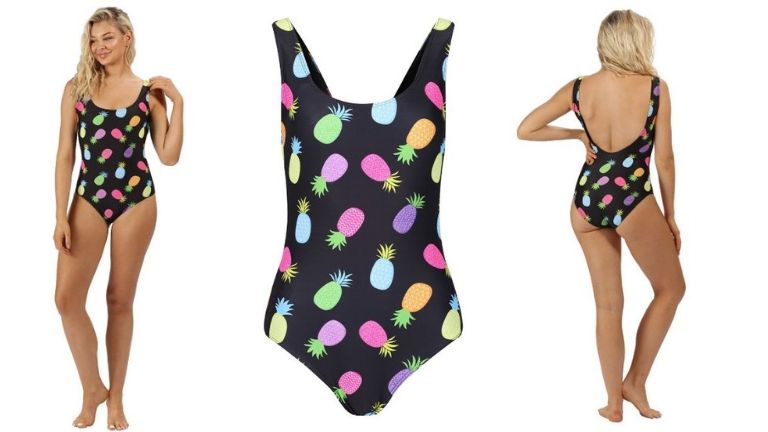 Fun, funky, flirty, functional, fitted and fantastic value. Yet another swimsuit that will look great on the beach but not out of place when swimming at the gym. It's double lined so stays opaque (no worrying whether it's see through or not) plus it offers UPF50+ for ultimate sun protection.
The suit allows freedom for movement with a scoop neck and back that makes it great to wear under a wet suit if you need to.
More Healthista Content:
Body transformation week 8 – The ONLY gym moves you need for serious fat loss
5 natural fixes for joint pain proven by science
Like this article? Sign up to our newsletter to get more articles like this delivered straight to your inbox.