This week's veggie recipe is from Power Pulses by Tami Hardeman – a delicious pigeon pea samosa bake
This week we're drawing inspiration from the power of peas. This Pigeon Pea Samosa Bake from Power Pulses: 150 superfood vegetarian recipes
 by Tami Hardeman is a delicious combo of spicy veg and crunchy filo pastry. It's truly one to impress your dinner guests and with only 150 calories per serving, it's also going to impress your PT (or internal PT).
The hearty dish is filled with unique aromas and is a nod to a more traditional style of Indian samosa. Hardeman recommends that for an aromatic garnish you should sprinkle the pastry with crushed cumin seeds before baking – YUM. And if you want to make it vegan? Easy. Just replace the ghee with vegetable or rapeseed oil.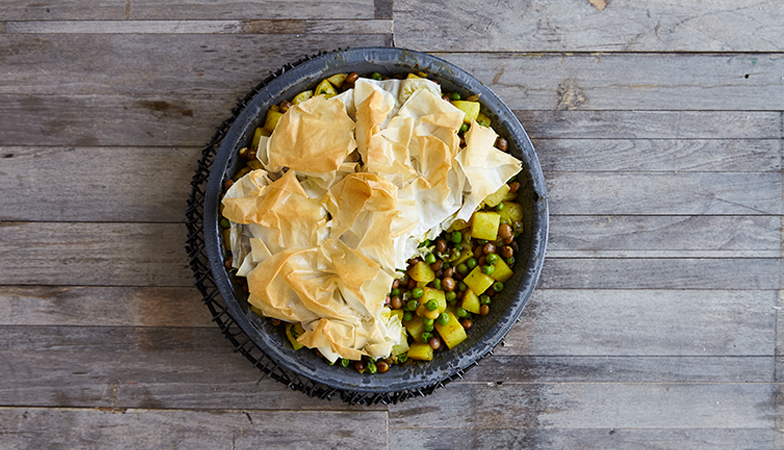 Ingredients 
550g (1 ¼ lb) peeled and diced potatoes
115g (4oz) frozen green peas, thawed
3 tbsp ghee
1 small onion, diced
1 small green chilli, deseeded and finely chopped
¼ tsp ground ginger
¼ tsp ground coriander
¾ tsp garam masala
1 tsp ground cumin
¼ tsp turmeric
¼ tsp ground cayenne pepper
¾ tsp curry powder
1 tbsp water
75g (2 ½ oz) cooked pigeon peas, or mixed beans
90ml (3fl oz) vegetable stock
10g (¼ oz) chopped coriander leaves
4 sheets of frozen filo pastry, thawed
To make 
Preheat the oven to 180°C (350°F). Lightly oil a 23cm (9in) round baking dish.
Bring a large saucepan of water to a rapid boil. Add the potatoes and cook for 8–10 minutes until tender to the point of a knife.  Meanwhile, place the green peas in a sieve or colander.  When the potatoes are cooked, pour the potatoes and hot water over the peas.  Let drain thoroughly.
In a 30cm (12in) frying pan, heat 2 tablespoons of ghee over a medium-low heat until shimmering. Add the onion and chilli and cook for 2–3 minutes until soft. Incorporate the ginger, ground coriander, garam masala, cumin, turmeric, cayenne, curry powder, and water.  Cook for an additional minute until the spices are warmed through.
Add the potatoes and green peas, pigeon peas (or black-eyed beans), stock, chopped coriander, and remaining 1 tablespoon ghee. Stir to combine.  Season with salt and pepper to taste.  Remove from the heat.
Transfer the mixture to the baking dish. Crinkle the filo sheet and place atop the potato mixture. Bake for 20–25 minutes until the filo pastry is golden brown, then serve.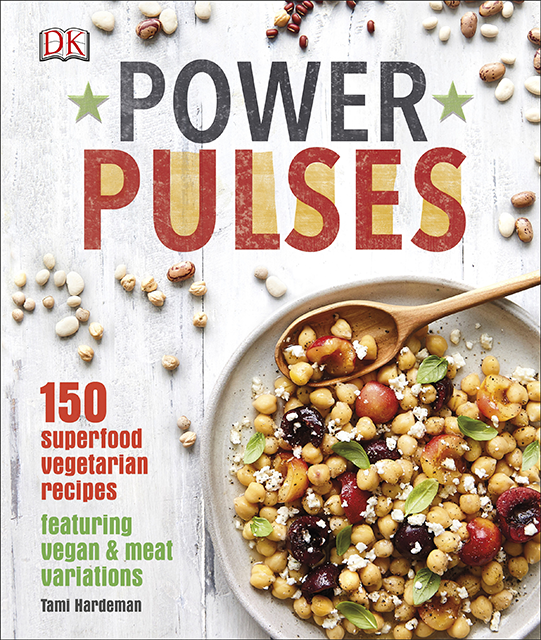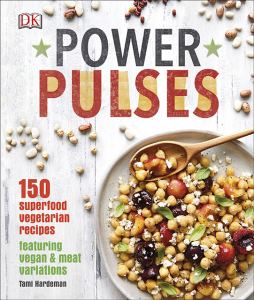 Tami Hardeman is a professional food stylist and food blogger behind the popular site Running with Tweezers. Her work has been featured in numerous magazines, including Southern Living, Cooking Light and People Magazine and nearly a dozen cookbooks.
Power Pulses: 150 superfood vegetarian recipes
 by Tami Hardeman. DK, £16.99. DK.com 
Read more
Vegetarian paella recipe with summer vine vegetables and almonds
Vegetarian recipe of the week: 10-minute gazpacho soup
Vegetarian recipe of the week: Spinach-shiitake salad with yuzu-wasabi dressing
Like this article? Sign up to our newsletter to get more articles like this delivered straight to your inbox.