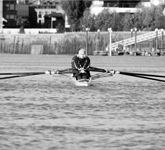 Four women will combat Pacific storms, irregular sleep and isolation as they attempt to cross the world's largest ocean next year.
The Coxless Rowers hope to be the first all woman four person team to row 8,000 miles across the Pacific Ocean in April 2014.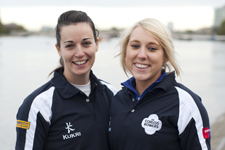 Annabel Hancock and Laura Penhaul, co-founders of The Coxless Rowers, will spend 155 days with only 64 million square miles of water, their boat, and team morale as company to raise money for breast cancer care.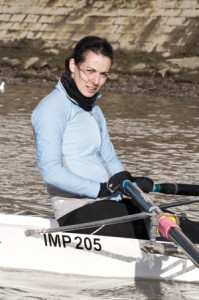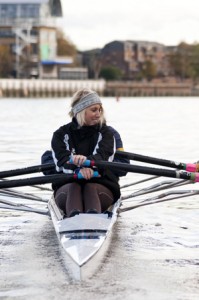 Laura said: 'We are rowing in memory of Patricia, a very brave lady and wife of my close friend Rashid.'
Laura met Rashid when she was working as a physiotherapist. Not long after getting married, Patricia fell pregnant but just three months later she was diagnosed with breast cancer.
Patricia was faced with the difficult decision to either fighting for her own health, or her unborn child's.
At four months old the couple's baby, Yasin, was prematurely born and Patricia immediately began chemotherapy.
Sadly, several months later Patricia passed away. Yasin is today, a healthy 18 months old.
Annabel said: "I think we can all associate with someone who has battled with cancer and this challenge is a great way to spread the word about breast cancer care."
Inspired by a book she read, Annabel said she has always wanted to row across the Pacific but it wasn't until, after making an acquaintance on a night out who said he could help make it happen, that it became real.
Once she was in touch with the right people to influence the quest she was soon introduced to Laura, another keen adventurer.
Annabel said: 'We worked tirelessly to find support and make the challenge possible.'
In order to fund the row donations are being split. 40 per cent of sponsorship is going towards funding the row and 60 per cent goes to breast cancer care.
The team already have a huge number of sponsors, but a further £180,000 still needs to be raised for the row to take place. Once this target is achieved the team can work to raise significant funds for the charity.
Sponsors can donate by either specifically buying some of the equipment the team need, or by simply donating to the cause, all of which can be done via the Coxless Rowers website.

Tony Humphries, of Ocean Pursuits, is the team's logistics support. Tony has experience organising ocean rowing events and has helped the girls plan their route.
Setting off from California's Long Beach the four woman team will row for a continuous 3,028 miles, over 50 days, to Hawaii where they will break before heading to Samoa, another 2,608 miles away.
The team will stop to re-stock the boat and make contact with the local media.
The girls said stopping is also a great opportunity to spread the word about breast cancer care and the strength of women in sport.
The last leg of the journey will see the team row a final 2,810 miles in 45 days to Cairns, Australia.
The route has only ever been completed by solo or pairs teams but never in a continuous three-stage row or by a team of four women.
The girls have been training in stages for the last 18 months, focusing on different areas of preparation at different times. They will receive cognitive behavioral therapy from a sports psychologist to prepare them mentally for the challenge.
Annabel said: 'We are training physically too, we need to put on an extra 10 to 15 kilos in muscle before we set off next year so we are having to eat plenty of carbohydrates and proteins.'
During the row dehydrated food will be the main source of the estimated 7,000 calories needed a day.
Last Christmas Laura wrote on the Coxless Rowers blog site that training had stepped up. Then, the ladies were training six days a week, spending over ten hours sat on a rowing machine at a time.
Laura said: 'It is important to train together physically, but to prepare together emotionally too. We want to get on the boat as great friends, and get off as even greater friends.'
But Laura and Annabel are still in search of two more companions for their crew.
Last weekend they invited possible candidates to join them at the Round Island Race at the Isle of Wight.
Laura said the response to their appeal was phenomenal. She said: 'Some of the applications made me so emotional.'
They said one applicant was travelling from Scotland to the Isle of Wight just to take part. Laura said another had been in hospital only days earlier and had emailed them a photo of herself from her hospital bed promising to be well enough to make it.
Nineteen women joined the girls at the event in hope they have what it takes.
The two rowers describe themselves as totally different people with different motivations and interests and they hope their final two crew members will be unique as well.
Annabel said: 'They need to be committed and we all need to get along. This challenge will take over their life.'
30-year-old Laura is a musculoskeletal physiotherapist. Her career started in Oxford where she graduated from Oxford Brookes University and worked at The NHS Trauma Centre of Excellence. She has worked with London 2012 Paralympians and completed her own Olympic distance triathlon. She has also completed London and Paris marathons.
She said she will miss being able to shower the most while at sea.
Annabel said she is most worried about the isolation. She said: 'I will miss socialising a lot.'
Annabel, 28, is from Bristol. She is a speech therapist, has climbed Mount Kilmanjaro and white water rafted the Mekong and Trusili River. Last year she paddle boarded 1,000 miles along the Missouri River.
Rossiter Rowing Boats are building the team's boat. It will be complete with solar panels to power a watermaker converting seawater into a drinkable source.
For over five months the girls will live by a two-hour rowing, two-hour resting routine.
Annabel said: 'We will only sleep for one hour at a time. The other resting hour will be spent eating, repairing equipment, and giving first aid to each other.'
They will face storms and typhoons, but the girls said they are confident in all the support they have and are learning from other ocean rower's experiences.
Both of the ladies said they will be thinking of their charity and particularly their inspiration, Patricia, during these hard times.
Annabel said: 'She (Patricia) is our motivation because she was such a strong woman throughout everything.'
Annabel said: 'We said from the beginning we wanted this challenge to be close to women and female strength, life is far to short to pass up these opportunities which some people may never get a chance to experience.'
The Coxless Rowers are still in search of a headline sponsor.
Laura said: 'We are looking for someone to represent our team, inspire women and fly the flag for Breast Cancer Care.'
You can find out more about the challenge and sponsoring the team at http://www.coxlessrowers.com.  Pictures by Louise May Photography
Like this article? Sign up to our newsletter to get more articles like this delivered straight to your inbox.