In need of a winter escape? This week Queen of Retreats founder Caroline Sylger-Jones visits the Carbis Bay Hotel and Spa in Cornwall a great option if you want to take the children
The source of 'The Sands Hotel' in novelist Rosamunde Pilcher's popular books 'The Shell Seekers' and 'Winter Solstice', family-owned Carbis Bay Hotel is a solid stone, white-painted building that's lorded it over a privately owned and magnificent 25 acre Blue Flag accredited beach since the late 1800s. You can't go far wrong with this location, even in winter, and I visited it on a cold January weekend with my friend Naomi and our two seven-year-old daughters.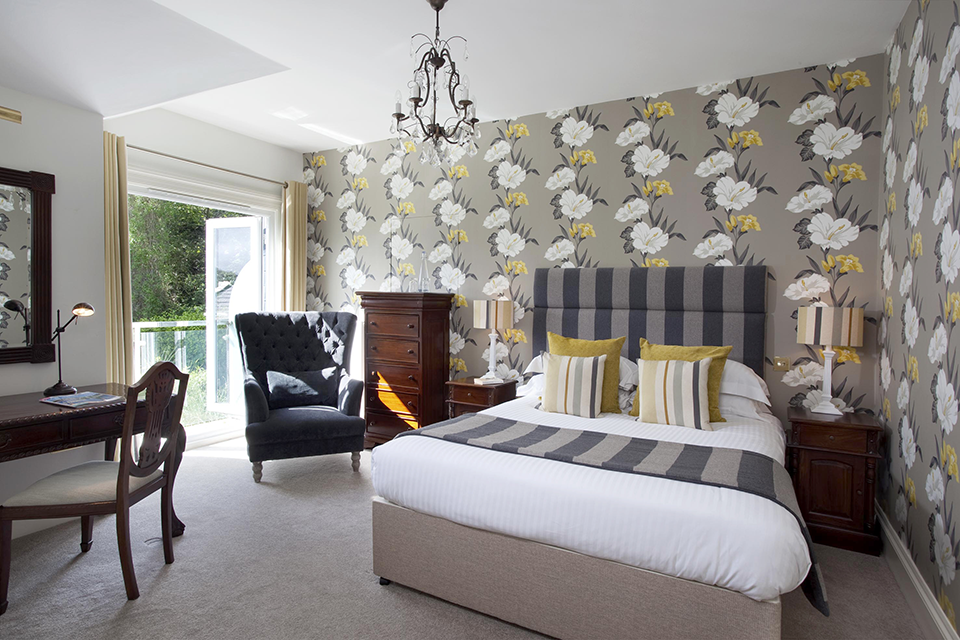 We took a granite 'cosy cottage' in the grounds. 'Sycamore Cottage' was a modern, easy to be in place to stay decked out in earth tones throughout with its own kitchen, living-dining room and courtyard garden – as well as Aromatherapy Associates products in the bathrooms, a welcome touch. It's a great option for those who have kids who need lots of space to muck about in, like ours do – though you do need to walk to the hotel for supper and to use the spa each time. There are 47 rooms inside the hotel, and lots of other self-catering and serviced apartments available. We played, walked, talked and hung out all weekend, and took it in turns to look after the children while we both had a treatment at The C Bay Spa (there's a kids club at the hotel, but it only runs during school holidays times).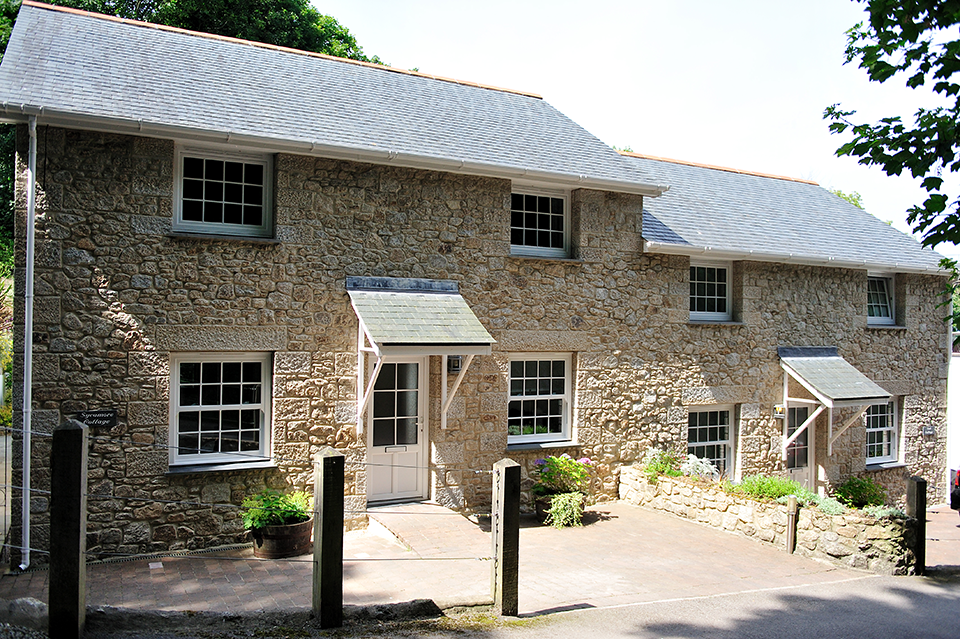 The spa is cute and well done, with a natty little Champagne bar where you can also order teas and coffees, and a rather super upstairs relaxation lounge with gorgeous fires, truly comfy sofas and wooden terraces overlooking the beach – we were impressed and touched that our children could hang out for a bit here after their swim. There's also a barrel-shaped sauna on a deck, a heated seating area beside it, an outdoor heated pool and hydro pool (the latter got super busy on the Saturday, so if you're here during a weekend it's best to ask ahead about bookings so you can visit it during calmer times). We found the changing room far too small for the number of people using the spa, and the communal coat hangers in there don't really work – they are made of wood and slope down slightly, so that most things slip off.
I liked the massage so much, in fact, that nearing its end I asked her to continue it rather than carry on to the short 30 minute Rose Facial I had booked
Treatments are inspired by the coastal location, including seaweed-based treatments from organic skincare brand, VOYA and its signature lava-shell massage, Serenity by the Sea, and there are lots of facial and massage options with gorgeous Aromatherapy Associates products as well as treatments dedicated to men.
Naomi had a brilliant massage with Holly, and I had an exceptional 1.5 hour Muscle Release massage using Aromotherapy Associates oils with Daniella. Her hands were strong, her manner calm and capable and I drifted deeply off inside my own world whilst she expertly worked through my tension. My body enjoyed the glorious heat of the heated bed, which was brilliantly moveable and easy to use to prop my knees. I liked the massage so much, in fact, that nearing its end I asked her to continue it rather than carry on to the short 30 minute Rose Facial I had booked.
During our stay we also braved the outdoor pool, which would be fantastic on warmer days for everyone. But though it is heated, and I always enjoy an invigorating year-round dip unless it's arctic temperatures, it really is too cold to use comfortably during winter for most people and the lack of a heated indoor pool meant that our kids couldn't really enjoy an extended swim and that we couldn't hang out and relax in the warm while they did.
Just like most hotels in the UK with differing Health and Safety standards to Europe – kids aren't allowed to use the beautifully warm hydro pool beside the pool. The staff offered us private use of a hot tub overlooking the beach for an hour on our last day instead, and this was splendid, for we enjoyed the heat and view together, then ran down twice like mad things to the seashore to have quick and wondrous January dips in the sea. A real tonic.
Back at the hotel, we enjoyed cocktails and mocktails while playing Uno, accompanied by a pianist – a lovely touch
The wide sweep of beach here truly is marvellous, and as well as running around on it, another weekend highlight for us was also walking along the South West Coast Path for 25 minutes to the lovely town of St Ives, enjoying the views and the exercise. If you stay longer, you'll find oodles of interesting shops in this town as well as brilliant beaches, restaurants and galleries including the Tate St Ives and The Barbara Hepworth Museum.
Back at the hotel, we enjoyed cocktails and mocktails while playing Uno, accompanied by a pianist – a lovely touch. Our evening meal in the comfortable dining room was truly delicious – the children loved their home cooked garlic bread especially, while we both went for interesting vegetarian options for our mains.
I had a delicious starter of mackerel fillet with horseradish and fennel followed by a perfectly cooked and super tasty Braised Sweet Galette of Mushroom and Chestnut, while Naomi had an asparagus dish with a freshly poached duck egg followed by a small but perfectly formed White Bean Broth.
A highlight for all of us was the Bread and Butter pudding on the desert menu after – sensational! – which we ate in the large conservatory – this was a lovely place to have breakfast too, as it overlooks the beach.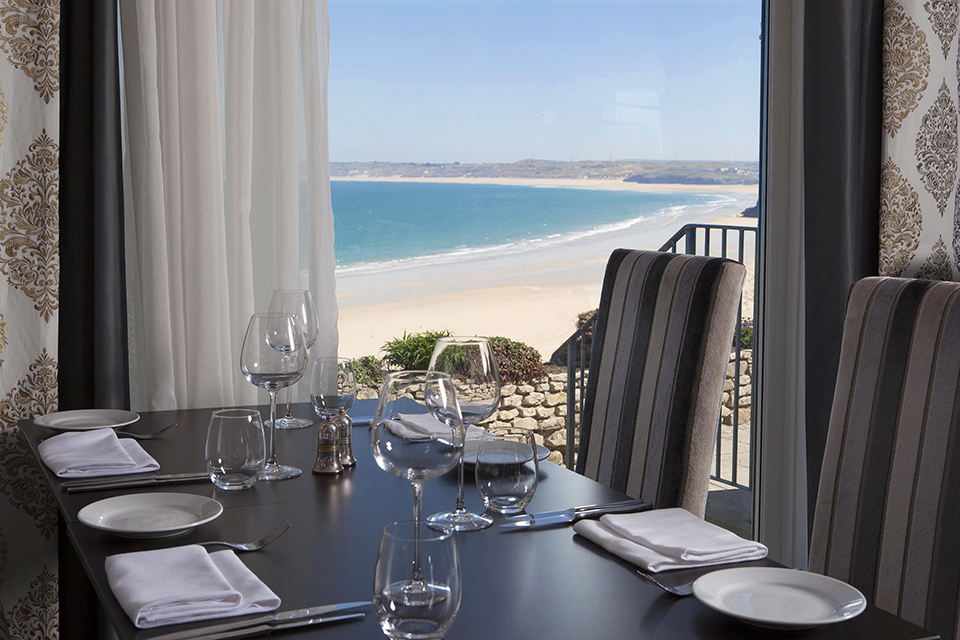 There's also a beach cafe here for lunches, suppers and coffees during the day – conveniently, we were able to order a decently cooked takeaway pizza from here when we left to drive home so that the kids could eat a late lunch enroute in the car.
The vibe throughout stay was friendly and helpful. You can tell there are regulars who love it here and visit often (as well as a fair few people who have got amazing Groupon deals). We did feel that the hotel was quite hot, and found ourselves wanting to open windows for fresh air too often. But other than that, we returned home renewed and with an extra spring in our step.
Room rates at Carbis Bay Hotel, Spa & Estate are from £270 per night. This is based on double occupancy and includes breakfast, taxes and fees. www.carbisbayhotel.co.uk.
Caroline Sylger Jones is an author and freelance journalist who travels the 
world checking out spas, retreats and healthy holidays for international newspapers, glossy magazines and websites. She is the founder and director of wellness travel site Queen of Retreats.
Follow on Twitter: @QueenOfRetreats
Follow on Facebook: @QueenOfRetreats
Follow on Instagram: @QueenOfRetreats
For more wellness travel ideas check out Caroline's brilliant site Queen of Retreats at www.queenofretreats.com.
Read more
Spa of the week – Hotel Las Caldas Villa Termal, Spain
Spa of the week: Four seasons Bali reviewed
The yoga retreat that can restore you in TWO days
The coaching retreat to get your life on track in 4 days – spa of the week
Like this article? Sign up to our newsletter to get more articles like this delivered straight to your inbox.