Queen of Retreats founder & leading wellness travel journalist Caroline Sylger Jones explores spas and retreats around the globe. This week it's a spa closer to home in Bath, No.15 Great Pulteney
This playful spa hotel is set on a beautiful street of elegant Georgian townhouses in Bath and has a glamorous bar and quirky spa for you to relax in. Fast, friendly and efficient check in at an oversized doll's house (so much more interesting than a reception desk) set the tone nicely when a friend and I stayed in suite 46 in the Coach House for a long weekend.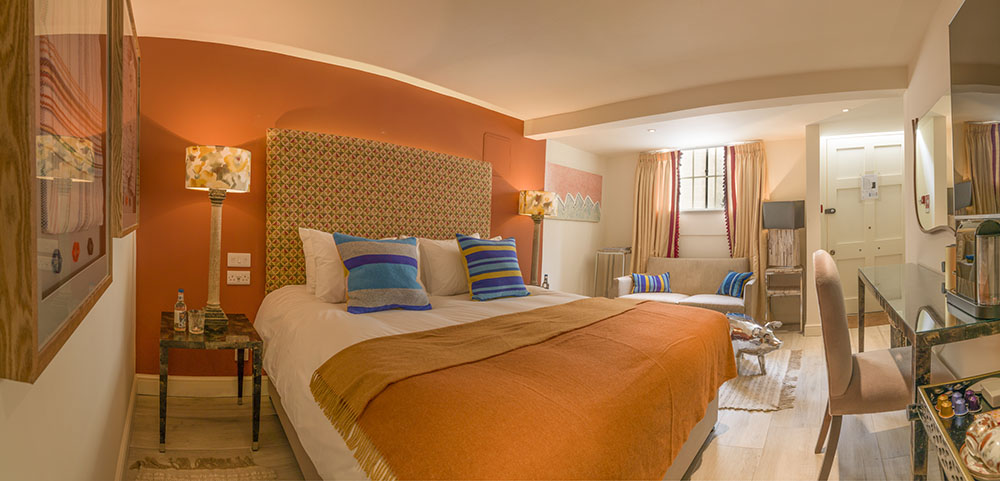 Set apart from the main hotel across a courtyard from the spa entrance, our sumptuous bedroom-cum-sitting room used an eclectic mix of colours, art and lighting to keep things interesting without being overbearing. There are 30 inventively and individually designed bedrooms for you to choose room, all with Banford toiletries in the ensuites and white robes to use to get to the spa.
You'll enjoy the little design surprises all over the hotel, from multicoloured chandeliers, shelves of books, mini art installations and surprising murals (check out the one of Van Gogh from the window in the ladies loo) to delightful collections of memorabilia, such as glass cases of pretty glass paperweights and beaded bags and shelves of nostalgia-inducing traditional kaleidoscopes.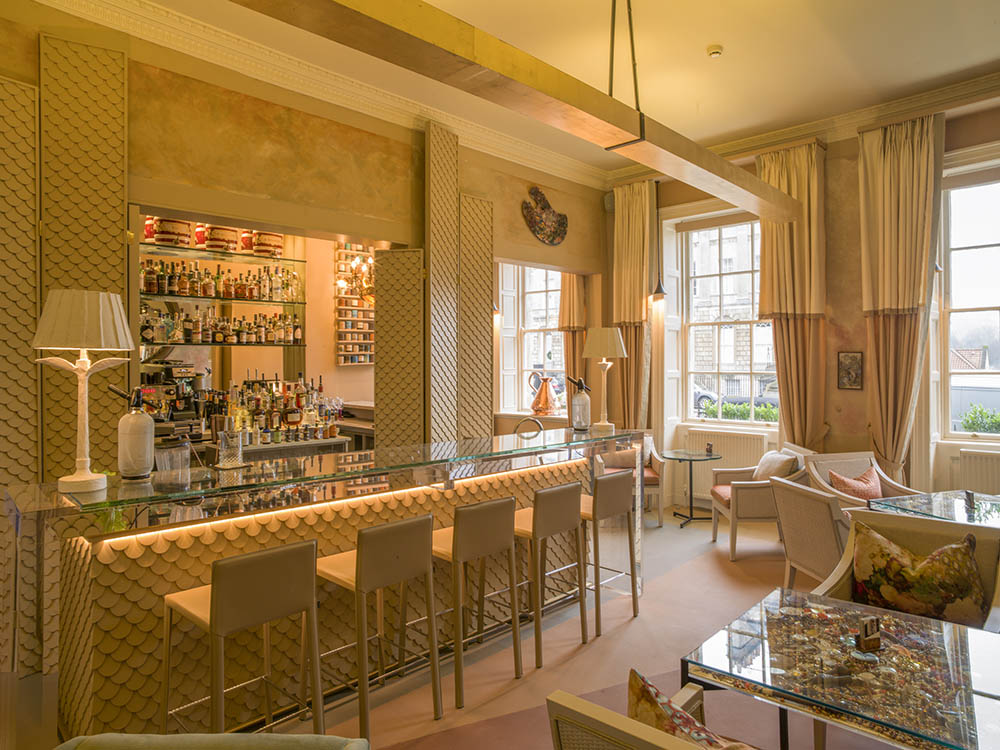 In Bar 15 we especially loved the see-through tables filled with beads and necklaces, dolls house furniture and other arty treasures, while the menu of drinks is written on playing cards you can shuffle through – we had a perfectly mixed mojito and marguerita to kick things off.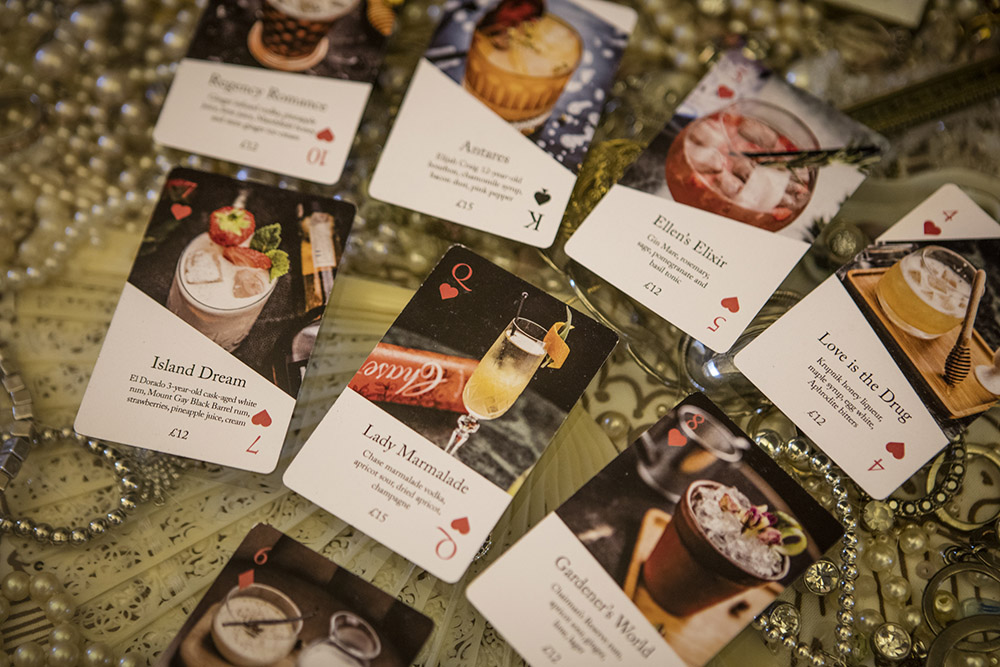 Such playfulness is carried over into Spa 15, hidden beneath the pavements in the basement, where refreshingly different signage and art installations make it stand out from bland hotel spas. Pink lockers have key rings with names such as Taxi and Getaway Car, while signs on doors read things such as 'Private (stay curious)'.
The Retreat was a favourite space of ours – a super warm sitting room for before or after a treatment with oil paintings of woodland pathways you want to climb into on the walls and a giant, vibrant painting of girl lifting her dress up to her knees and wading through water. There are copies of Breathe and Comely magazines here, and various naughty or healthy drinks to buy in the fridge.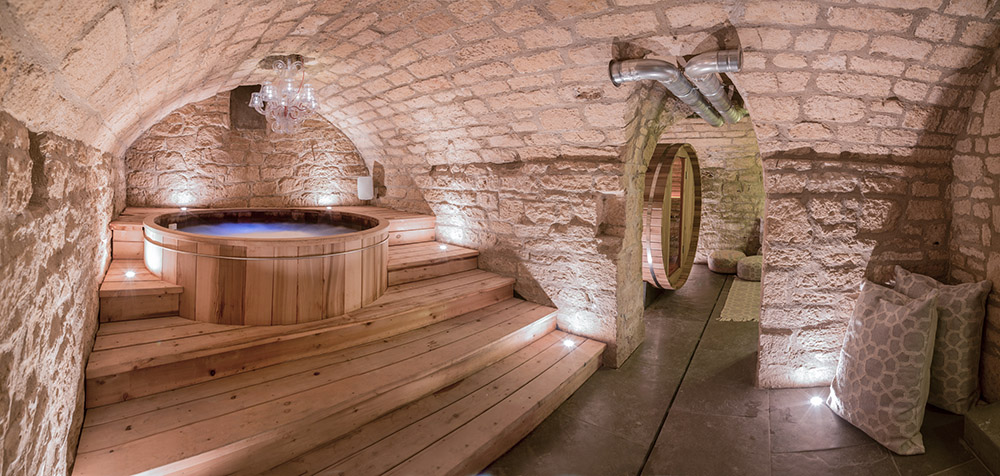 We spent a lot of time in the large cedar wood hot tub, which has nicely powerful jets, and the barrel-shaped hot sauna, which smells deliciously of wood. Hotel guests pay £20 to book a shared session here. Both are set in their own area within exposed stone vaults, and there's a relaxation bench with pink and blue wool cushions and a shower to use. On a separate floor, you'll find showers with ila products and a small steam room lined with pretty baby-sized mosaic tiles.
Holistic treatments from ila and Natura Bissé range from results-driven facials to deeply-relaxing massages and pampering body treatments. You have them in one of four themed treatment rooms named after art projects carried out by Bath Spa university graduates – a great support of local talent – from the eye-catching Pottery, Coral and Tapestry rooms to the curious Sock Room, which has a 'sock diary' of knitted socks on the bright white walls inspired by daily events in the personal life of the artist, Akane Ono.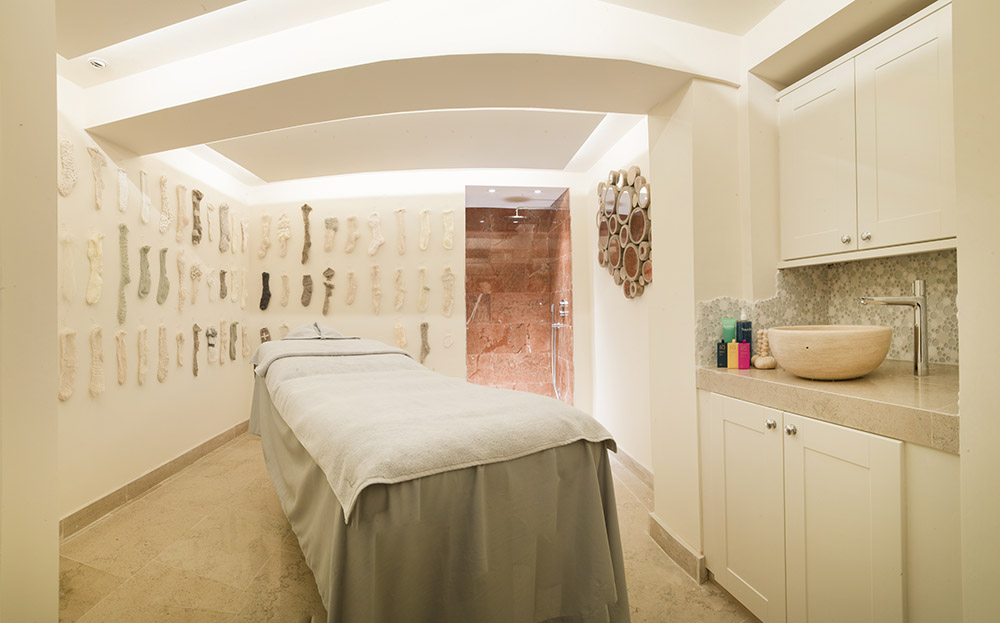 I had a 30 minute ila facial with Louise, a calming, slight but physically strong woman who then went on to give a seamless and smooth deep tissue massage using an ila oil for 60 minutes. Lovely piano music played all the way through, and I slept soundly on the sofa in The Retreat after.
Food at the hotel is decent – our suppers included carefully cooked and tasty pasta meals in the bar to a delicious duck concoction and an inventive vegetarian option based on creamed spelt, for which sommelier Marcello helped us pick a bottle of Voignier to enjoy in the hotel's remarkably lovely heavy weight glasses. There's a vegetarian menu for both breakfast and supper – ask for it, as this wasn't offered freely on our visit.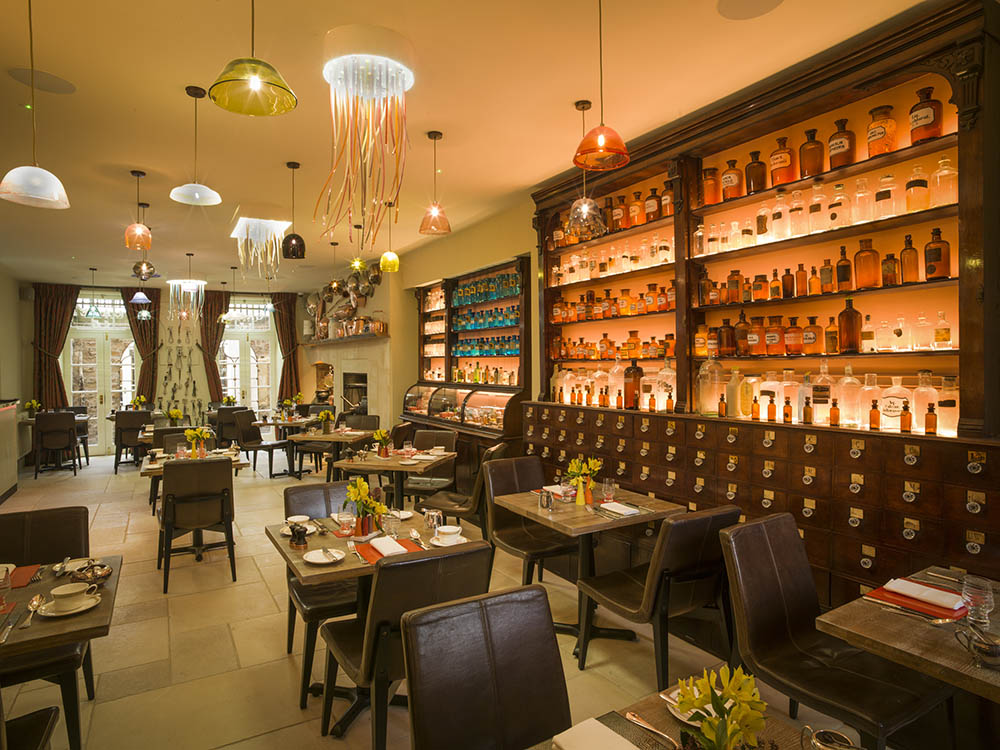 The basement restaurant is lined with large wooden dressers with drawers reminiscent of an apothecary, on which stand collections of vibrant turquoise, green and brown glass bottles. We did feel the lack of a guest sitting room with a warming roaring fire at the hotel, especially as we visited on a snowy weekend, but we'd still return. I'll be heading for the Hideout Suite next time, which has its own 'spa experience' bathroom with hot tub, stylish sitting room, dressing room and dedicated Sonos system.
Pricing: from £149 per room per night based on two sharing on a B&B basis. To book http://no15greatpulteney.co.uk; 01225 807015
Caroline Sylger Jones is an author and freelance journalist who travels the world checking out spas, retreats and healthy holidays for international newspapers, glossy magazines and websites. She is the founder and director of wellness travel site Queen of Retreats.
Follow on Twitter: @QueenOfRetreats
Follow on Facebook: @QueenOfRetreats
Follow on Instagram: @QueenofRetreats
For more wellness travel ideas check out Caroline's brilliant site Queen of Retreats, a curated collection of retreats brought to you by trusted writers and wellbeing buffs at www.queenofretreats.com
More spa on Healthista:
Spa review: Ammos Hotel, Crete, Greece
Spa Review: The Oitavos Hotel, Cascais, Portugal
Spa of the Week: Four Seasons Bali reviewed
Spa review: Kurhotel Skodsborg, Copenhagen
REVIEWED: new Titanic Spa – heaven in Huddersfield
Like this article? Sign up to our newsletter to get more articles like this delivered straight to your inbox.