The Oitavos in Portugal offers a spa escape with a beautiful view from almost anywhere. Emma Whitehair reviewed it for Healthista
Less than a 30 minute ride from Lisbon airport, past the crashing waves of the Cascais coastline, and we arrive at The Oitavos. A sexy, destination hotel, rising like some kind of high-tech corporation from the sand-dunes, pines and sea-grasses of Sintra-Cascais Natural Park. With a luxe car-showroom feel, the open plan lobby morphs into three different restaurant areas, reminding me of a larger version of The Sanderson in London. The main difference being the focus outwards – to its wild oceanside surroundings, in clear view from pretty much everywhere in the hotel thanks to the floor to all the external walls being floor to ceiling mirrored windows.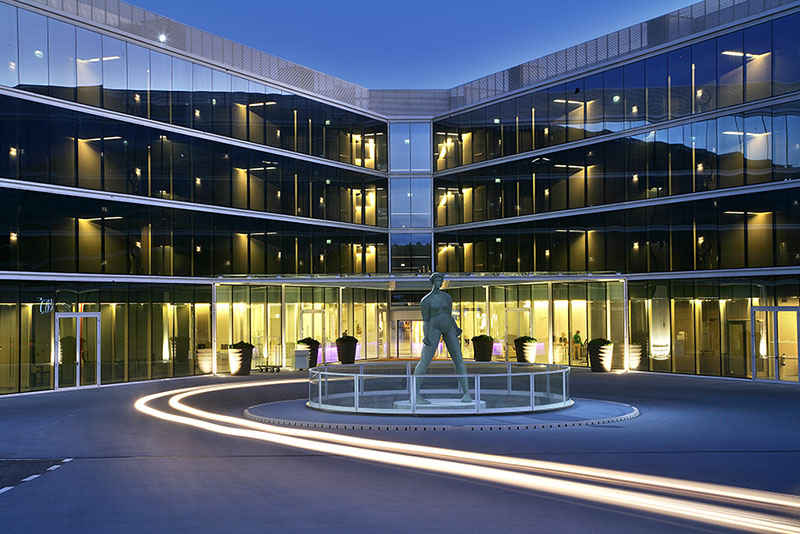 Opened in September 2010, The Oitavos, is an uber-modern, five-star property owned and run by the Champalimaud family, who strive to avoid a corporate feel (despite the fancy conference facilities). Rooms are set along corridors wide enough to land a jet on, with doors opening into light and spacious rooms. Mine was a corner suite, with views over the huge pool and down to the raging sea. A colour scheme of off-white, neutrals and marine blue with lacquer fixtures and frosted glass enclosed bathroom area created a modern loft apartment feel.
Mod cons include a Nespresso machine (2 euros for coffee pods though), those Japanese washlet loos (which I didn't even attempt to use) and two flat screen HDTVs with cable access – one in front of a plump sofa and the other at the end of the queen size bed. Technology is not always my friend – I gave up trying to screenlink my laptop so I could Netflix, and instead soaked in the freestanding tub and views of the Atlantic. Much better for soothing the soul than Game of Thrones anyway.
Fitness, the Spa and Balneotherapy
In the lower ground 'balneotherapy,' – where you bathe in mineral springs – you can enjoy the circuit of a heated seawater pool with jets, sauna and steam rooms and can continue meditating on the surrounding natural beauty. Even in the sauna and steam rooms, the floor to ceiling mirrored windows allow for nature watching. And this is certainly one of my spa nightlights. All was pretty quiet on the western front when I was enjoying the sunset in my sauna, but I hear rabbits and snakes are often spotted.
It's well worth booking one of the 20 plus different ocean-inspired treatments on offer. Although do note – even though the gym, 'balneotherapy' and pool areas are open all week – the spa treatment rooms are closed on Sundays and Mondays. Luckily on my weekend jaunt, I arrived on Saturday evening so was able to book a massage. Note that the spa menu shows just three types of massage, but if you chat with one of the skilled therapists – they can create something bespoke. I had a blend of myofascial release with shiatsu, which revealed incredibly tight glutes, and had me squirming in that wonderfully excruciating point between pleasure and pain. Not just me is it?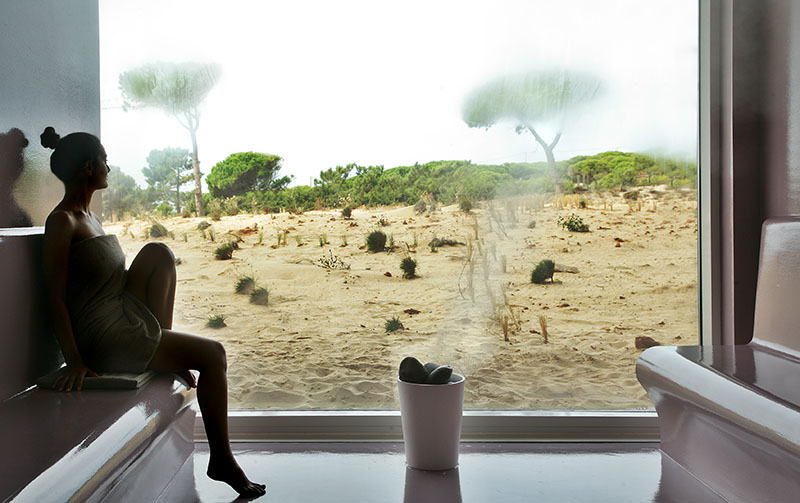 There's plenty on offer for those that want to maintain their fitness while staying at The Oitavos including  personal training, yoga (on the veranda) and Pilates room. The infinity pool is a good size for lengths. Word of warning though: it's heated via the air conditioning.  Meaning the less the AC is being used, the cooler the pool. Apparently in high summer it's warm, but when I visited this hotel in spring a few years ago it was as fresh then as it was in November. Still, if you're like me and you don't mind the initial jolt (very good for the immune system I hear) it's a wonderfully refreshing experience. Especially, when you have the sauna so nearby in which to thaw out.
Dining
Breakfast is included and the abundant buffet style selection covers all tastes. With all organic produce including fresh fruit, perfectly creamy scrambled cooked eggs, sauteed mushrooms, mini pastries and the local speciality – custard tarts. That was just what I ate.
The seaside setting means that most of the seafood is local, and the three dining options all have fish as the focus. That's including the Japanese Bar where dishes are prepared in front of you (very rare to find in this part of Europe apparently) and the club-house restaurant, where I enjoyed lunch alfresco. Opting for the Portuguese style house specialities – a generous serving of melt in the mouth ceviche, 'cooked' in lime and served with finely chopped red onions, chilli and coriander. Simply delicious. Followed by salty grilled codfish served "a bras" style with a kind of rostu. The food was made all the more delicious while eaten from sun-bleached decking overlooking the golf course and ocean.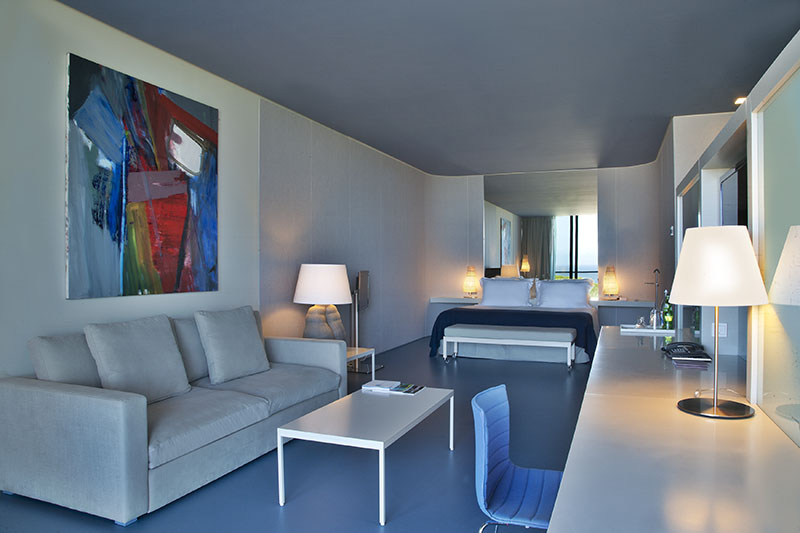 Other Activities
The buzzy scene going on in the clubhouse is one of the main draws. It seems to be the award-winning Oitavos Dunes golf course, recognised today as one of the finest national links courses in the world. There's also the best surfing in Portugal nearby – which is definitely next on my to-do list.
How about exploring the local countryside by horseback? The hotel will happily drive you in a buggy to the nearby Equestrian Centre (also owned by Champalimaud family). Ask to be taken out by Nuno. You're welcome ladies.
If you're fond of sand dunes and salty air then a visit to the nearby Guincho beach is a must. Go by bike ride, take the shuttle service in high reason, or – for a crazy old lady on speed vibes – take the hotel's motorised trike. I opted for the latter, SUCH fun, if you don't mind a little ridiculing from the local kids whizzing past in their open top jeeps.
A room at The Oitavos costs from 134 euros per night (including breakfast ).
For more information visit The Oitavos website or email info@theoitavos.com, for car hire visit the Holiday Autos website, holidayautos.com.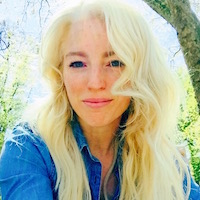 Emma Whitehair is a wellbeing writer and travel reviewer.
Like this article? Sign up to our newsletter to get more articles like this delivered straight to your inbox.