Queen of Retreats founder Caroline Sylger Jones reviews the Original FX Mayr clinic, Austria where a world renowned cleanse has cured many a famous gut 
It's not often you find a gentle and stylish home away from home whilst enjoying the attentions of six qualified medical doctors, but this is exactly what you get at the Original FX Mayr Health Centre in Austria, which opened in 1976 as the world's first place to offer the Mayr Cure and remains a trusted address for regularly-returning guests who are treated just like family by the dedicated team of staff.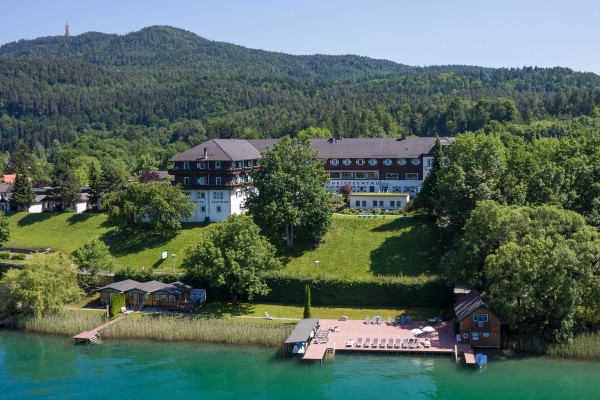 Located on the banks of the gorgeous blue waters of Lake Wörthesee at Dellach in Austria, the 47-roomed former hotel is a traditional dark-wood chalet-style building with pretty balconies graced with bright red flowers, a quiet road separating the main building from a large and private lakeside deck. It has received renovations in recent years under the stylish eye of Managing Director Gabriella Schnitzler, and inside you'll find a calming palate of muted shades such as pale blue, teal and taupe, with cosy rooms keeping a homely feel and glamorous variations including huge gold leather armchairs in which you sit to have your electrolyte foot baths.
One week here, or preferably two or even three, can see life changing results for those following 'The Cure', who come from all over the world. On our visit we met a vibrant lady in her 60s from Norway recovering from chemotherapy, an intelligent bereaved lawyer from Bangladesh on a mission to lose weight, a former supermodel here to relax, a musician from Ibiza looking to give up smoking, and lots of other people – from retired couples to working professionals – wanting to deal with injuries and other health issues or simply cleanse, relax and recharge. Placed in the hands of Head Physician Dr Stephan Domenig and his team, you're likely to leave feeling refreshed, sparkly eyed, younger looking and certainly pounds lighter.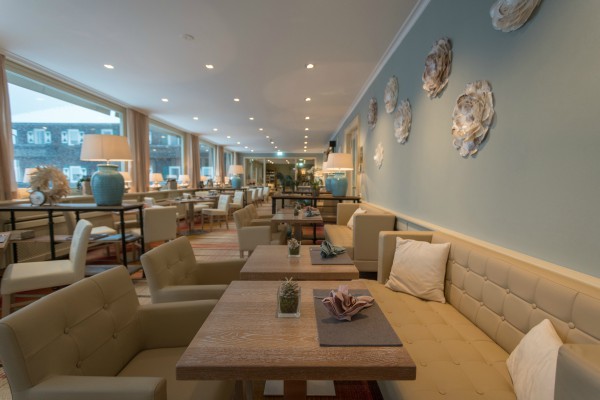 That's because the Mayr philosophy believes the most important route to good health is to support your gut – the word of the year. Most disease begins in the gut as a result of two things: your diet, and not chewing your food properly. Combined with high levels of stress and a lack of exercise, it places undue stress on the digestive system, making it toxic and inefficient. Dr Domenig stresses that this can result in bloating, premature ageing, stubborn belly fat, food intolerances, bowel problems and even high blood pressure and heart disease.
combined with high levels of stress and a lack of exercise, it places undue stress on the digestive system, making it toxic and inefficient.
Many feel the Original FX Mayr clinic offers guests the purest version of 'the cure'. Certainly the ambiance is warmer, friendlier and less clinical than many of the other Mayr clinics we have experienced. There is an initial medical examination, and on the back of this, days are filled with a range of treatments to complement the detox process, including abdominal massages, alkalising detox baths, lymph drainage and warm hay flower detox compresses for your liver.
You also take a dose of Epsom salts and swish your mouth with oil each morning, drink diluted alkalising powders twice a day between meals, take a Potassium and Magnesium supplement to ensure you're not losing these essential nutrients during your cleanse and are urged to visit the Kneipp centre each day for reviving hot-cold foot baths.
what you eat is central to your cleanse
What you eat is central to your cleanse, and your diet is personalised by the doctor, but no-one usually gets more than around 600 calories a day. Breakfast is mostly a fresh cold glass of sheep's yoghurt, eaten with a tiny teaspoon, and a home made buckwheat roll, with what's on offer building up during your stay according to your goals to fine millet porridge sweetened with rice milk and served with stewed apples, for example, or a small plate of fine beef or scrambled egg flavoured with cress. Lunch is soup and a roll again – or possibly thin corn crackers with one of the centre's 'spreads' such as goat's curd with olive and herbs. Dinner is only the famous Mayr vegetable broth, which is still at the heart of the food offering here – with spreads if your doctor thinks it's the right thing for you.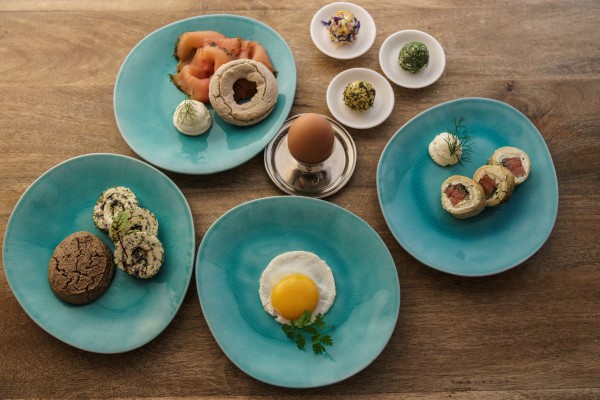 You're encouraged to eat in silence at breakfast and lunch, and to chew each mouthful for as long as you can bear. When you get to eat proper (still very light) meals, they're marvellous. Head Chef Andreas Wolff works closely with nutritional scientist Walpurga Hummitzsch so that, alongside you can expect to see dishes such as Filet and Caviar of Char on herb puree with truffle vegetable fettuccine, or truffled vegetable pasta and fresh herb puree, all to offer a light, fresh and healthy alternative to refined carbohydrates.
dishes such as truffled vegetable pasta and fresh herb puree, all to offer a light and healthy alternative to refined carbs
How quickly your body adapts to your detox depends on your lifestyle outside the Mayr. Many self confessed caffeine and sugar addicts find the first couple of days   challenging, but the rewards are well worth it as towards the end of the week you feel your tummy less bloated, your sleep more sound, your bowel movements more regular and your mind and body re-set and ready for anything.
To sweeten the medicine, there are plenty of massages and other treatments on offer alongside homeopathy, kinesiology and a plethora of modern medical diagnostics. Our stay was made by visits to see Hans Peter, a Shiatsu practitioner who is also very wise and whose words heal as much as his hands, and Gerfried, an osteopath whose clever hands sorted out a clenched jaw and screaming T-band in next to no time. There's pampering and holistic spa treatments with luxurious chemical-free skincare products Sodashi (the 1.5 hour long Sodashi Thermal Infusing Facial with Susan was appropriately spoiling) and even a hairdresser.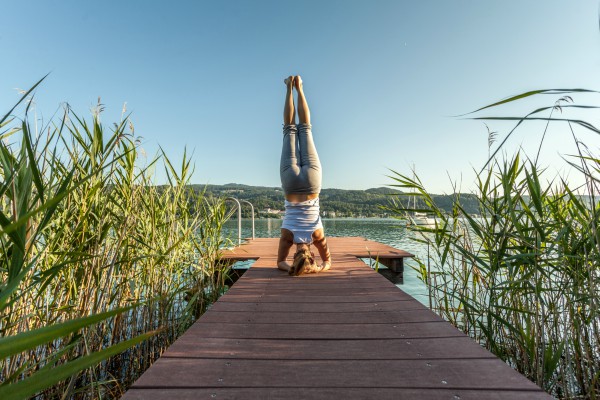 You'll have plenty of time to move – book private 'training' sessions in everything from yoga and Pilates to swimming lessons, do your own yoga by the lake, use the gym or better still, get outside. The daily hikes through the simply stunning surrounding forests with Worthersee local and former mountaineer Judith are just glorious, and we defy you not to spend most of any sunny times beside the lake – swimming, doing your own yoga, trying your hand at stand up paddle-boarding or just sunbathing on one of the super-comfy loungers or day beds. There's also a beautifully done indoor sauna and steam area, including a private one that anyone can use, and an indoor swimming pool.
It's not just the body that gets attention – Cure Coach Claudia Waldner is on hand to look after the mental and emotional effects of the cure, offering counselling with a holistic twist and encouraging you to see and deal with your issues from a centred, mindful position. She's calm, elegant and has the best office in the house – a gorgeous room in a palate of pink and grey with an inviting all-white sofa graced with pale pink cushions (and a box of tissues should your eyes be in need).
The verdict? We'll certainly be back – and can see ourselves becoming a regular.
Facts
The Mayr basic one-week programme costs from 1350 Euros, excluding accommodation. Single rooms from 195 Euros per night. www.original-mayr.com.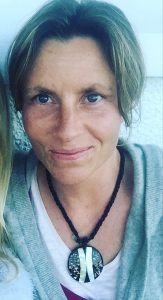 Caroline Sylger Jones is an author and freelance journalist who travels the 

world checking out spas, retreats and healthy holidays for international newspapers, glossy magazines and websites. She is the founder and director of wellness travel site Queen of Retreats.
Follow on Twitter: @QueenOfRetreats
Follow on Facebook: @QueenOfRetreats
Follow on Instagram: @QueenOfRetreats
For more wellness travel ideas check out Caroline's brilliant, newly refurbished site Queen of Retreats at www.queenofretreats.com. 
READ MORE
Spa of the week – Hotel Tigmi in Morocco
The healthy holiday where fitness meets coastal luxury