Ever wondered exactly what goes on in the kitchens of a top London restaurant? Vanessa Chalmers learns the tricks of the trade in the Michelin star kitchen of Pied à Terre in Fitzvoria 
I've always been astounded by the intricacy of a Michelin star plate, showing food as more of an art than something edible. That's why I jumped at the chance at trying the Masterclass Kitchen Experience at Pied à Terre in Fitzvoria.
Arriving at the French one Michelin star, subtly placed amongst chain restaurants on a road off Tottenham Street, I was taken upstairs to a bar area where I was welcomed with a peppermint tea. I met my companions for the day and Asimakis Chaniotis, who so easily nattered with us that I wasn't aware he was the head chef until he went over what we should expect of the morning. The restaurant doesn't open until 12, so there was plenty of time to prepare for the leisurely lunchers.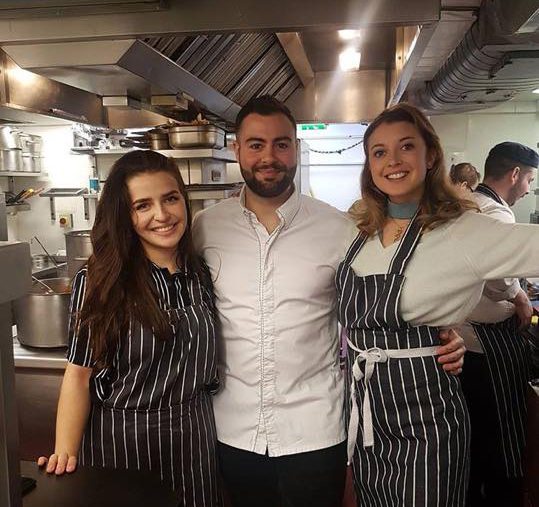 At this masterclass, you work amongst the kitchen staff who seem remarkably chilled out. In fact, this kitchen's approach to work is largely different to that of other top-of-the-range because swearing is banned.
'No one will work hard or be focused if they are treated in a bad way', says Asimakis, who rarely takes a day off and lives next-door to the restaurant, just in case something goes wrong. 'I never liked being sworn at so I don't wish the same for others. We are coming to work to make the best food we can and enjoy cooking.'
Handed aprons, we jumped straight in at our own station to get our hands sticky with bread. First, we needed to roll pre-prepared bread dough into balls – exactly 30 grams each. The sourdough was next, a sloppy wet mixture with a rich sour smell.
Asimakis makes his sourdough starter with yoghurt and buttermilk – a traditional recipe from his home in Athens. He knows it's ready once it begins to bubble and ferment after days of watching over it, and now, it was in our hands to knead it ready for the oven.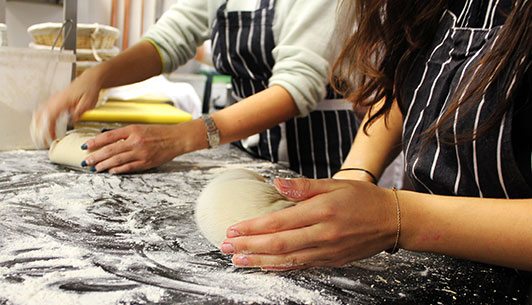 After a thorough scrub down of the surfaces, we were presented with a live lobster who I couldn't help feeling slightly sorry for, but nonetheless, excited.
Barely able to cook a roasted chicken to a good standard, here I was learning from a top chef how to prepare, cook and plate a fresh lobster with flamed sweetcorn, rouille and seaweed.
Asimakis inserts skewers lengthways to keep the lobsters tail from curling up when it's placed in the boiling water. Was that a squeak we heard as it boils? No, apparently this a myth, and the 'screaming sound' is actually gas trapped in the sea creature's shell. I'm running with that.
The fresh plump meat is gently pulled with the fingers and we dig in to our first dish.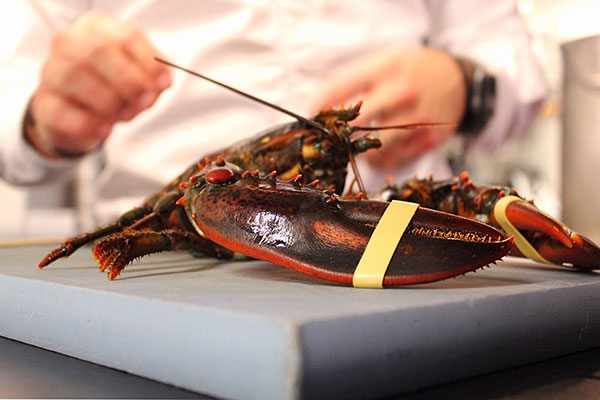 All the produce at Pied à Terre is fresh and of highest quality from around the world. The courgettes in the summer from Italy, the olive oil from Greece, shellfish from Scotland and lamb from Wales.
Asimakis chuckles when I ask, 'did you get your raspberries from Sainsbury's?' as he puts together a cream filled dessert at 10am – Raspberry Millefeuille.
I ask how often he throws away food, to which he replies, 'every chef has a different way of deciding if the food is good enough to be served to a customer' – vague, but I get the sense he is strict.
He has already inspected the pre-prepared millefeuille sweet puff pastry, throwing out any that are too on the golden side. We watch closely as he decorates the plate with tiny hibiscus flowers and a scoop of ice cream, bedded on a biscuit crumb to stop it from slipping on the plate – genius.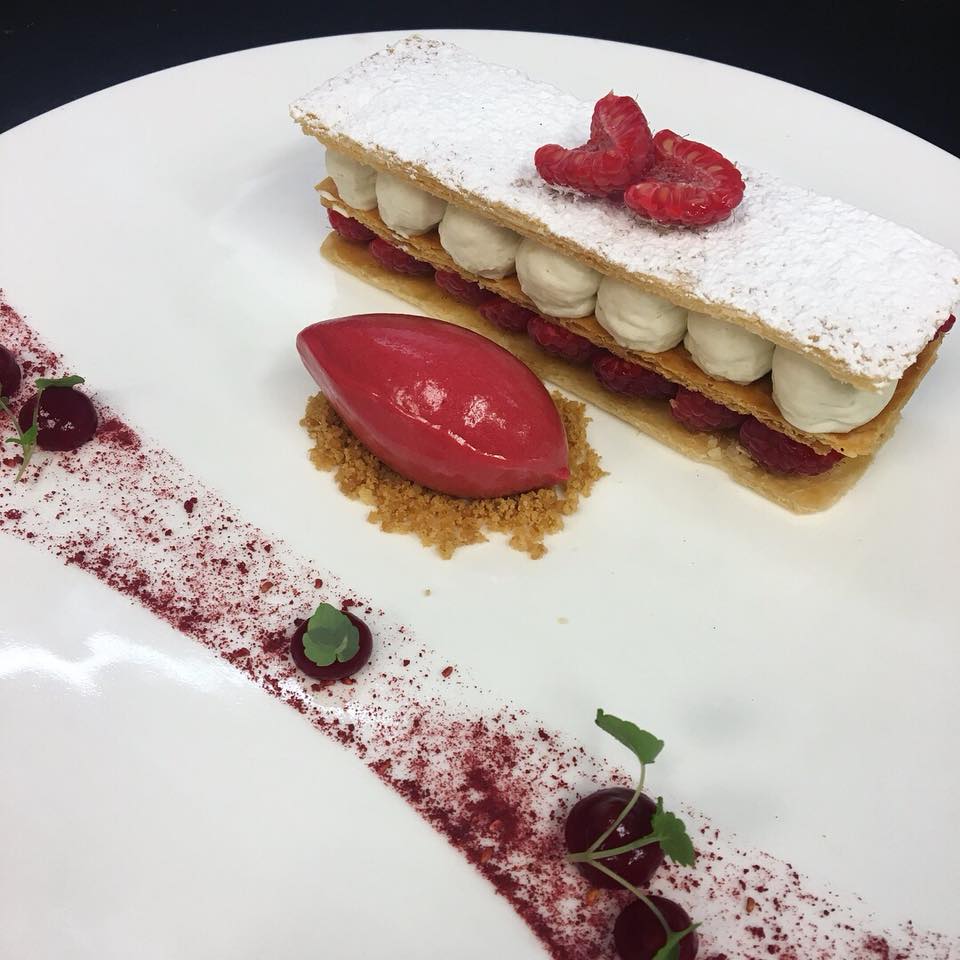 Signature dishes have an emphasis on seasonal fresh ingredients, which vary a great deal throughout the year, with no added salts or sugars.
For example, the smoked quail with organic spelt risotto uses girolles, a mushroom that was soon to be off the menu. In true Michelin star form, this dish gets its wow factor being served on a bed of leaves under a glass cage pumped with smoke.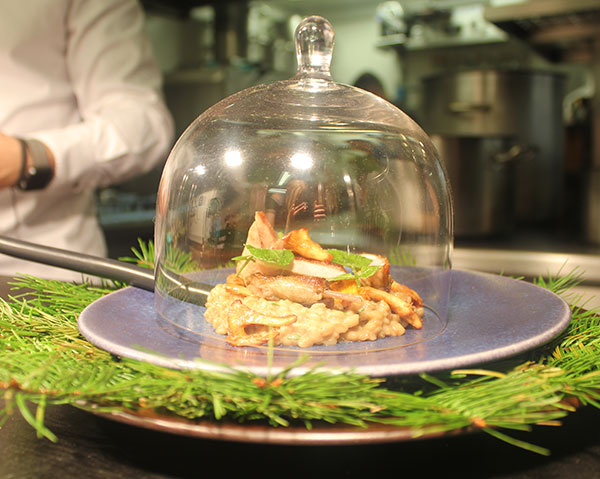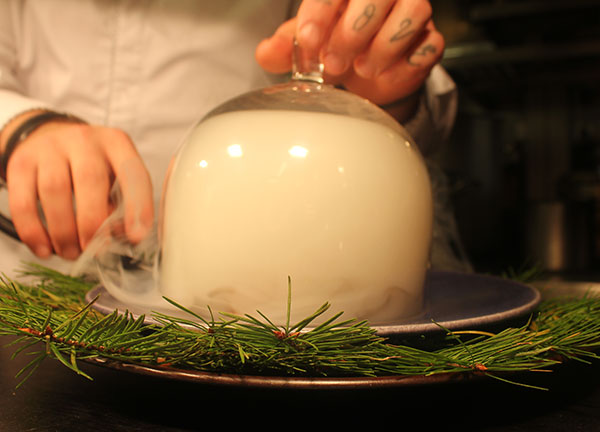 Asimakis makes sure the restaurant's in keeping with expectations of a classic fine dining experience, but it's clear he is creative.
Ahead of the game, Pied à Terre offers a vegetarian and vegan tasting menu alongside its eight others. 'I love to challenge myself', he says. 'What I do not like is people who come to the restaurant and tell me what they want to eat as though the menu is not good enough for them. They can stay home and cook for themselves!'
But seated in at the table for my four course lunch after the masterclass, there is nowhere else I'd rather be. I'm already stuffed, but the softly spoken waiters bring plate after plate of food to our atmospherically lit table.
I hear the wine choice is extensive, but I behave and stick to the one glass (more room for food). After the likes of ox heart with heritage beetroot and roasted pheasant, the meal is finished with a Matcha tea custard. I polish off my own, and my friend's (additional guests £95).
I practically roll out, clutching a goodie bag.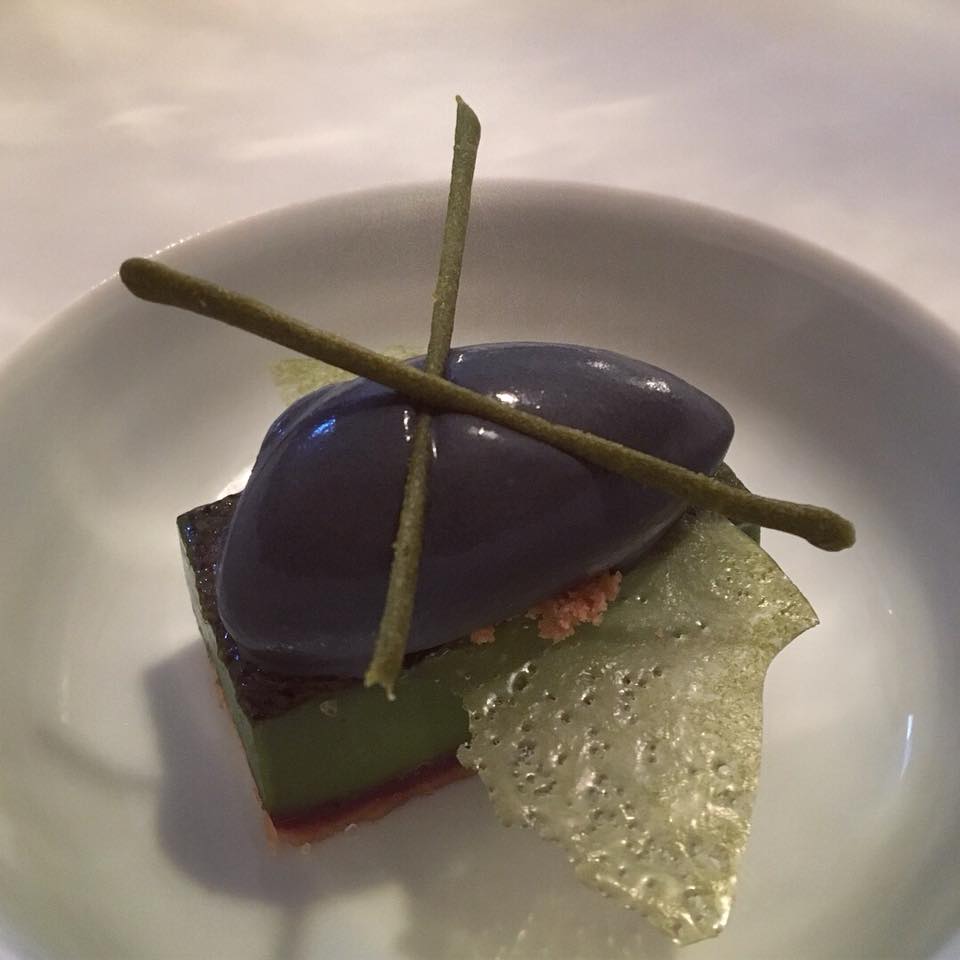 6 things I learnt when I took a Michelin star masterclass
Chefs are only stressy on TV: I had the idea that this kitchen would be full of screaming, rude, egotistical chefs. I was completely wrong. Everyone seemed blissfully mindful whilst chopping the days food. Perhaps I saw the calm before the storm.
Chefs don't get days off: Especially head chefs. Not only is the best standard important to Asimakis, who lives next door to the restaurant, but a solid team that are trained well. 'I want to give them my heart and knowledge. When I feel that they are ready I will start having my time off'.
How to cook a lobster: Half a kilogram of lobster (500g) needs to be cooked in rapidly boiling court bouillon for one minute. A court bouillon is a rich stock or 'briefly boiled liquid'  that is used to poach other foods such as seafood and not served with the final meal. Then, take the pot off the heat and let it cook in the liquid for another seven minutes. Take the lobster out and let it come to room temperature before breaking it down.
Only the best ingredients are used: Well, obvs. But not only are the ingredients fresh they're also seasonal, making the most of what nature has to offer.
Vegans can eat Michelin star, too: It's near impossible to find existing Michelin or super special restaurants round London who cater for the needs of the plant-based. Asimakis noticed this and says, 'It's their choice to be vegan and it's my pleasure to accommodate them. I love meat and fish and I will always have it in my meals. But I want to be able to give an amazing experience to everyone'.
It's all in the detail: It's so much easier to appreciate food when you know the level of attention that has gone into it. Clever tricks such as using biscuit crumbs under ice cream to keep it slipping and a dash of olive oil to make edible glitter stick to a plate make give Michelin star food its artistic edge.
Pied à Terre Masterclass is £195 pp for half a day, with bread-making, preparation of 4 courses, goodie bag and 4 course lunch prepared by the head chef with wine matching. Future Dates 29 January and 02, 09, 16, 23 February. Call 020 7636 1178 to purchase vouchers.
READ MORE
10 organic foods that make healthy cooking easier
On a gluten-free diet? Chef Raymond Blanc's gluten-free cooking course
Healthy snack hacks these 20 top influencers swear by
Spa review: Tregulland & Co self catering houses in Cornwall
Like this article? Sign up to our newsletter to get more articles like this delivered straight to your inbox.