In 2002, Roz Savage, then 34, had everything: a large Edwardian house in London, a career as a management consultant and a happy marriage. Yet she gave it all up to row single-handedly across the Atlantic in 2006. She wants to become the guru she once looked for.
Roz Savage has lived in some strange places in her time, from kipping on the floor of an empty office to sharing a boat with several others and 'a very hairy husky dog'.
But then again, if you're the woman who gave up cultured expectations to row solo across the world's biggest oceans, adamant you don't need help despite three capsizes in a row, or breaking both sets of ores, a burly dog is probably only a trivial encounter along the way.
Roz Savage, MBE, 45, is a British ocean rower, environmental campaigner, and keynote speaker. But it wasn't always that way. In the year 2000 she had an ordinary life, a lovely home, a red sports car and a job as a management consultant in London which she'd held for 11 years.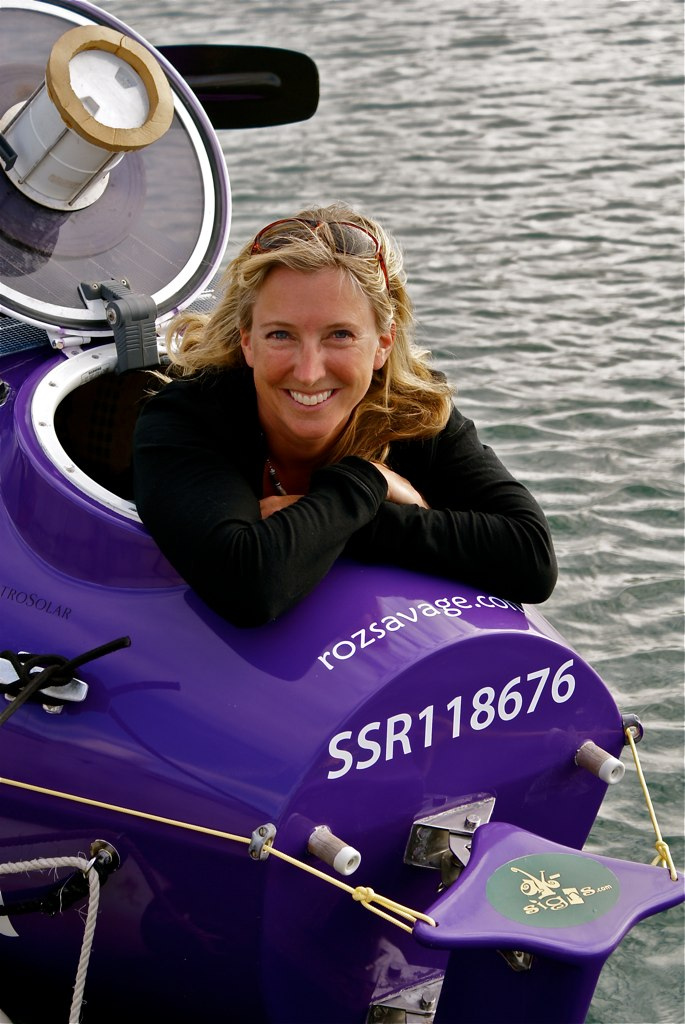 While commuting by train one day Roz drafted her own obituary. Then she repeated the exercise only this time summarising the woman she wished she could be.
This may sound an extremely morose exercise for a young woman of 30 to perform, but it illustrates the extent of discontent that she was experiencing.
'This was crisis point,' Roz said.
The first obituary was the one that she wanted to have, based on the obituaries she enjoyed reading of the people she admired. Made of adventurers and risk-takers Roz describes them as people who seemed to have lived many lifetimes in one, some successful and some failed but none the less ambitious in trying.
The second version was the obituary that she imagined she would have based on her conventional lifestyle built on normality and safe decisions.
'My self esteem nose dived. I was so desperate I was willing to throw away everything and start again.' And this is exactly what Roz did.
'To my shame, I embarked on an affair in 2000,' Roz told the Mail on Sunday. 'My marriage seemed perfect on the surface, but I thought I had to find something else, that if I found the right man I would be happy.
'The affair was not the answer – I was actually unhappy in myself. My husband found out and reacted in an incredibly mature way. Instead of throwing me out, which he was quite entitled to, we discussed the situation and decided to give our marriage another go'.
'By this time, I had changed career and become a photographer, thinking that might be the answer. For six weeks, we did nothing but talk about our relationship. In the end, I realised I had to be on my own. It sounds a cliché, but I had to 'find myself".
Giving up her 11 years as a successful management consultant and walking away from marriage, the Oxford University graduate was about to manage a whole new project: her life.
'I knew I needed a challenge. My life, even with all the financial advantages, just wasn't fulfilling.  When I left, I had no idea what I wanted to do. My husband stayed in our home – he bought out my share – and still lives there with his new wife. I stayed with friends while I tried to decide what to do. My office was in our home so I kept going to the house quite a bit, and Richard was very good to me – it was a very odd kind of limbo'.
'I realised that the end of my marriage wasn't the end of the world, and suddenly I could be this strong and independent woman. It was the best and worst thing to happen because it was awful but it changed by life for the better too.'
So with a vision to live a more flexible, less conventional life Roz moved from a boat on the Thames to an office awaiting planning permission to a flat above an antiques shop, living wherever she could find free accommodation, each time ridding herself of something else she owned until possession by possession she could define herself by what mattered and not what she owned.
'I wasn't too fussy where I slept I just had my goal in mind.'
Roz survived thanks to an organic bakery stand she nurtured on a farmer's market but she had another project in mind.
'It was adventuring that appealed to me most and my vision was to row across the world but I soon learned that this isn't actually possible because of the way the current and the wind changes' she said.
'It took a while for anything to happen because I was pretty scared by what the activity had implied, but once you know you want change you can't shy away from it. Not making a change would be betraying myself.'
'I tried to find sponsorship, and I achieved maybe £10,000 but the cost was nearer £70,000 in the end.'
Roz had previously invested in properties with her husband, he bought her out and she used her cut to fund her ambition: 'Maybe I should have been more cautious with that money but at the time I wasn't prepared to give up on the dream I'd started working towards.'
She said she doesn't at all regret that decision today.
But Roz faced further frustrations; she couldn't take on all the oceans in the world at once.
She said: 'The scale of the challenge was huge. I knew I wanted to do the Atlantic so that became my first goal.'
In 2006 Roz was the only solo female competitor of the Atlantic Rowing Race. She completed the crossing in 103 days completely unsupported.
'And when I say unsupported I mean alone in a tiny rowing boat in the middle of the ocean,' she remembers.
Roz broke all four of her oars, patched them up with duct tape at sea and rowed more than half the race with them. Her cooking stove failed after just 20 days and she went two months without a hot meal. When her navigation equipment and music player failed Roz was left in silence battling self-doubt and depression.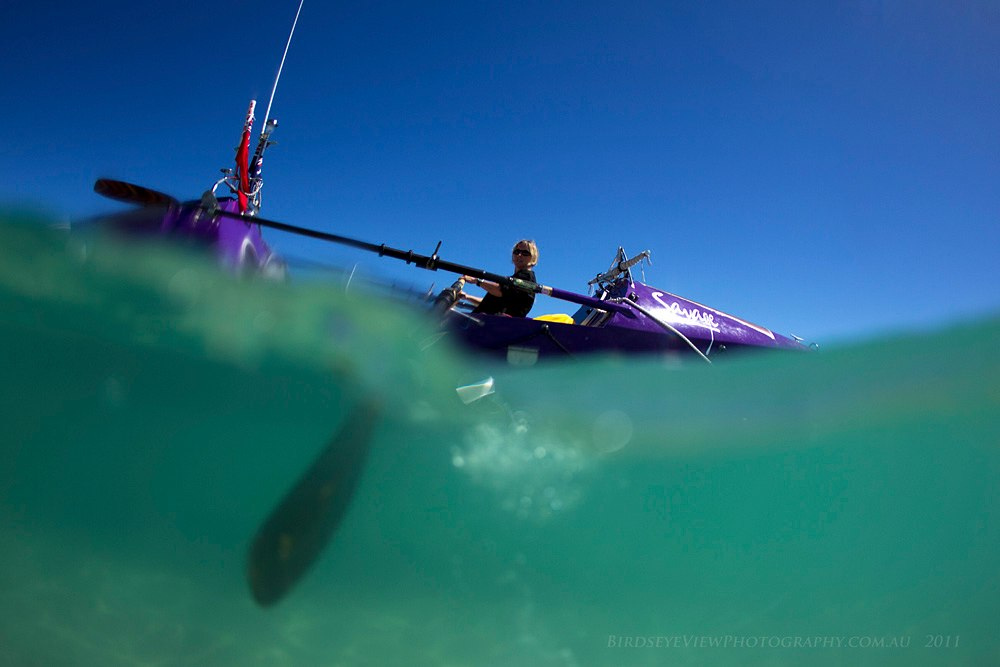 Not to fear though, she had her Iridium satellite phone at hand to keep up to date with her blog until day 80 when that died too.
On the Atlantic being part of a race meant there were two support boats aiding competitors but Roz only saw them twice in 103 days. She was completely alone at sea with no way of communicating back to land.
Roz said: 'I loved it, I experienced complete isolation, peace and quiet. I had a lot of time to think, it was what I needed. I'd have these little epiphanies and I had to dash to the cabin to write them down when it was all over.'
You can read all of them here.
But wasn't it scary? For the first couple of weeks on the Atlantic until she learned to trust her boat, Roz admits she was terrified, especially at night, but adapted to the environment.
Roz's single summarising lesson from the row: 'No matter how big the challenge, just take it one or two strokes at a time.'
In 2007 Roz prepared for her next goal, the Pacific Ocean. Unfortunately her boat capsized three times in 24 hours and the coastguards rescued her.
'Someone decided I was a damsel in distress I think, but I was willing to keep going,' she testifies.
In 2008 Roz began part one of the three-leg route across the Pacific again, and again she faced troubles when her water maker succumbed to rust damage.
'I had a seven week supply in there to live off until I found a resolution. I came across some environmental campaigners on a mission ot bring attention to plastic pollution in the North Sea Garbage Patch.'
An environmental campaigner herself Roz climbed aboard and had dinner with the crew. They stocked her water and she shared her food.
'I couldn't have made it up if I tried,' Roz laughs: 'I had a dinner party amongst 15,000 empty plastic water bottles on board a boat made completely of recycled goods.'
Roz spent 99 days at sea. In 2010 she completed the last leg of her row becoming the first woman to row solo across the Pacific Ocean on June 4th that year.
But how do you keep going when your faced with so many difficulties?
'I always knew after the Atlantic I wanted to do the Pacific and Indian oceans too. So when I was rowing the Atlantic I was aiming for the Pacific, and the Pacific aiming for the Indian. I always had another challenge to motivate me.'
True to herself just a year later Roz was at sea again determined to complete her last ocean.
The Indian Ocean was her longest single voyage, five months at sea alone. It took her 154 days to complete.
But how do you train for an adventure of this scale whilst living out of an office/boat/antiques shop?
'For the Atlantic I trained really hard. I made a huge spread sheet on the PC and logged what food I was eating each meal compared to my weight and exercise I was doing,' Roz said.
'I did masses of cardio and weight training as often as I could. I did up to 30 hours a week, in a combination of running, cross-training machines, weight training, and hours on my WaterRower.'
'For five Sundays in a row I did 16 hours on the rowing machine at a time, rowing 4 shifts of 4 hours with a 1 hour break in between. I would start at noon on a Sunday and finish around breakfast time on a Monday. It was as much about training my boredom threshold as anything else. I would pass the time listening to music and visualising what it would be like to row across an ocean.'
Over the years Roz has also spent time with sports psychologists and life coaches, as well as reading books on the psychological aspects of adventure. She said the most important technique is to focus on the process and what you have achieved day by day.
You can read her weekly training routine and all her training tips here.
Roz said after the Atlantic she took things easier maintaining her strength and getting out on the water. 'When it came to the second voyage I wasn't anywhere near as pedantic. I just looked at the pile of food next to my boat on departure day and thought, yeh that's about right.'
'I always try to make the most of fresh food when I'm on land and it's available and on my boat I grew my own bean sprouts which was a luxury.'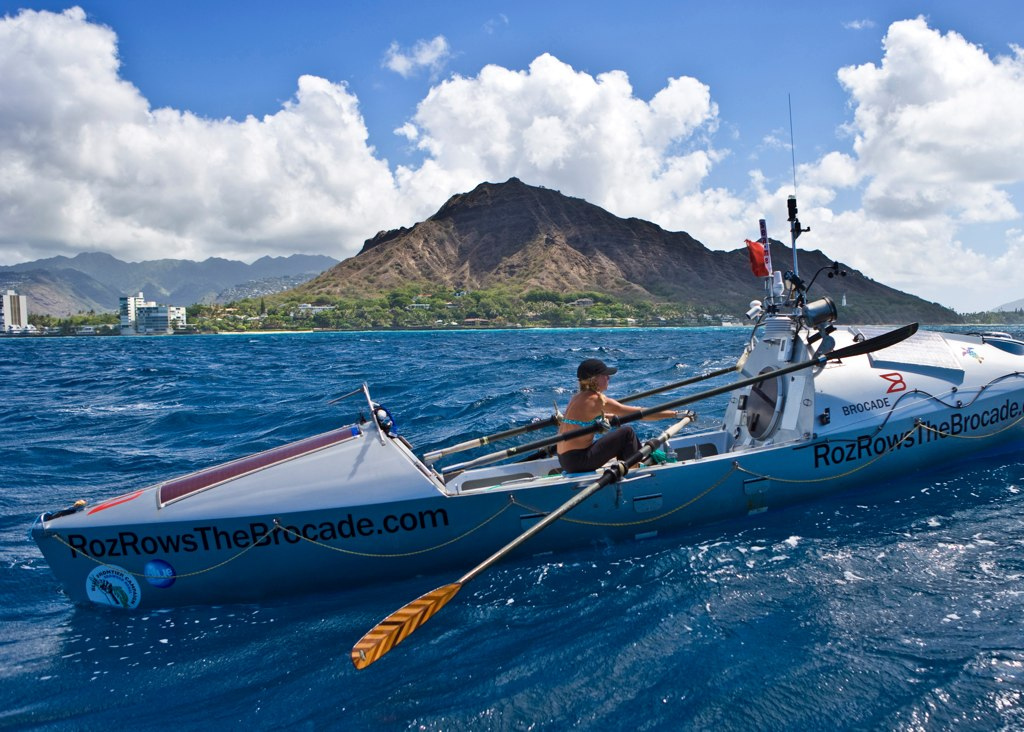 Roz describes herself as an aspirational, semi-achieved vegetarian. 'I love organic food but I'm a bit of what I like to call an 'opportuni-vore' in that I throw together what's fresh and available.'
She used sports drinks, such as Go Electrolyte and ReGo Protein, on the Atlantic but Roz said she was happy to use plain water and the water from the watermaker tastes pretty good.
A typical day's diet at sea for Roz began with 'Oats 2 Go', hemp protein powder, dried whole milk, nuts, dried fruit, ground ginger and cinnamon. For lunch scrambled eggs with ham and dinner cod and potato casserole, freeze-dried prawns, peas and sweetcorn.
Snacks such as chocolate, flapjacks, dried fruit and nuts were also packed onto the boat. She burned over 3,000 calories a day so the sugar was essential but it caused significant problems once she was back on land. She rapidly gained weight and was left shaking with  sugar cravings. Roz gained around 30lbs when she returned, it took 8 months to crack kick the sugar addiction.
Roz has an entire nutrition guide for aspiring rowers on her website.
Her longest time at seas was during the Hawaii to Kiribati 2009 trip: 104 days – that was 3,158 miles travelled and about 1,335,834 oar strokes.
Perhaps you would think Roz's favourite place is the ocean but she admits to enjoying a long walk on the hills – as far away from the sea as possible I point out.
Roz is a United Nations Climate Hero, a trained presenter for the Climate Reality Project, and an Athlete Ambassador for 350.org.
Her humanitarian work includes acting as patron for the Chauncy Maples Malawi Trust, which brings health care to some of the poorest communities in the world by renovating Africa's oldest motor ship, the Chauncy Maples. On 11th September 2013 she took part in the Big Row with the Champion Veteran Women Rowers team. You can donate here.
This year Roz was awarded an MBE in the Queen's birthday honours.
Ahead of her book, Stop Drifting, Start Rowing, Roz is giving inspirational and spiritual talks, her next one being in London on November 25th.
She hopes anyone who feels held back by belief will read her book.
She said: 'I used to think you had to be six foot three with a bushy beard to have an adventure. I've learned a lot, I'm a very long way from the person I was yet I feel like my achievements have peeled away a layer to reveal the person I really am. I was always here, just hidden.'
'I hope I can be the guru I was looking for, for anyone, especially women, who want to get out of their comfort zone. If you have a clear mission it creates an energy and draws everyone around you in.'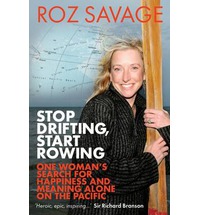 Stop Drifting, Start Rowing by Roz savage (Hay House £12.99) was released on October 15th.  Visit her website at http://www.rozsavage.com or follow her on twitter @RozSavage.
Like this article? Sign up to our newsletter to get more articles like this delivered straight to your inbox.