With a new documentary charting the not-for-the-faint-hearted sport in which women on vintage skates smash into each other – on purpose! – Roller Derby's suddenly hot. Adele Norris meets the girls on skates
Besides a mouth guard, kneepads, elbow support, a helmet and wrist guards these ladies sport extravagant electric pink and black hot pants, gym pants and sweat soaked vests thrown together with alter-ego skate aliases, take 'Total Frey-hem' for instance. Perhaps once dubbed a 'costume' it is clear the London Brawling Roller Girls' kit is definitive of the sport's rebellious persona. Your other introduction to Roller Derby may be thanks to Drew Barrymore's skating flick 'Whip It'.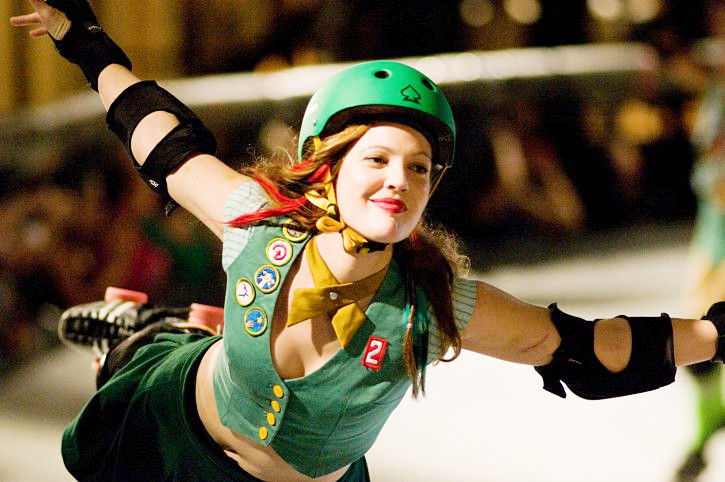 Originating in America, it's perhaps unsurprising that there's never been a non-US team in the Women's Flat Track Derby Association (WFTDA) Championships… until now that is.
London Brawling is the London Roller Girls' A team and they've made it to the competition in Milwaukee so I caught up with three of the squad's girls to find out what roller derby is really about.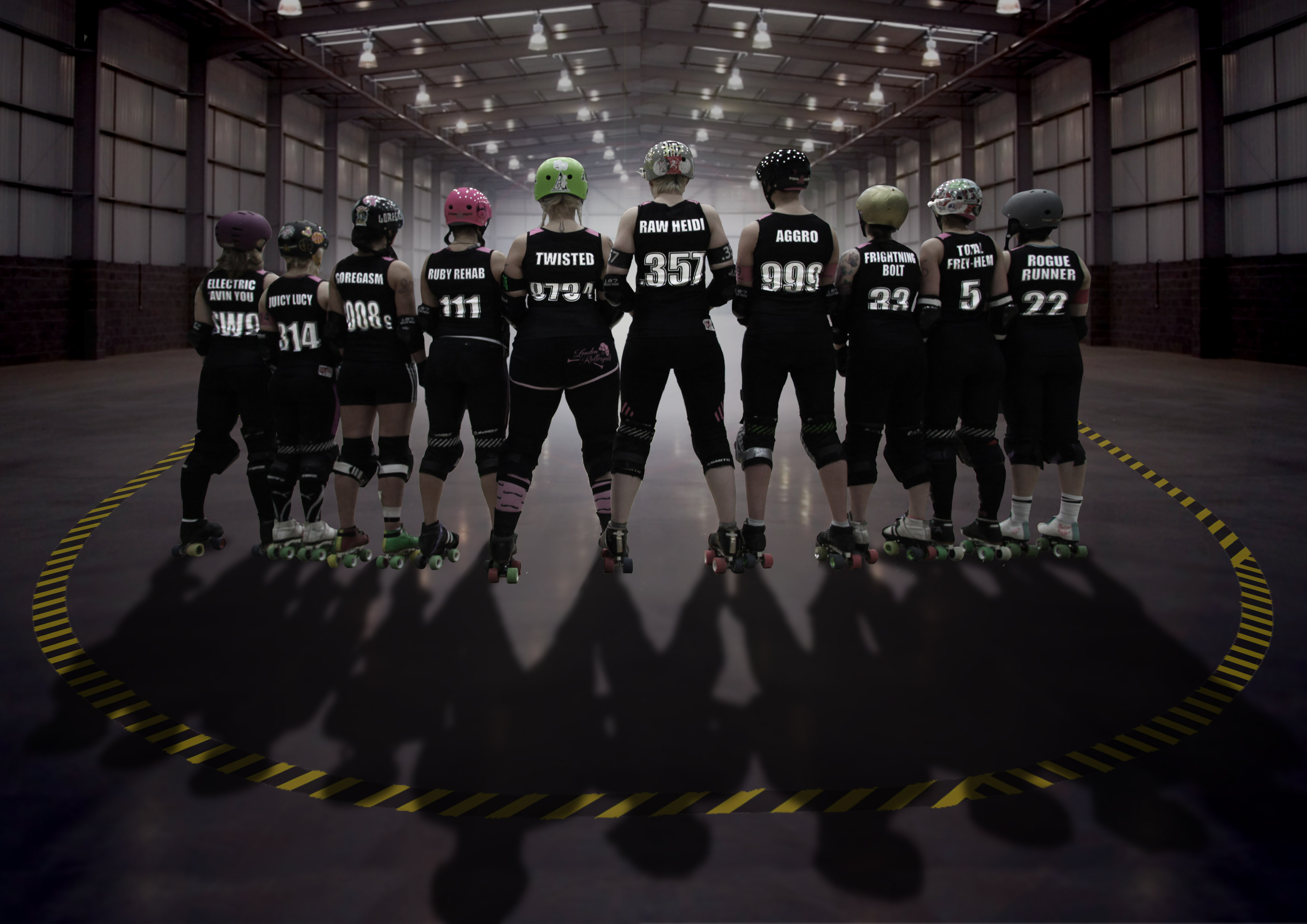 'You come for the spectacle and stay for the sport,' said London Brawling captain Olivia Coupe. And this would appear an accurate definition of Roller Derby even back when it began.
From the popular vision of roller skate races, a man called Leo Seltzer evolved the touring competition, Transcontinental Roller Derby, to the roots of the physical contact sport complete with skater collisions and falls that it is today.
But its popularity was lost in the 70s and the sport shut down. Despite several attempts to revive an alternative version it wasn't until the millennium when modern women's roller derby got it's name in Austin, Texas.
The new leagues were run by the athletes and by 2010, there were more than 450 flat track roller derby leagues worldwide.
So how does it all work?
The tactful game sees two teams of five players skating around a track. Each team poses a 'jammer' who scores the points for lapping the opposition team.
Meanwhile the rest of the team, or 'blockers' protect their jammer and try to prevent the opposition jammer from getting past them and scoring.
It requires quick-thinking, tactics, as well as speed and power.
It's one of the fastest growing female sports in the UK with teams popping up across the country. Anyone can get involved, says Olivia Coupe.
'It attracts alternative women. I consider myself fairly mainstream,' says Olivia. 'But doing a sport like this gives women the opportunity to meet people who they wouldn't meet in everyday life otherwise.'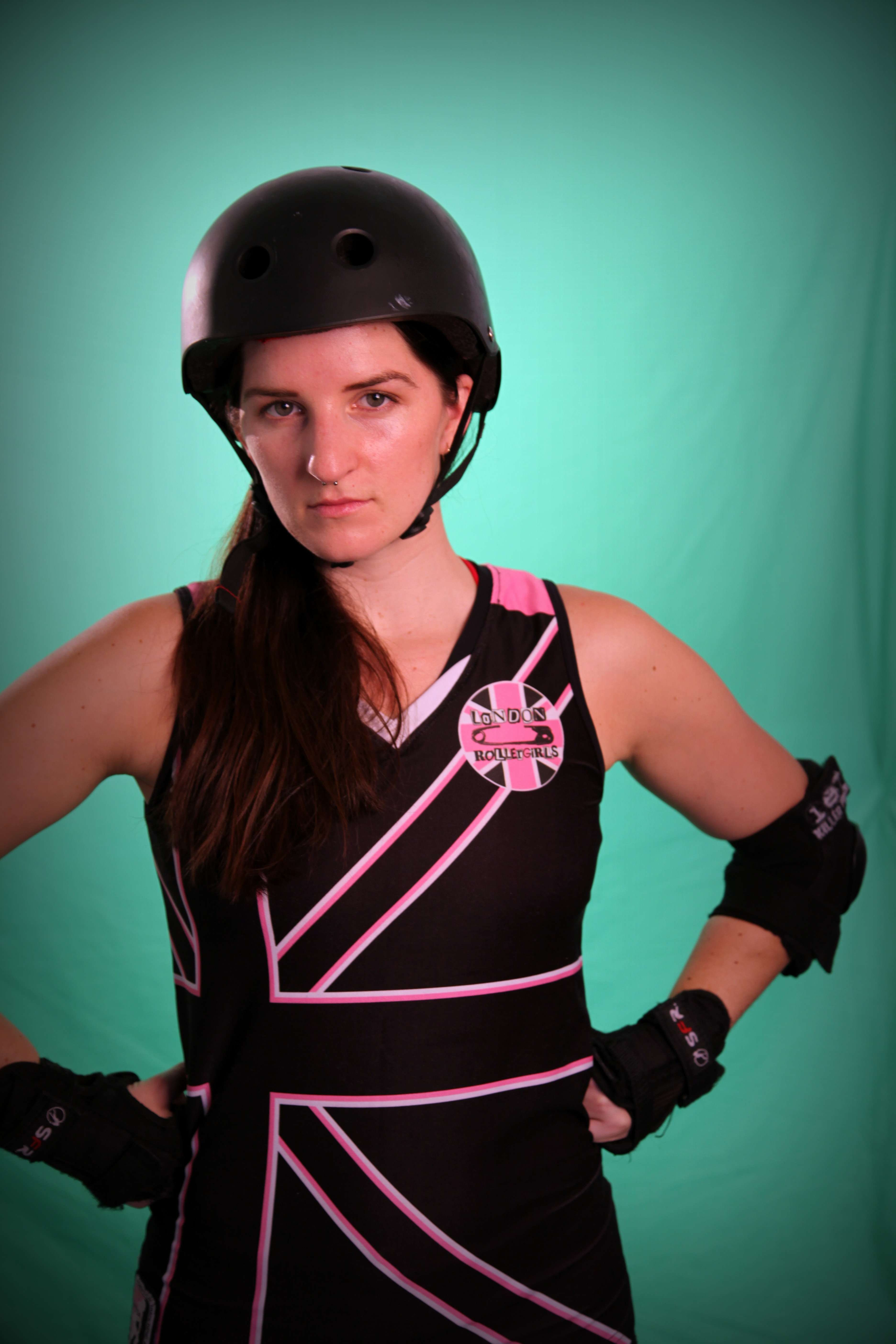 Olivia was working in TV and film when she first came across Roller Derby in 2006, while doing some research in the office. 'I wanted to check it out but I was just too shy.'
Eventually she plucked up the courage to check it out with her flat mate.
'I hate to use a cliché but I saw it and I had to stay.'
Like many of the squad Olivia holds down a career alongside her sport, she still works in film today but said she is lucky her career is so flexible and allows her the time to focus on Roller Derby too.
'I know for some of the girls it's more of a struggle to hold down work and family commitments alongside Roller Derby. I do worry that to progress in my career I would have to give up the sport.'
Olivia is also lucky when it comes to her family life too, it was through Roller Derby that she met her wife, 32-year-old Stefanie Mainey, primarily a blocker, though she's played jammer in big games.
The couple recently celebrated their three year anniversary.
Stef said it can be struggle to find time together away from the sport but unlike some Roller Derby enthusiasts who have ulterior personas on the track, both she and Olivia are no different when the skates are on to in 'real life'.
Neither of the girls have Roller Derby pseudonyms. Take a look at the London Brawling 2013 squad and I'm sure you'll agree meeting the likes of Kitty DeCapitate, Frightning Bolt and Grevious Bodily Charm in a 'jam' sounds pretty tough.
Stef said: 'Olivia chose not to have nicknames because we see Roller Derby not only as a sport but a part of our lives.'
Olivia said for a lot of the girls it's definitely a case of getting their grit on and the spectacle: 'For me it was definitely that part of Roller Derby that drew me to the sport, but it wears thin. I want to see my name on the back of my shirt just like any other athlete because I'm proud of what I do.'
And Olivia and Stef are prime examples of how Roller Derby is taken with the same dedication as any athlete to their sport.
'Before I played my diet was terrible, I ate a lot of junk food and always had an energy drink at hand, but Stef and Roller Derby have been a huge influence on even how I think about my diet,' says Olivia.
Olivia admits she once feel into the common belief that not eating would help her lose weight, but the less you eat the more fat your body will store.
'Roller Derby has helped me lose my chubbiness, now I feel like I can eat as much as I want because I know I can burn it off or I need it for energy.'
And it would seem she's got a strict coach in the kitchen at home supporting her. Stef said she makes a fresh juice from scratch every morning with orange, apples, carrots, spinach and bit of ginger.
'I'm an average build but I had self-esteem issues growing up but now I'm really happy with the functionality of my muscle.'
'I try to eat more and often,' said Stef: 'I have chicken and apple at 11 and 4 each day. I also use Beyond Greens and protein shakes.'
'I love it when people approach me and ask what exercise I do. Its nice to think of myself fours year ago compared to my body today.' – Olivia
Jessica McCarroll is the London Brawling Jammer, so she needs her body to work quickly and at speed for short fast intervals so she tried creatine supplements and was impressed with how they worked.
She said her natural diet is full of nuts and dried fruit.
When the team travel Stef and Olivia have been known to pack their blender or coffee grinder. It's about making sure you have as much as you can in your control she explains, by having their everyday routine to make them feel prepared.
For Stef it isn't just the diet and training that she devotes to sport, she works in roller-skate distribution, prepping her skates is key to her pre-competition prep.
When asked what is her most important piece of equipment (besides the vital skates of course) she said the wheels.
'Because different floors have different grip, so you need to ensure you have the right wheels for the floor. If you don't you have to change the way you skate.'
And that's another way Stef prepares for a competition: 'I try out the floor the day before and get my wheels ready, I also make sure I have a spare,' she says.
'I prepare as much I possibly can be, when we travel I make sure I climatise for the game too, by having everything in my control I know I can fix any problems.'
Olivia said: 'Ahead of a game everyone is different though, some people want to be relaxed while some of the girls want to be around each other laughing.'
'Stef and I want to be focused so we will stay to one side and 'self talk'. Break down your though process, visualize to yourself your preparation and the aims as positive reinforcements.'
Now a thirteen part series, Roller Derby – Till I Die, featuring the London Rollergirls league is showing on the Extreme Sports Channel.
Another London Brawling star featured on the documentary is 27-year-old Jessica McCarroll, A.K.A. Rouge Runner.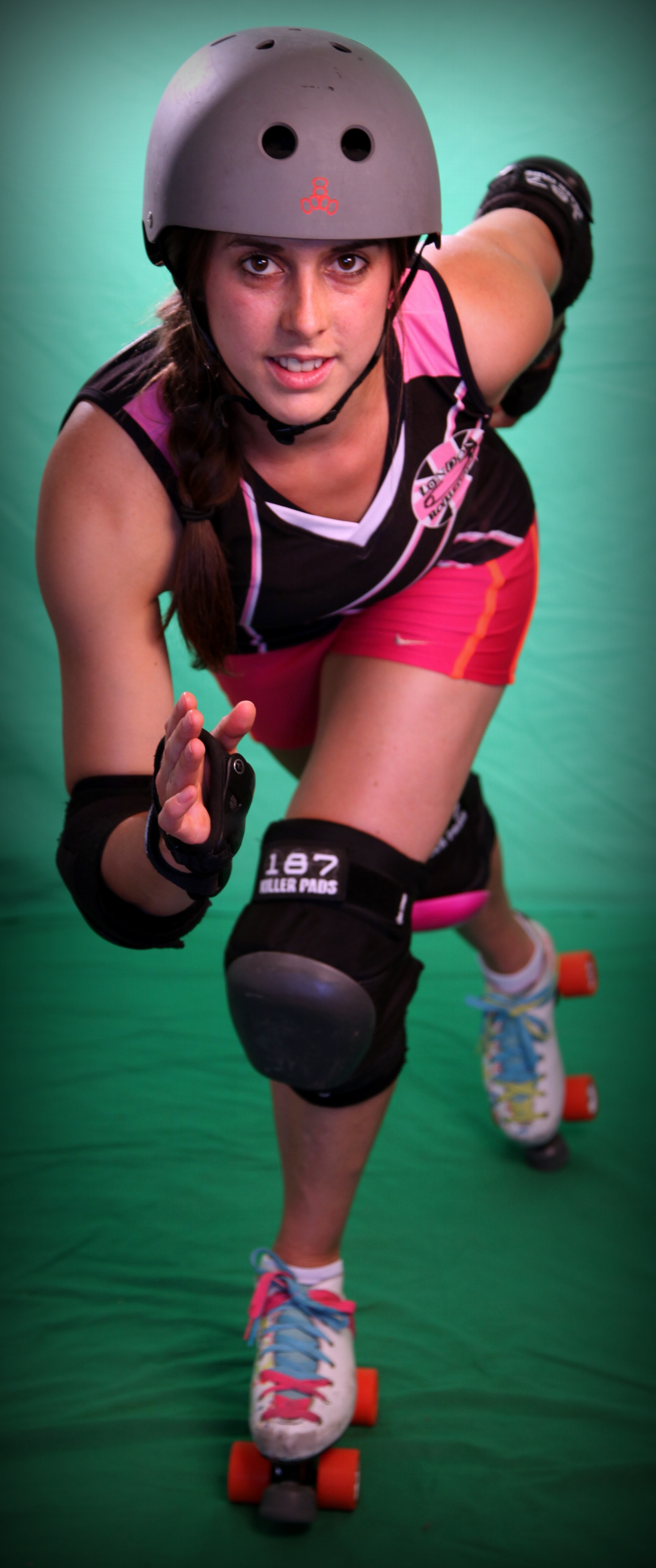 'A lot of people think it's a joke when I say this but I watched 'Whip It' one day and I thought the sport was just made up for the film, then I found out it wasn't and went to watch an event. I join in May 2010.'
Jess is the London Brawling Jammer, and like Stef and Olivia, she recognizes the strict requirements of the games athleticism.
'Everyone does on the skates training for three sessions a week: an all league session, an A and B squad session, and on Sundays we practice gameplay and skill.'
But the ladies have also devoted their personal lives to empowering their bodies for the sport each taking on individual training regimes too.
'It's about high intensity, that's the nature of the game. You need to be exploitive, for example I cycle to work everyday.' – Olivia.
Jess is a personal trainer by day, having studied dance and theatre she said she has always been interested in sport and Roller Derby helped her into the career through the increased need for fitness.
Weight and circuit training are particularly useful the girls tell me, they focus on speed and agility.
The Dynamic Sports Academy (DSA) works closely with the squad, they set them a programme of weights and reps and running at specific speeds.
'We have a full holistic programme from the DSA too,' says Stef: 'From mental conditioning to working all the small muscles you might not think off.'
Stef: 'Roller Derby is a hugely bonding sport, it's really kind of niche. But in the last few years it's become more and more about the sport and how fit you are, you're playing harder teams and realizing you need to train one, two, three times a week.'
Olivia said where she once used to skate to train now she has to cross-train: 'I might do maybe 10 reps of squats before moving onto another area of the body such as my shoulders, weights and resistance training, it's important to focus on the core and your balance. On top of that I do interval training on the treadmill.'
The girls nip round the track at around 25MPH, not bad for a small set of wheels on the soles of your feet, a lap can take just six seconds to complete.
Unsurprisingly there are risks, your knees and shoulders are prone to injury I'm told.
'It's a contact sport,' said Jess: 'You've got to be aware of that going in. I've seen broken legs, broken ankles and dislocated hips and collar bones.'
'It's important to let your injury heel properly, after a sprained ankle I rushed back into the sport and didn't give it time to heel properly,' Jess said: 'The next time I made sure I rested and it made such a big difference so always listen to the advice.
The jammer said she followed RICE (Rest, Ice, Compression, Elevation) then did three weeks of gentle exercise: 'Squats, lunges, lots of core work but don't push too much. I had a resistance band and focused on balance, then I gently eased back into the skates.'
Meanwhile Stef fractured her thumb in the sport: 'I went to A and E and they said the tendon had pulled the bone away, I was in a cast and brace but injuries can be completely manageable.'
'It's about learning to balance and move properly, so the more experienced you are the less risks there are, but freak accidents can happen,' Olivia said.
So it's all sounding pretty intense, surely they deserve the coverage, could we see Roller Derby as say, an Olympic Sport?
'Not any time soon,' says Olivia: ' There are too many rules and policies to be classed as an Olympic Sport. We would have to tighten up.'
Stef agrees it would be a lot of work with the Olympic Committee, she said the sport is still growing itself to fit in yet.
'I think everyone would give up the day job to be payed to play.' – Olivia
'I don't see why it couldn't be,' said Jess: 'There's enough drive and desire.'
'We're doing really well. We're a few years behind the American teams but it doesn't show. We fight hard to be playing on level with them.'
'Perhaps in the future, maybe 30 years time we will see Roller Derby at the Olympics.' Olivia adds.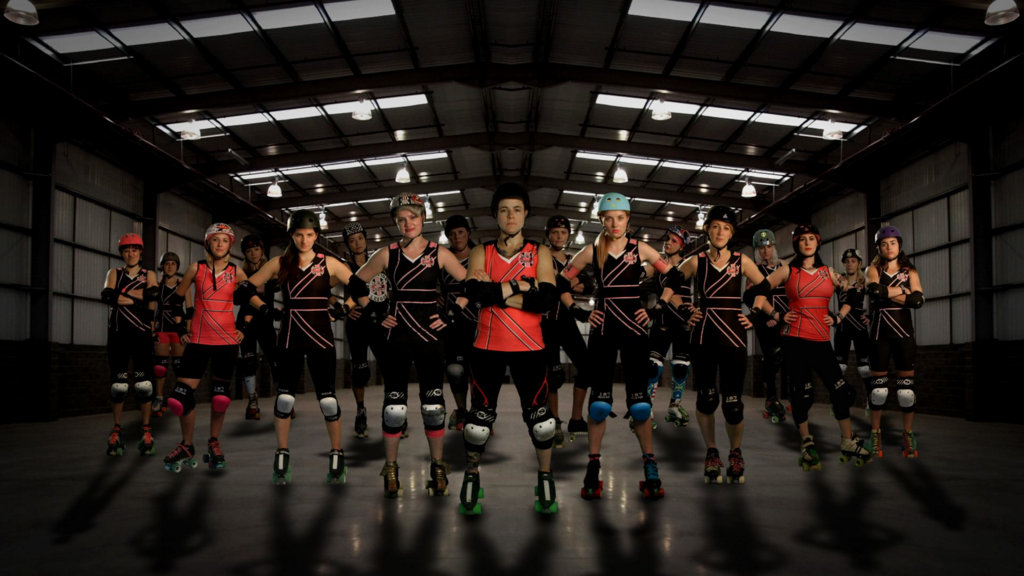 The sport's definitely picking up speed (if you'll excuse the pun). Under 18 teams are popping up across the country and we've even manage to get the guys hooked on the wheels.
Jess' partner Kevin Scott coaches the Brawl Saints B Team and has been a referee for the game but there's also a men's roller derby of its own.
'For a lot of women Roller Derby changes their life,' Stef said: 'It changes your perspective, you play at a competitive level and you get the chance to travel, see the world and have people cheering your name.'
There's no doubt these robust women have become a close-knit community who thrive not only on adrenaline but on a passion for their sport and each other.
The league is self-run and perhaps that is key to their strength and success on the track. It also mean's there are loads of ways to get involved.
Jess said: 'There are few sports out there that started by women for women. It's not just about the sport, it's the people involved.'
The girls are looking for a venue in London to call their own. All the best teams have a site for training and it gives them a clear advantage. Can you help?
Roller Derby Til I Die began on October 18th and continues every Friday at 9pm on the Extreme Sports Channel, Sky: 419, Virgin: 527 See more Roller Derby Til I Die on uk.extreme.com Visit the London Rollergirls Facebook Page or The London Rollergirls website. 
Like this article? Sign up to our newsletter to get more articles like this delivered straight to your inbox.