In her How To Eat Healthy For Beginners column this week, Vanessa Chalmers reviews the Mindful Chef recipe box
I've been struggling to find the time to mull over recipe books recently, let alone cook something exciting. I have a wealth of recipes at my finger tips (thanks to the Healthista new book cupboard and my own sizable collection)  but at the end of a long day I often slip back into cooking what I know. My cookbooks are gathering dust at such a busy time in my life and I hate how I don't make time for experimenting in the kitchen anymore.
I have heard of recipe delivery boxes before, brands such as Hello Fresh and Abel and Cole have been on my radar a while, but I hand't considered how useful might be to amateur or new cooks. They seemed expensive, bland, for people who are whizzes in the kitchen or the rich. But after trying Mindful Chef, I realise I couldn't have been more wrong. Recipe boxes are an excellent way of putting healthy cooking into practice, saving time and using good quality ingredients.
All their recipe's are focused on reducing the amount of refined carbs and processed foods people are eating
I first came across Mindful Chef at Fare Healthy, a health and wellbeing festival in February.  After chatting to the two brains behind the brand, Myles Hopper and Giles Humphries, I was hooked – and desperate to try their recipes (I tend to get like this around anything to do with food). They are the first box in the UK to cater for vegans and one person portions, as well as being gluten and dairy free. But having a taste of the food on offer at their stall, I was certain the excellent taste in their recipes wasn't forgotten about either.
Myles and Giles grew up in Devon together, and the two told me about their childhood in the countryside, where there is fresh organic produce on your doorstep. Moving to London, they were inspired to bring this good quality and fresh produce to others. All their recipes are focused on reducing the amount of refined carbs and processed foods people are eating, instead going for healthier options and vegetables.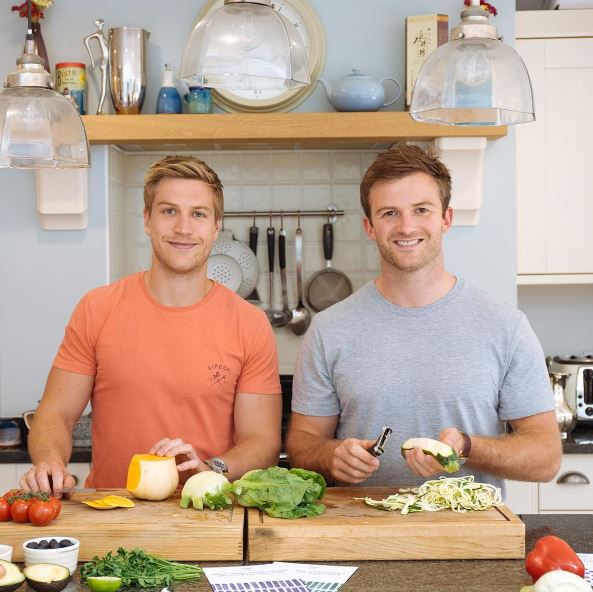 Inside each box are the components to a meal you are unlikely to have ever cooked before, perhaps only stared at dreamily eyed through an organic health café window or in the pages of a modern day prestige cookbook. Or is that just me?
The meals have pungent flavours, taking inspiration from different countries, fresh local produce (including amazing quality meat from small independent family run farms, mostly organic, which I doubt has ever graced my pots and pans before), and absolutely no sign of anything unhealthy. The ingredients are all portioned out for you in small plastic packaging, with a recipe card slipped inside. When I took a look at mine, I was rearing to go that evening.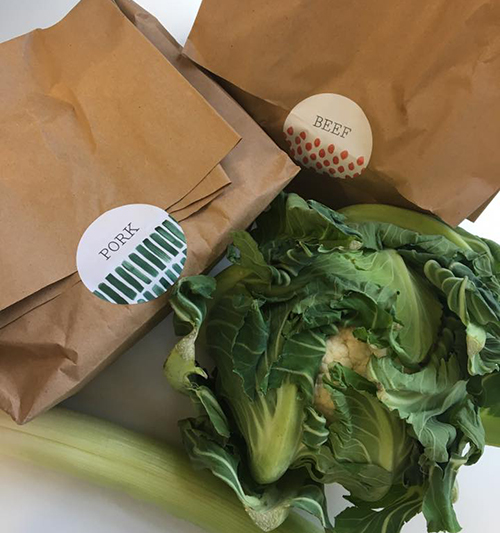 Peanut satay pork with black rice
Inside my first paper bag were the ingredients for peanut satay pork with black rice for two people. Reading through the instructions I thought 'how hard can this be?'
Ingredients
2 x 150g pork fillet
1 leek
2 tomatoes
40g spinach
1 red chilli
1/2 lime
20g creamed coconut
2 tbsp peanut paste
2 tsp tamari
100g black rice
Preferred cooking oil such as coconut or olive oil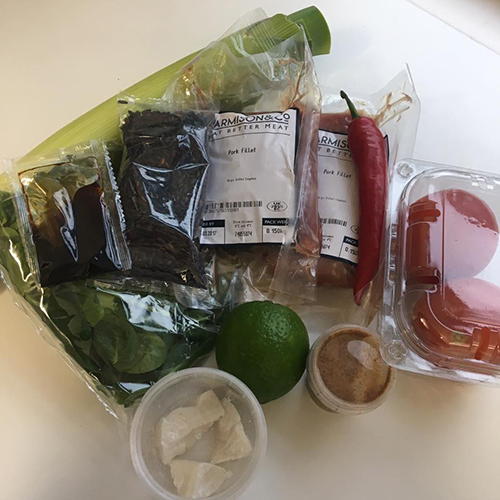 Method
Rinse the black rice and put it in a pan of 500ml boiling water, simmering for 25-30 mins until cooked.
Slice the tomatoes into quarters, the leek half lengthways and into 1 inch pieces, the chilli and the pork into thin strips.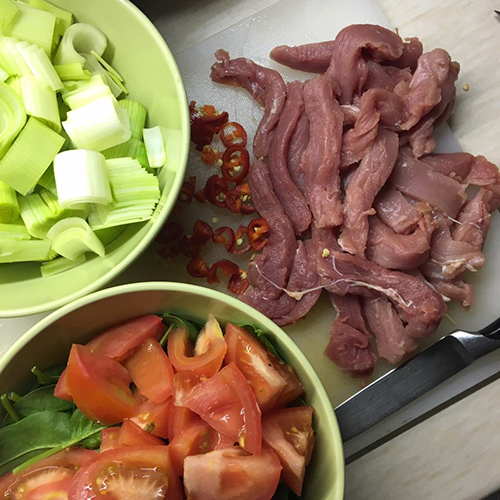 In a bowl, dissolve the creamed coconut in a 2 tbsp of boiling water.
If you haven't already scoffed the mini pot of peanut paste (because who doesn't love peanut butter?) add this, the pouch of tamari, red chilli and juice from half the lime.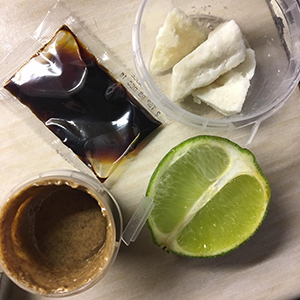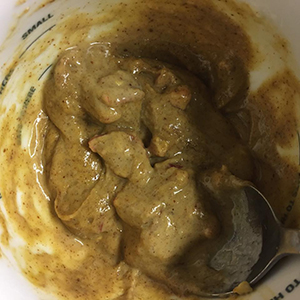 In a medium sized pan, I heat half a tbsp of oil and cook the pork for five minutes until golden brown.
Throw in the leeks and cook for about three minutes, followed by the tomatoes and spinach for a couple of minutes.
Lastly, spoon in the peanut satay sauce and cook for a few minutes.
Drain the black rice and serve.
It tasted quite cheesy and nutty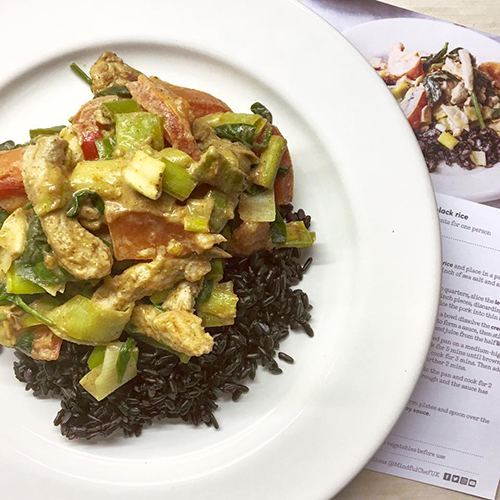 Somehow this dish tasted quite cheesy and nutty, which was fabulous. If you are intolerant to lactose, vegan or typically scared of dairy, I can confirm this is where you can get your 'cheese fix'. The peanut satay sauce, which I am a huge fan of but have never bothered to try and put together in the past (just laziness if I'm honest), was more simple than I had imagined, and I'll be using this technique again.
The black rice is more al dente compared to white rice, like brown rice, which you may or may not prefer. The ratio of rice to meat was quite noticeable – I'm not sure I'd normally have that much pork with that little rice, however I have put my trust in the hands of more knowledgeable than me that this is a perfectly portioned meal, and it works.
MORE: Want to learn portion control? This new gadget teaches you how
Beef goulash with cauliflower mash
One of my all-time favourite meals is beef stew with mash potato and veg – it's warming and my mum makes it in the slow cooker (need I say more?). How would this similar, yet healthier, twist on a Hungarian dish compare?
Ingredients
1 cauliflower
2 x 170g diced beef
1 red pepper
2 tomatoes
40g spinach
1 brown onion
2 garlic cloves
1 tbsp hot paprika
1 tsp caraway seeds
1/2 beef stock cube
Large handful of flat leaf parsley
Preferred cooking oil such as coconut or olive oil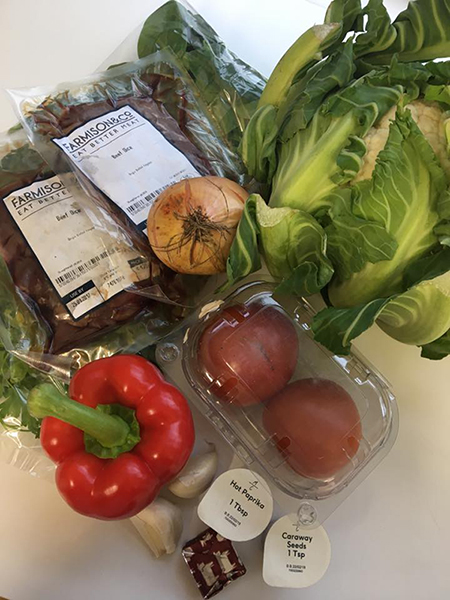 Method
Trim the cauliflower into small chunks and remove the leaves. Cut it into small chunks and put in a pan with boiling water and leave to simmer for 15-20 mins.
Heat 1 tbsp of olive oil on a medium-high heat, and add the diced beef. You can actually smell how decent quality this meat is when you cut the packet open. Cook for around five minutes until browned, remove and keep warm.
MORE: How To Cook Healthy For Beginners: Southern-Style Quinoa Coated Chicken
In the same pan, heat half a tbsp of oil and add the caraway seeds, garlic cloves and chopped onion. While it's cooking, make the beef stock with 200ml of boiling water.
After five minutes, once the onion has browned, add the hot paprika, chopped red pepper, chopped tomatoes and beef stock.  Let it simmer for five minutes, before adding the spinach, cooked beef, and half the large bunch of flat parsley.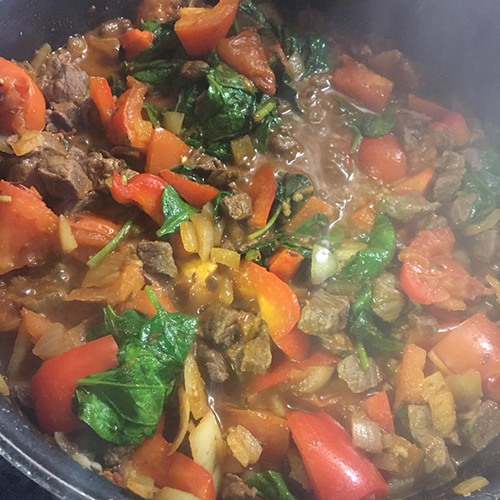 While this is simmering for a further 5-10 minutes, make the cauliflower mash. I have only made cauliflower rice before, and hadn't thought to substitute my ordinary mash with this (sweet potato mash can get a bit boring, right?). Use a potato masher in the same way as normal and add the rest of the parsley and a pinch or two of salt and black pepper.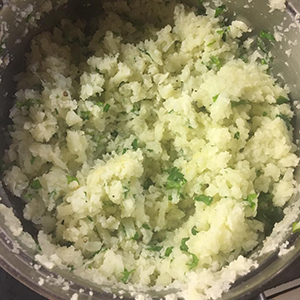 The beef was of an impeccable texture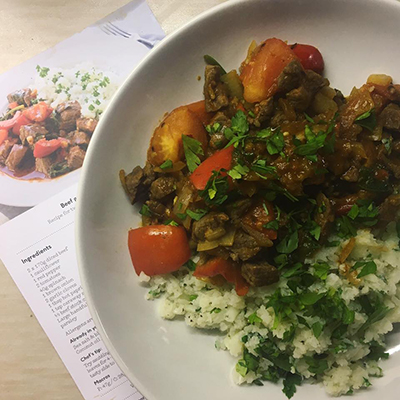 Seeing the hot paprika go into the pan, I was a little concerned at how spicy the beef would be. It was, it left my mouth burning, but any less or more wouldn't have been as satisfying. Perhaps it was the caraway seeds – something I have not used before. The beef, although not slow cooked like I am used to, was of an impeccable texture, most likely due to the supplier of meat as well as being in very small pieces. The cauliflower mash, like cauliflower rice, was hardly different to the potato mash I swear by.
The verdict
In all honesty, I am a super big fan of Mindful Chef. I would rate the service 5/5 and would certainly use it again. It isn't just a healthy meal for those who have no time to shop or look up recipes themselves. It is a learning tool for beginner cooks who need practice, who can then continue to cook healthily. Both these meals took under 30 minutes to make, and it made a difference that everything was pre-portioned; less time measuring and less waste.
It is a learning tool for beginner cooks who need practise, rather than a shelf of cookbooks gathering dust.
The food was undoubtedly delicious, with flavours I hadn't discovered myself either due to lack of trying or thinking it was beyond my capabilities. I am pleased I was able to experiment minus the casualties (so common when trying out new foods or techniques), or grumbles from others at the table ('Vanessa, can you stick to cooking what we know, please? We beg you').
The cost
This could be a one off treat now and again for some new inspiration, useful for future cooking as you can keep the recipe card. Or if you're really excited by the idea, it is affordable as a regular habit. It's cheaper the more you buy; for four people its £6 per portion, for two people it's £7 a portion, and for one person it's £9 a portion – the UK's only one person box. You can chose up to five recipes every week, which are on a 12 week cycle.
Their first book, Mindful Chef
, is now on Amazon for £13.60. It features 70 of their favourite recipes divided into five different sections – sleep, stress, energy, exercise and gut. Each section has information on how nutrition can improve your health.
Are you a beginner cook? What would you like to learn more about? Please let us know by tweeting us at @HealthistaTV or writing on our Facebook page.
Follow Mindful Chef on Instagram and Twitter.
Vanessa Chalmers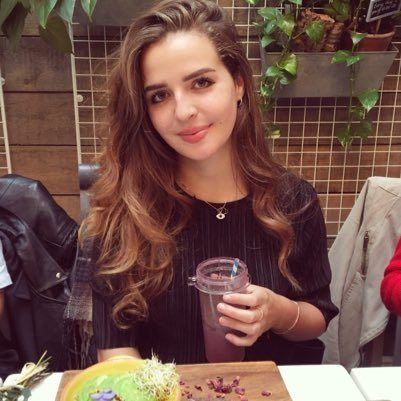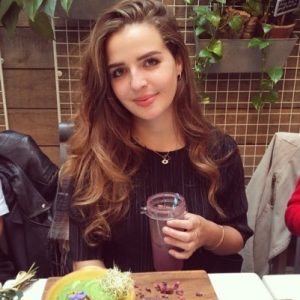 is a Food and Lifestyle Writer at Healthista, and enjoys finding new healthy living hacks, especially when it comes to her favourite thing – food. Her column How To Cook Healthy For Beginners is every Friday, for the busy everyday woman who is nothing more than an amateur chef, but loves food and to cook.
Follow on Instagram and Twitter to watch her healthy living journey.
READ MORE
13 healthy seeds and how to use them
How To Cook Healthy For Beginners: 6 easy smoothies and juices
How To Cook Healthy For Beginners: Southern-Style Quinoa Coated Chicken
How To Cook Healthy For Beginners: Paneer and cauliflower bowl recipe
How To Cook Healthy For Beginners: Herbed turkey meatballs with courgetti pomodoro
Like this article? Sign up to our newsletter to get more articles like this delivered straight to your inbox.