Want to learn how to cook healthy? Healthista's Vanessa Chalmers does. In her column this week, Vanessa takes inspiration from The Medicinal Chef Dale Pinnock's new book How to Cook Healthily 
A healthy lifestyle is achievable for anyone. But there are tons of recipes out there that seem to require the fruits of a forbidden forest, dragonfly wings and the decoration of diamonds as ingredients.
In my mind at least, as long as I am cooking from scratch with a variety of beneficial foods from the local supermarket I am one step further to healthy living. That's why, every Friday I will be bringing you an easy, affordable and simple recipe – for the busy everyday woman who is nothing more than an amateur chef, but loves food and to cook. Here's my first one, mediterranean cod bake from Weight Watchers' new  cookbook, here.
MORE: 10 coconut oil recipes ready in less than 30 minutes
This week I have chosen How to Cook Healthily (ironic) by Dale Pinnock, also known as The Medicinal Chef. Dale is an award-winning cookbook writer, and his recipes stem from his qualifications in Human Nutrition, Herbal Medicine, and Nutritional Medicine. It sounds a little clinical, but I can confirm the recipes use accessible ingredients and simple cooking techniques.
the recipes in Pinnock's book use accessible ingredients and simple cooking techniques.
I have made courgetti (a vegetable pasta alternative) and meatballs before, but never the meatballs from scratch. Turkey is a lean meat alternative to beef, and as I found when cutting into them once cooked, the herb infused meat was a divine texture. I am definitely sold on continuing to make these rather than buying them already made. As for the courgetti, the first time I decided to make it, it seemed daunting. It is, however, very simple, and if I decide to cook them (they can also be eaten raw), it takes 20 minutes off cooking time compared to spaghetti. I use a handheld spiralizer (Gefu 13460 Spiral Cutter Spirelli
, £7.49), which works just as well as a fancy machine which I don't believe anyone has room for in their kitchen. It's like a large pencil sharpener, and I warn you not to try making spirallized vegetables this way unless you want an arm workout.
All in all, it took about an hour to cook up, all of which I was in the kitchen preparing all the separate parts. But I reckon it's a worthwhile meal to spend extra time on. I adjusted the ingredients a little to suit my raveneous family, who I heard no complaints from!
MORE: Healthy diet advice to live by – from 6 celebrity health gurus
Herbed turkey meatballs with courgetti pomodoro
Serves 4
Ingredients
1 large courgette (I used 2 and a large carrot. This filled about one third of 4 plates, so I really don't know how far 1 courgette would have stretched…)
For the meatballs
500g (1lb 2oz) minced (ground) turkey (I used 750g which made 16 large meatballs. 500g would probably make 10 large meatballs).
2 cloves garlic, finely chopped red onion, finely chopped
8–10g (⅓oz) flat-leaf parsley, finely chopped
8–10g (⅓oz) basil leaves, finely chopped, plus extra to serve
1 egg
For the sauce
Olive oil, for cooking
Red onion, finely chopped
2 cloves garlic, finely chopped
400g (14oz) passata (I also put in a tin of chopped tomatoes for more sauce)
1 teaspoon dried mixed herbs
Sea salt
Method
Begin by making the sauce. Heat a little oil in a pan, add the onion, garlic and a good pinch of salt and sauté until the onion has softened. Add the passata (plus chopped tomatoes if you are using) and mixed herbs and simmer for 25 minutes or so. You are aiming for a thick, rich sauce.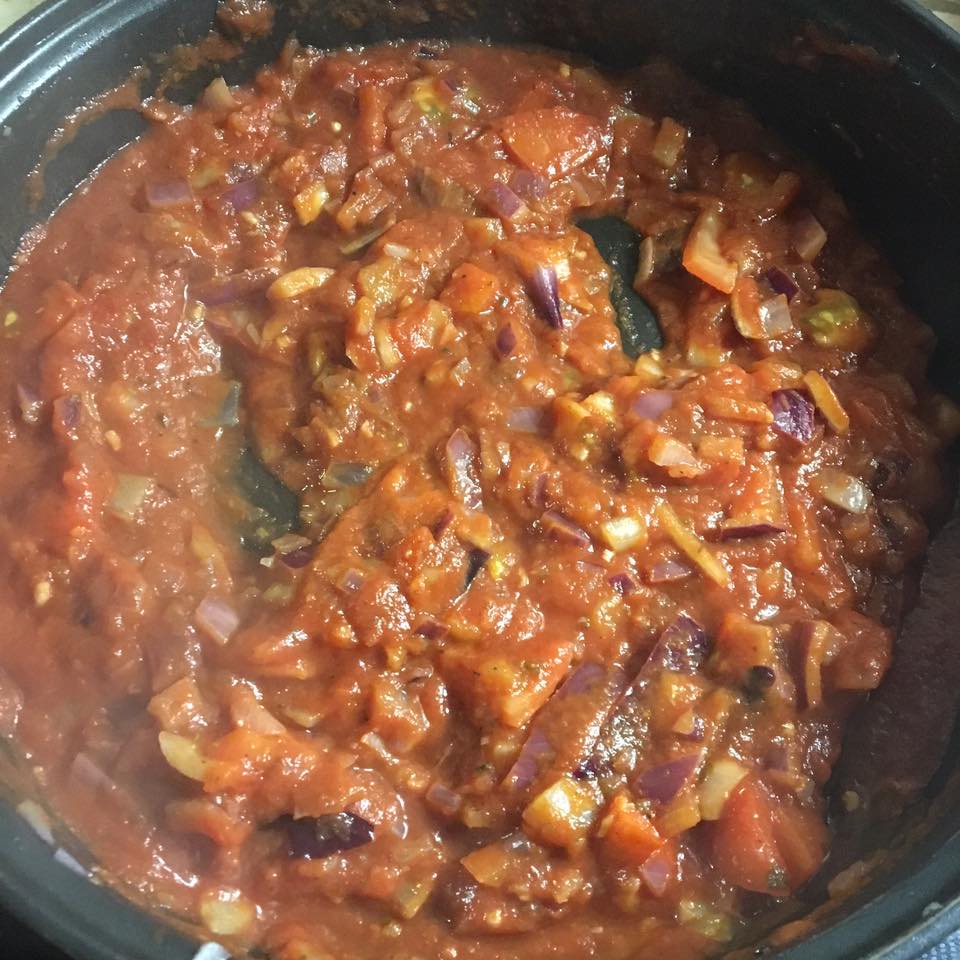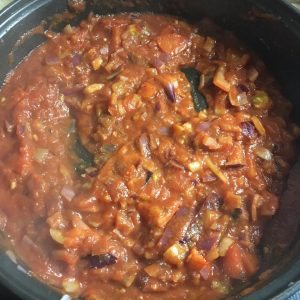 Meanwhile, mix the meatball ingredients together well and roll into balls. Add the meatballs to the sauce and simmer for 20 minutes, to cook through.

The turkey meatballs made with the mixture

Place the meatballs into the sauce

Using a spiralizer, make noodles from the courgette (zucchini). Place the noodles in the centre of a plate and top with the meatballs, sauce and basil to garnish. (I cooked mine by heating some olive oil in a pan and sauteing for around 4 minutes. I then strained them well).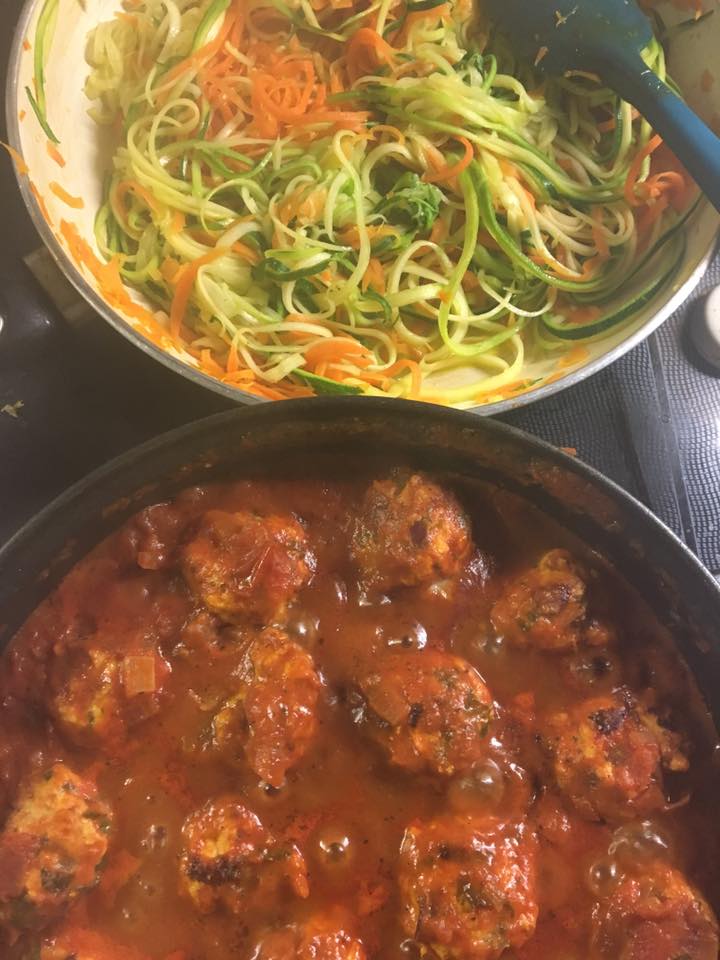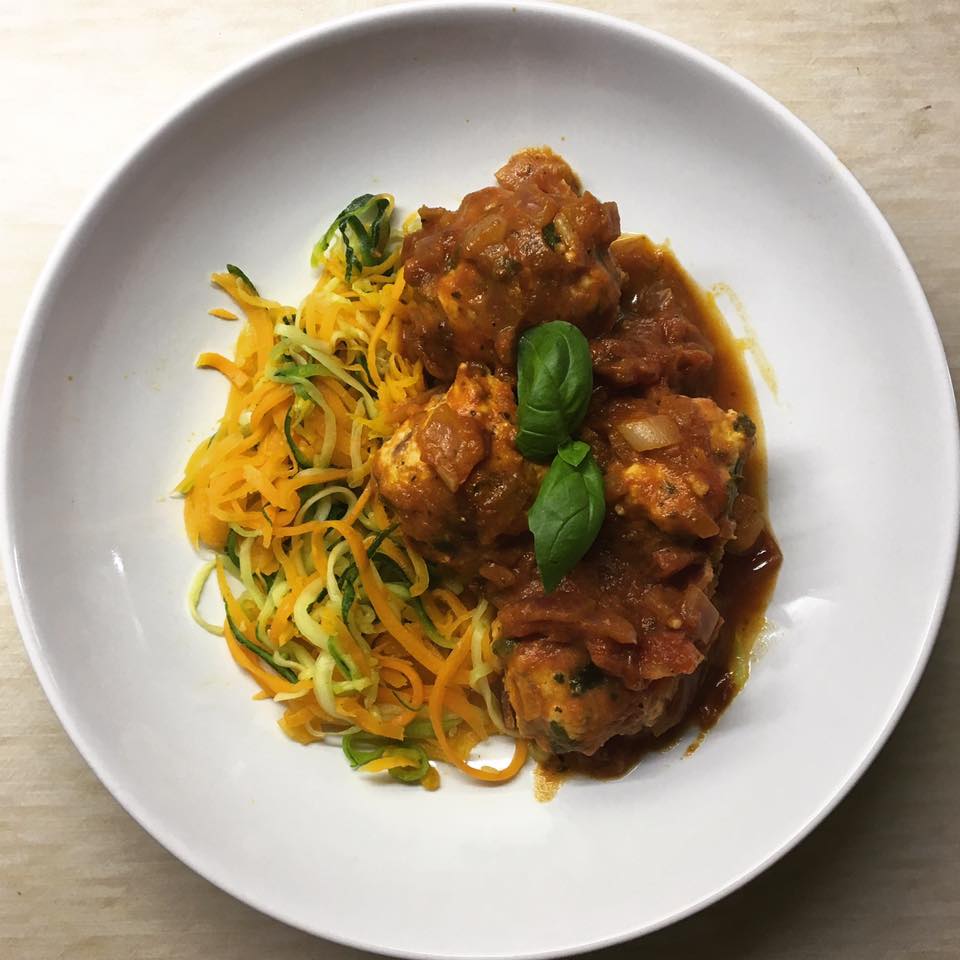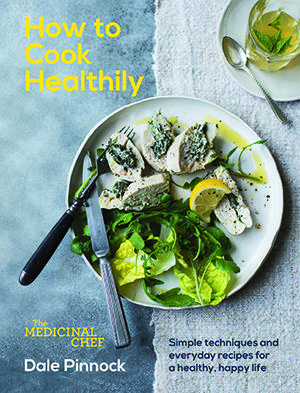 Buy The Medicinal Chef: How to Cook Healthily: Simple techniques and everyday recipes for a healthy, happy life
, Quadrilel, £13.60
MORE: How To Cook Healthy For Beginners: Writer Vanessa Chalmers' new column starts with a recipe for Mediterranean Cod Bake
Like this article? Sign up to our newsletter to get more articles like this delivered straight to your inbox.