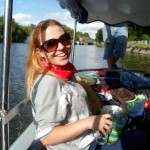 Welcome to Week Two of Healthista's 12 week Body Challenge.  Charm Walker Smith is 35, a press officer for the Stroke Association who lives with her boyfriend, Sebastian and cat, Sonny in central London.   Charm is blogging weekly about what it really takes to get into shape.  This week she finds that despite every good intention, there are times when a bit of booze is absolutely, positively essential
THE CHALLENGE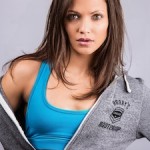 Exercise
 Attend three weekly classes at 
Barry's Bootcamp
, the new super-gym that has a huge celeb following in the US whose fans include Jessica Biel, Sandra Bullock and Katie Holmes.  It's just opened a branch in London's Euston where Charm will be guided through her paces by chief Barry's instructor Anya Lahiri (left).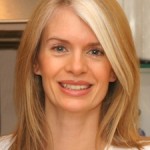 Diet  
A total nutritional overhaul (no less) at the hands of Alli Godbold (above), nutritional therapist who has worked alongside chefs Charles Amos and Alan Wichart at Divertimenti Cookery Schools in Knightsbridge and Marylebone, author of 
Feed Your Health (£13.99 from Amazon
and 
feedyourhealth.co.uk
)
THE PROGRESS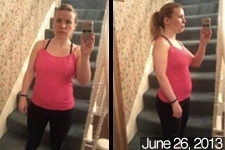 WEEK ONE
Weight 8.28 stones
Height 4 foot 11 inches
Bust 36 inches
Waist 30.5 inches
Hips 37 inches
Top of thigh 22 inches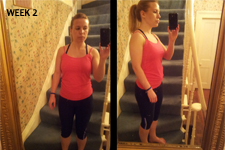 WEEK TWO
Weight 7 stone 10.6
Height 4 foot 11 inches
Bust 35 inches
Waist 30 inches
Hips 37 inches
Top of thigh 22
THE BLOG
If you look at the tweets about Barry's Boot Camp, recurring themes include fear and pain.  Lily Cooper (Allen as was) said it was 'actually harder than childbirth'. So as I waited to go into the treadmill disco, I was surprised to hear someone say they wanted to do a 'double'.  A double as you have probably guessed is back-to-back classes and at this point, to me, that sounds completely INSANE.  It is beginning to dawn on me that the more exercise you do, the more you enjoy exercise.
Week two and so far I'm still not doing terribly well; I remain a floundering beginner. Weak as a kitten, the sprinting actually scares me, literally everything aches, all the time, including places I did not know existed. But in spite of all that I found myself thinking about doing a yoga to make sure I'm supple enough to make the most of the work out, or possibly jogging to the lesson to make sure I'm warmed up. These thoughts shocked me so much I had to sit down in a happy place. It is only the second week, what on earth is happening to me?
Diet-wise, last week was a great success, I'd gone from 8 stone 2 to 7 stone 11. This week I'm 7 stone 10.6 so only half a pound off but I've put on muscle and that weighs more so it's a small success and I am starting to feel more toned.  The weigh-in meetings are held with a group of us on the Nourish Diet, we get weighed, discuss the weekly menu, then we get a talk on some specific aspect of nutrition. The talk for week one was on how unfairly maligned fat is and why some fats are good for you. It was pretty technical and at some point there was a slide with molecules on it, but the gist seemed to be fats aren't all bad, except trans fats which are awful. We need the fat from things like seeds and avocados too keep our cells healthy, which is completely fine by me. My love for avocados knows no limits.
In my heart of hearts I'm a bit disappointed with myself, half a pound is not ideal and I only have myself to blame. The diet remains delicious, it is eminently enjoyable and that is problem one. Portion control is hard when the food is so pleasant. I don't honestly know if I'm being greedy or my appetite is getting bigger because of the exercise, but I could happily wolf down my dinner twice. I thought I was being awfully clever keeping some yummy nuts on my desk for one of my entirely sanctioned snack breaks, but almonds that were meant to last a fortnight (at least) have all gone.
I have transgressed too in succumbing to booze.  This, I knew, would only be a matter of time.  However I feel I have an excuse because it was our 'Life After Stroke Awards' this week. It's a glamorous shindig to celebrate courageous stroke survivors, lots of celebs and press, Sharon Stone presented an award, it's a big occasion, a very moving day and despite meticulous planning it is also a bit of a logistical nightmare.  But diet-wise I started amazingly well. I was SO good, I shunned the champers, I eschewed the offer of a saddle of beef and retired to another room to eat a PACKED LUNCH.  But the saintliness was unsustainable. After a long day running around the Dorchester hotel in heels I deserved a drink, which then turned into three rather large drinks. I console myself that the awards only happen once a year and at least it wasn't beer.
This week's menu
Breakfast  Natural yoghurt with berries and seeds
Lunch Cold meat with quinoa salad and tzatsiki
Dinner Sesame salmon with avocado and tomato salad
This week's workouts 
1 x Butt and Legs session on Tuesday
1 x Core and Abs session on Wednesday
1 x Full Body on Sunday plus Highest speed on the treadmill 8.2 (miles per hour *I think*) and only for about 20 seconds again…
Like this article? Sign up to our newsletter to get more articles like this delivered straight to your inbox.