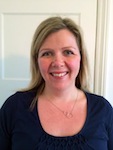 It's week 8  of our blogger Caroline's Reboot body makeover challenge and despite a wine-fuelled fall off the wagon, she is looking amazing. Plus we hear updates from her food and fitness coaches, Alli and John 
'It had to happen sooner or later – this week I had a quite a spectacular fall off the wagon! I stayed strong through a networking evening, 50th birthday party and my daughter's birthday this week but on Saturday night at my local pub with a big group of girl friends it happened. I had promised myself one glass of wine in the pub. When I got there there were already several bottles of Prosecco on the table  and it was too much of a temptation. I staggered home several glasses of Prosecco later feeling quite merry. It was a great night though – well worth it!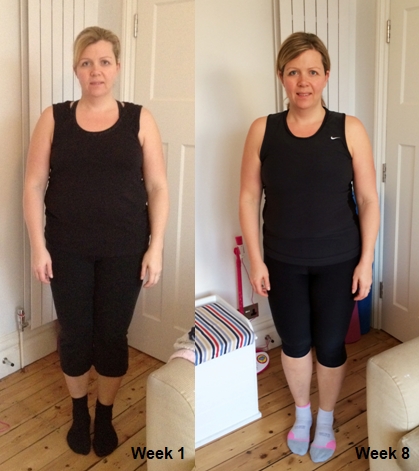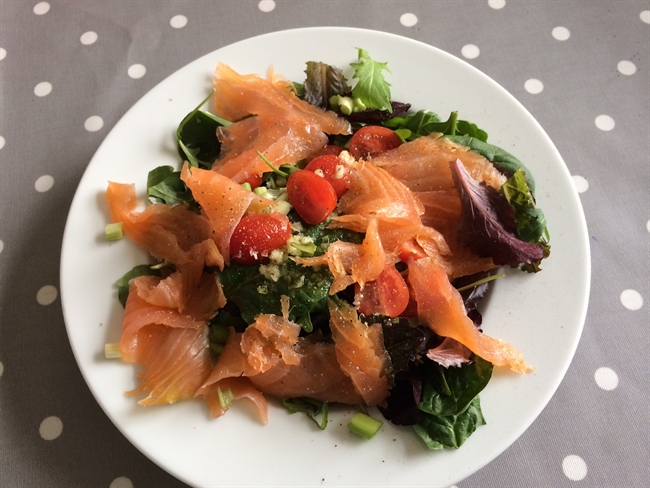 'The rest of the week I have stayed within Alli's recipes most of the time. I had sushi one night which is probably a bit carb heavy for Alli's liking but I tried not to eat too many pieces (hard when unlimited, super fresh sushi is being handed out on big plates… ).
My family loves the dishes I make from the nourish diet so it is not a sacrifice at all to cook this food, it is truly delicious. It struck me today that I haven't had any cheese (just the odd little nibble) for about one and a half months. Being a real cheese lover, that is definitely a record for me! And I don't really miss it now, so hopefully that is one thing I will be able to stay with once these 12 weeks are over.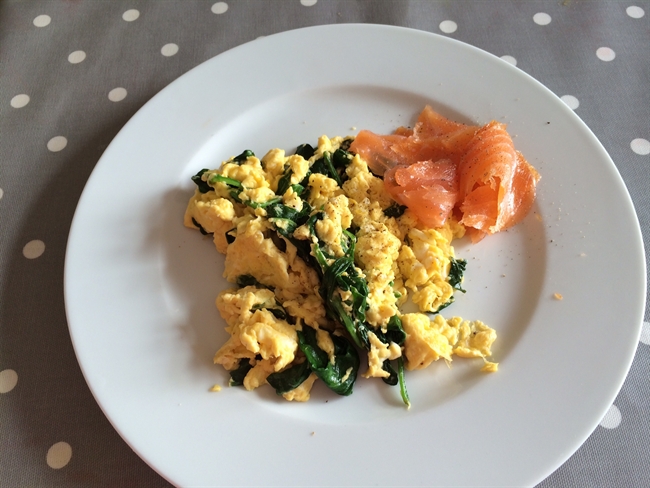 'All the exercising has started to show signs on my body, both welcome and unwelcome. I definitely feel a lot stronger than I did only a few weeks ago and during this week's Pilates class it was a great feeling to be able to control the movements a lot better than I have been able to in the past.
'However I have also had a few niggles this week – my lower back went in to muscle spasms in the beginning of the week and I had a really painful shoulder later in the week. One of the great things about working out with John is that he is not only trained as a PT, he is also a sport massage therapist so he helped me sort out both lower back and shoulder quickly. For the back he told me to lie on a tennis ball in the evening before bedtime to loosen up the lower back. That sorted the back out almost immediately, and for he shoulder he massaged and stretched it (not so gently!) which also made it better within days. He definitely knows his stuff.
'There was no session with Alli this week as she was away with work so I haven't got exact weight from her scales, but according to my home scales I have lost about 0.8 kilos this week. I did miss seeing the other girls in the weekly Nourish cooking lessons at Alli's this week. I am real socially motivated person and see them each week has been a great form of support – it keeps the motivation high during the week.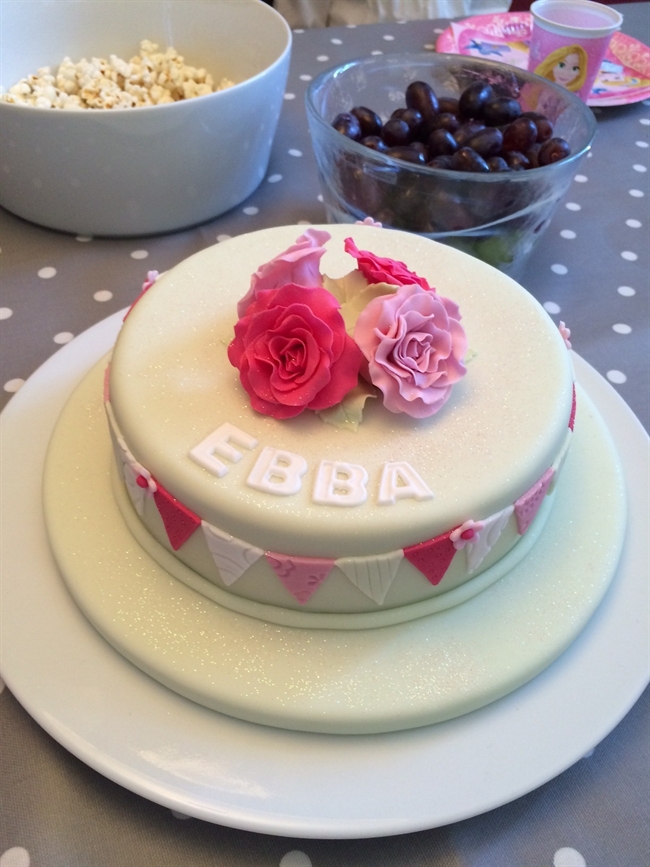 ON THE MENU THIS WEEK:
Breakfast: Scrambled eggs with spinach and smoked salmon
Lunch: Salad with left over chicken and tahini dressing
Snacks: raspberry smoothie, cashew nuts
Dinner: Sesame salmon with salad and asparagus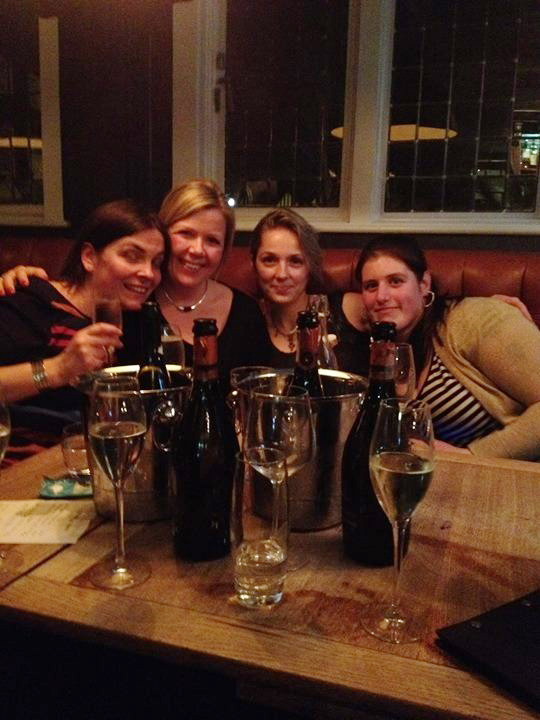 THIS WEEK'S EXERCISE:
Monday: Run, 40 min + power walk , 40 min
Tuesday: Session with John, 60 min
Wednesday: Pilates, 60 min + walk, 60 min
Thursday: Run, 30min
Friday: Session with John, 60 min
Saturday: Walk, 90 min
Sunday: –
John says: 'Caroline's hit a plateau'
'Ok midway through our weight-loss reboot and we experienced the not unexpected weight-loss plateau. This slowing/stopping of weight loss comes about primarily as the body's physiology adapts to the combination of the exercise regime and food intake level. Now's the time to train-smart, change up the exercise routines and fine tune the eating program. As the personal trainer I've responded by adding more variety: 30-45 varying exercises per session, adding intensity,  faster athletic movements with little to no less rest periods.
'Metabolically the effects are stimulating, greater calorific burn both during exercise and after and psychologically motivating for Caroline as she sees her fitness ability jump and her capacity to mentally step up enhanced. These improvements are great to see and make the work really satisfying.
Alli says: 'We're going to look for hormone imbalances that might make weight loss harder'
'Caroline was disappointed at not losing weight as she felt that she had worked hard all week and kept to the diet fairly closely, she admitted to cheating a few times but I think that at this point that is to be expected – it is really difficult to sustain a 'healthy diet' 100 per cent of the time especially with young children – parties, work and so on. My plan is to look more closely at Caroline's hormone levels – we will start by checking cortisol levels and order a full thyroid profile as if the adrenals or thyroid are inbalanced it makes weight loss so much harder.
THE EXPERTS LEADING CAROLINE'S BODY MAKEOVER: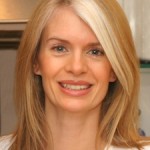 Diet A total nutritional overhaul (no less) at the hands of Alli Godbold, nutritional therapist who runs a clinic in Chiswick West London for one to one consultations as well as the NOURISH healthy eating courses.  Alli also holds frequent cookery workshops and is the author of Feed Your Health (Amazon £13.99 ) feedyourhealth.co.uk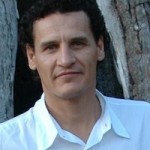 Fitness John Orum is a sports scientist with 20 years experience training ordinary people and celebrities and was head trainer at In:Spa retreats for four years. John's focus is on the whole person and he incorporates fitness, psychological motivation and other body work technique to bring out their best and make the changes last. Contact John at johnorum93@gmail.com
Check out Caroline's other REBOOT diaries:
Like this article? Sign up to our newsletter to get more articles like this delivered straight to your inbox.