No carbs before Marbs. No pizza before Ibiza. Planning on cutting out the carbs before your Summer hols? Here are five delicious low-carb recipes you will love from Annie Bell's new book, Low Carb Express
'Eat less, move more', but is it really that simple? I wish – and if it was, wouldn't we all be super fit and healthy?
Where the 'eat less' part is concerned, people tend to completely cut out specific food groups such as fats, sugars or carbohydrates in an attempt to drop the pounds. However, 'exclusion of any food group brings with it risks of malnutrition' says Annie Bell, author of Low Carb Express.
Not excluding but reducing your carbohydrate intake however, is a proven way of losing and maintaining a preferable weight. 'Giving starchy carbs a wide berth has become synonymous with staying slim' declares Annie.
the key to the success of following a low-carb diet lies with satiety
Annie Bell observes 'carbohydrates consist of sugars, starches and fibre, and the main sugar is glucose'. Glucose (also known as blood sugar) provides instant energy to the body and solely powers the brain. Gulsose is important and so are carbs. We need carbohydrates for fuel and energy, we simply cannot live without them.
Lower-carb options, are better at balancing our blood sugar levels and lead to increased satiety (the sense of feeling full after a meal). This reduces those persistent food cravings. Annie Bell believes 'that the key to the success of following a low-carb diet lies with satiety'.
But how low is low? According to Annie Bell, 'there are no officially recognised standards for 'Low Carbohydrate Diets' but 'if you are trying to lose weight, reducing your daily carbohydrate intake to 100g or below should set the wheels in motion'.
With all that in mind, here are a select few delicious recipes from Low Carb Express, to kick start your low-carb eating.
LOW-CARB SNACK: Sea Salt Choco Walnuts
Chocolate this dark, with just a fraction of sugar, spans the divide between sweet and savoury.
With just the lightest coating on some nuts and a smattering of salt, these nibbles are quite
at home with a drink, or at any other time of the day, and still offer the sensation of eating
chocolate. They might just take the edge off that craving.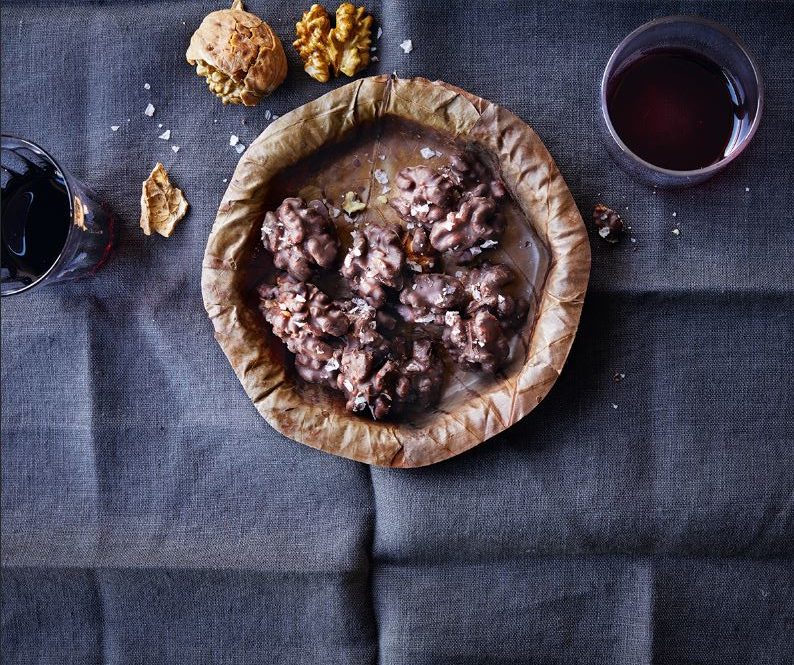 energy kcal, 276 | carbohydrate, 4.4g | sugars, 2.7g | protein, 5.8g | fat, 25.4g | saturated fat, 6.7g | salt, 0.5g
Serves 4
Ingredients:
100g walnut halves
60g dark chocolate (approx. 90% cocoa), broken into pieces
Maldon sea salt, finely scrunched
How to make Sea Salt Choco Walnuts:
Preheat the oven to 160°C fan/180°C electric/gas mark 4.
Spread the walnut halves over the base of a roasting pan and roast for 10 minutes.
Meanwhile, gently melt the chocolate in a large, heatproof bowl set over a small
saucepan of barely simmering water.
Add the hot nuts and stir thoroughly to coat them, then spread these out on a sheet of baking paper on a small tray or plate, and lightly season with salt.
Pop into the freezer for 15 minutes to set.
Store in an airtight box in the fridge. (They will be good for several days.)
LOW-CARB MEAL #1: Rainbow Spaghetti with Parmesan, Parsley and Crispy Bacon
This dish is a very good advertisement for spiralised veggies, then they are infinitely better made at home than bought. Like other pre-prepared vegetables, they rapidly succumb to drying and browning where they are cut, and there is no way of trimming them. So I won't be throwing my spiraliser out just yet.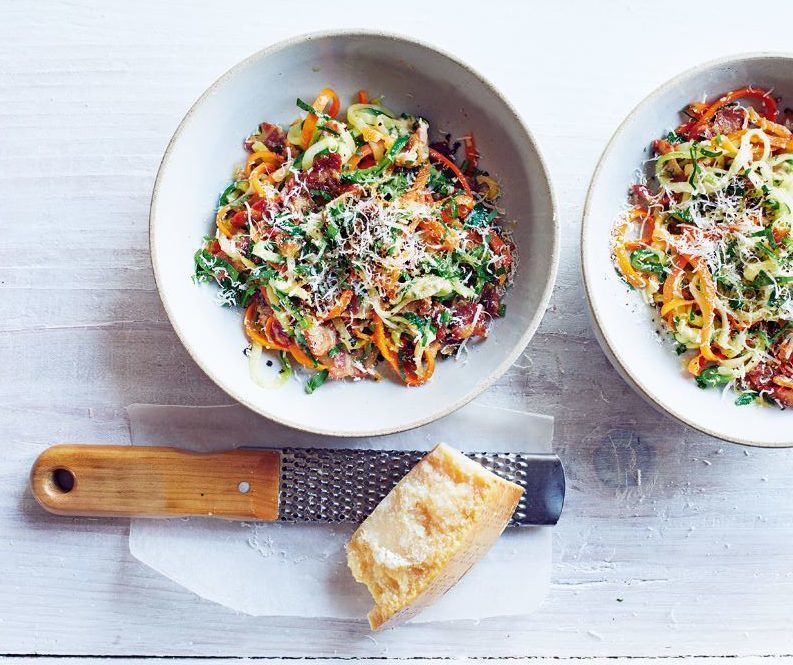 energy kcal, 336 | carbohydrate 6.6g | sugars 6.2g | protein 9.6g | fat 28.9g | saturated fat 12.2g | salt 1.6g
Serves 2
Ingredients:
80g unsmoked streaky bacon, cut into 1cm dice, or lardons
30g salted butter
1 small garlic clove, peeled and crushed to a paste
sea salt, black pepper
300g courgette noodles (3mm)
100g carrot noodles (3mm)
2 tablespoons finely chopped flat-leaf parsley, plus extra to serve
50g freshly grated
Parmesan
1 tablespoon extra virgin olive oil
lemon wedges, to serve
How to make Rainbow Spaghetti with Parmesan, Parsley and Crispy Bacon:
Gently heat the bacon in a large, non-stick frying pan over a medium heat, and fry in the rendered fat for 4–7 minutes until golden and crisp, stirring frequently.
Transfer to a double thickness of kitchen paper to drain.
Bring a large (unsalted) pan of water to the boil. Melt the butter with the garlic and some seasoning in a small saucepan.
Add the noodles to the boiling water, blanch for 1 minute, then drain into a colander and shake dry for about 30 seconds.
Return these to the saucepan, pour over the garlic butter, scatter over the parsley and half the Parmesan and toss to coat.
Divide between two shallow soup bowls.
Scatter over the remaining Parmesan, a little more parsley and the bacon, then drizzle over some olive oil.
Accompany with lemon wedges.
LOW-CARB MEAL #2: Pizza Omelette with Mozzarella and Chorizo
These pizza-style omelettes have taken my kitchen by storm, especially if I am eating alone or when there are just two of us. Like all the best pizzas they are more about the goodies on top than the base, here just a thin and delicate omelette that is golden underneath and tender and creamy in the middle. They take all of 5 minutes to cook, and will lend themselves to any mélange of cheese, olives, roast veg and cured meats, in true pizza style, and the fridge is likely to offer all manner of scenarios on this score.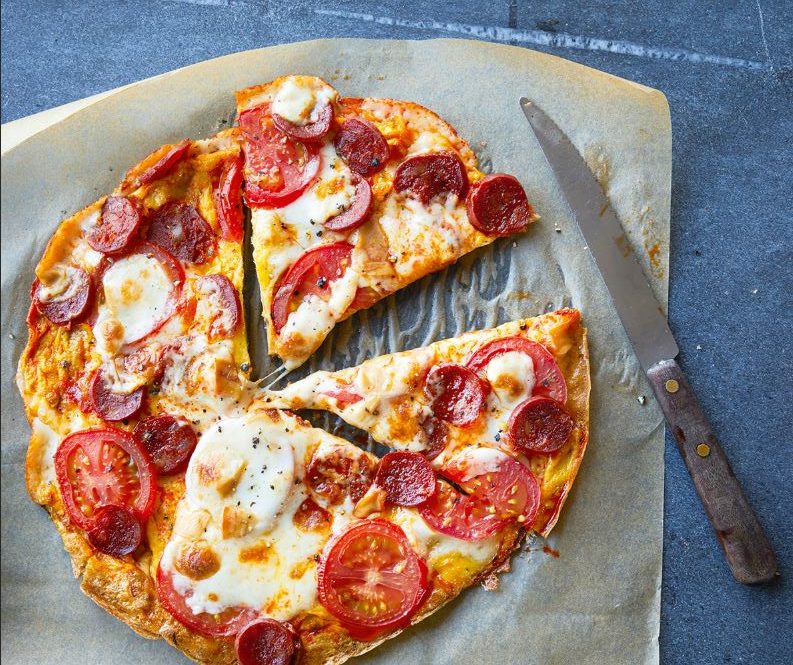 energy kcal, 321 | carbohydrate 2.2g | sugars 2.0g | protein 22.9g | fat 26.1g | saturated fat 10.1g | salt 1.4g
Serves 2
Ingredients:
3 medium eggs
sea salt, black pepper
1 teaspoon extra virgin olive oil
100g cocktail or cherry tomatoes, thinly sliced
40g chorizo sausage, thinly sliced
75g mozzarella or scamorza*, cut into 1cm dice
*Scamorza is a smoked mozzarella-type cheese with a nice firm texture. It's particularly good grilled or toasted.
How to make Pizza Omelette with Mozzarella and Chorizo
Whisk the eggs with a little seasoning in a medium bowl, and have the remaining ingredients prepped and at the ready.
Preheat the grill, and also heat a 24cm non-stick frying pan with a heatproof handle over a medium heat for a few minutes.
Drizzle the oil over the base of the pan, then tip in the eggs and swirl to coat the base.
Cook for 1–2 minutes until puffy around the edges and golden underneath.
At the same time, arrange the sliced tomatoes over the top of the omelette, then scatter over the chorizo and cheese.
Pop under the grill for 2–3 minutes, or until golden and sizzling.
Serve straight away, or while it is still warm.
LOW-CARB DESSERT #1: Chocolate, Date and Orange Mousse
This chocolate mousse offers a note of restraint within its genre. The flavour of the cocoa, the orange and hazelnuts all find a voice, with the sweetness bolstered by dates and orange.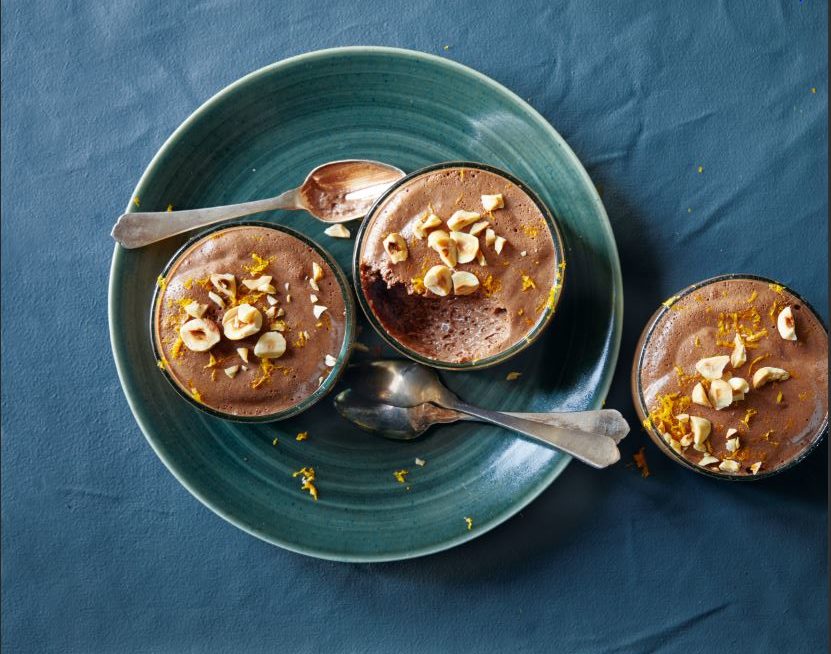 energy kcal, 210 | carbohydrate 14.1g | sugars 11.2g | protein 6.8g | fat 13.3g | saturated fat 6.3g | salt 0.2g
Serves 6
Ingredients:
4 Medjool dates (approx. 80g), pitted and coarsely chopped
3 tablespoons smooth orange juice
100g dark chocolate (approx. 85% cocoa), broken into pieces
4 medium eggs, separated
1 teaspoon finely grated orange zest
1 tablespoon roasted and chopped hazelnuts
How to make Chocolate, Date and Orange Mousse
Put the dates and orange juice in a small saucepan, bring to the boil and simmer for 1 minute, mashing the dates into the liquid until you have a thick paste.
Transfer the mixture to a food processor.
Gently melt the chocolate in a large heatproof bowl set over a pan with a little simmering water in it. This needs to be at room temperature, so leave it to cool a little.
Add the egg yolks to the dates in the food processor and whizz to a purée, then trickle in the melted chocolate and whizz to mix.
Scrape the chocolate mixture, which will be thick and sticky, into a large bowl.
Whisk the egg whites to fluffy peaks in another large bowl using an electric whisk. Add half of these to the chocolate base and beat until smooth using a wooden spoon.
Fold in the remaining egg whites in two goes, and divide between six 100ml little cups or ramekins.
Scatter over a little orange zest and some chopped hazelnuts.
Place the ramekins on a plate or in a baking dish, and pop into the freezer for 20 minutes.
They will be soft and moussey when they come out of the freezer, ready to eat, if wished. (They will set further with chilling in the fridge, and can be stored for up to a couple of days, loosely covered with clingfilm.)
LOW-CARB DESSERT #2: Strawberry Chia Pudding
I never thought I would grow to love chia seeds, but every now and again they offer themselves up as the solution to a dilemma, such as how to create a dessert with the comfort of a traditional rice pudding, one that is not only full of goodness but ready in a jiffy – and that bag of little black seeds in the cupboard saves the day. This plays to the comfort that we are seeking, but instead of all that cream and sugar and refined carbs, we get a few chia seeds, with some strawberries and nuts. This is a concentrated pudding, so you don't want a big bowlful, a small ramekin should suffice.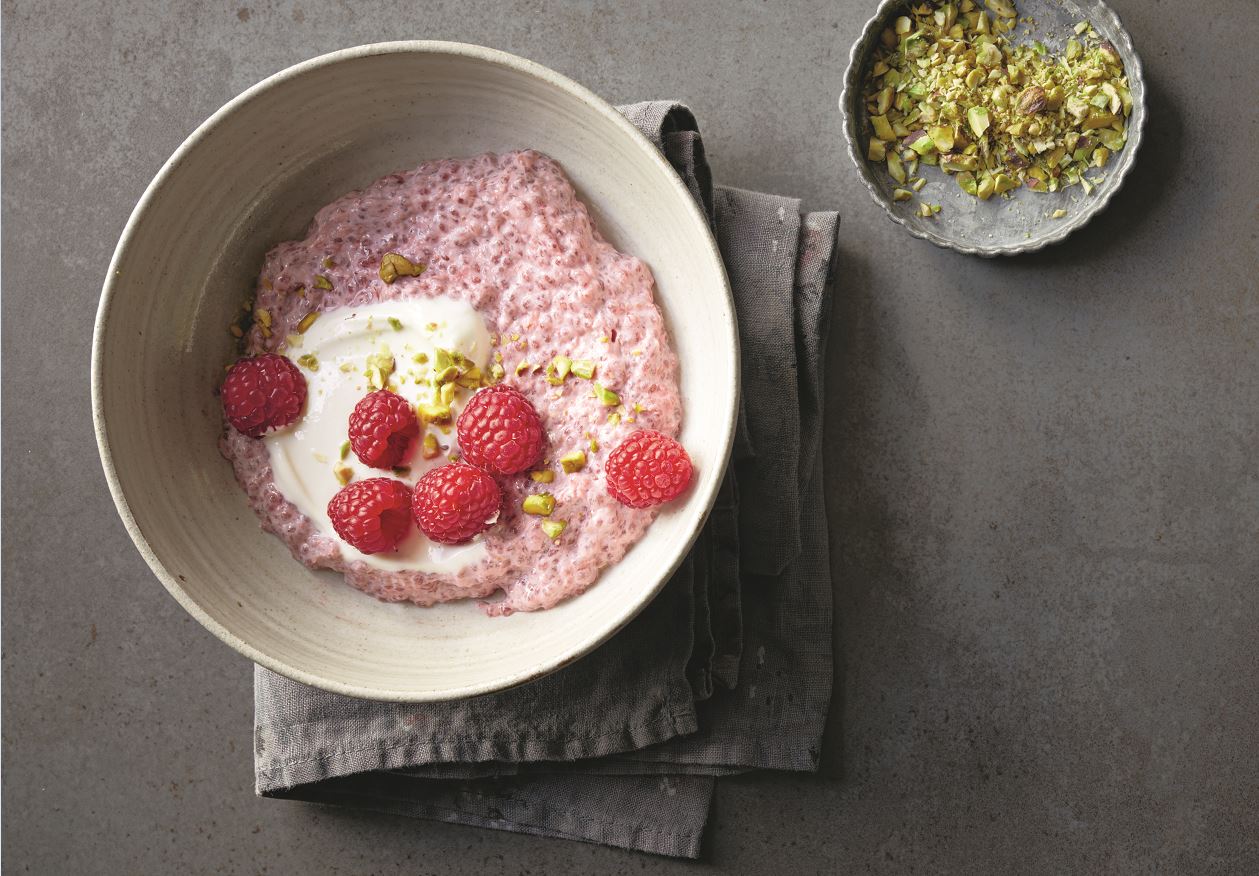 energy kcal, 173| carbohydrate 11.1g | sugars 9.4g | protein 10.6g | fat 6.9g | saturated fat 1.6g | salt 0.1g
Serves 4
Ingredients:
200g quark
1½ tablespoons granulated stevia (i.e. equivalent to 1½ tablespoons sugar)
pinch of freshly grated nutmeg
pinch of fine sea salt
½ teaspoon vanilla bean paste
2 teaspoons lemon juice
400g strawberries, hulled and roughly chopped
50g chia seeds
50g raspberries or blueberries
2 teaspoons soured cream
1 teaspoon finely chopped pistachio nuts
How to make Strawberry Chia Pudding
Combine the quark with the stevia, nutmeg, salt, vanilla bean paste and lemon juice in a medium bowl.
Whizz the strawberries to a purée in a blender. Pour this into a small non-stick saucepan and stir in the chia seeds.
Bring to the boil and simmer over a low heat for a couple of minutes, stirring almost constantly to stop the mixture from catching on the base, then transfer to a large bowl.
Whisk in the quark mixture.
Divide between four small bowls or ramekins.
Serve warm with a few berries scattered in the centre, about half a teaspoon of soured cream and a pinch of nuts on top.
You can also serve the strawberry puds cold, in which case reduce the quantity of chia seeds to 30g.
Cover and chill for a couple of hours, and decorate them just before serving.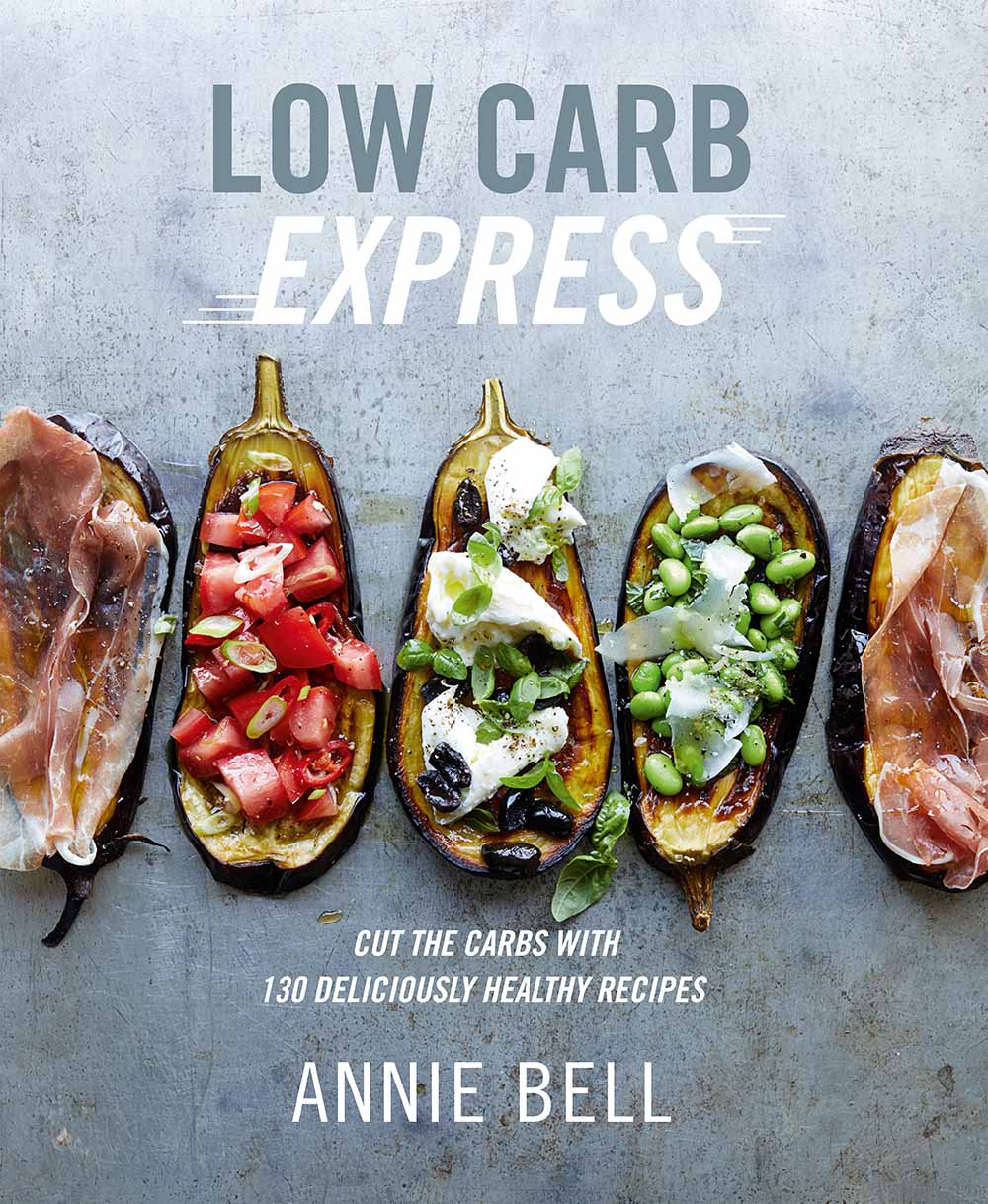 Low Carb Express by Annie Bell is out now and available for purchase.
More Healthista content: 
Low-carb dinner: lamb feta burgers and Greek salad
I lost over two stone on the fasting-mimicking diet