Poke bowl experts Celia Farrar and Guy Jackson wrote Poke: Hawaiian-Inspired Sushi Bowls,
the book of poke recipes that will make this Hawaiian dish a staple on your kitchen table. 
Everyone's talking about Hawaiian sushi bowls aka, poke. Inspired by immigrants, Hawaiian cuisine is largely based in Asian culture. Poke (pronounced poh-kay) is actually a word that means 'to cut' or 'section'. It mostly relates to the raw fish included in the dishes that are often compared to Japanese sushi.  The authors of our poke recipes this week, Celia Farrar and Guy Jackson opened up their pop-up stall Eat Poke in 2015 and tested it on the London masses, adding their own twist to traditional recipes and figuring out the best combinations to bring to your table.
Poke consists of six major parts: base, salad, protein, marinade, pimps and toppings and seasoning. Each layer adds something special to the Hawaiian sushi bowls. Here are a few recipes from Celia and Guy to give you a taste of the poke trend.
Salmon Poke with Ponzu Kale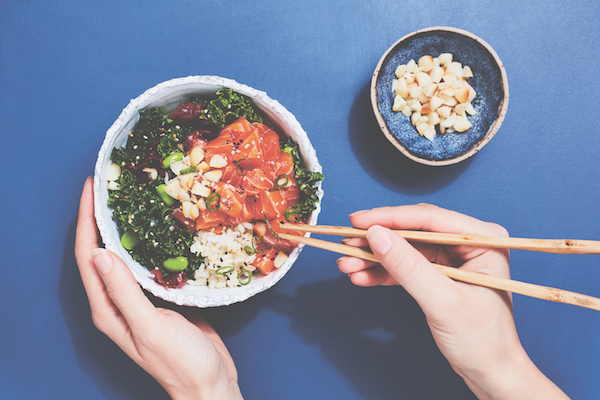 Serves 4
We love a citrus marinade for oilier fish such as salmon. This ponzu kale was one of the first recipes we trialled on the markets and it quickly became a favourite.
Base
240 g (8½ oz/1¼ cups) short-grain black rice
Poke
300 g (10½ oz) fresh salmon, cut into 

1 cm (½ inch) cubes

3 tbsp Shoyu Marinade (page 79)
Salad
4 generous handfuls of kale, tough stems 

removed, leaves torn
drizzle of light olive oil (we love: Clearspring Organic Olive Oil)

2 tbsp roughly chopped fresh coriander 

(cilantro) leaves

60 g (2 oz/1 cup) shelled edamame

beans, (cooked according to the packet instructions)

2 tsp toasted white sesame seeds
Ponzu Dressing
(will make more then needed)
120 ml (4 fl oz/½ cup) tamari soy sauce (try: Clearspring Tamari Soy Sauce)

60 ml (2 fl oz/¼ cup) rice wine vinegar

juice of 1 lemon
juice of ½ orange
1 tsp bottled yuzu juice
Garnish
1 tbsp chopped toasted macadamia nuts

spring onions (scallions), finely sliced
Nori Furikake (page 93 of Pokē: Hawaiian-Inspired Sushi Bowls)
Instructions
Cook the rice as per the cooking instructions 

and leave to cool.

Toss the fish in the Shoyu Marinade to 

lightly coat. Taste and adjust the seasoning 

if necessary.

For the salad, massage the kale with a 

little oil until tender, then toss with the 

coriander, edamame and sesame seeds.

Mix together the ponzu dressing ingredients 

and spoon over the salad.

Pile the rice into 4 bowls, then top with the 

kale and fish. Sprinkle with the toasted nuts, 

spring onions and furikake.
Pimp it!
Spicy Tempeh Poke with Beetroot 
& Quinoa Salad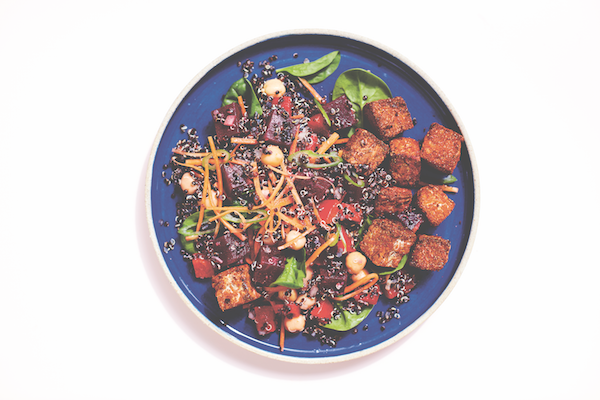 Serves 4
Tempeh is the indonesian cousin of tofu, created from a process of fermentation. It's available in health food stores.
Base
Poke
200g Tempeh

1 tsp garlic powder
1 tsp onion powder
1 tsp paprika
1 tsp chilli powder
1 lemon, zested
Dressing
3 tbls Tabasco

100 ml olive oil
1 lime juice
d
1 tsp mirin
1 tsp soy sauce
1 clove garlic, minced
1 shallot minced
Instructions
Preheat oven to 180c. 
Slice the tempeh into 2cm cubes before dusting with the dry spice mix. Arrange coated tempah onto a lightly oiled baking tray and roast in the oven for 20 minutes.
Place all the prepared salad ingredients in a large bowl. Whisk together the salad dressing ingredients and pour over salad. Toss gently to combine.
To plate, divide salads into bowls, and scatter roasted tempeh over the top.
Pimp It!
Mexican Ahi Poke with Sweetcorn in Smoky Mayo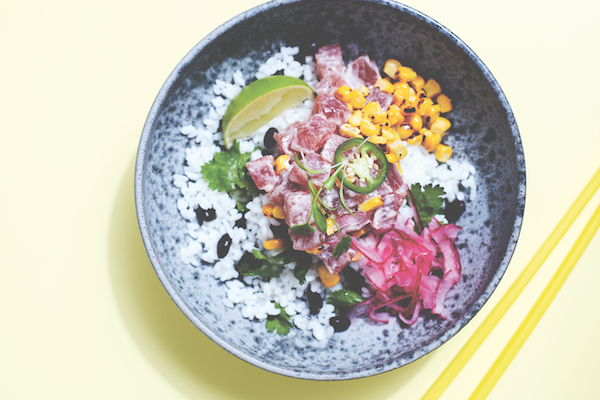 Serves 4
Our slightly more sophisticated take on a classic tuna and sweetcorn combination. The smoky mayo is really addictive, so be careful. Liquid smoke is a cheat, but you will add it to everything once you have it in the cupboard.
Base
240 g (8½ oz/1¼ cups) white sushi rice

100 g (3½ oz/½ cup) tinned black beans (drained weight), rinsed
½ bunch coriander (cilantro), roughly chopped
Poke
400 g (14 oz) fresh yellowfin tuna, 

cut into 1.5 cm (½ inch) cubes
Marinade
3 tbsp mayonnaise

1 tsp liquid smoke
½ lemon, freshly squeezed
Garnish
2 sweetcorn cobs, husks removed

2 tsp groundnut oil (or other light flavourless oil)
1 red onion, thinly sliced
pinch of salt
squeeze of lemon
1 lime, cut into quarters
Pimp it!
green chilli, 

sliced in rounds
Instructions 
Preheat the oven to 200°C (400°F/Gas 6).

Cook the sushi rice as per the cooking instructions and leave to cool. Once cool, Add the black beans and coriander, mix and set aside.
For the garnish, coat the corn in a little oil and then cook in the oven for 20 minutes. Once the corn is cool enough, char it on the flame of the hob. Once blackened, hold the corn cobs vertically on a chopping board and carefully remove the kernels using a sharp knife. Soak the red onion in water with a squeeze of lemon and a pinch of salt for 15 minutes.
Combine the tuna with the marinade ingredients.
Assemble the dish, starting with the rice and bean mix, then the marinated tuna and the corn. Drain and dry the red onion and place on top. Serve each bowl with a wedge of lime and green chilli.
Smoked Salmon Poke with Avocado + Pink Pickled Egg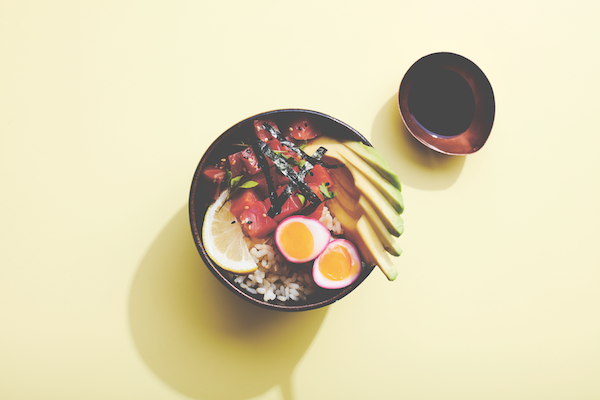 Serves 4
This dish was our answer to creating a poke brunch dish when we first began trading with Kerb. Our initial starting point was a Hawaiian take on kedgeree. All the elements of our classic salmon bowl are here, but we swap out fresh salmon for smoked. The pink pickled quail's eggs are fiddly but worth it.
Base
240 g (8½ oz/1 cup) short-grain brown rice
Poke
300 g (10½ oz) cold smoked salmon, skin removed if necessary, cut into 1 cm (½ inch) cubes
Pickled Quail's Eggs
250 ml (8 fl oz/1 cup) boiled water
125 ml (4 fl oz/½ cup) rice wine vinegar
3 tbsp sugar
2 tsp salt
1 raw beetroot (beet), peeled and roughly sliced
12 quail's eggs
Garnish
1 avocado, sliced
kizami nori (shredded nori)
1 lemon, cut into wedges
few sprigs of coriander cress (micro cilantro)
black and white sesame seeds
Instructions
Begin by making the pickling liquor for the quail's eggs. Combine the water, vinegar, sugar and salt in a pan and bring to a simmer over a medium heat. Add the beetroot and cook for 10 minutes before removing from the heat and allowing to cool fully.
Next, soft-boil the quail's eggs. Bring a pan of water to the boil, gently place in the eggs and boil for 2 minutes. Drain the eggs and put them into a bowl of ice water to stop them overcooking. Once cooled, carefully peel off the shells and add to the cooled beetroot pickling liquor. Leave to pickle for 30 minutes, at which point the eggs will be dyed a deep pink.
Cook the rice as per the cooking instructions and leave to cool.
Assemble the dish by dividing the rice among the bowls and topping with the smoked salmon, sliced avocado and kizami nori. Slice the quail's eggs in half and place yolk side up in the bowls.
Finish with a slice of lemon, sprinkle with coriander cress and sesame seeds.
Pimp It!
drizzle of tamari soy sauce.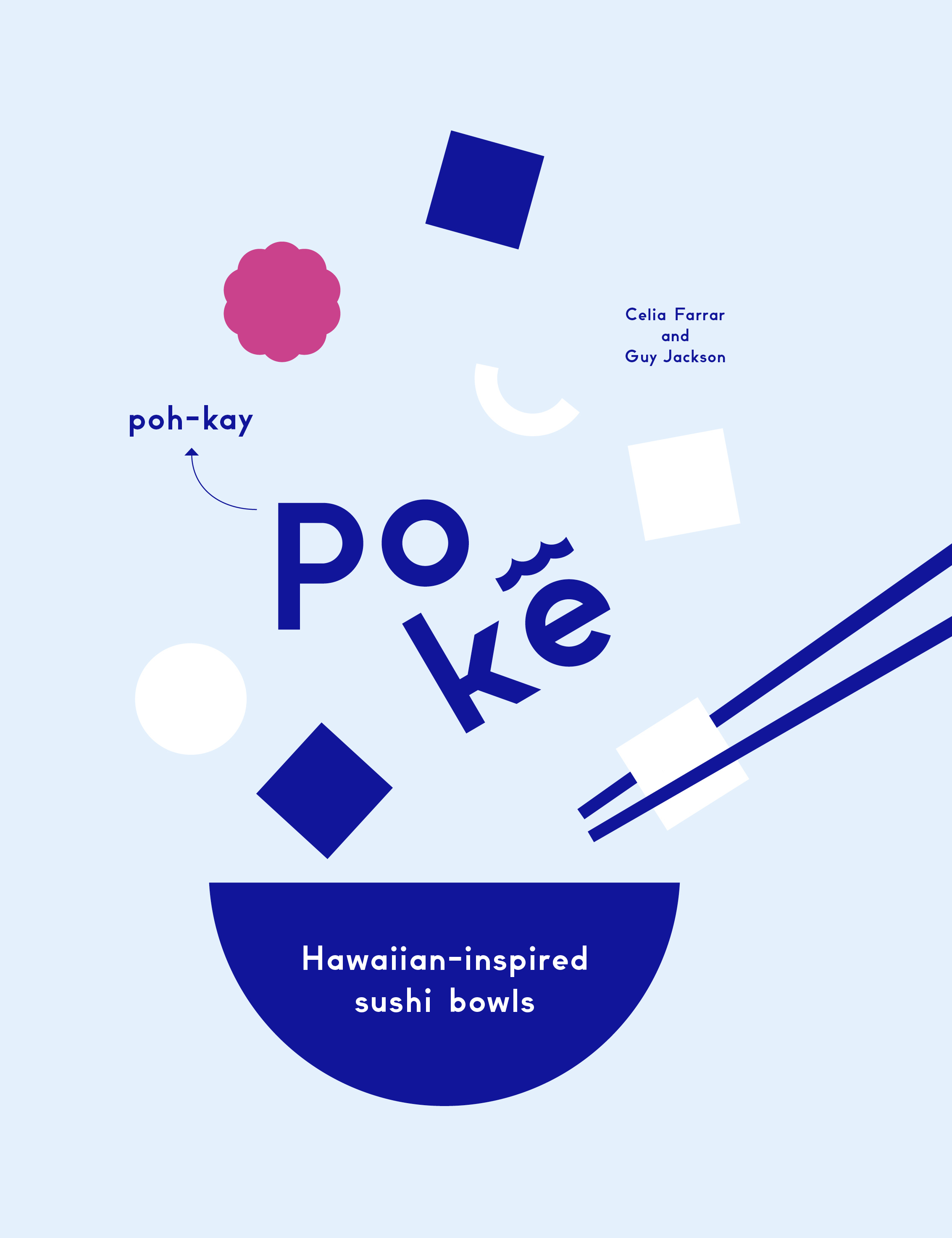 Poke: Hawaiian-Inspired Sushi Bowls
by Celia Farrar and Guy Jackson (Hardie Grant, £12.99) Photography Matt Russell
Read More:
4 dairy-free ice cream recipes using summer berries
Chia pudding recipe with passionfruit and peanut butter
Spinach-shiitake salad with yuzu-wasabi dressing
Like this article? Sign up to our newsletter to get more articles like this delivered straight to your inbox.