In September Liz Dimmock (35) will set off from Istanbul to cycle almost 30,000km around the globe.
For five months Liz will travel with just three important motives in mind:
To set the world record for the fastest woman to circumnavigate the globe by bicycle, to raise £1 million for the charity War Child, and to encourage, inspire and enable more women to get on the bicycle.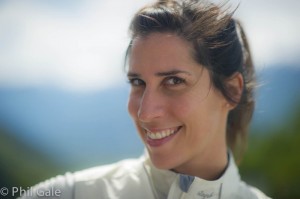 Liz said: 'I don't think women in cycling has grown as much as men in the sport. There's not enough women riding and I want to show them that cycling isn't always competitive but social and fun as well.'
Along the way Liz will be inviting women all over the globe to join her for a part of her ride.
'Cycling is incredibly sociable, you can do it with friends or on holiday and I'm very excited about meeting so many different people on the journey.'
With every city Liz cycles through the team will send out tweets letting people know where and when they can join in. You can follow Liz here and the World Ride Challenge here.
Liz said: 'You can cycle with me for anything from 10k to 100k.'
Liz's career is in corporate leadership and coaching. She said she has been overwhelmed by the excitement of her colleagues for her, but how did the bicycle get involved?
'I started on a mountain bike and then six years ago I got my first road bike and just fell in love with it.'
Liz said: 'I think unpinning all of the cycling is how hard I have worked in the corporate world. I wanted to push myself in a new and different area.'
Liz has more than 50 UK and international long distance events under her belt. In 2012 she was the only woman to complete the Tour De France charity ride which follows the exact route the competitors take, but a week before the professionals.
'Once I knew I loved the road bike I set myself a goal to learn and improve as much as I could,' Liz said, 'The Tour De France was really the start of this world challenge. It made me realise you can achieve anything beyond your expectations if you work hard enough.'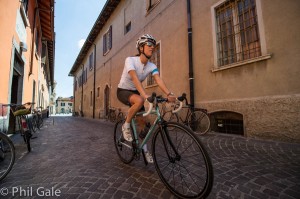 Liz started investigating setting a world record for cycling the globe. She said: 'I wanted the ride to have a purpose and that's why I decided to raise money for a charity.'
Liz wants to raise £1million for War Child, a charity which works to protect children from the impact of war and helps to rebuild the lives of those affected by war.
Liz said: 'War Child for me is a cause which stood out. They are very transparent robust in how they spend their money and it is just a really great cause.'
At the start of the World Cycle Challenge Liz will have been training for a year.
Her training regime is set in three parts. The first involves strength and conditioning.
'I do gym work but also a lot of pilates and yoga because they focus on improving your balance which is essential for controlling the bike.'
The second area of Liz's training is practicing on the bike. She said: 'In the winter I train on the bike indoors but I try to get out on the road as often as I can. It's about getting in the miles and getting used to long distance.'
Finally Liz looks after her general wellbeing.
'I have massages and acupuncture regularly. I really believe in that side of the training, it's important to feel good.'
On the journey Liz will need an average of between 6,000 – 8,000 calorie intake daily but on the journey Liz said she wants to keep her diet as natural as possible.
'I'm working with a nutritionist to plan how I will eat but I want to focus on all natural products. For instance protein is important but during the Tour De France I didn't take any protein bars or similar products I just focused on getting it from natural sources.'
In preparation for the challenge Liz is sticking to her normal diet too. She said training for a challenge like this doesn't have to mean a strict diet.
'I love food and I believe in a balanced diet. The other night I went out for a meal and I had a couple of glasses of wine, which is perfectly ok because I counter it with the good stuff daily too.'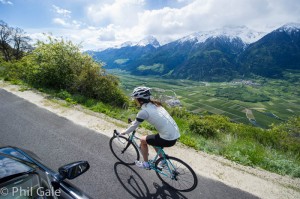 The World Cycle Challenge will see Liz and her team starting in Istanbul. They will cycle through Europe, including spending four days in the UK. On leaving home ground they will cycle through France and Spain before heading to Boston, New York and New Zealand.
Due to the Guinness World Rules Liz must start and end in the same place, travelling in one direction throughout the ride. In five months time she will return to Turkey and complete the challenge.
'We have based the route on interesting cultures and tried to pass large cycling clubs to help encourage people who might want to join us for some of the journey,' Liz said.
Liz said the more she looks at the map she finds herself excited for a new reason and different places.
'I'm excited about the surprises along the way, the different people I am going to meet and the food I will get to try in new cultures.'
Liz will be cycling with two support cars and four other cyclists in her team, including a mechanic, a cameraman, her physiotherapist and someone in charge of drive and logistics.
Leaving her family for almost half a year I asked Liz what their reaction was to her ambitious journey.
'We are really close as a family and they are incredibly supportive. My dad wants to come with me I think, he offered to drive on of the cars.'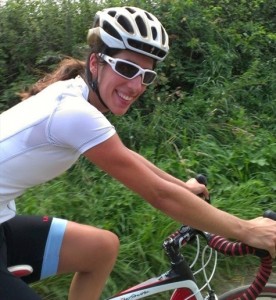 But Liz said her mum still worries about her. She said: 'Parents like convention and I think my mum just worries that I gave up a sturdy job and a good salary. It must be difficult for any parent not to worry.'
You can donate to Liz's chosen charity by sponsoring her World Ride Challenge here or you can text 'WRLD90' followed by a space and the amount you want to donate to 70070.
Liz said:  'This is the biggest challenge of my life so far but I can't wait for it to begin. The unexpected is the most exciting and the most nerve racking part now.'
'It's very hard to try and do something that is unpaid and unconventional but it will be worth it. I hope lots of women will be inspired and join me on route.'
The World Ride Challenge website can be found at: http://www.worldride2013.com/?page_id=2
Like this article? Sign up to our newsletter to get more articles like this delivered straight to your inbox.