Healthista has teamed up with Alice Hart-Davis, creator of The Tweakments Guide to explain 10 new anti-ageing treatments and bring you their results 
If you've never heard the word tweakments, get ready to hear more of it in coming months and years.
Tweakments simply refer to non-surgical cosmetic procedures that can be used to improve the way you look.
From from fillers, skin peels, Botox, light-based treatments such as laser and Intense Pulsed Light (IPL), the aim is to make you look a little more rejuvenated and fresh rather than dramatically changed.
But it doesn't stop with facial procedures.
Tweakments can also improve the body. For example, Cellfina can improve the appearance of cellulite, and CoolSculpting helps shift stubborn areas of fat that won't budge even with exercise.
If you're curious about tweakments and want to find out more, Alice Hart-Davis, a leading beauty journalist and authority on the subject is running a Tweakments Clinic where you can find out everything you need to know:
What's happening?  An evening of talks and consultations with London's best anti-ageing practitioners, witness the latest in treatments from Coolsculpting (see below) to Ultherapy, plenty of Prosecco and a goodie bag worth £350
When? Tuesday 12th November, 6pm – 9pm
Where? St John's Church, W2 2QD
Cost?  £95 for premium tickets including two separate, 10-minute chats with different practitioners, plus access to stalls, demonstrations and a goody-bag.
£45 for standard tickets which include access to stalls, demonstrations and a goody-bag, £45
Special Healthista offer: Buy one, get one free by using the code, HEALTHISTA.  Or, you can use this link, so the code is already entered.  Find out more at the end of this story.
Meanwhile, here's a rundown of the latest in anti-ageing with videos of Alice Hart-Davis quizzing doctors about all you need to know and case study before and after pics.
#1 Lip fillers with Belotero
Belotero Filler is the ideal treatment if you want to rejuvenate your thinning lips or any lines around the lips, without over-amplifying them.
The vermillion border, that is tissue that sits around the red part of the lip, is weakened over time by age and sped up by environmental factors such as smoking and sun damage. Belotero Fillers create a youthful vermillion border and give definition to your lips in the process.
#2 Natural-looking Botox or 'Baby Botox'
Botox has come a long way since the stiff, expressionless faces we can now recognise as an over-zealous practitioner. the new Baby Botox can help soften frown lines that have developed with age, with results varying depending on how much toxin has been injected. Minimal amounts will mean your muscles will regain full movement within three months, whilst heavier dosages will last for around six months.
#3  Under-eye PRP (platelet rich plasma) Treatment
PRP also known as the 'vampire facelift', is a treatment where blood is extracted (from somewhere like your arm) and then spun in a PRP machine to extract platelet rich plasma from it. This is then re-injected in to your skin.
This treatment helps to stimulate collagen and improve tone and elasticity in the skin, lasts almost double the amount of time that fillers last. While the treatment has been used for a few years on the face (being made famous by the like of Kim Kardashian) it's now being used to help dark circles around the eyes – see video below.
#4 Skin smoothing with Profhilo
Profhilo is a hugely popular anti-ageing treatment made from hyaluronic acid. The fluid-type gel when injected into the skin, acts as an internal moisturiser.
Due to the runnier consistency, the gel spreads thinly beneath the surface of the skin, rather than staying in place. This allows it to cover the whole face. Not only does it soften and smooth the skin, it also firms from the inside. Results last around six months. Beauty editors are mad for it.
#5 Skin lifting with Radiesse Plus filler  
This filler is great if you're looking for a mid-face lift. As we age, it's natural for volume to be lost – particularly around the jawline.
The Radiesse filler helps lifts tissue back up in the mid-face. It's a collagen stimulator that doesn't hold water, meaning it gives your features more definition, particularly around your jawline.
#6 Cellulite removal with Cellfina
It's estimated that about 93% of women experience varying degrees of cellulite.
Cellfina is a proven treatment that works by cutting or 'releasing' what is known as 'fibrous septa bands' that cause cellulite – yes that is actually surgically done, though under local anaesthetic. These are basically what holds the skin up, when fibrous septa bands are pulled inwards, the cellulite dimple is created.
Cellfna involves a machine which stretches the fibrous septa bands and enables microblades to sever them and release the cellulite.
#7 Mild facelifting with the Knightsbridge Lift
The Knightsbridge Lift Treatment, unlike many treatments, is not heavily focused on treating the centre of the face but rather focuses on the periphery, causing a subtle lift using Botox and filler alone.
#8 Tightening over time with Ultherapy
Getting older inevitably involves saggy skin. Ultherapy is a treatment that uses a medical device to give high-intensity waves of Microfocused Ultrasound with Visualization, which delivers energy to the deeper layers of the skin.
The heat from this treatment stimulates natural collagen and elastin within your skin, and increasing production so you are left with a smooth and more lifted look.
#9 Tummy shrinking with Emsculpt
Imagine doing 20,000 crunches in 30 minutes and having a flatter stomach…
Insane right?
That's basically the effect that Emsculpt has. The treatment involves large electric pads that rest on the area you need to work. It pulses that area and basically 'grabs' the muscle, causing multiple contractions. This stimulates a hormone called epineprhie, breaking down fat in a process called lipolysis.
#10 Fat freezing with CoolSculpting
CoolSculpting is a body shaping treatment that essentially freezes fat cells and encourages the body too eliminate them.
Protective gel pads are put onto the area to protect the skin, the applicator then sucks the area that is the target of treatment. Once the applicator is taken off, the fat is left frozen in blocks under the skin. The area is then massaged rigorously to break down the frozen fat cells. Treatments can be done in around 35 minutes.
Want to learn more about anti-ageing treatments?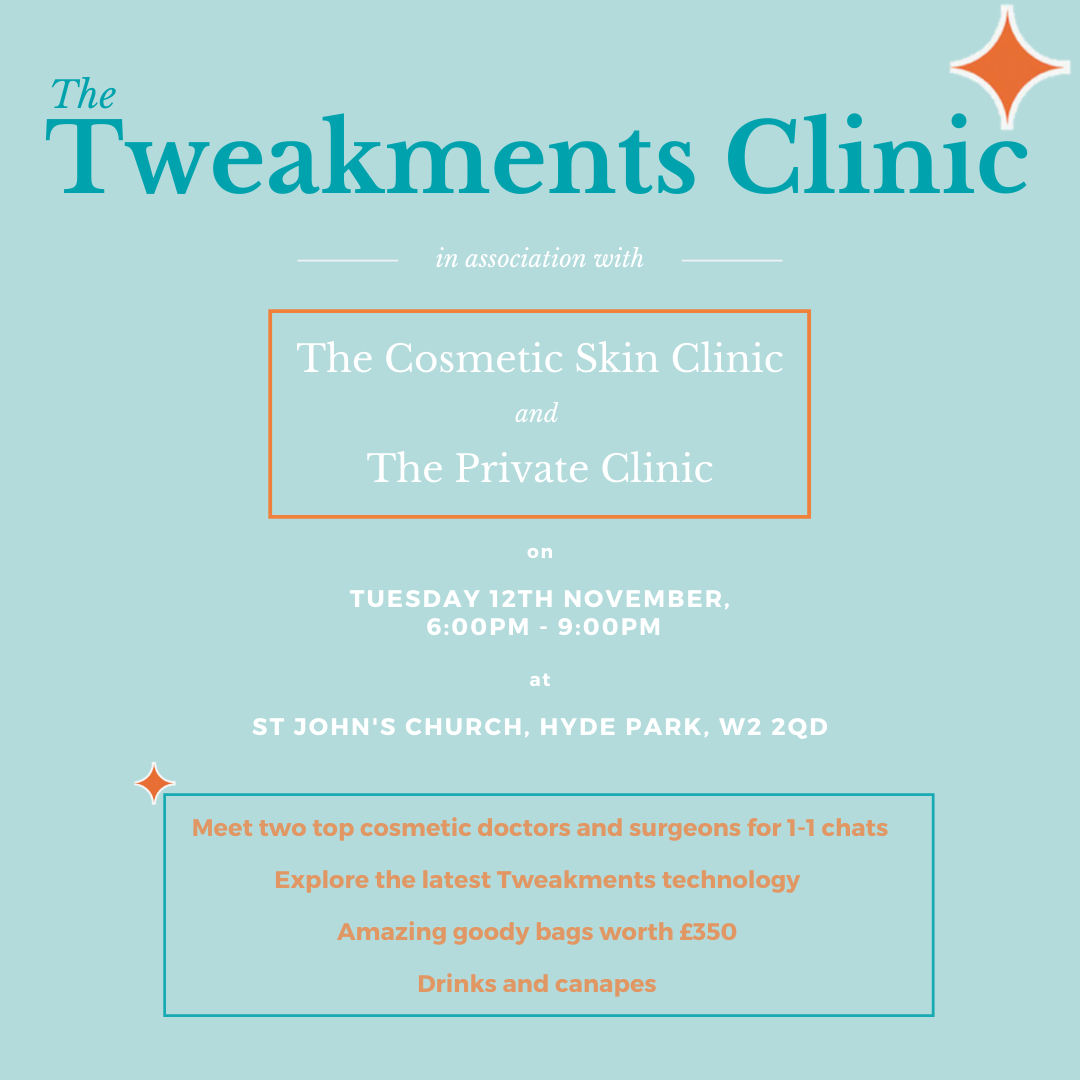 Are you curious about non-surgical cosmetic procedures but not sure what to try or where to start?
Then come and meet some of the best practitioners in the UK for informal one-to-one chats about what might work for you.
Book a premium ticket to secure one-to-one chats with two leading Harley St doctors and surgeons.
Dr Joanna Christou, top cosmetic doctor based at The Cosmetic Skin Clinic
Dr Johanna Ward, top cosmetic doctor based at The Cosmetic Skin Clinic
Dr Tracy Mountford, top cosmetic doctor and founder of The Cosmetic Skin Clinic
Dr Sophie Shotter, top cosmetic doctor based at The Cosmetic Skin Clinic
Mr Adrian Richards, plastic surgeon specialising in breast work at The Private Clinic
Mr Davood Fallahdar, plastic surgeon specialising in facial work at The Private Clinic
You could try an express Hydrafacial, experience the famous Emsella chair (yes, the one that uses high-intensity electromagnetic energy to tone up your pelvic floor), see how Ultherapy visualises the depth of your skin, and watch demonstrations of CoolSculpting – and talk to the experts behind these and other technologies including Silhouette Soft threads, Tixel, Emsculpt, the Body Ballancer and Profhilo and to the practitioners who use these procedures in clinic daily.
Take home a goody bag worth £350  including a voucher for a free full consultation at The Cosmetic Skin Clinic or The Private Clinic (worth £150)
You'll get a signed copy of Alice Hart-Davis' bestselling book, The Tweakments Guide: Fresher Face.
You will also receive a voucher for a free Perk treatment worth £40 when you book in for a Hydrafacial at The Cosmetic Skin Clinic or The Private Clinic plus skincare, haircare and body care products from Elizabeth Arden, Epionce, Aromatherapy Associates, Zenii, Philip Kingsley, Guava and Gold and others to be confirmed.
All while enjoying a glass or two of fizz  – and some delicious canapes provided by The Pure Package
The cost:
Premium tickets include two separate, 10-minute chats with different practitioners, plus access to stalls, demonstrations and a goody-bag, £95.
Standard tickets include access to stalls, demonstrations and a goody-bag, £45.
Tickets won't be available on the day so make sure you get them in advance. You've got to be quick too, tickets are limited and selling out quick.
If you use the code HEALTHISTA, this will give you a buy one get one free offer. Or, you can use this link, so the code is already entered.
Thank us later.
Relevant Healthista Content
Lip fillers fixed my smoker's lines without giving me the dreaded trout pout
I wanted subtle lip fillers without the duck face – here's what happened
Lip fillers: I went to London's most famous lip doctor and this is what happened
Other Healthista Content You May Like:
Do I need lip fillers? Ask the anti-ageing doctor
I had lip fillers and this is what happened (it's not what you think)
Like this article? Sign up to our newsletter to get more articles like this delivered straight to your inbox.