The new Adidas Sports Essential range for women landed on our editor's desk two weeks ago so she gave it a serious spin in some sweaty Fight Klub classes. The verdict: gorgeous and functional. 
When I was asked to try out Adidas's new Sports Essential range from JD Sports I have to admit I was excited. I love a bit of Adidas kit because they can usually be trusted to deliver on the functionality front. That is, fabrics that breathe and can really take a workout; that don't just look pretty. I received a pair of long leggings and sports bra and tried them out on my beloved Fight Klub classes – I manage about three a week, best workout EVER – because I knew it would contain the one infgredient that separates the real players from the pretenders when it comes to fitness kit: proper sweat. Gallons of it.
MORE: Get ready for the cardio workout of your life – Fight Klub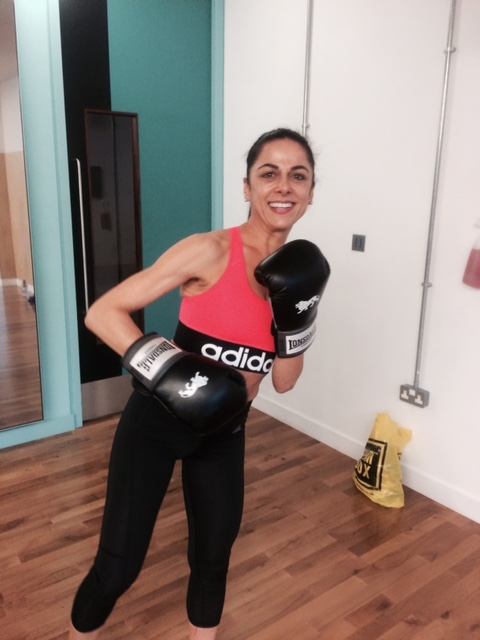 I have two bugbears with leggings. The cheap ones tend to ride up my crotch which is awfully embarrassing and can hurt, so I avoid them like the plague. Conversely, others which sit on my hip bones and look fantastic, can also dribble down my thighs so they need to be constantly lifted up, especially when I am running or kicking a lot. The first thing I noticed with the Adidas Sports Essential Leggings was that they did. not. budge. It was blissful not having to think about what your leggings were doing and just workout (people who work out will get this).  Moreover, I loved the waistband (below) because it sat on my belly really firmly but was quite flat so didn't dig into me at all.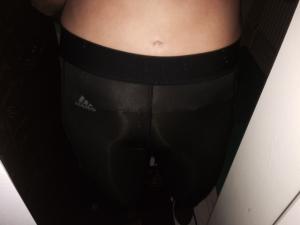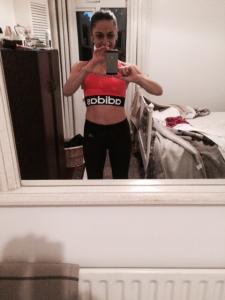 The fabric has this way of giving when you stretch and then contracting back so you can really move freely. It's made from Climalite, an Adidas technology that wicks moisture away from the body so you never really feel sweaty even when you are.
Then there was the sports bra. So, confession time – I usually wear two sports bras when I exercise, so paranoid am I about damaging my breasts from high impact exercise. And they're usually two serious harness-style sports bras too. So, I was pleasantly surprised when I tried this one out. Seriously supportive – so much so, that it's quite hard to get it on and off.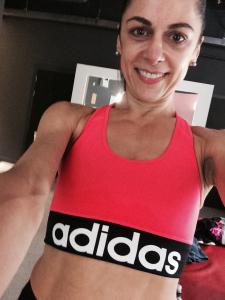 There is a thick lining and band too so it looks gorgeous on and the flouro orange colour is well, lush. I still had to wear one of my other sports bras under it for most workouts but for one, I actually forgot my other sports bra, had to wear it alone and didn't get bounce at all.
What I love most about this range is that not only does it tick the functionality boxes, it also has a sleek style and shape about it that isn't too garish or faddish, so I know it won't date. This one's a keeper.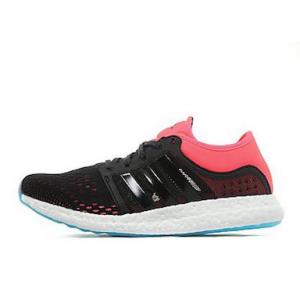 I also tried out the Adidas Rocket Boost trainers (left), which are noticeably light as a feather. They're actually running shoes but because they're so lightweight I found them fantastic for kickboxing and the mid-sole cushioning made them great for plyometrics (jumping) moves that my killer trainers seem to be loving right now. Thanks guys.
Adidas Sport Essential Linear Tights £30 from JD Sports
Adidas Sports Essential Linear Sports Bra £22 from JD Sports 
Adidas Rocket Boost Runner £75 (reduced from £110) from JD Sports
Like this article? Sign up to our newsletter to get more articles like this delivered straight to your inbox.