You probably wouldn't find Irish dancing in a typical dance studio, but blimey it's a workout. Get Virgin Active on the line, we have some new class suggestions (but we're only in if you get the costumes to keep)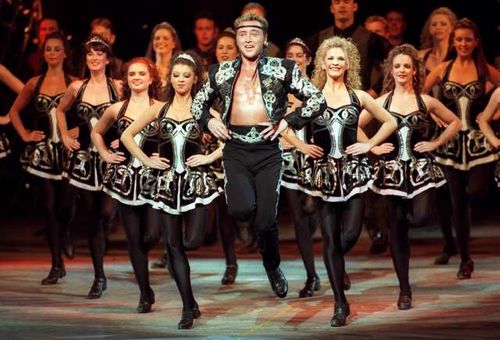 1. Irish Riverdance
Ah, the king of the Irish Riverdance, Michael Flatley. First thing to mention: what a nice sparkly gold headband. Can I borrow that for my next spin class? I'd imagine it has to absorb sweat pretty well because even though there's a touch of mocking in this intro to Lord of the Dance, what he does looks tough. When the rest of the dancers come in around the minute mark, it's astonishing at how little their upper bodies move. Two words: Core. Strength. Look how quickly their feet move! Chandler puts it pretty perfectly below…
2. Scottish Highland Dancing
Scottish Highland dancing is most mesmerizing to me because of the dancers' balance. Rarely do they have two feet touching the ground at the same time, and when they do, they still only seem to bear weight on one leg. Pretty talented young ladies, eh?
3. Flamenco
Though this Spanish dance is often sensually slower-paced (minus the occasional dizzying twirling,) what surprises me about flamenco is the strength every movement carries. Everything is so sharp. And just look at her muscles—the dance has got to have something to do with that. Maybe the newest back workout trend will be flamenco-inspired—we'll have what she's having.
4. Bhangra
Now this looks like fun cardio. The new Zumba, perhaps? The energy in this traditional Indian dance is fantastic. It's a cultural aspect that has definitely made it's way into modern music and dance (or has modern music and dance made it into Bhangra?) Either way, you'll find bits of popular songs infused in the traditional Indian influences (I caught about 3 seconds of Justin Bieber in this video.) I do have to say, I don't quite get the rocket ship in the beginning…Check out our video about Just Jhoom Bollywood for fitness classes
Bhangra's definitely becoming more popular around the world.  American Olympic gymnast Shawn Johnson and her partner even performed it on the U.S.'s Dancing With the Stars…Knight Rider-style. Check it out:

http://www.youtube.com/watch?v=waCZRj0RUCQ
5. Tango
This just might be the second sexiest workout out there (I bet you can guess the first.) Even though the dancers make this Argentinian dance look easy, we're willing to bet it's way more challenging than meets the eye. Keeping the poise alone would be a workout.
6. Russian folk dancing – Kalinka 
The most impressive part of this Russian folk dance performance, in my opinion, comes around the 1:53 mark, with "that leg thing." I truly have no idea what else to call it, but you'll know it when you see it. The leg strength on those strapping young men must be incredible. It puts my leg day workouts to shame. Also, about three minutes in—Russian folk dance or martial arts? Either way, it looks tough. And at 3:20, I'm convinced there's a trampoline under him.
Any super-tough national dances we missed? Let us know in the comments!
Alexa Tucker blogs at 100littlevictories.com.
Like this article? Sign up to our newsletter to get more articles like this delivered straight to your inbox.