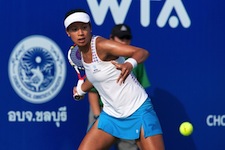 Anne Keothavong is the first British woman since 1993 to reach the world's top 50 tennis players.  HEALTHISTA took a peek inside her pre-Wimbledon diet and training diary
In 2008, British professional tennis player Anne Keothavong, 26 became the first British woman in ten years to be ranked inside the world's top 100 players.   She is single, lives in Hackney and will be competing in her 10th Wimbledon this month.
7am Poached eggs on brown toast with butter.  Coffee with milk and sugar.  Fresh fruit. I hate milk and cereal.  As a child my parents used to force feed me milk with vitamins drops in before bed and that put me off for life. Joint supplement, multivitamin.
9.30am Meet trainer Steve Kotze at National Tennis Centre (NTC) training site in Roehamnpton, right near Wimbledon.  Steve is incredibly fit. When he is pushing me hard, I need to know he can do what he is demanding of me.  Do extended warm-up of sprints, jumping jacks, jogs.   In the morning the emphasis is speed and alertness.
10am-12pm Training on the court.  During the weeks before Wimbledon, that will be with another pro British player. Isotonic drink like Lucozade made from a powdered sachet and water so it's not too sweet.
1pm Large bowl of pasta with vegetables, tomato salsa and chicken breast.  Fresh fruit.  Mint tea.
2-2.30pm  Rest, catch up on emails, nap or curl up with a book in the NTC's chill out area for players.  Right now I am reading Little Bee by Chris Cleave.
2.30pm Espresso shot.  If I am tired, the caffeine perks me up for training.
2.30-4pm More match training, either against my coach or another player.  More Lucozade.
4-5.30pm Gym.  Weight lifting, pushing and strength training or interval exercise on the bike or treadmill.  Most days I train for five hours but a few days before the tournament it will taper off to maintain my energy for competition.
5.30pm Massage or a stretch session.  I have done Bikram yoga and incorporate that into my warm down.
6pm Bagel with jam or light cream cheese.
7.30pm Out to dinner.  I love Cote, a French restaurant in Wimbledon village.  I order steak medium rare with vegetables, boiled potatoes (instead of fries).  I have a glass of red or white wine on most nights when I'm out with friends.  Ice cream or Crème Brulee.
11pm Hot chocolate before bed – the only way I can stomach milk (or in café latte).
QUICK BITES
Favourite meal ever Roast lamb, roast potatoes and roast everything.
Loves  Ice cream, especially Haagen Daaz Pralines and Cream, and chocolate (I try and have the dark variety to convince myself it's good for me).  I have a sweet tooth and love creamy desserts.  I'd never deprive myself of a treat.
Avoids  I try not to eat bread except at breakfast.  But I about 25 tournaments a year around the world so all that travel means I can't be a picky eater.
Favourite vice Indoor rock-climbing!  There is  a high risk of injury so I have to sneak off for sessions behind my trainer's back.
Specialty dish My parents were Laotian and great cooks.  Now I have moved out of home and am trying to cook for myself.  My specialty is chicken stir-fry with whatever stray vegetables I have with grated ginger, soy or oyster sauce, lime and rice.
Wind-down Cookery Programmes on TV.  Jamie, Delia, Nigella – I love them all. The running joke in my family is how Anne is addicted to cookery programmes but rarely cooks.  Now I have my own kitchen I am going to find my inner domestic goddess…
Most used ingredient  Broccoli.  Either steamed or stir-fried I would have a serve everyday.
Favourite bit of cooking kit My wok!
Like this article? Sign up to our newsletter to get more articles like this delivered straight to your inbox.