Halloween is here and so are all the pumpkins. If you're in need to some Halloween inspiration look no further than these two delicious pumpkin recipes
Tomorrow is Halloween, which means the supermarkets will be wanting to get rid of all those pumpkins they ordered… especially since Halloween is cancelled this year. Thanks Covid-19.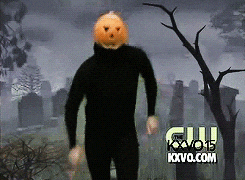 Pumpkins don't just look pretty, these orange plants are amazingly versatile in the kitchen – it's no wonder they are so totally 'Instagrammable'.
The pumpkin and it's seed has a multitude nutrients and vitamins such as zinc, iron, magnesium, vitamin C and vitamin A – it's great for your hair, nails and oral health. Plus they're pretty low in calories too.
In fact, a cup of pumpkin is only 30 calories and gives you all the vitamin A and 20 per cent of your needed daily allowance of vitamin C so that's another good few reasons to enjoy your pumpkins this autumn.
they're pretty low in calories too
'Brightly coloured fruits and veggies are some of the healthiest options out there,' says Nutritional Director Rick Hay.
'Their bright orange colour contains key phytonutrients such as zeaxanthin, lycopene, and beta-carotene which are all immune boosters'.
So if you're stuck for recipe ideas this Halloween, here are two that are guaranteed to be delicious – they are also super easy to make.
For the savory fans: Roasted pumpkin & Parmesan soup
This wonderfully simple, flavoursome soup is by Jane Clarke, Dietitian and Founder of Nourish by Jane Clarke. It's just the thing to keep the cold at bay. Just a small amount provides goodness if you have a tiny appetite.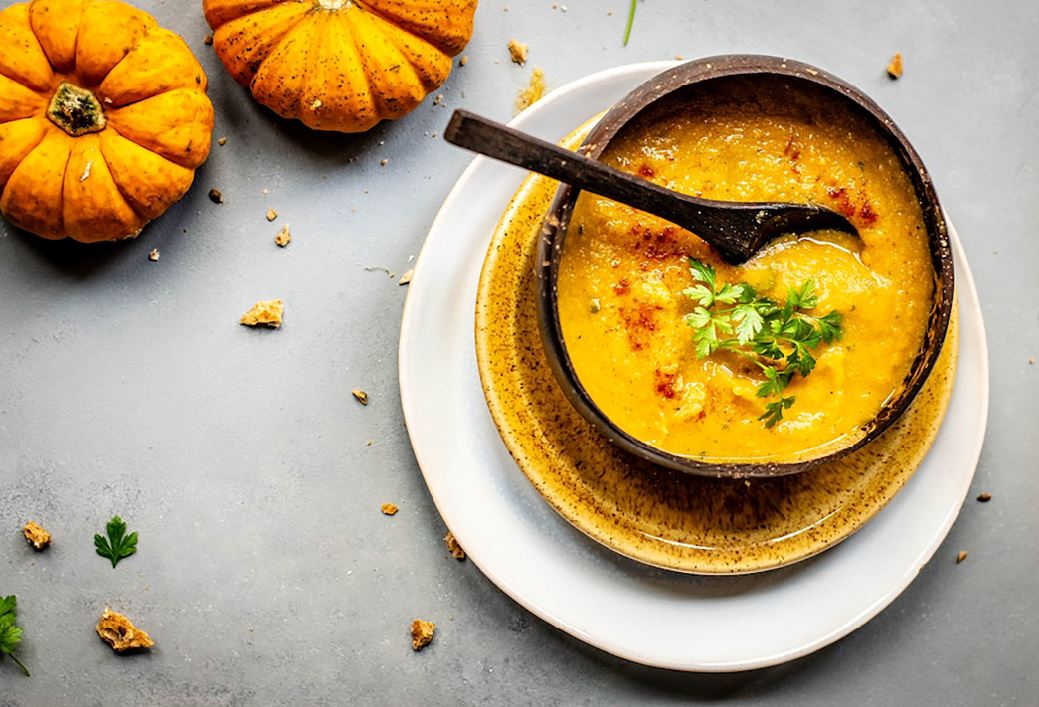 Prep time: 15 minutes
Cooking time: 45 minutes
Serves: 4
Ingredients:
1.25kg pumpkin
Sprigs of thyme, for roasting
Olive oil, for drizzling
200g onions, chopped
2 cloves garlic, crushed
75g butter
1.25l chicken or vegetable stock
100g Parmesan, finely grated
100ml double cream (optional)
Sea salt and black pepper
Method:
1. Preheat the oven to 180°C, gas mark 4.
2. Put the pumpkin on a baking tray, drizzle with olive oil, top with sprigs of thyme and roast for 25 minutes or until golden.
3. Meanwhile, soften the onions and garlic in the butter.
4. Add the stock and roasted pumpkin.
5. Cook until soft, then blend until smooth.
6. Stir in the Parmesan and season to taste.
7. Finish with a swirl of double cream, if extra calories are needed.
For those with a sweet tooth: Pumpkin Pie Protein Balls
At only 130 calories and 4grams of sugar per serving, these protein-packed bites by F45 Sports Nutritionist, Kim Bowman, are the perfect solution to any sugar craving!
Pumpkin or butternut squash combined with a rice malt syrup Protein Powder is the perfect combination to create a sweet and satisfying snack.
Adding spices like ginger and cinnamon is another great way to boost flavour without adding excess sugar.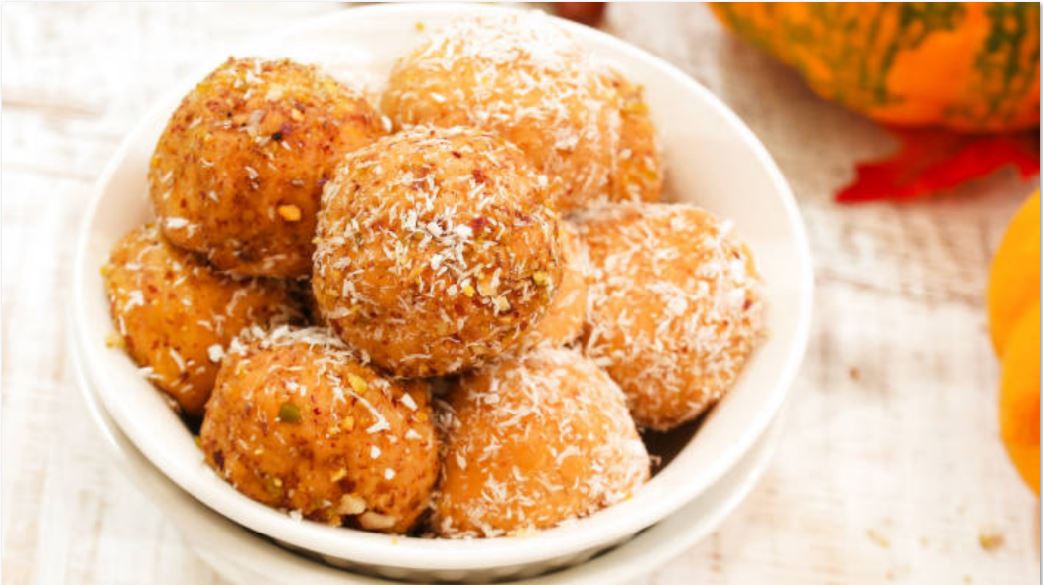 Ingredients:
80g pumpkin, peeled & diced
2 tbsp. (26g) vanilla vegan protein powder (or flavour of your choice)
50g almond meal
1 tsp. ground cinnamon
1 tsp. ground ginger
20g desiccated coconut
15ml rice malt syrup
Method:
1. Add water to a small saucepan and bring to the boil.
2. Add in pumpkin and cook for 10 minutes, or until cooked through.
3. Drain and mash with a fork until smooth. Set aside and allow to cool.
4. Add protein powder, almond meal, cinnamon, ginger and half of the desiccated coconut to a bowl.
5. Add in mashed pumpkin and rice malt syrup and combine with a spoon until a sticky, wet dough has formed.
6. Set mixture in the fridge for 30 minutes to firm up a little.
7. Add remaining desiccated coconut to a plate.
8. Use a tablespoon to spoon out the mixture straight onto the plate of coconut.
9. Using the palm of your hand, roll the mixture in the coconut in circular motions to create a ball. Repeat with remaining mixture until you have 5 balls.
10. Set in the freezer for an hour, or until firm.
More Healthista Content:
Former Strictly Come Dancing star Natalie Lowe reveals why dance is the best way to keep fit
8 eating tips for a runner's diet
Healthista Content you may also like:
5 protein-packed vegan recipes we're loving from Gaz Oakley's new cookbook
Need an easy pastry recipe? Here are 6 to try this weekend
23 pumpkin recipes to make your Halloween tastier
Like this article? Sign up to our newsletter to get more articles like this delivered straight to your inbox.