Always on the hunt for new pieces to add to your gym kit? We have to share our love for the new South Beach fitness gear. Their fitness collection is funky and functional and allows for some serious mixing and matching
The most important thing when we work out is that we feel comfortable, the second most important thing is that we love our workout clothes and South Beach provides both. What you can expect from the current fitness collection is variety, there are three completely different styles. We have chosen our favourite item from each style but all styles include shorts, long leggings and tops.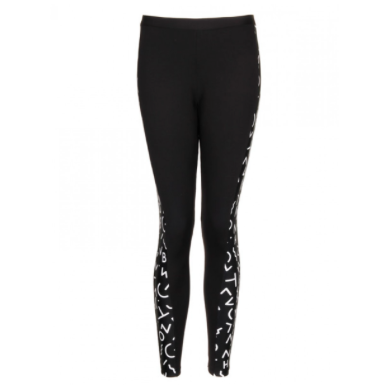 THE LEGGINGS
These leggings are part of the Monozone range and feature white letters spelling South Beach on the sides of the legs. Black and white these leggings will go with most tops and shoes which makes them perfect for mix and match. The material is super soft and will make you feel comfortable even if you are sweating buckets. At  ankle length these are perfect for running, especially during autumn and winter.
Price: £26
Available online at South Beach.
RELATED:  Is your fitness tracker making you fat?
THE CROPPED TOP
We adore this strappy cropped top Using a classic colour combination of gold and black. The material has just the right amount of stretch making it very comfortable to wear no matter what type of exercise you are doing. The detail on the straps  makes for a real eye catcher. We love the dual-show off function of this top – flattering both abs and shoulders.
Price: £15
Available online at South Beach.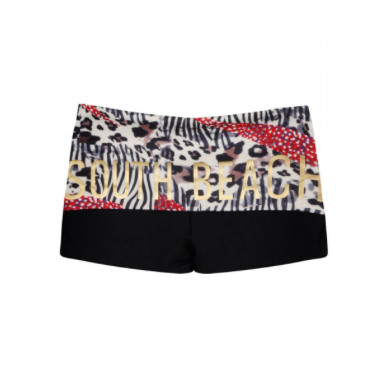 THE SHORTS
Part of South Beach's Roar collection these shorts are anything but boring – think cute meets trendy! The fold over waist is a playful animal print with a metallic gold print on the back saying South Beach. The touch of red combined with the different animal prints gives these shorts a very unique look.
Price: £20
Available online at South Beach.
RELATED: 
We're loving the new H&M spring fitness collection – functional, trendy, comfortable and flattering
The new collection by Every Second Counts, from ex-fashion editor turned fitness kit designer
Like this article? Sign up to our newsletter to get more articles like this delivered straight to your inbox.