Day 6 in the Healthista team's Live Juice Fast – an honest account of what really happens on a juicing cleanse
 THE SKEPTIC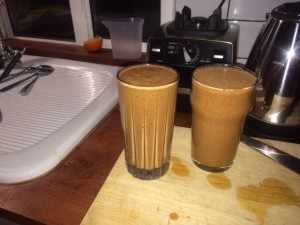 Anna says: I'm not good when I crave food and definitely not one of those people that can grit their teeth and bear a stomach screaming for something specific.
Saturday started off fine, I made a delicious juice with parsnips – who would have thunk it, thank you Joe Cross for the suggestion – and it tasted like cake. In fact, I'm quite good with juice in the mornings, it makes me feel alive.
But then Saturday is my day off, the day I dress down, do what I like and generally potter about doing little more strenuous than pressing the button on my Netflix remote. That morning we had a couple of messages to run and by midday I was again, cranky and quiet – it felt as though conversing and being nice was too much trouble and my husband kept asking: 'Are you okay?' Being hungry messes with your head.
When I got home and had a chance to chill out and relax all I could think about was the apple and steamed vegetables bowl I was craving from yesterday. There are so many gorgeous apples in the pantry and so many divine greens in the fridge for juicing I just wanted to crunch some in my gob. So dear reader, I did. I ate two apples and one peach instead of my lunchtime juice and then a couple of hours later went hell for leather on the steamed vegetables with sliced white cabbage, an entire bunch of asparagus and half a head of broccoli, steamed with butter and salt. It was one of the most delicious things I have ever tasted, relatively speaking. I wolfed them down in such a stupor of appreciation I forgot about taking a picture for this blog.
How I'm feeling: Cranky and quiet on Saturday morning, but better after my vegetables and fruit. To be honest, a little chuffed too that I have lost a little weight and feel lighter and leaner, though I know it won't last but I can't deny a 7 day juice fast would be a quick fix if you needed to shed some weight for an event (and didn't mind the pain).
What I've learned:  That I love juicing, but juice fasting is tough. I have learned the Flexibility Is Needed lesson yet again; that you need to be prepared to make concessions to yourself and not beat yourself up about it. Another woman, who works down the hall and is also on the juice fast (I know we're all mad, right?) said she had a sore eye and needed a meal on the second day, so she had one and then went straight back on the fast and seems to be sailing through it.
On the menu today:
Liquid cake – 4 parsnips, 4 peaches, 6 carrots blended with one banana (so sweet!)
Lunchtime – bowl of steamed cabbage, asparagus and broccoli with a pat of butter. 2 apples, 1 peach.
Dinner – As for lunch.
THE CONVERT
Christina says: I started incorporating solids back into my diet today and it was such a relief. The fruit and vegetables I ate (banana, apple, strawberries, blueberries and two carrots) were so rich in flavour; a sensational eating experience, the banana tasted so sweet and delicious. Also, I was so happy that I finally got to chew something. I have to admit that day six has been the best day for me so far…finally some solid food.
How I'm feeling: I felt much better in terms of my energy after I had my fruits and carrots. I feel motivated to start working out again now that I am not constantly feeling drained and tired.
What I've learned: I learned that I LOVE chewing! My first juice fast was hard but this one was even harder. Plus, a little cheating is okay and that as much as I love juice it will probably be a little while before I do another juice fast.
On today's menu: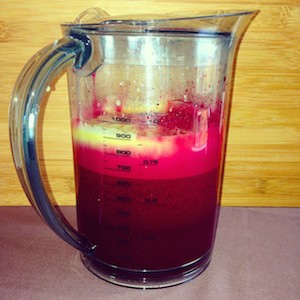 Breakfast: 1 apple and one banana
Mid-morning snack: Beet-mix – 1 apple, 1 beet, 4 carrots, 2 celery sticks and 3 cups of spinach. I snack on this juice throughout the day.
Lunch: 2 carrots and 5 slices of cucumber.
Dinner: a bowl of strawberries and blueberries – heaven!
THE VIRGIN
Cassie says: So far, I've lost 6.5 lbs. Wowzers. I knew I had lost a bit because I feel lighter and my stomach is flat but I didn't expect that much. (I'll probably put it back on within the next two weeks). I'm embarrassed to say that knowing I was allowed to actually eat fruit and veg threw me off juicing today, but I think that's mainly because a) I was so looking forward to eating something and b) I didn't feel hungry enough to make a juice after dinner. I was doing so well. I've been so tempted to eat a biscuit as I keep seeing my family have them (but didn't give in) and am really looking forward to a medium-rare streak with loads of mushrooms.
How I'm feeling: The start of today was the worst so far judging by how I felt when I awoke. I had a bad night's sleep, woke up at 9am for a couple of hours then fell back to sleep until 2.45pm. Yes, 2.45! I felt so weak and sooo dizzy – probably due to the fact that I hadn't consumed anything since 7.30pm. I attempted to get up a few times and had to keep lying back down. At one point, I was seriously considering calling my younger sister to beg her to bring up a piece of fruit. In the end, I got up, ran downstairs and literally gobbled up a nectarine (I don't think I even washed it) and a banana. I still felt shaky so my sister made me 1/2 chicken stock in hot water (yes, that old friend) which made me feel better. For the rest of the day, I was okay, not 100 percent, but a lot better than I initially was. Although I ate small portions, I hardly felt hungry today.
What I've learned: 1) Do not leave too much time inbetween consuming juices! 2) Although juicing really does help you lose weight, I really don't think it's worth it. I would recommend three days max. 3) I don't think I could do a juice fast again, not unless I was allowed to eat a salad or plate of veg or even soup once a day. 4) I really do love food. 5) I think juicing makes you crave healthy foods.
On today's menu: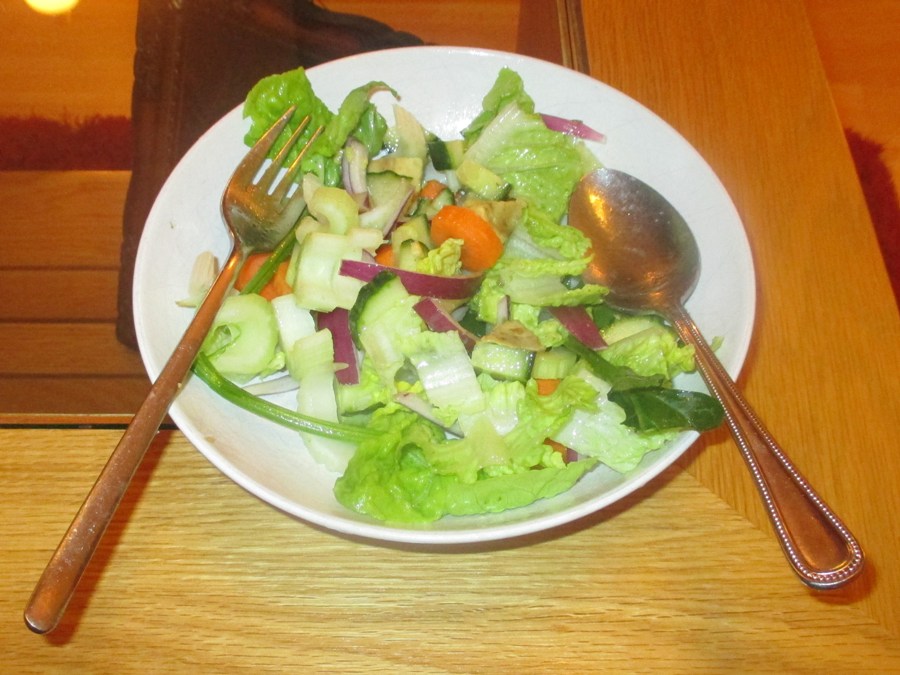 Brunch: 1 nectarine, 1 banana and 1/2 chicken stock cube in hot water
Snack: Shannon fruit (probably should have juiced, whoops.)
Dinner: 1 bowl of salad – 3 lettuce leafs, 1 celery stick, 1 carrot, 1/4 cucumber and 1/4 onion with a sprinkle of salt, a squeeze of lemon and a drop of olive oil
After dinner: Peppermint tea
Other days in the live Juice Fast:
Like this article? Sign up to our newsletter to get more articles like this delivered straight to your inbox.