The new LELO HEX condom claims to have revolutionised the condom world with its precision-engineered material designed to maximise sensation without sacrificing safety. Healthista put it to the test
As a teen growing up in early nineties Australia, I remember a billboard ad at the time featuring an attractive couple in bed and the slogan: 'tell him if its not on, it's not on'. It was the early nineties and, post AIDS-epidemic, safe sex was the only sex we had. The safe sex message had sunk in so deep for young Aussies back then that even when I met my husband many years later, we had safe sex for the first two months until we had time to go together to an STI clinic get a HIV test. That's romance.
The most commonly cited reason for not using condoms was a perceived lack of sexual pleasure
But last year, a study came out that suggested the safe sex message was being lost. Around 15 per cent of under-25s in the UK reported having had unprotected sex with two or more partners in the last year. The most commonly cited reason for not using condoms was perceived lack of sexual pleasure and intimacy.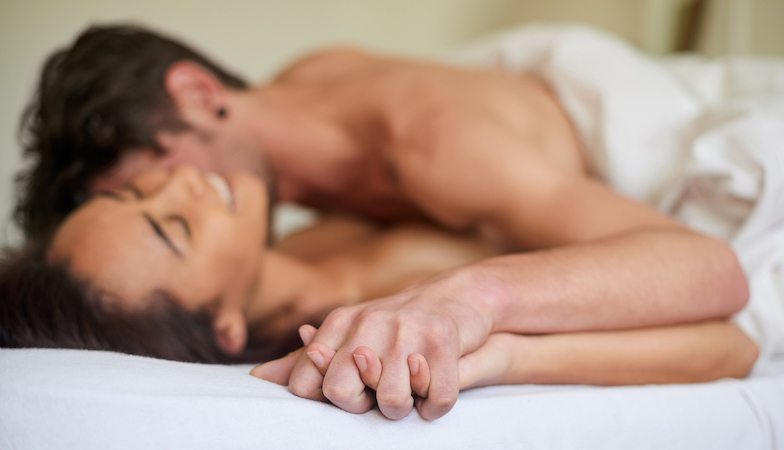 The engineering and development of condoms hasn't changed since the 1920s
It's not a concern without cause, right? The engineering and development of condoms hasn't changed – really – since condoms were first made legal in the US in the 1920s. Now, global pleasure brand LELO (they make amazing vibrators) say they have changed all that with their launch of a new condom called HEX, which claims to maximise sensation without sacrificing safety.
I was intrigued to try out something callng itself the 'condom of the future.' I mean condoms https://www.lelo.com/hex-condoms-original(also called 'those little rubber things' in the famous Monty Python sketch) are condoms, right? Well, they have been, until now, say HEX makers LELO.
I've been familiar with LELO for some time now, being a big fan of its INA Wave vibrator (if you want to know why read our review here) so I know that when they claim to engineer something specifically for the human anatomy, they're not kidding. The INA Wave massages your G-spot and clitoris with a kind of slow, pulsing vibration that leads to an orgasm that's deep and long, like the waves of a powerful ocean, not a puddle.
Now, LELO claim to have put this engineering nous into a new condom that has been almost a decade in development. The HEX condom combines latex with an internally-integrated hexagonal pattern that covers the whole condom on the inside.
With this hexagonal skin innovation, LELO addresses the three main complaints about condoms: slippage, breakage and the reduction of pleasure. Inspired by the hexagonal molecular structure of graphene, the strongest, thinnest material in the world used in anything from phone touch screens to water filters,  the HEX has hexagonal patterns on the inside. These create a network of channels and cells that work together to reduce slippage, while the six flex points for each hexagonal panel not only help it mould to the uniqueness of the man's penis shape, they also help contain any damage to the surface of the condom and help transmit body heat between partners.
This video shows the hexagonal structure of the HEX's skin:
The HEX has just won a prestigious iF design award from the International Forum Design in there medicine and healthcare category, in which it beat over 5,500 entries from 59 countries.
The HEX condom test – how was it in bed?
Engineering aside, whether the HEX condom delivered in bed is what matters. I wasn't enthused about using a condom again until I read the bumph about it, which left me skeptical but intrigued. What's more, asking my partner to wear a condom after over 17 years of marriage didn't go down (excuse pun) terribly well, last weekend. But research is research and I take my reviews seriously, so last Saturday night at least, if this wasn't on, it wasn't going on. He reluctantly agreed.
The HEX condom packaging rocks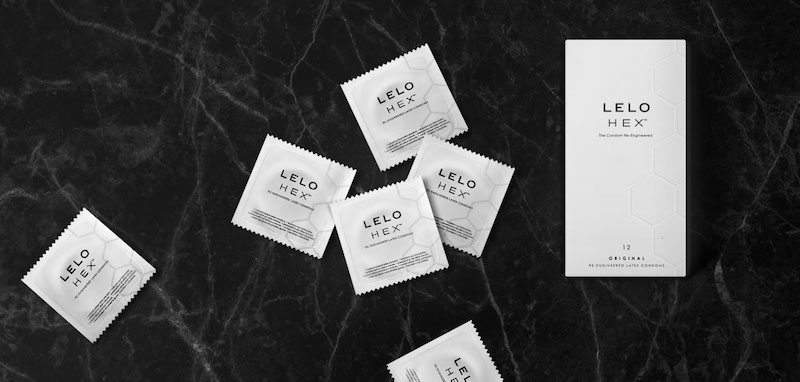 The packaging – clean white, with black bold writing (left) – looks much classier than any other offerings currently available in the condom family, a genre aside in fact and more like a discreet pill or supplement in a packet. For me, buying something like this feels less seedy than buying some of the offerings that have previously graced the shelves of my local pharmacy, a fact that I hope will empower more women (and men) to buy condoms and insist on their use with new partners.
It feels so different to its predecessors
At very first glance the HEX looks like any other condom, until you look closely and see the little hexagonal patterns on its skin. But touch it and it feels much, much softer and thinner than other condoms; a lot less like rubber and more like a thin layer of something akin to skin itself.
It looks great on
Putting the HEX on was easy, though using my mouth to do that left a slightly bitter taste. The HEX fitted so snugly that it honestly looked like a second skin and was transparent so you could see all his lovely pink skin coming through (aesthetics matter, right?); a welcome change from the rubbery-white look of most condoms. Its rolling on elicited a grunt of pleasure, which was encouraging.
How did it feel for me?
The real difference came in actual doing part of the night. The HEX felt like no other condom I have ever used. The sensation was almost better than without, prompting me to wonder what it is lubricated with which might cause deeper feeling. It felt super-snug throughout and stayed that way with both me on top and him behind, with no budging and the sensation seeming to heighten as things progressed it would in regular unprotected sex. We purposely didn't hold the bottom at any point to test the slippage factor and it delivered by not budging. In fact, during changing positions I even tried 'coming off' without holding the end, which I know is naughty but I wanted to see what would happen and the HEX still didn't come off or move.
The HEX felt like no other condom I have ever used.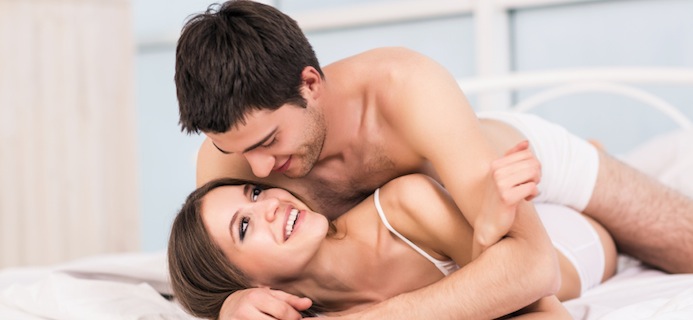 How was it for him?
Before me, the Hub was an enthusiastic condom user so he is a fairly decent judge of these things. The HEX impressed. 'It feels more like wearing nothing than any other condom I've used,' he said after. 'A lot less cumbersome and much much more sensation.'
It doesn't constrict like other condoms
A big win for the HEX, he said, was the fact that despite staying on so well, it didn't constrict his penis at the base in the way other condoms do, which he believed allowed for better circulation. When he enthusiastically said afterwards 'That's the best orgasm I have ever had wearing a condom,' he did qualify it with, 'of course, the intensity of the interaction did help.' Nice save.
Buying it
A 36 pack of LELO HEX costs £29.90 at lelo.com or if you're in the US you can buy it at Target. LELO offer free and discreet shipping which means no more cringeworthy moments at the pharmacy counter.
Read more