Fancy a holiday that doesn't involve lying on a beach chair? Barcelo Lanzarote Active 4-star Resort in Lanzarote, Spain has an all-inclusive resort like we've never seen before
Equipped with an Olympic ten lane pool, Les Mills fitness classes, spa facilities and more, Healthista's Anna Sheehy went to explore the resort to see why this Lanzarote hotel is the perfect getaway for everyone.
Whether it's for a week or a long weekend, the island of Lanzarote is a short (and cheap) four hour flight from London.
There is no better time to visit this resort other than any time. Lanzarote sees 365 days of sunshine with average daytime temperatures from 22 to 24 degrees in the winter months, allowing visitors of the island able to strut around in a bathing suit during the day and wear a light jean jacket by night. 
READ MORE: Sardinia: the A-list destination that holds the secret to longevity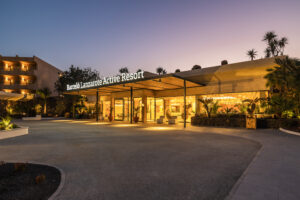 I visited Barcelo Lanzarote Active 4-star Resort in January, which worked out well as my personal desire to jump start my health kick always begins in the beginning of the new year (along with most) as it feels like a fresh clean slate.
Let alone a little relaxation combined with that boosts good endorphins after the chaos that the holiday season tends to ignite. 
It's great to travel to a hotter climate to escape the January Blues and even the April showers, when the weather has us all wanting to stay indoors, making it hard to keep the motivation momentum churning.
There was no better time for me to skip the post-holiday blues than to travel to the sunny island of Lanzarote, where the tourists are scarce and the beaches are plenty. However this resort has so many amenities to offer, that really any time of the year is suitable for a holiday away to Lanzarote. 
For someone who doesn't regularly do yoga or swim in Olympic sized pools, I must say that I never wanted to leave this active resort. In fact it inspired me to take up yoga back home, despite the beachfront view not being an option.
To say I was impressed was an understatement – so for those looking to travel to Lanzarote, this is a great option for anyone who wants a quick trip away from the London rain. 
Let's find out why…
Fitness First
The best part about Barcelo Lanzarote Active Resort is not only the location, but that it includes a perfect balance of relaxation and fitness. When I say everyone – I truly mean anyone – would find this resort enjoyable as it has everything you would fancy in a holiday.
After an exquisite breakfast at one of their on-site restaurants called La Dolce Vita (which we'll dive into later), we started off our morning doing a Les Mills yoga session in the warm sunshine overlooking the beach. For a first time yoga goer I found this class challenged me which is typically what I look for in a fitness class. 
READ MORE: The Mayr Method Diet – Healthista tries Rebel Wilson approved detox at Park Igls Medical Spa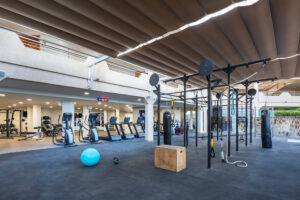 In addition to the fitness classes – ranging from yoga, HIIT, water aerobics, and cycle – the resort has a combination of an outdoor and indoor workout area that has every weight and machine you would need to break a sweat.
Hop, skip, and a jump away is an outdoor 10-lane heated Olympic pool that are used by pro athletes and amateurs alike. Peep over to their fitness board where the on-site personal trainers (available for bookings) have listed full workout plans to follow.
If that's not enough, the hotel can also arrange offsite activities like surfing, golf, and diving. 
READ MORE: Experts reveal 5 healthy supplements you probably don't know about but totally should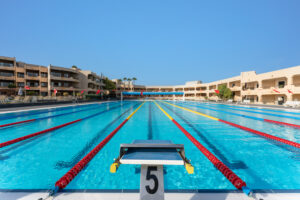 Wellness Rejuvenation 
If fitness isn't your forte, their wellness spa is open to all guests at an extra fee. Although the spa was closed for the day we were there, they have a variety of treatment options available to guests.
So if you're prone to sunburn, their after-run body treatment and facial will get you up in running in no time.
Our form of relaxation during the stay was lounging by the pool with some tapas and a tinto de verano (Spanish sangria).
There are a number of pools around the resort with a bar accompanied for a cheeky Pina Colada whilst bathing in the Lanzarote sun rays. If you manage to slip away from the pool chair, there are plenty of beaches a short walk away that have spaces to layout and read a book. And of course, bars and restaurants to divulge in the flavourful Spanish cuisine.
READ MORE: Insomnia? Too stressed to sleep? 5 tried & tested sleep hacks to beat stress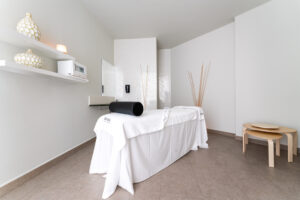 Eat like a Royal
We had the luxury of experiencing the Royal Level package, which gives you access to your own private pool, bar, and culinary restaurants.
Take it a step further to the All Inclusive and you will never leave as all drinks and food are included. 
For breakfast, there was a perfect balance between healthy and indulgent, with omelettes prepared on the spot by the chef and sweet croissants to pair with a café con leche (espresso with milk). As someone who eats salmon for almost every meal, I opted for the poke bowl during lunchtime and was not disappointed. 
However the best part of our stay was dining at Koi – Barcelo Lanzarote Active Resort's Asian-fusion restaurant. With fresh fish and delectable sushi rolls, I felt able to indulge in the courses without feeling like it was too heavy of a meal. We ended the dinner with a divine chocolate cake and wait for it – wasabi ice cream.
READ MORE: 9 Pilates benefits you probably didn't know about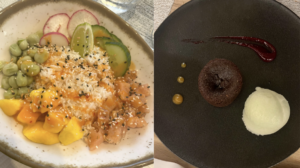 Sleep in Comfort
The most impressive part of the stay next to beachfront yoga was the Royal Level suites, which had two balconies for sun bathing and a living room with a TV to unwind after a day of exploring the island.
The room itself gave a modern vibe with details of the Lanzarote scenery as Barcelo Lanzarote Active Resort recently renovated the property. Wifi, walk-in rain showers, ocean views, and room service are just some of the amenities guests can enjoy. Think luxury feel without the expensive price tag.
The resort boasts a total of 659 rooms that can accommodate a solo traveller, couples, and families. There are different levels in which guests can choose for their accommodation, from the Royal Level to a standard double.
For fitness enthusiasts I would recommend the glamorous Deluxe Sport Room, which includes a TRX treadmill and plenty of outdoor space to complete your morning workouts in the fresh ocean air. The best part however is the giant hydromassage tub and indoor sauna for ultimate body rejuvenation. 
The rooms itself gave a modern feel as Barcelo Lanzarote Active Resort recently renovated the property. Think luxury without the expensive price tag. The resort boasts
For families with small children, there's also a selection of rooms with outdoor spaces for your little ones to run around in.
Barcelo Active Resort ranges from 126 to 180 euros per night, with offers running on rooms year round.
READ MORE: How to get a body like Jennifer Lopez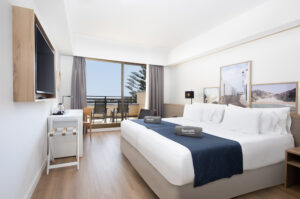 Like this article? Sign up to our newsletter to get more articles like this delivered straight to your inbox.