Buying yoga leggings? Don't get your plastic out before you've read Genny Wilkinson-Priest's brutally honest review of the top brands  
A friend of mine recently commented on my Facebook status asking this question that she didn't even know yoga leggings existed until she started going to a posh London yoga studio where every student's sacrum was fire-branded with the Lululemon horseshoe.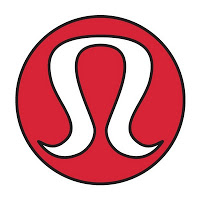 She happily wore pyjamas to class. Yoga, she said, isn't supposed to have any entry threshold like swish yoga pants. You should be able to do it anywhere, wearing anything. No fancy equipment needed.
True dat.
But Western yogis are an affluent bunch. They have to be when many London studios charge £17 for an hour-and-a-half of yoga (more on that in another blog). Yoga has become a middle-class activity, practiced by mostly white women who can well afford to shop at Sweaty Betty boutiques.
So do yoga leggings matter? Yes and no.
If you are practicing restorative yoga, or attending a Level One Hatha class, or meditating, then no it doesn't matter what you wear. It really doesn't. Pull out the 'Puna bloomers' – those ridiculously ugly billowy shorts beloved by Iyengar practitioners. What you wear is irrelevant as it will in no way improve or detract from your practice in these types of classes.
But if you are practicing Ashtanga or Vinyasa Flow or Bikram, then I'm afraid to say it does matter. I am not saying you need to go out and buy designer leggings. (Please don't!) But you need to buy good quality leggings that a) have a tacky quality when drenched in sweat, b) are fitted, c) have a double-lined gusset, and c) AREN'T SEE THROUGH.
I cannot emphasize this last point enough. As I teacher, I wince for the student executing a perfectly aligned downward dog with the pink of their ass cheeks showing through their sheer black leggings. As a student, I always check my frequently-washed leggings to make sure they aren't wearing thin.
Once, my teacher asked me: 'Would you rather me tell you before or after you practice that your leggings are see-through?' It was a trick question. Tell me before, and I won't practice as there's nothing else to wear. Tell me after, and I live with the humiliation that my bits and bobs have been on show for 90 minutes.
American Apparel has quite affordable leggings with prices starting at £26. But with affordability comes issues of quality control. They can go all see-through, and tend to shrink in length according to one of my long-legged yogi friends. (Though the thicker, shiny ones at a dearer £41 do not have this issue.)
And then there is Lululemon-gate. The Canadian manufacturer of expensive leggings starting at £75 had to recall 17 percent of its stock earlier this year when their yoga pants were found to be too revealing. Lululemon stock dropped five percent on the news, and customers who returned their leggings had to bend over in order for a sales assistant to determine how sheer their leggings were. Talk about humiliating.
Lululemon is like Marmite – yogis either love them or hate them.
The foundation of the behemoth's mission is found in Ayn Rand's 'Atlas Shrugged', which argues that the naked pursuit of self-interest should be society's highest ambition. (Hardly yogic.) This philosophy underlies some bizarre facts about the rise of Lululemon, like that founder Chip Wilson named his company so because it delighted him to hear Japanese people pronounce a word with three L's in it. Lululemon features 'Brand Ambassadors,' or local yoga teachers who (bonus!) get free marketing by being featured in marketing campaigns while Lululemon gains access to their pool of students-cum-prospective buyers. And then there's the accusation that Lululemon discriminates against plus-sized women because it doesn't make clothing bigger than a US 12.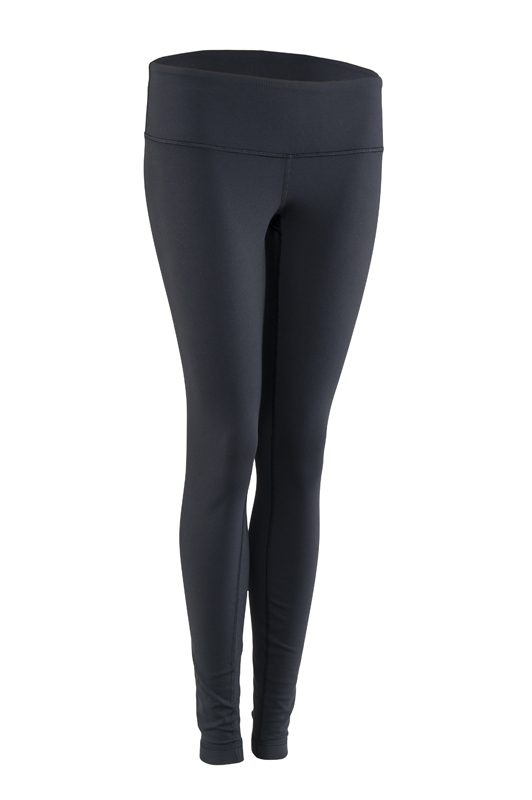 And yet their leggings can inspire adoration bordering on fervour. Why? Basically, they make your ass look good. But what difference does that make to your practice? I bought a pair of their 'Wunder Unders' about six years ago, and admit they have lasted and they're good quality. I am able to lift into complicated arm balances like Eka Pada Bakasana without losing grip and tumbling over. The Wunder Unders do not improve my practice, but nor do they hinder it.
But at what price? Literally and figuratively, quite a lot. Hefty price tag? Tea Party Movement ethics? Crass marketing tactics? Check, check, check. I'll never buy Lululemon again.

We now come to Sweaty Betty. Who doesn't like a Sweaty Betty boutique?  You feel good just walking into one. The boutiques offer run free running, yoga and bootcamp clubs. Global expansion is in the works as the British company has recently opened in New York City.
But do their leggings stand up to the test of a sweaty practice? Some do, and some don't. Their 'Dynamic Leggings' are brilliant. Never sheer, no-slip and moisture wicking.  But their new 'Chandrasana' leggings, with a nifty Galaxy print, are too thin. One friend who wore them at a hot yoga workshop recently pushed her finger through a thin patch in the knee. She had bought them that afternoon.
Sweaty Betty has noted this on their website: 'Due to the nature of the breathable fabric, these leggings are not fully opaque. To keep the look, you can pair them with the All Sport Undies or go up a size to reduce fabric stretch.'
So you have to spend more money to cover up your assets.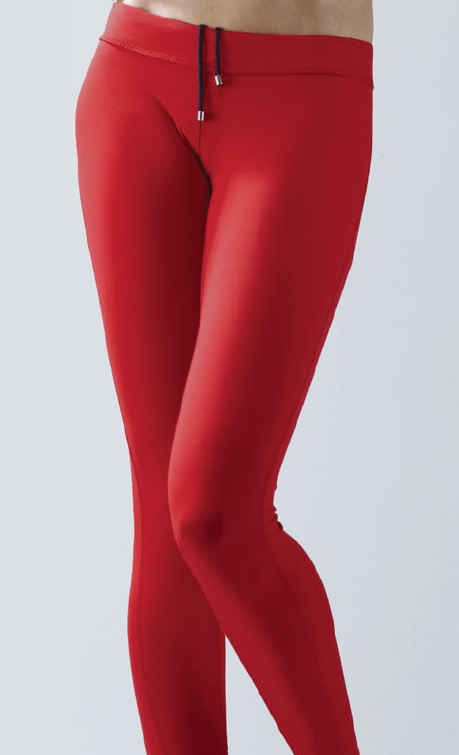 This brings me to the Mother Of All Expensive Yoga Leggings:  Hey Jo, at £145. That is not a typo or autocorrect. They really do cost that much. They look good, with zippers at the ankle and at the lower back to hold keys/money. The fabric is indeed luxe, and the colours beautiful.
But I have two problems with them. One – why isn't the gusset double-lined? They are too revealing! Second – why on earth do they cost so much? THEY'RE JUST A PAIR OF LEGGINGS. I wouldn't even pay the £145 if they enabled me to complete Ashtanga Third Series in two weeks.
While you can wash Hey Jo leggings, you cannot throw them in the dryer. Which is going to make you panic when your husband pulls the laundry out of the washing machine and chucks it all into the dryer. (No, wait.  No husband has ever done this.)
There are other brands – Manuka (shows sweat patches), Hardtail (falls apart easily), Nike (price hike has turned some off), Asquith (good quality, not cheap), and Decathlon (not particularly cool but good quality.)
You could wear next to nothing at all, of course. Kino MacGregor, an Ashtanga evangelist, wears short shorts. Some people hate her for it. But I have respect for her – she isn't relying on friction to hold herself up in advanced arm balances, but rather core strength. She's working skin and skin and when you're hot and sweaty that's pretty damned hard.
Find what works for you depending on your personal practice. Don't worry about what your ass looks like. Worry about what your Warrior I looks like.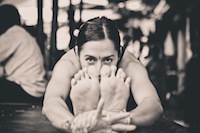 Genny teaches Vinyasa Flow Yoga and Ashtanga Yoga at London studio Triyoga.
The OM Yoga Show is on 25-27th October at London Olympia 
More from Genny Wilkinson-Priest:
'I did intense yoga until the day I gave birth'
'Some days I feel like I could fly'
'Think you can't do a headstand?'
Like this article? Sign up to our newsletter to get more articles like this delivered straight to your inbox.