Is it just us or are there unbelievably gorgeous women in their 40s everywhere? Whether it's in exercise regimes, beauty products or diets, gen SHAF (that's Superfit, Hot and Forty) have found what works for them and they do it – evidenced by the hotter-than-ever bodies they inhabit.  Here are our favourites and how they achieved  SHAF status
SOFIA VERGARA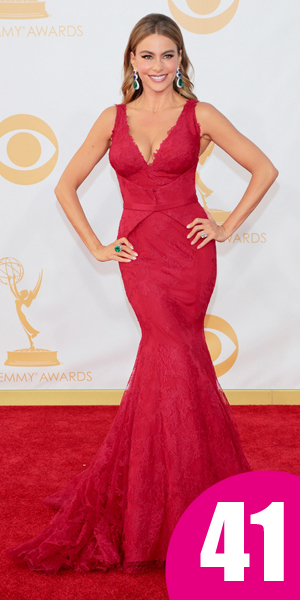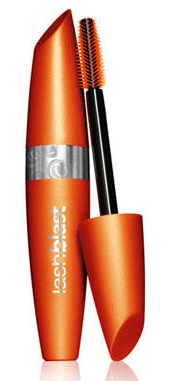 Sofia is rumoured to be the highest-earning woman on television, but she didn't have the easiest of career starts. At 28, already divorced with a young son, she was diagnosed with thyroid cancer. After undergoing surgery she is now cancer-free, although she still takes daily pills to make up for the loss of her thyroid. 'I was lucky that's all I needed', she has said, as thyroid cancer is subtle, and often not detected until it has spread. Despite being the face of Pepsi and Burger King, Sofia's diet cuts out sugar, carbs and alcohol, and she works hard with trainer Gunnar Peterson to have that perfect hourglass figure. 'She keeps hips and glutes lifted and perfect with a variety of lunges and squats,' says Peterson, but also works on her shoulders to accentuate her small waistline. A fan of CoverGirl cosmetics, she gets those luscious lashes by using CoverGirl Lashblast.
JENNIFER GARNER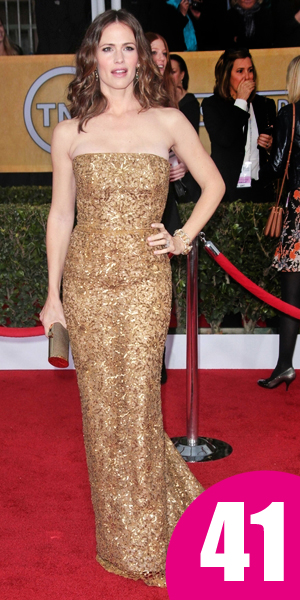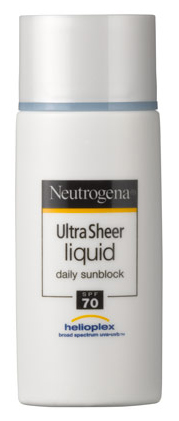 I've always thought that Jennifer looked good for a mum of two, but I've just found out, she's now got three kids! Although more relaxed with her diet since becoming a mum, Jennifer, 41, still tries to eat organic, portion-controlled meals. She is also the brand ambassador for Lyfe Kitchen. When she needs to get into serious shape for roles like Elektra, she turns to faithful trainer Valerie Waters. Jennifer said 'I start my day with Valerie Waters every day that I can. We're not in a fancy gym, we're just in a room in my home. We use 5 to 8 lb. weights, and do a little cardio.' She runs too, which all helps towards her, as Valerie describes it, 'strong and sexy body'. You can get all kinds of Valerie Waters products on her website, including her 'Hot in a Hurry' workout package. Jennifer is also a fan of alpha hydroxy acid and retinol, found in products like sunscreens and anti-wrinkle creams, in particular Neutrogena Ultra Sheer Liquid Sunblock, SPF 70. Recently Jennifer has been named the face of MaxMara.
DANNII MINOGUE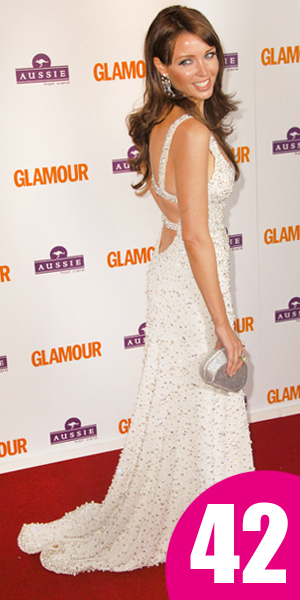 Happy Birthday Dannii! How many candles were on the cake on Sunday October 20th? 42 big ones, but going by looks alone, maybe we should just say 21 twice over. When she's not filming Britain and Ireland's Next Top Model, judging on Austrailan X Factor, or being a mum to little Ethan, she's doing her bit as ambassador to great companies like Holster Rockstars, ModelCo and A2 Milk UK. When in Melbourne Dannii does Body Balance, a workout that involves yoga, Pilates and Tai Chi. She's always eaten healthily, enjoying avocados and olives even as a child, and her new favourite grain is quinoa. Keeping her skin out of the sun, she swears by ModelCo's Super Tan which, as she told the Daily Express, 'helps give you a healthy tan and produce melanin, so you don't get burnt.'
CAMERON DIAZ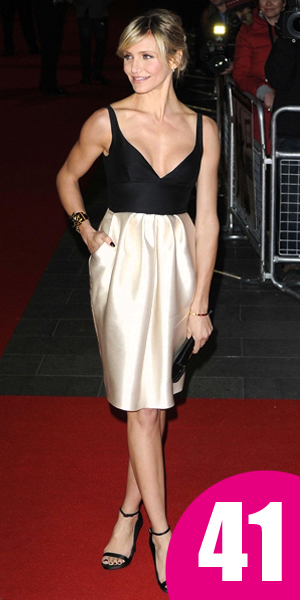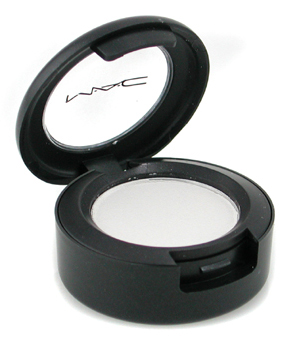 At 41, Diaz has got her rock hard body purely from working hard – she claims to have never liked the idea of surgery. She fell in love with CrossFit after being introduced to it by ex, Alexander Rodriguez, and now trains with Teddy Bass, throwing tires to build up muscle. She told Harper's Bazaar: 'I get really skinny, and I know it might sound like, 'Well, good for you.' But the body that people talk about is not me trying to stay slim, it's the one where I work hard to keep weight on me.' Cameron supports a wide range of charities, most recently Chime For Change, which helps to promote equal opportunities for girls and women worldwide. Always envied her beautiful blue eyes? She makes them stand out by applying MAC's White Frost eyeshadow to her brow bone.
GWYNETH PALTROW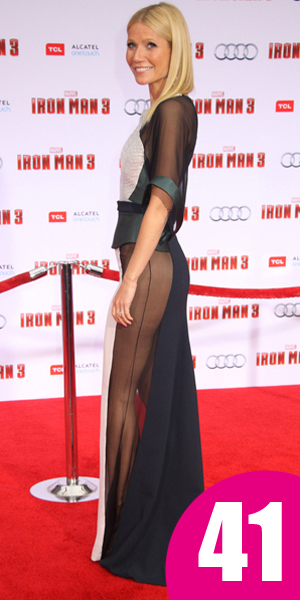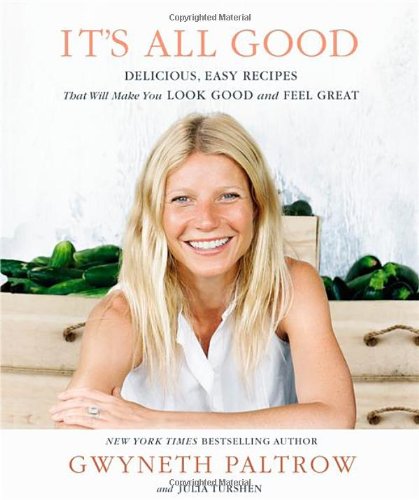 Gwyneth, also 41, is becoming as well known for her healthy lifestyle as she is for her acting. She has written two gluten-free cookbooks, including the latest It's All Good, and is the owner of Goop.com, a weekly online publication which aims to help its readers 'save time, simplify and feel inspired'. One of Healthista's Goop favourites is the recipe for Super Greens Juice, which combines celery, pears, ginger and lemon with lots of lovely kale. Gwyneth has also co-written a book with her trainer Tracy Anderson. She approached Anderson having gained 35 extra pounds after having her second child, Moses, knowing the trainer had a son of her own. 'She advised me to think of exercise as an automatic routine,' said Gwyneth, 'no different from brushing your teeth, to avoid getting distracted. Now it is part of my life.' Gwyneth finds her diet choices and healthy lifestyle have helped hugely with her complexion. She recently told The Telegraph she likes doing a detox a year and a big diet a year, the latest being the Elimination Diet, that's eating no additives or processed foods for three weeks.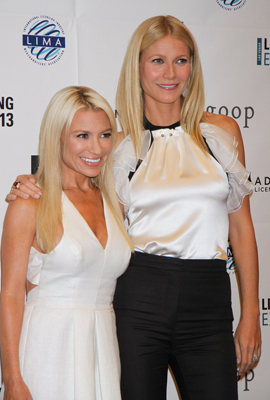 KATE BECKINSALE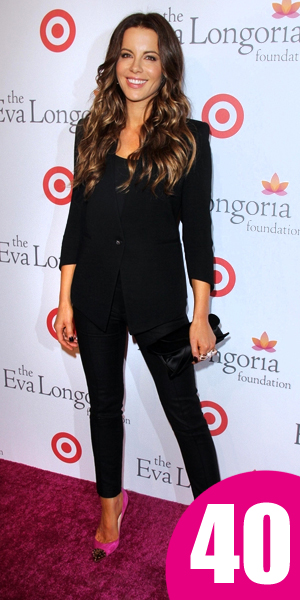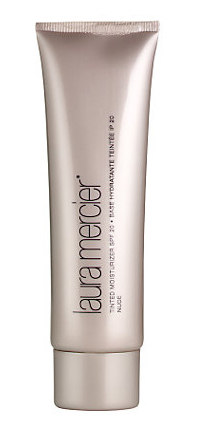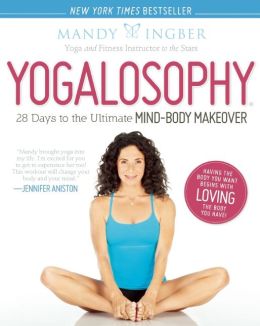 It's hard to comprehend that Kate is mum to a teenager, let alone that she's recently joined the Hot 40s list. Constantly appearing in 'most beautiful' and 'sexiest woman' lists, she keeps fit by cycling and hiking with her daughter Lily. Kate says she only goes to the gym when she needs to bulk up or slim down for a film, but she is a massive yogi, working with Yogalosophy instructor Mandy Ingber  (whose client list is twinkling with celebrity stars). Mandy's mantra is 'Having the body you want begins with loving the body you have,' which can't be too hard when you look like Kate. In her 28-day programme, Ingber encourages readers to achieve both a healthier body and happier mind through eating plans as well as workouts. When on set, Kate keeps her eating under control by using Sunfare delivery service, which provide meals with correct amounts of protein, carbohydrates and fats. She masters her barefaced beauty look by using Laura Mercier's tinted moisturiser.
HEATHER GRAHAM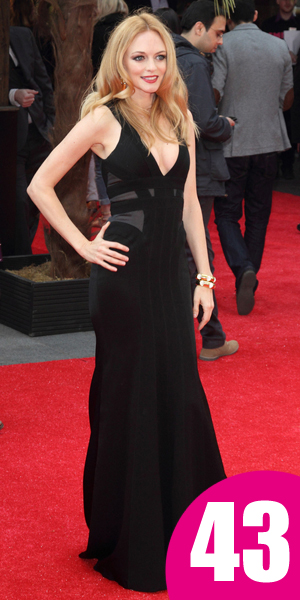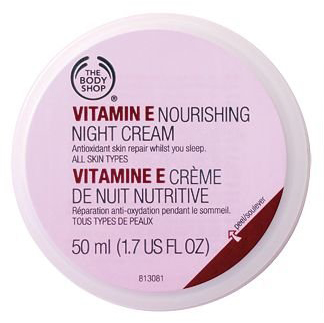 43? Gob-smacking, non? Not many actresses would be able to pull of the role of a stripper in their forties, but Heather Graham isn't just any old actress. Describing herself as 'really obsessed', she practices yoga and meditation for the mental benefits as well as physical. ' I do yoga three times a week and I do Pilates twice,' she told Zimbio.com, 'but I like yoga the best.' Heather, 43, is one of the nice girls of Hollywood, always looking happy and bubbly in interviews. She has her own ways of staying positive and confident, like making gratitude lists and sharing them with friends, to reminder her to be grateful for all the good things in life. Overdoing it, maybe, but apparently gratitude lists really work and if it means having a smile like hers, it may be worth looking into. Heather sticks to a diet that avoids sugar and white flour, saying she could eat five candy bars in one go if she's not careful. She also likes using The Body Shop Nourishing Night Cream.
DITA VON TEESE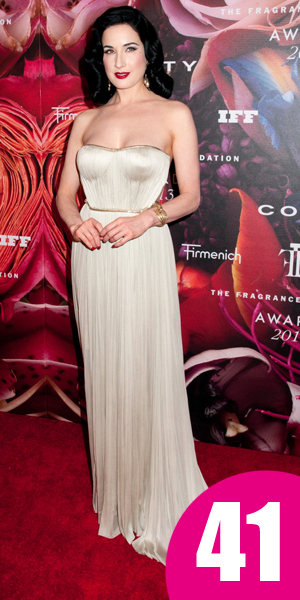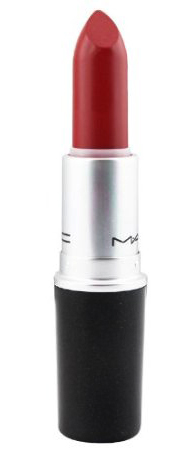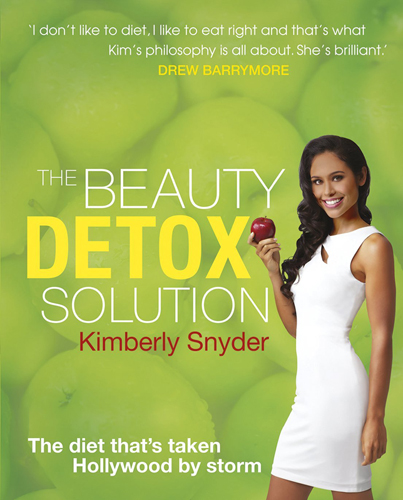 If I could have one magic genie wish, I think I'd be Dita for a day. When I read in a magazine that she wore MAC's Russian Red Lipstick I went straight out to buy it, and it's been my signature colour ever since. With her own fashion line, lingerie brand, signature fragrance, and make-up collection, we could all do a good impression, but there will only ever be one Dita. Following her on various social media sites, you'll see the 41 year old's fitness regimes are as unique as she is: ballet classes, horse riding and dressage, and recently she took up fencing. Dita eats a practically vegan diet, following the Kimberly Snyder The Beauty Detox Solution. She also she has a parsley, coriander and spinach smoothie for breakfast every day (Snyder is big on green, veg-filled smoothies like this for breakfast – and avocados). If that wasn't enough to get the perfect burlesque body, Dita says that wearing a corset since the age of 18 helps.
MELANIE SKYES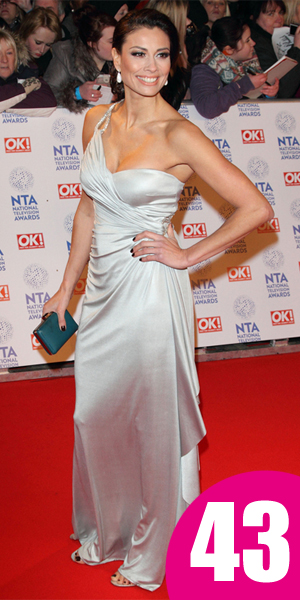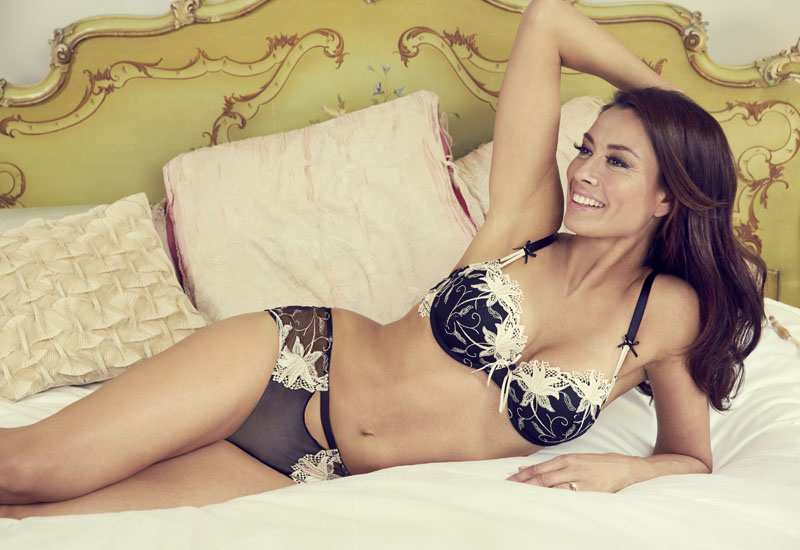 Our very own Mel Sykes certainly makes the hot 40s list; just look at that campaign for Ultimo Adore Moi. Her first lingerie ad at 43? That is impressive. Having put daytime TV behind her, Melanie has joined forces with Bio-Synergy to produce her own range of sports nutrition products, Active Woman. "Working with Bio-Synergy on a range for women who, like me, are serious about working out has been really exciting." Melanie constantly tweets her gym snaps, and her well-deserved washboard stomach too. As well as embarking on newly married life, she's also training to compete in the clay pigeon shooting at the 2016 Olympics. Her first step, however, is the Commonwealth Games next year, which she told The Mirror is a 'huge aim'. She now trains with multi-world champion Ben Husthwaite. 'When I make a mistake… I rip myself to bits – I need to stop doing that. It's like any sport, though, you have a physical and mental coach.'
AMANDA PEET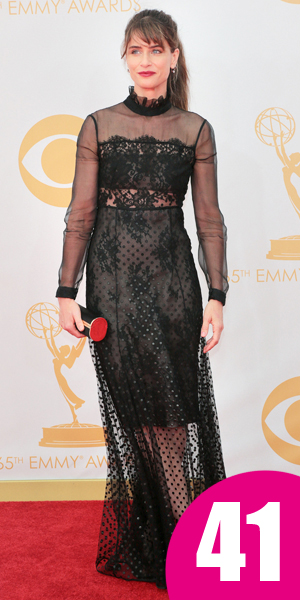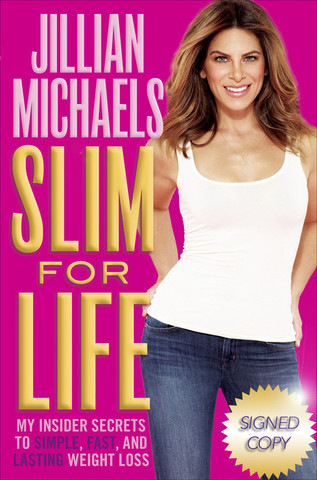 Amanda, 41, must just be one of the lucky ones. She believes that the older you get, the less make up you should wear, and that the best way to stay healthy is to sleep as much as you can and have people around you who are funny. 'Eat greens, but in moderation. Exercise, but in moderation. Drink wine, but in moderation.' Not sure about that middle one, Amanda, as we know you're prone to a bit of intense cardio with the famous 'Biggest Loser' trainer, Jillian Michaels (you can order Michael's Books and DVDs from her online store). Still, Amanda wants her daughter to be healthy by playing sports, rather than going to the gym like other young ones in LA.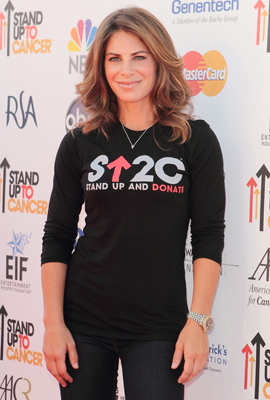 Are you a SHAF? What's your secret? Tell us your tip here and be in with a chance to win an aromatherapy skincare kit worth £73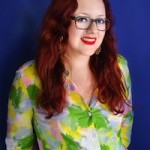 Lydia Jones blogs at abitofwhatifancy.blogspot.co.uk
Like this article? Sign up to our newsletter to get more articles like this delivered straight to your inbox.