Want healthy eating tips for the real world? Healthista quizzed three Instagram superstars on exactly what they eat in a day to fuel their busy lifestyles and hot bodies
There is no question about it – Instagrammers lead busy lives. They are here, there and everywhere (quite literally).
It begs the question, when do they find time to eat? And when they do find the time, what sort of healthy choices do they make day-to-day?
Well we asked them, and not only did they share exactly what they eat in a day, but they also shared some of their favourite recipes.
Instagram superstar #1 Hannah Barrett aka Yoga Girl London
Hannah Barrett, or Yoga Girl London as she is known in the Instagram world, is a mother of two, whose aim is to share the incredible benefits of yoga with as many people as she can – and in the cutest way possible too as many of her videos involve her gorgeous children and very cute pooch.
https://www.instagram.com/p/B4z-c56JQfF/
After a stressful job in the finance industry four years ago, and the traumatic birth of her daughter that caused her to experience post-natal depression and post-traumatic stress disorder, Hannah turned to yoga and found that it made a significantly positive impact on her life.
Fast forward a few years and Hannah has released her first eBook Strength Through Yoga with Finola Burrell, a physiotherapist and Pilates teacher.
It's hard not to notice Hannah's toned physique on her Instagram feed and that made us wonder about her daily diet.
From Hannah's go-to snack to her favourite cheat meal, we discovered all her daily eating habits.
Follow Hannah @yoga_girl_london
Here's what a typical day of food looks like for Hannah:
7:30am, Breakfast: Buckwheat pancakes
12pm Lunch: Poached eggs with boiled sweet potato
3pm, Mid-afternoon snack: An apple or pear
7pm, Dinner: Veggie stir fry with cashew nuts
8:30pm, After dinner snack: some dark chocolate
'Quick, easy and unprocessed'
'Everything I eat is quick and easy to make,' says Hannah. 'Food and cooking doesn't need to be complicated to be tasty.
'But that doesn't mean I open tins, jars or packets to prepare my food, as most of the food I eat is as unprocessed as possible,' says Hannah.
'Making and cooking meals yourself, doesn't mean you have to spend hours in the kitchen. It can be simple and healthy to prepare wholesome meals with fresh produce and there are plenty of easy recipes in cookbooks and online that I use for inspiration.
'Eggs for lunch are a must'
'Lunchtime in my house is when my daughter gets back from nursery and when I'm back from teaching my morning yoga classes (12pm), so we are both starving. It's just me and her to make lunch for, as my son is at school.
'I have always loved eggs and my daughter loves them too. At the moment we are going through a poached egg stage, but we also love to have scrambled eggs.
'I am thrilled that my daughter loves eggs, it's great for me as it's a healthy easy meal that I can rustle up in minutes. Eggs are a great source of vitamins and minerals and as they are high in protein, they help with my muscle recovery and do a great job of filling us up.
'I pay attention to where I source my eggs from and always look for the Lion mark so that I know I'm buying quality British eggs.'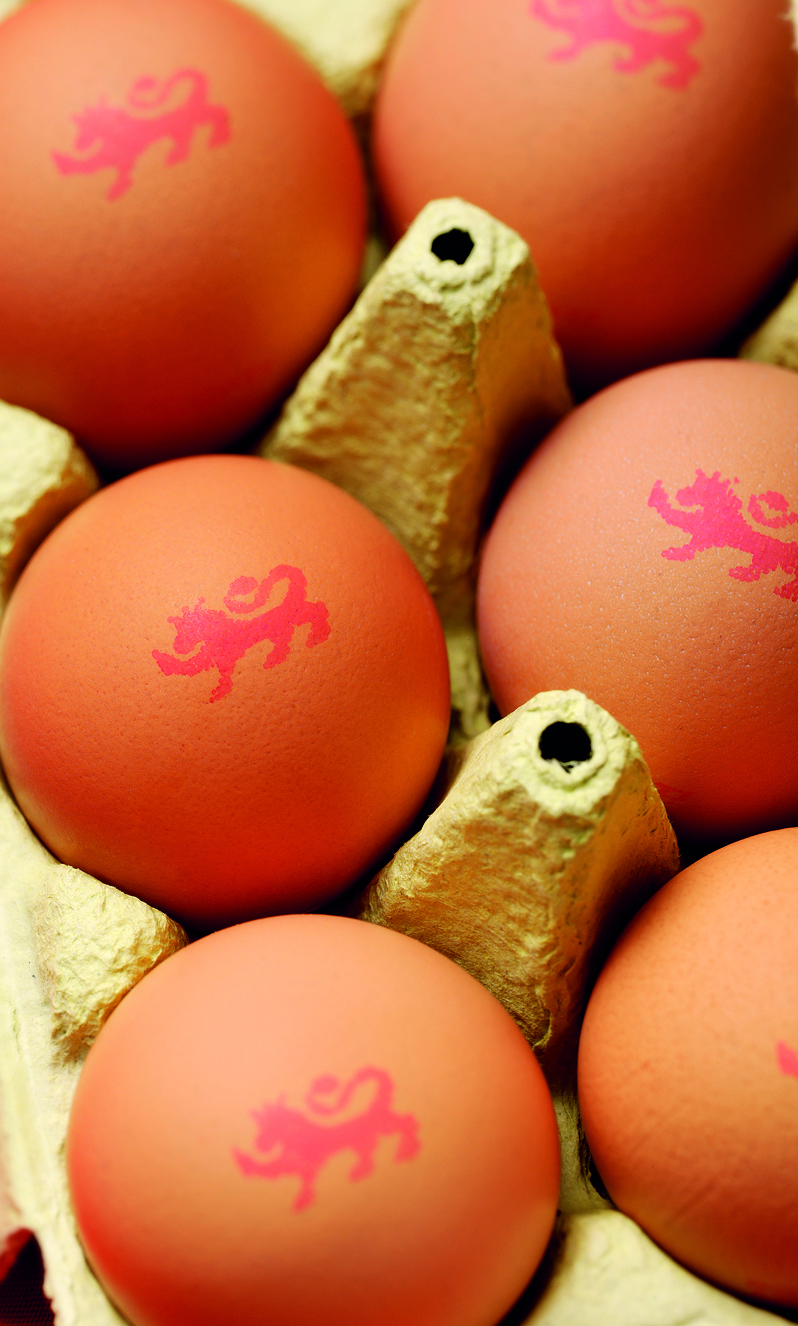 A typical lunch for Hannah and her daughter: British Lion Eggs poached, boiled sweet potato with salad or vegetables.
To make:
Peel sweet potato and chop into chunks.
Add the sweet potato to a pan of boiling water and boil until soft.
While the sweet potato is boiling, fill a shallow pan with water and bring to a simmer.
Crack to British Lion Eggs into the shallow pan and poach.
Serve the poached eggs and boiled sweet potato with either salad or boiled veggies of your choice.
'Restriction is a no-no'
Even though Hannah likes to prepare and eat fresh, unprocessed meals, she doesn't believe in restriction. 'One of my most important food principles is to not restrict yourself,' Hannah asserts.
'In my younger years I would try so many crazy diets and all of them would involve some sort of restriction that would only cause me to end up resenting the diet altogether.
'But what I have found truly works is being a bit more mindful about what you eat rather than cutting things out altogether. If you want chocolate, have some chocolate, just don't eat a whole family-sized bar.
'I am someone who eats what I fancy then and there. At the moment I simply adore dim sum and I get it delivered every weekend, sometimes on a Wednesday too. If I could have it every day, I would. I also love a sushi take away – see what I mean by no restriction? If I fancy it, I'll have it.
'I also don't want to be the mum who doesn't let her children have chocolate or treats – except for sweets because that causes them to go mental. I don't want them to grow up thinking and seeing food as an issue'.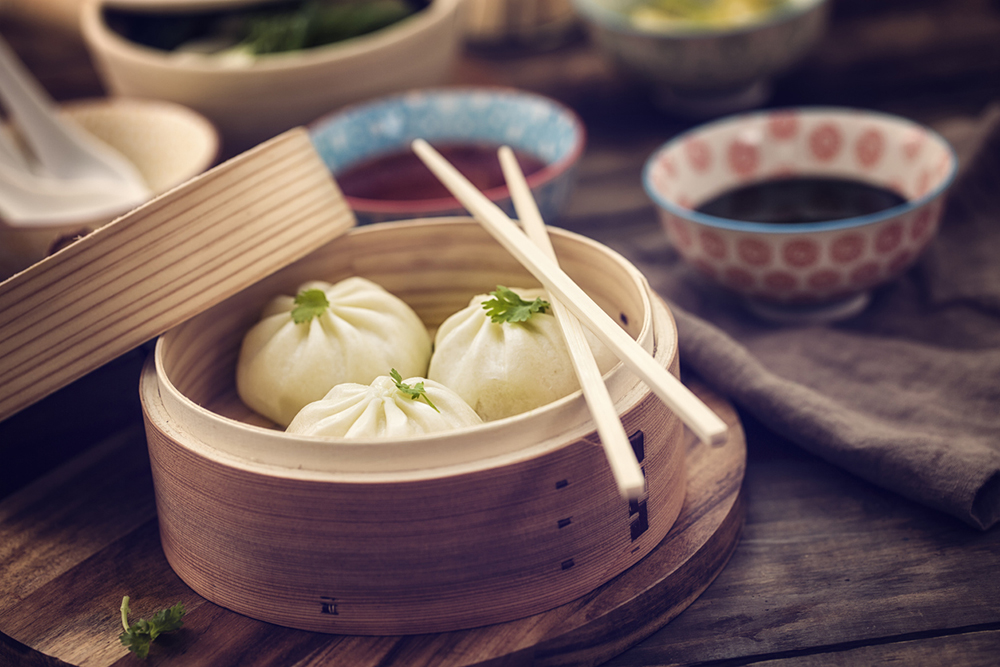 'Try not to skip breakfast, even if you aren't hungry'
Although Hannah believes in intuitive eating (that's eating when you're hungry), she doesn't think skipping breakfast is a good idea.
'I usually eat breakfast at the same time every day, around 7:30am, and I would never skip breakfast. Even if I'm not hungry, I will always make sure I have a little something to eat rather than nothing.
'I find that eating breakfast, especially a protein fuelled breakfast that contains eggs, keeps my energy levels up for when I am teaching yoga (around seven to ten classes a week) and stops me from eating too much later on in the day. Having breakfast also stops me from mindlessly snacking or thinking about snacking.
'I like to eat intuitively, so if I'm not hungry I won't eat just because the time of day suggests I should. Although, saying that, I do tend to also have lunch at the same time every day, around 2pm.
'My favourite breakfast is buckwheat pancakes'
'Buckwheat pancakes aren't only my favourite breakfast because they taste delicious, I also love them because I make them in bulk. And when I say bulk, I literally have four frying pans, one on each hob, on the go at once.
'I make a whole batch and then place some baking paper in between each one so they don't stick, slide them into a big bag and pop them into the freezer.
'All I have to do then is grab a few out of the freezer and heat them up, which takes seconds, and voila, breakfast is served quick, easy and delicious.
'The kids love them too, which makes things even easier because we can all eat the same thing. Plus, the kids see these pancakes as a real sweet treat. Especially when we add nut butter, we can't get enough.
'I love the buckwheat flour which has a far nuttier taste that I prefer,' adds Hannah.
'These pancakes on the weekend are a must, because the cooking becomes like a team task. If it's not pancakes, we will do some baking – we love brownies'.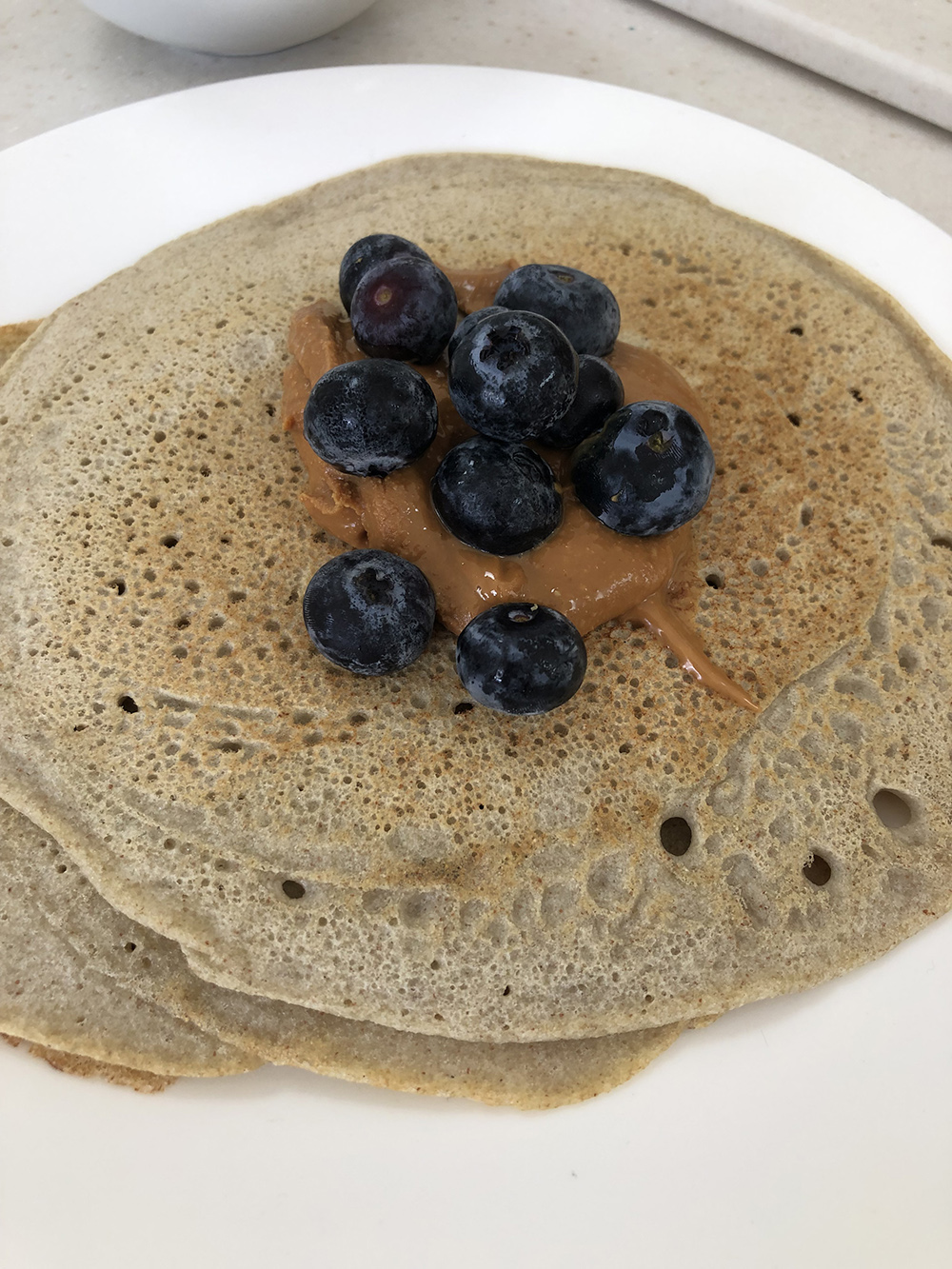 To make Hannah's buckwheat pancakes:
200 grams of Buckwheat flour into a bowl with a teaspoon of baking powder.
Then add one British Lion egg
Then add around 250ml of cashew milk, add the milk until you reach a consistency you prefer.
Whisk all the ingredients together, add more milk if you need to.
Put some oil into a pan and wait till hot.
Then put a ladle full into the pan and wait till golden brown on both sides.
Serve with nut butter with blueberries.
'If in doubt make a green smoothie'
'If I am ever feeling hungry but don't want to eat a big meal, I'll have a green smoothie. In fact, it's my go-to snack. I would say it's more of a green veggie smoothie though, as I find fruit smoothies too sweet for me.
'I add mainly cucumber and other green veggies such as kale, spinach and celery and then just to sweeten ever so slightly, I will blend it all up with an apple. It makes the perfect tummy filling snack that is also full to the brim in nutrients.
'I used to snack on fruit quite a lot, but I stopped for a long time because I got really scared of consuming too much sugar after articles and books I'd read started to demonise it.
'But again, it goes back to not restricting yourself. If I want a piece of fruit, I'll have some and they are full of nutrients. Apples are great so long as I don't sit there and eat a whole pack of them. Everything in moderation'.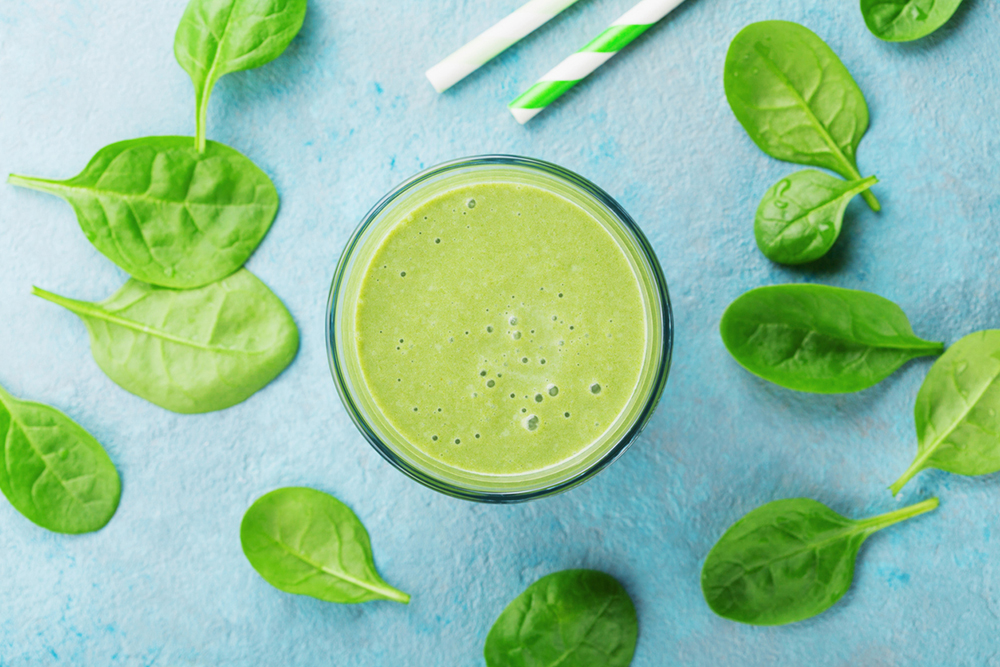 'Keep essentials fully stocked'
'There's nothing worse than running out of essentials. A few things you will always find in my cupboard are: nut butter, dark chocolate, crisps for the kids, chilli flakes and pasta because it's a staple food in my household.
'You'll also never peer into my fridge without finding eggs, loads of veggies, sweet chilli sauce, cashew milk and mayonnaise because like I said, I can't get enough of the stuff'.
'I have a very sweet tooth, so I have dark chocolate pretty much every day after dinner and it's important for me to always have some chocolate in the cupboard. Remember what I said about restriction? If I want some chocolate, I will have it'.
'Pay attention to how your body feels after food'
'Eating healthy food makes me feel great. Once you tune into how your body feels when you eat something, it all becomes far simpler.
'When I eat too many crisps for example (which does happen), I realise that I don't feel as good. So even though I enjoy crisps, I will only have them sometimes and not every day.
'Another example is that gluten tends to bloat me. That's why I use buckwheat flour for my pancakes, as they leave me feeling bloat free.
Even though Hannah avoids gluten where possible to stop bloating, she doesn't avoid it completely. 'I do eat gluten when I am out and about, it's hard to avoid it completely, but I don't eat too much, and try to limit or swap where I can,' explains Hannah.
'I use cashew milk or other dairy-free options because like gluten, dairy tends to trigger my IBS (Irritable Bowel Syndrome) and also causes bloating. Even if I have just a tiny bit of dairy my IBS is triggered.
'I have always had an issue with dairy and it's the only thing I restrict completely. I'm not the biggest fan of dairy so not eating it doesn't bother me.
'My advice? Listen to your body and see how you feel after eating certain foods, you'll feel so much better'.
Instagram superstar #2 Laura 'Biceps' Hoggins
Laura Hoggins, 34, better known by her nickname and Instagram handle @laurabiceps, is a personal trainer, podcast host and founder of London fitness community Lifted.
Hoggins, 34, had her life revelation just a few years ago when she found that making regular, small and sustainable changes to her lifestyle caused her to be the happiest she has ever been.
Hoggins is also Head of Brand and coach at The Foundry Gym in London.
'I didn't achieve weight loss and lean muscle tone by restricting myself nutritionally, or slogging it out for hours on the cross-trainer, it was through discovering the benefits of weightlifting, and a diet that fuelled my life,' says Hoggins.
As a PT, podcast host, coach, author of Lift Yourself and an Instagrammer, we barely know how Laura finds time to eat, but when she does, what is it that fuels her busy lifestyle?
From her view on cheat meals to her favourite protein source, we quizzed Laura on her daily healthy eating habits.
Here's exactly what Laura eats in a typical day:
5am, Breakfast: oats with nut butter and banana
10am, Mid-morning snack: rice cakes with nut butter or chocolate covered rice cakes
1pm Lunch: sweet potato and feta frittata
3pm, Mid-afternoon snack: a banana
7pm, Dinner: poached or grilled cod with vegetables and new potatoes
9pm, After dinner snack: carrot stick and humous
'Make sure you are eating enough calories and nutrients to get you through the day'
The main thing I have to take into consideration when looking at my diet is finding what foods balance and support my busy lifestyle.
I am on my feet all day every day, walking around London, as well as having two training sessions daily, sometimes more. This high activity level means I burn over 3000 calories a day and put huge stress on my muscles.
My main food concerns are making sure I am eating enough food to have sufficient energy to get me through and also helping my muscles repair.
It's my job as a trainer to have the most energy in the room so I need the diet to support this.
https://www.instagram.com/p/B3KgbYNHxY_/?utm_source=ig_embed
But even people who sit at a desk are using up energy, and I'll often hear people say, 'oh I've forgotten to eat lunch today', and I always think to myself, how can you forget lunch? It's so important.
Getting to a point in the day where you have little to no energy just because you haven't eaten enough will not only affect your mood but your work too. If you're half asleep because you have forgotten to eat lunch, you aren't going to be giving your job 100 per cent.
That's why I think it's important for people – including myself – to be mindful and aware of eating for energy, that will have a positive effect on your mood and your overall lifestyle.
One food source that I find provides me with the most energy is protein. It also helps with muscle repair so is a win-win.
Being a pescatarian (who doesn't actually like fish too much) means it can be hard to consume sufficient amounts of protein so eggs are a go-to in my diet. There is so much you can do with them and they also burst with vitamins and minerals including vitamin D, selenium, B12 and omega-3 fatty acids so you can't go wrong.
My top tip when buying eggs is to look for the red British Lion mark as it symbolises the highest standards of quality.
To be sure I am eating enough food, I make sure I prepare all my meals in advance. That way you won't have to worry about running around and having to find a healthy and fulfilling meal, it will be in your bag and ready for you to enjoy.
'I eat the majority of my calories in the morning to avoid the midday lull'
I normally train or coach first thing in the morning (around 6am), so for me it's important to consume the highest amount of carbohydrates to give me energy, early so I don't hit a massive lull later in the day.
My go-to breakfast is porridge oats and nut butter as it's a great slow release meal, it's easily digestible, warm and just so yummy.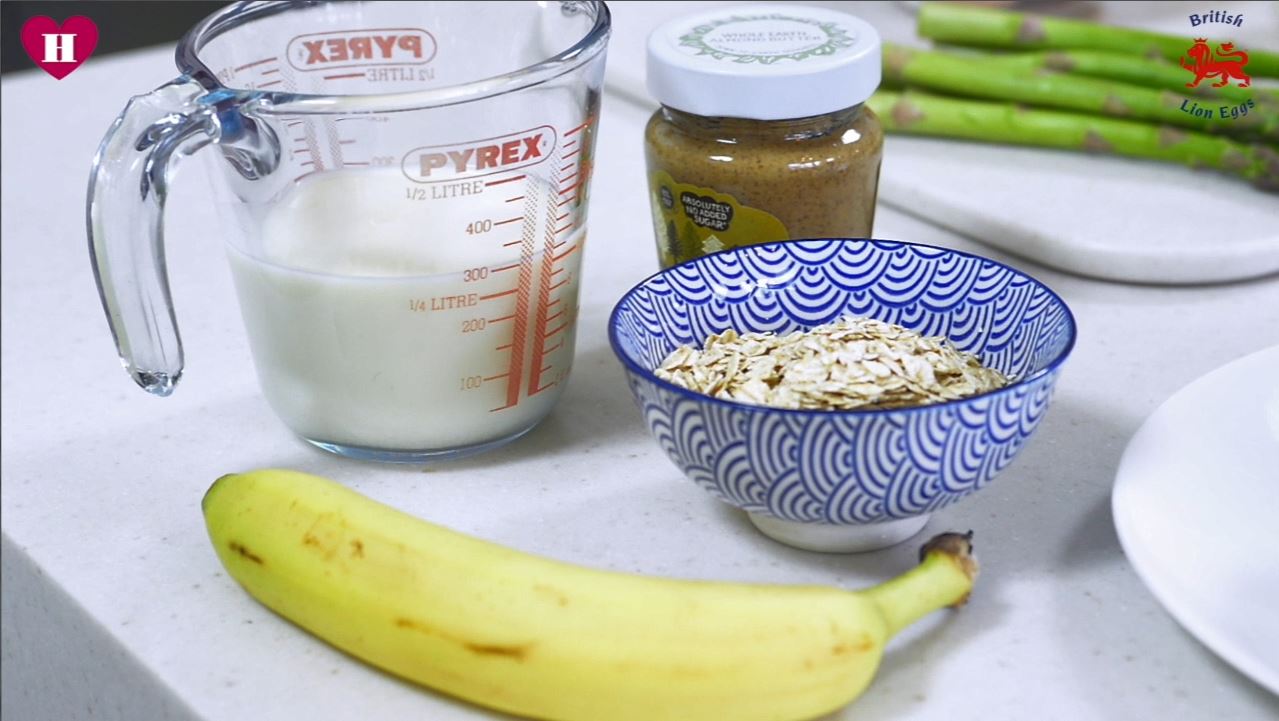 To make Laura's morning porridge oats:
Add 30-50 grams of oats (depending on how hungry you are) to a sauce pan.
Then add 200-300 ml of oat milk.
Heat until thick or to a porridge consistency you prefer.
Top with half a banana, sliced and a spoonful of almond butter.
'Healthy meals don't have to be boring – mix things up a bit'
By lunch time, it's important that I eat something that's going to fill me up and has enough protein to support my muscles after training and coaching. I have a big muscle mass physically, so I need as much protein as possible just to maintain my body weight and get through the day.
Eggs are the best and tastiest source of protein. They're simple to prepare and there are a million different ways to have them – OK slight exaggeration but eggs are extremely versatile. I love them.
Scrambled, poached, an omelette or something like a frittata is perfect as you can add other macro-nutrients such as vegetables and carbs.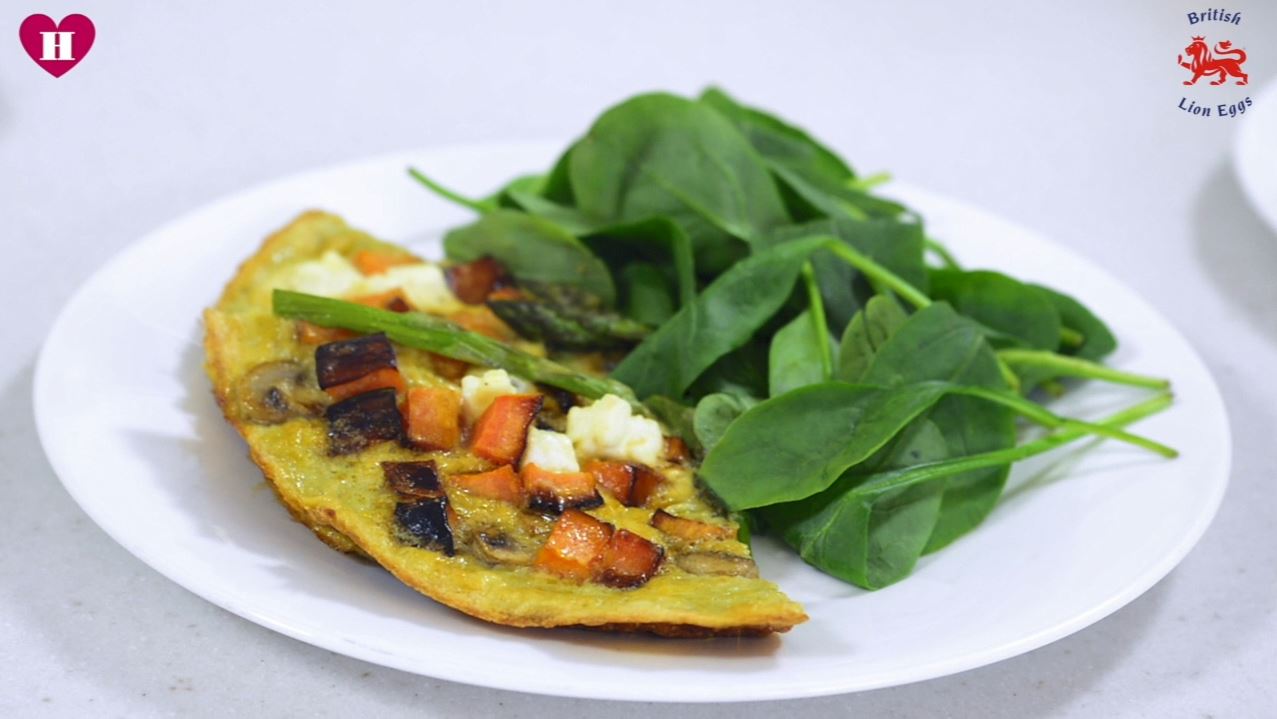 To make Laura's sweet potato and feta cheese frittata:
Slice or chop into smaller chunks the sweet potato, mushrooms and asparagus.
Whisk 2-3 British Lion Eggs in a bowl, using both the yolk and the whites. Season with salt and pepper to taste.
Then in a heated pan, add some olive oil and start by frying the chunks or slices of sweet potato, followed by the asparagus and then lastly the mushrooms.
Once these are all cooked and soft, add in the egg mixture.
Evenly distribute the veg around the egg mixture and leave to cook until egg has set and cooked. You may want too add a lid to your pan to speed up the process.
When the fritatta is cooked, slide onto a plate and slice into slices (like a pizza).
Serve with spinach or other greens of your choice.
This frittata recipe is an example of a nutrient packed lunch that isn't just that basic 'gym bro' meal that you would usually see. You know the ones I mean where everything looks really plain, think of those typical chicken, rice and broccoli combos.
This frittata is also great to carry around with me as its compact and won't leak in my bag.
It's so easy as you just make one big frittata and portion it up throughout the week. I can even have it cold if I can't get to a microwave, although I do prefer it warm.
'It's time for people to stop demonising food'
When I hear people talk about cheat meals, I tend to stay quiet.
But what I am really thinking is each to their own and whatever works for you but I don't believe in cheat meals.
For me, if you are saying it's a 'cheat' meal, you're turning that meal into a negative one and demonising food.
What we eat shouldn't be seen as good or bad, and demonising food or particular food groups isn't going to help your approach to healthy eating in the long-term.
If you want to go and have a pizza, go and have a pizza. If it's Derek from finance's 50th birthday and he's having a cake, have a bit of cake if you want to.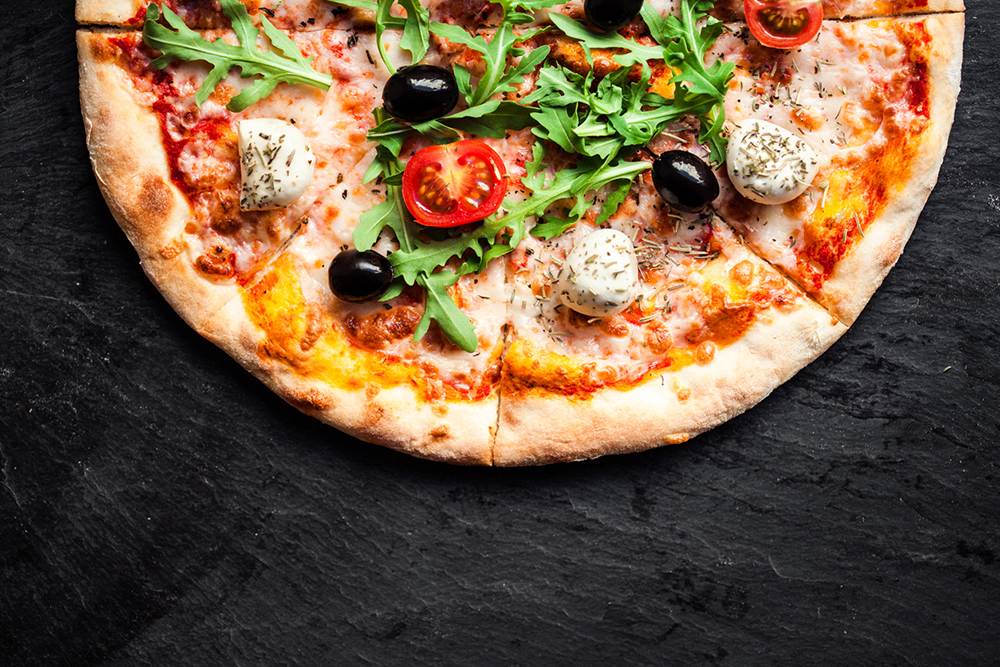 Another thing I often hear is 'carbs are bad, you shouldn't eat them'. Well, actually you can eat carbs and they are very good for you, as they are the body's preferred energy source. Remove carbs and you'll be moving at about one mile per hour.
I strongly believe that food should be eaten to be enjoyed and to fuel our lifestyles, that's what I do and it works.
As long as you are staying as active as you possibly can, and not binge eating on a daily basis, what's wrong with having a pizza every Wednesday or a burger every Monday?
'Healthy snacks are essential for fuel and energy'
I always ensure that I don't go for long periods without eating as that would be catastrophic for my energy levels.
This is where snacks become one of my best mates. You'll always find a banana in my presence, they are great for a quick and easy energy boost and nuts are good on the go.
Another one of my favourite snacks is rice cakes with nut butter or chocolate covered rice cakes – I really look forward to those.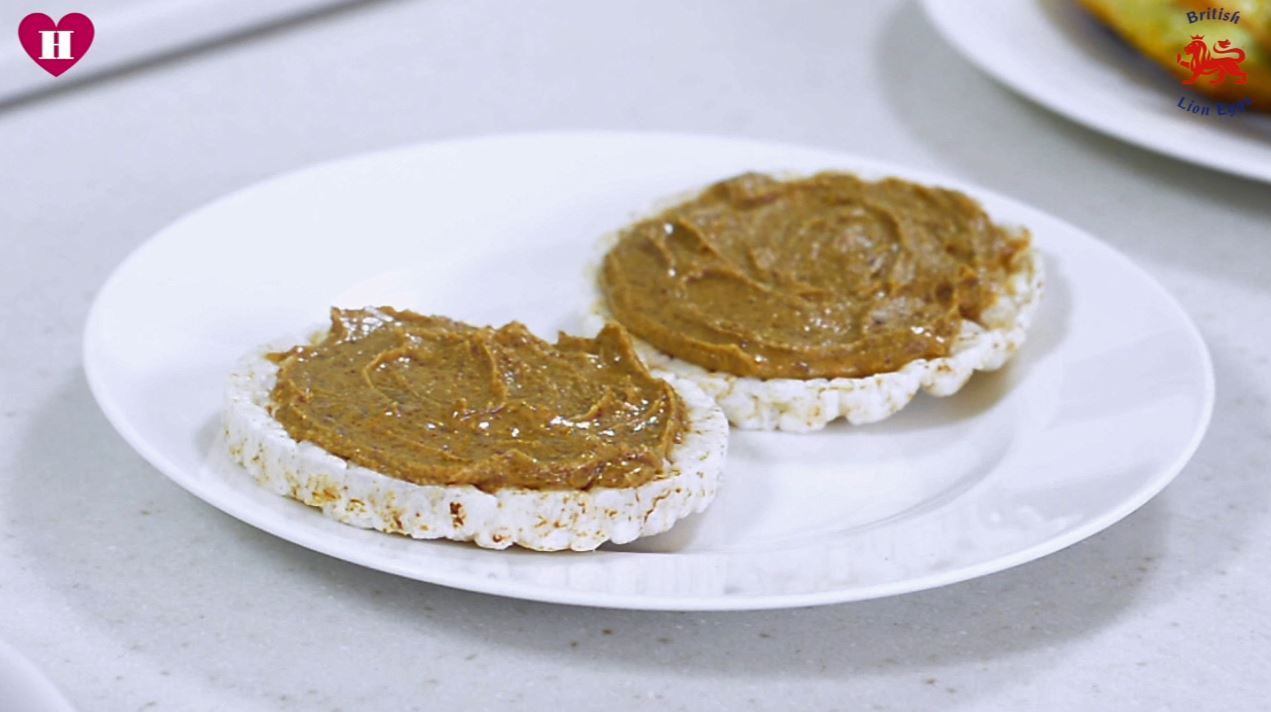 'Find your source of protein and then add the rest'
Here's a trick that I find help keeps my diet on track: pick your protein source first, be it eggs, chicken or fish and then jazz it up with other macro nutrients as much as you can.
Chuck some rice noodles in there, soy sauce, different types of veggies, cashew nuts.
Often, I literally chuck everything into a wok so that I have a mix of carbs, veg and protein. I mean this can even be done whilst you're watching Loose Women, it doesn't take very long.
Don't be afraid to just chuck a load of stuff together, it doesn't have to be perfect as long as you've got a good balance of macro nutrients.
I am not fussy about what anything looks like it's all about the enjoyment – I certainly wouldn't win MasterChef on aesthetics.
'My evening meal is often the lightest'
The food I eat in the morning and for lunch are easy options that I have prepared and can eat on the go or heat it up wherever I am. But although they are quick and easy, they are also more calorie dense.
As I am active during the day, I can then burn off those meals that contain more calories. But in the evening, when I get home late around 9pm, all I want is a light meal before bed as I am less active.
For dinner I would therefore go for some fish that I can prepare properly as during the day is a lot harder to have fish.
With this fish I would have loads of veggies which makes the meal a lighter and less calorific option to have before bed.
'It's important to let go of the 'all or nothing' mentality'
One thing I often hear people say is 'I am on a health kick this week' – what this really means is that they are restricting their food and killing themselves at the gym.
This all or nothing mentality is what people tend to do to lose weight or get into shape, which usually involves following these highly restrictive meal plans.
https://www.instagram.com/p/BzKlL9jn-MX/?utm_source=ig_embed
Of course, I'm not saying that if you did follow those meal plans or if you did have a calorie deficit then yes over time you would potentially lose fat. But is that '7-day shred meal plan' going to be sustainable for you? Probably not.
It's about being less all or nothing and being able to create a more sustainable, and on the whole, healthy lifestyle.
No-one's diet is going to be perfect when we all have so much to do managing kids, work and so on. Is it realistic that you are going to be able to meal prep every single day or week? No definitely not.
We all just need to do the best we can and be as healthy and active as possible rather than throwing ourselves at the deep end of a restrictive diet or training plan every other Monday.
Instagram superstar #3 Olympic Skier Rowan Cheshire
Rowan Cheshire, 24 is a British freestyle skier who after bursting onto the international scene in 2014, has competed in both the 2014 and 2018 winter Olympics. Rowan is also a World Cup freestyle gold medallist.
As well as being widely regarded as the future face of British Winter Sport, Rowan is also a personal trainer, offering clients online programmes.
As an athlete, PT and Instagrammer (@rowancheshire ), it's clear Rowan is busy.
We know her fitness and training routine thanks to Instagram, so we quizzed her about what food helps fuel her busy lifestyle.
Here's what a typical day of food looks like for Rowan:
7:30am, Breakfast: omelette with poached salmon
10am, Mid-morning snack: piece of fruit
12pm Lunch: chicken breast with vegetables and rice
3pm, Mid-afternoon snack: a cup of English breakfast tea with biscuits
7pm, Dinner: Veggie stir fry with quinoa
Healthy eating tip #1 'A fish and egg combo is the perfect protein-packed breakfast'
I always have brekkie and usually try and have something that will provide me with energy and help with muscle recovery. My favourite breakfast is something high in protein such as eggs, so they are always in my fridge. My go to is a spinach and feta cheese omelette with poached salmon.
Ever since I was little, my dad would always make me an omelette for breakfast filled with bacon and cheese. I loved it.
Now that I am an athlete, I have my own take on omelettes as they are an easy protein-packed breakfast. Eggs are an excellent protein source and are full of vitamin D, selenium, B12 and omega-3 fatty acids so provide an all-round nutrient boost. They also keep me fuller for longer so they're a great way to start the day.
When buying eggs, I look for the British Lion as the mark symbolises the highest standards of quality.
I also love salmon and it's the perfect partner. It's packed full of protein and omegas that fill you with energy and are great for regulating your mood. Plus, fish and omega-3 fatty acids found in oily fish such as salmon as well as eggs are excellent for brain power and help you focus, which is great for when I have to go to my university classes.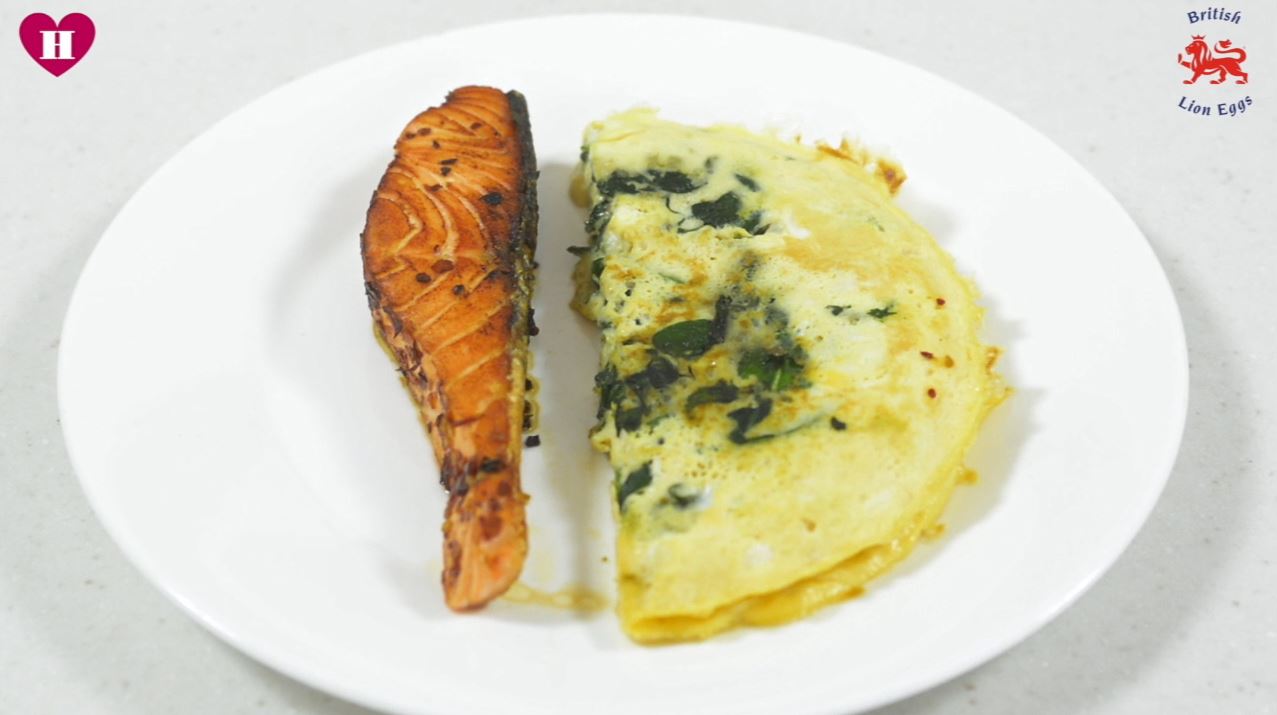 To make Rowan's spinach omelette with salmon:
For the omelette:
Add oil to a heated pan
Once the pan is hot add the spinach and wait for it to wilt
Then add two whisked British Lion Eggs to the pan
Wait for the egg to cook, to speed up the process you can put the pan under a pre-heated grill
For the salmon::
Add chilli flakes (or your flavour of choice) to the salmon fillet.
Heat up some oil in a pan
Once heated, fry the salmon until it's cooked all the way through.
Fold the omelette in half and serve with the salmon. Bon appetite!
Omelettes are also quick and easy to make, so add a bit of smoked salmon and you've got yourself a great breakfast before you start your day. When I have time, I'll have a poached salmon fillet instead of smoked salmon.
Another great thing about this breakfast is that it isn't too carb heavy. So, if you have a busy day of exercise, whether that be at the gym, doing lots of walking, or playing a sport, it isn't going to leave you feeling sick, sluggish or heavy.
Healthy eating tip #2 'Be aware of how much you are eating compared to how much you have exercised'
My diet is very performance-based and I tend to eat smart, which means eating around my training times which can vary from day to day so that I can fuel my body appropriately. I tend to eat two hours before training.
I also eat with a full awareness of the kind of exercise I have done that day and what my food needs actually are.
For example, after skiing or weight training, I would normally have a snack straight after, usually a banana for instant energy. Then I would have a huge meal full of veggies and some form of carbohydrates such as quinoa so that my glycogen stores are replenished.
https://www.instagram.com/p/BnvonYiBf-U/?utm_source=ig_embed
Working out what food your body actually needs can be tricky which is why many people stick to a certain number of calories or macronutrients.
Macronutrients are nutrients that provide calories or energy and nutrients are substances needed for a number of bodily functions such as growth and metabolism. There are three macronutrients: carbohydrates, protein and fats.
For me though, I can figure out for myself what food and fuel I need just by how I am feeling and what exercise I have done that day.
I always try to be sensible with what I'm eating in comparison to how much exercise I have done or how much energy my day has or will involve.
Have you been to the gym? Are you going to the gym later? Have you had to do a lot of walking? These questions will determine what and how much I will eat that day.
Healthy eating tip #3 'Moderation and balance is the key to a healthy diet'
When looking at my diet I try to make sure I have all the important macronutrients that my body needs on my plate for every meal, so that's vegetables, protein, carbohydrates and some fats.
I also make sure I have a well-balanced diet, rather than one that is restricted. I often see on social media that people limit a certain food group such as carbs or fat. That's basically punishing those two food groups, or punishing yourself for eating them.
Instead, educate yourself properly, really look into your dietary requirements and what your body needs, don't just take someone's word for it from social media. Don't just copy diet trends, because it may not be what you or your body needs.
There is nothing wrong with eating carbs or fats so long as you keep portion sizes in mind and, I know everyone says this but, everything in moderation. Restricting food will only lead to cravings and binge eating.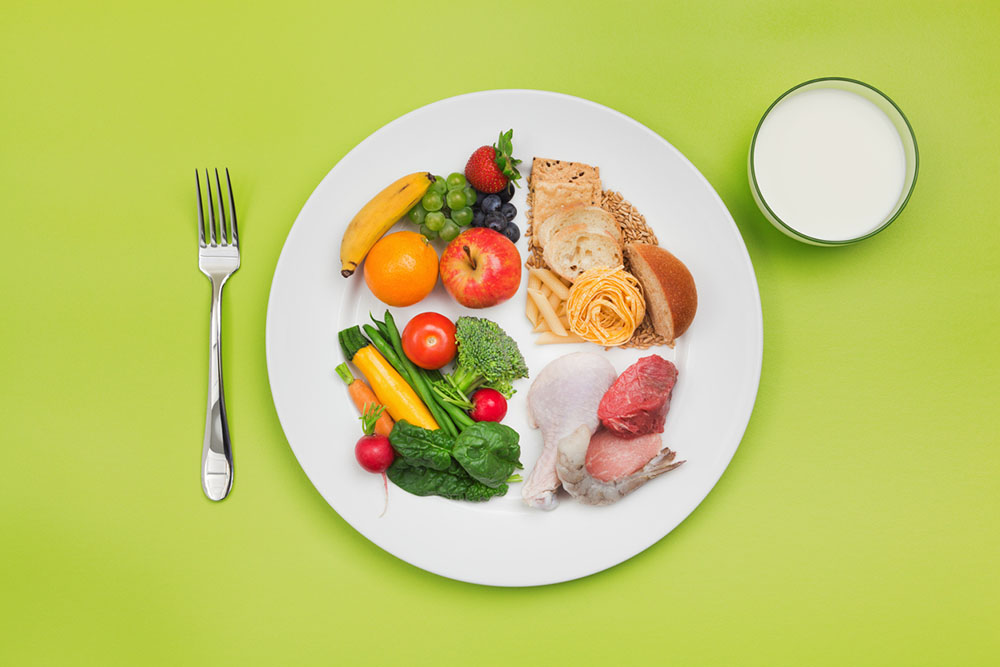 Restricting carbs for example is one thing I would never suggest as they are vital for recovery and energy.
Plus, never give up foods that you genuinely enjoy, just limit the amount or size. I love biscuits so I would never give those up, but I make sure I have two or three rather than a whole packet.
Be smart with your treats. If you have sat in front of the TV all day then it's probably not a good idea to eat a packet of biscuits. What keeps me on track is a cup of tea and some chocolate biscuits.  But that's only if I have been active enough during the day.
If you know you are going to have a bit of a binge and eat more than you usually would on the weekend due to a special occasion for example, then maybe try to limit that binge eating where you can, rather than cutting back and restricting yourself too much during the week.
I love a Chinese takeaway, but when I do (rarely) have it I won't go overboard and order the whole menu – it really is only a 'treat meal' not a 'binge meal'.
Healthy eating tip #4 'Fruit and carrot sticks are my go-to snacks'
Apart from my biscuits, in general my go-to snack will be a piece of fruit. I find that fruit provides me with a whole load of energy, especially a banana. If I am in a rush or really hungry and need that quick extra boost of energy, then a banana is perfect.
Fruit is also easy to get hold of whenever and wherever I am. It's cheap too and can be carried around without having to worry about spilling it or it needing to be in the fridge all the time.
Carrot sticks and hummus are also a great – I often have this snack as it's easy to carry around, but I don't overdo it on the hummus because it actually contains quite a lot of fat.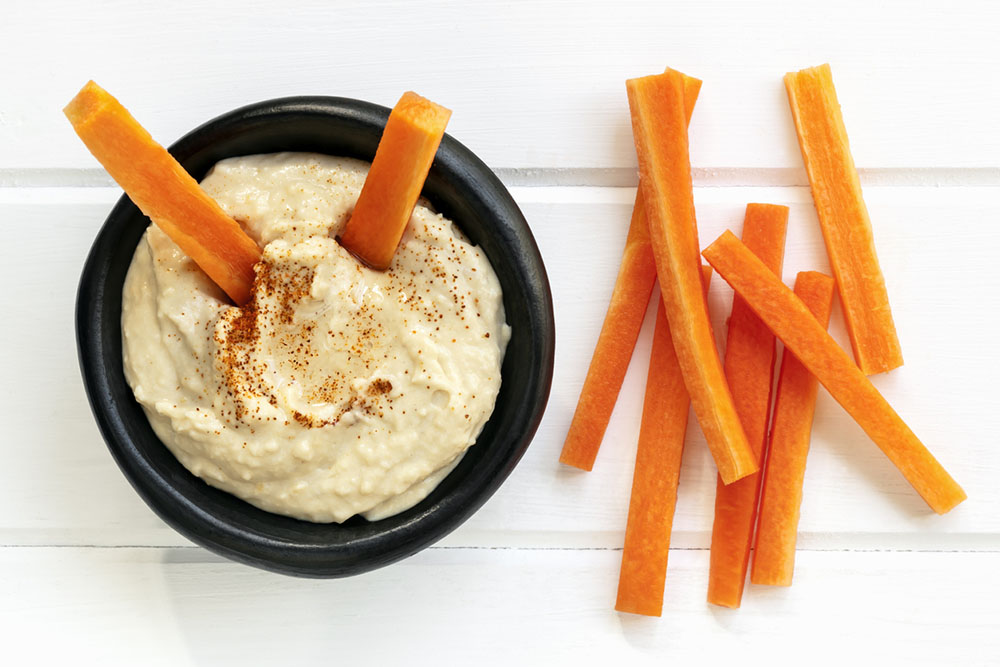 Healthy eating tip #5 'The majority of your plate should be vegetables'
Making sure you've always got loads of vegetables on your plate is one way to know you are eating a well-balanced diet. That's why filling up my plate with mostly veggies is one of my main nutrition rules.
Apart from the nutrients, vitamins and minerals that vegetables provide, when I fill up the majority of my plate with veggies, I end up with a denser and more fulfilling meal. Vegetables are low in calories, which basically means you can eat way more of them than you can of carbohydrates, proteins and fats.
Chucking a whole load of veggies into a stir fry is a great way of providing this dense, filling meal. People like to eat bigger meals in the evenings and so do I. So, in order to make sure it's a big meal, but one that is lower in calories, I make sure the majority of my plate is an assortment of vegetables.
How to make Rowan's Veggie stir fry with quinoa:
Add oil to a large frying pan and heat
Once the oil is heated, add chopped garlic and ginger and cook
Add chopped onion and cook until golden
Then add the bulkier veg – carrots, peppers and broccoli
Cook until soft and cooked through
Then add the rest of the vegetables – spring onion, courgette, beans and pak choi
After that is all cooked through add the final vegetable – spinach. Let that wilt
The final step is to add soy sauce and any other seasoning you wish to add
Serve with quinoa or carbohydrate of your choice.
Not only does this stir fry recipe taste great, if any is left over, it's a great option to meal prep and can be placed in a tub and warmed up the next day for lunch.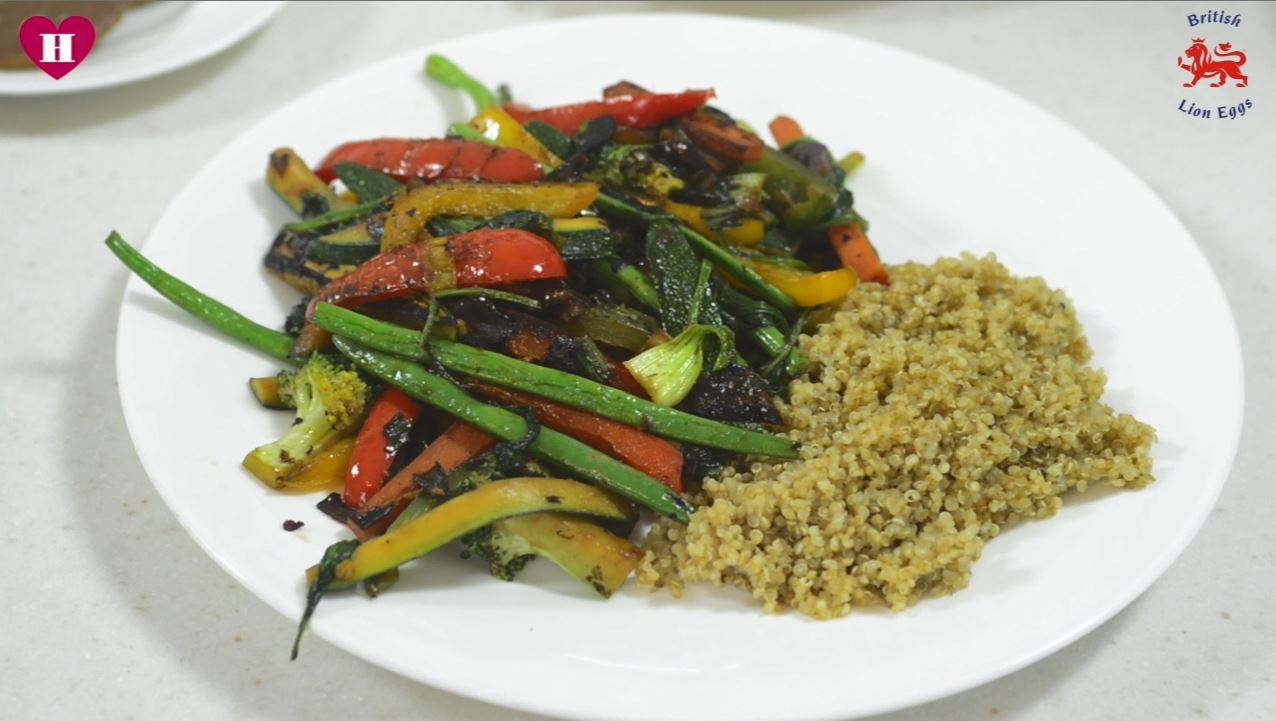 Healthy eating tip #6 'I eat plenty of lean protein and only have red meat as a treat'
As I may have mentioned, I eat lots of protein as it gives me energy and fuel and keeps me feeling full.
Lean protein such as chicken with vegetables is my go-to meal prep which I have to do as I am often busy. Plus, it's also a great way to make sure I am getting all of my needed macronutrients.
All I do is cook a whole load of chicken breast and a variety of vegetables (boiled, steamed or roasted), divide it all into tubs and keep it in the fridge.
Then all I have to do is heat up the food up when I need to in the microwave. Meal prep is also a great way to control portion sizes, calories and macros too.
More 'What I eat in a day'
Hannah Barrett, aka Yoga Girl London on the diet that keeps her day fuelled
Healthy Eating – exactly what this Olympic skier eats in a day
Healthy eating – What this Instagram fitness legend eats in a day
What these health experts eat for breakfast
15 things this TV medic wants you know about weight loss
Relevant Healthista Content:
Why some vegans now eat eggs – the rise of the veggan
Are eggs healthy? Sorting the fact from fiction 
Like this article? Sign up to our newsletter to get more articles like this delivered straight to your inbox.