Desperate to try new beauty brand Glossier but no idea where to start? The Healthista team brings its Glossier review (Clue: we love them) 
You'd have to have been hiding under a rock with no wifi to have missed the biggest British beauty launch of the year. That's right folks, American beauty brand Glossier has flown across the pond and highlighting, blushing and beauty balming its way across the British Isles.
The brand has achieved cult status here in the UK and it's only a fortnight into launch. For those who haven't yet heard of the brand, Glossier is the brainchild of US beauty mag Into the Gloss editor, Emily Weiss. The 32-year-old says she's set out to simplify the beauty world and it seems that the beautifying businesswoman is onto something as her company's revenue has risen 600 percent year-on-year.
Like every other makeup obsessed office in the country, Healthista HQ just HAD to get our hands on some of these products. So for your benefit, the team has tried and tested the best of Glossier (it's a tough life). So if you're wondering what products to add to your shopping basket, have a read of the range's best bits.
For a skin saviour: Glossier super glow serum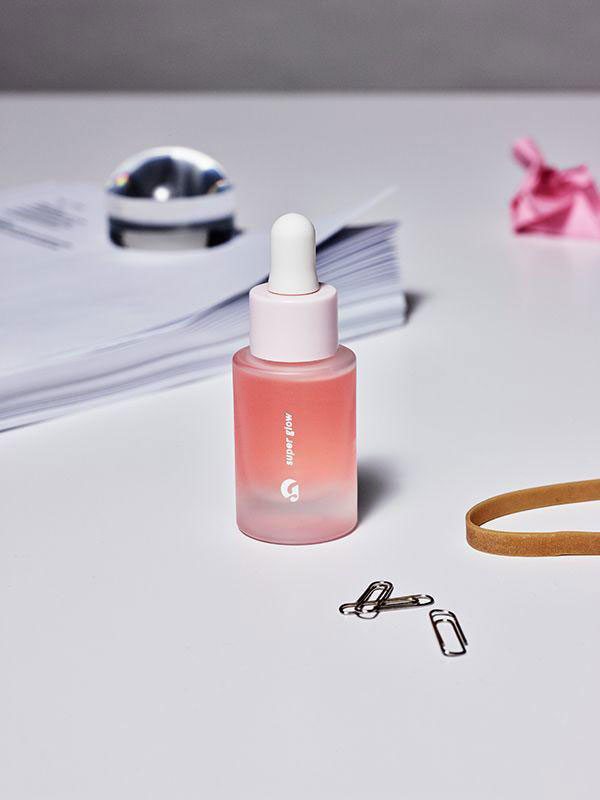 The low down:
One of Glossier's three serums, this product promises to deliver that 'lit from within' look. This product hails from vit-city – it boasts vitamin c and magnesium among its list of ingredients. Vitamin C aims to brighten up your complexion and Glossier says that magnesium will energise you on days when you didn't get enough sleep (uhh, yes please!). They also claim Super Glow will even skin tone over time and create a light-reflective complexion. The brand suggests using it all over your face after a cleanser and before a moisturiser to refill your skin's deficiencies which they say will build up a strength in your complexion as the days go on.
How to use: 
Use the dropper to apply three to four drops directly onto a clean face. Gently dab into your skin with your fingertips until fully absorbed (Glossier recommends you follow with a moisturiser). The brand warns that this serum is potent and suggests that you only use it once a day (which also means it will last longer – hooray!)
The Healthista verdict: 
'What I love most about this product is how easy it is to use. Usually, when I use serums I make a real mess – it gets all over my fingers and they feel slimy for ages afterwards. The dropper meant that I could make sure I only used a small amount of product and didn't get it everywhere and the consistency of the serum meant zero mess too – it's almost water-like. It dries into your skin quickly meaning you don't have to wait for an age to put on your next layer (no one likes a sticky, moist face pre-foundation application).'
Get your own: 
Glossier Super Glow Serum is available for £24 from Glossier here. 
For a bit of cheeky colour: Cloud paint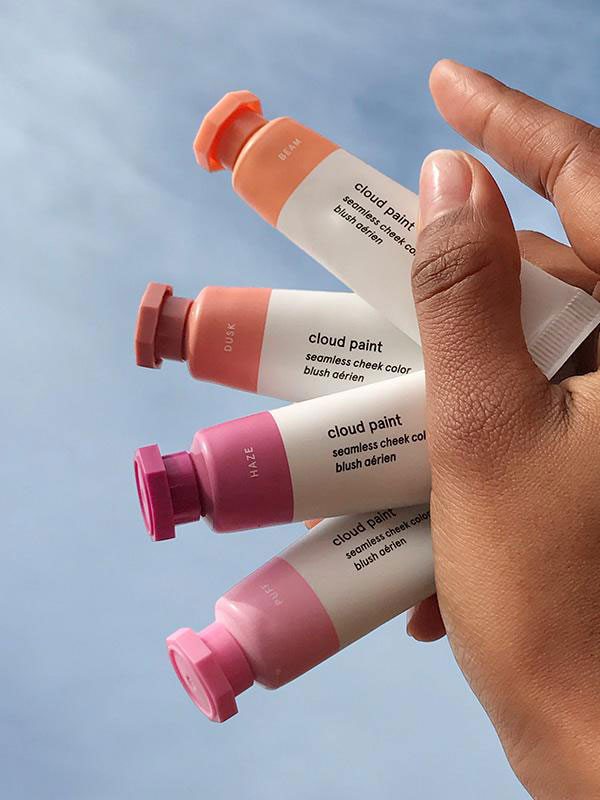 The low down: 
This blusher has been heralded as a golden Glossier product. The brand boasts that the pillowy, gel-cream formula has been designed to be user-friendly saying 'if you can finger paint, you can Cloud paint'. Dab it onto your cheeks for a bit of colour and you're good to go. The product is seamless, sheer and buildable which basically means it's hard to overapply (sorry if you're feeling those big-on-blush 80s vibes). Glossier says the blusher is inspired by a gradient pink New York City sunset (which we're guessing is coloured much like any other sunset?) The brand has created four shades that they are confident work across a wide range of skin tones for what they call a healthy, 'flushed-from-within' glow.
How to use: 
For best results, Glossier suggests applying this product with your fingertips (we love any excuse not to faff about with brushes) and gently squeeze a tiny dot onto your finger and blend into skin
The Healthista verdict: 
'I expected this blush to come out like a cream but while the consistency was thick it was much more like a liquid, reminding me almost of a liquid lipstick (but MUCH more moisturising). The colour was subtle and buildable which suited me well, I have a tendency to go a bit mad when it comes to blush. I tried the Cloud Paint in Beam and thought the peachy colour was gorgeous for a subtle no-makeup-makeup look on my olive toned skin. I also tried this product on my lips and found it easily doubled up as a subtle glowy, peach lip stain.'
Get your own: 
Cloud Paint is available for £15 from Glossier here.
For a golden glow: Haloscope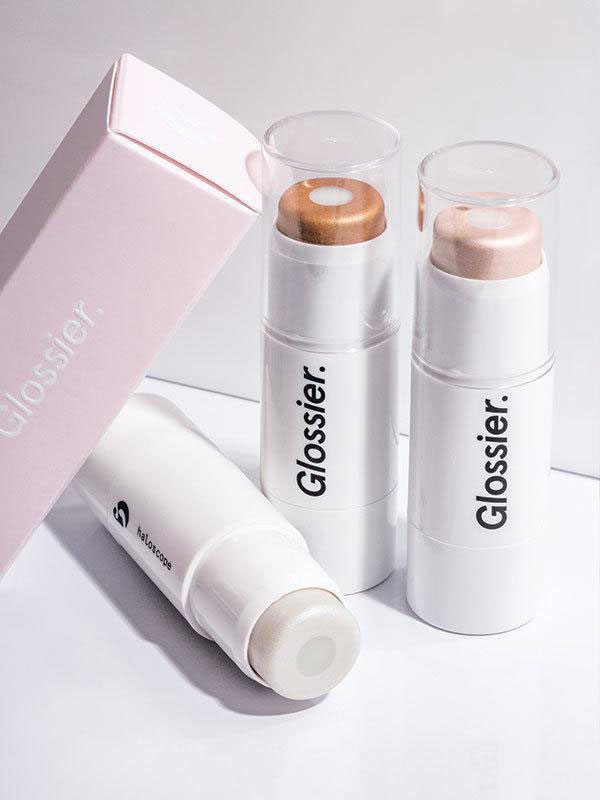 The low down: 
Unlike most highlighters, Glossier says that the Haloscope is a golden glow with a twist. Skincare meets makeup in this dewy formula. The product contains an outer halo (hence the name) which is infused with genuine crystal extracts that will light up your face all day. And no, that isn't just some fancy product description – this product is ACTUALLY made with real rose quartz or crystal topaz. As for the skincare side of things, the ingredients list includes coconut and castor seed oil which are both rich in vitamin E and give the solid oil core a dewy sheen and make it easy to glide across your skin. Plus sweet almond oil is a fatty-acid rich moisturiser that they will help keep your skin soft. Glossier promises that this product won't ever go dry or overly glittery (because while we love Ru Paul, we're not yet ready for that level of strobing in the office).
How to use: 
Glide this stick directly onto your face in a half-halo around each eye along the brow bone to your cheekbone and then tap lightly into your skin with fingertips to blend the edges.
The Healthista verdict: 
'The haloscope is a different colour to any highlighter I have tried before. The golden tones remind me of sun and sand and look gorgeous with a tan and the shimmer isn't blinding like I find with most highlighters. The stick makes it really easy to apply, making it a great addition to your clutch bag on a night out.'
Get your own: 
The Haloscope highlighter is available for £18 from Glossier here.
For big brow game: Boy Brow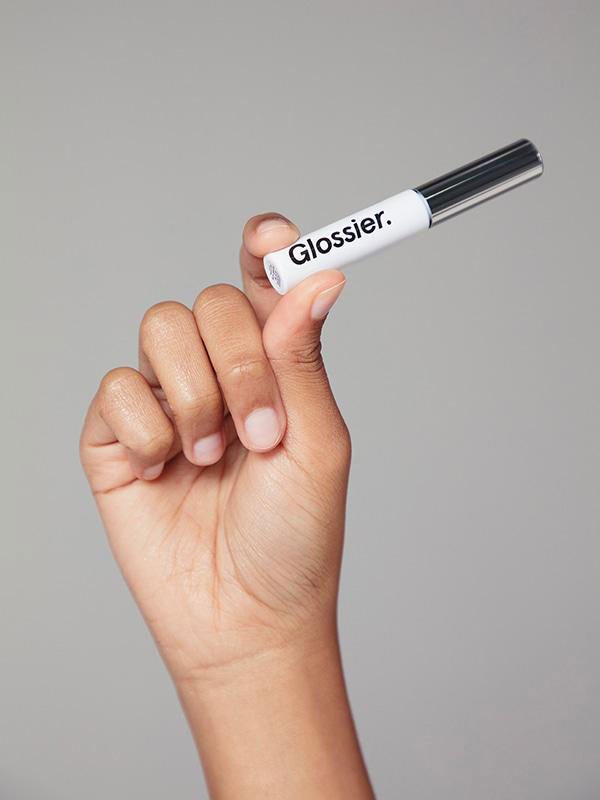 The low down:
The big brow trend started by the Cara-craze all those years ago shows absolutely zero signs of slowing down. This product from Glossier takes that trend and embraces it full on. The product aims to thicken, fill in and groom your brows into place, all in one product. The creamy wax formula is inspired by traditional hair pomade (an ointment/oil for dressing the hair) and the brand says this gives it a soft, flexible hold that doesn't stiffen or flake. The brow gel comes in four shades. Blond, brown and black to boost the colour of your brow while the clear brow gel gives you the same, soft conditioning hold, minus the pigment.
How to use: 
Glossier suggest applying this gel in short, upward strokes to fluff and shape brows into place. The clear gel shows up white upon application, but becomes transparent as you comb it in (just like hair pomade would).
The Healthista verdict: 
'The Boy Brow brush was very small which made it much easier to apply than a lot of brow brushes, I've used in the past – it made it easier to target my eyebrow and not end up with brown marks all over my forehead and eyelids. The consistency was waxy and seperated my hairs easily, gradually filling them with colour. I loved how buildable this product was, I was left looking like someone had sharpied over my face and yet still managed to fill in the gaps and add some subtle definition. I would say that this is more of a day-to-day look and would probably add in some gel with an angled brush for a more HD look come evening.'
Get your own: 
Boy Brow is available to buy from Glossier for £14 here.
For lipstick lovers: Generation G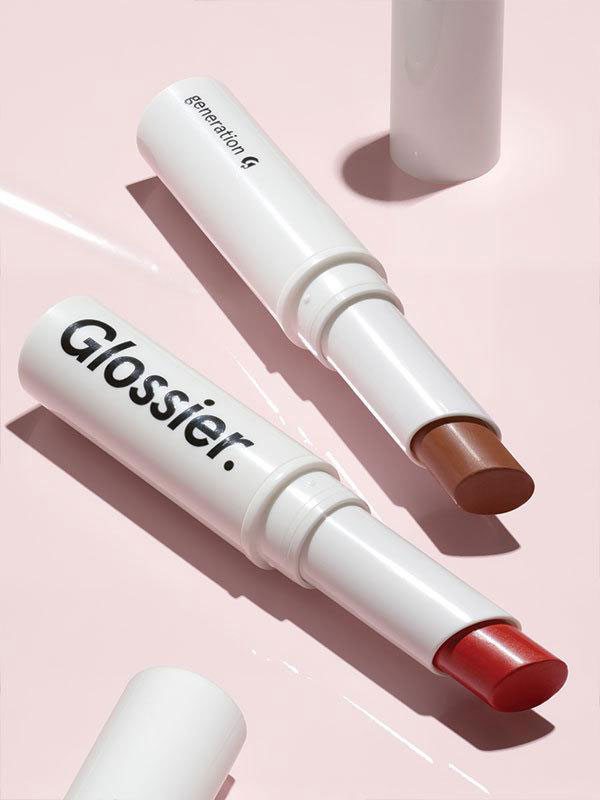 The low down: 
Mattified lips are another trend that is sticking around (although it's far from sticky) and don't Glossier know it. Their lippy, Generation G was created to give the look and finish of just-blotted lipstick – minus the blot. With short and sweet names such as Zip, Leo, Crush and Jam you'd think you were talking about a bunch of cartoon characters but the final look is far from made-up. The brand has put together six shades with dialled-down pigment for an easily casual look. Glossier says these lipsticks adapt to you and not the other way round. What does this mean? Well, apparently they'll appear a little different on everyone as your natural lip colour will show through. They say the finishing effect is diffused and matte and most importantly, easy to swipe on and go.
How to use: 
Glossier says to swipe this lipstick onto naked lips once or twice for a subtle wash of colour or three or four swipes for a stronger colour payoff.
The Healthista verdict: 
I'm not a swipe on and go person, I'm not even much of a lipstick person but I was dying to try this because of all the Glossier hype. It's like no lipstick I have ever tried before. I actually used it with a lip brush and found it the easiest lipstick to layer I have ever used. I like a sort of shadow effect for lipstick – a bit like a subtle stain – and I was super-impressed by this. The effect was, as they say, blotted without the blot and the more you apply, the more subtley deep it looks without ever looking caked. It dries quickly but feels like you're wearing nothing and doesn't flake with wear through the day. I used crush and loved it. For the price I'm getting a couple more too.
Get your own: 
Generation G lipstick is available for £14 from Glossier here.
For a fresh face: Milky Gelly Cleanser
The low down: 
Glossier describe this product as the 'ultimate daily face wash'. It can be used on dry skin to dissolve away makeup and general daily grime or wet skin as you start your day. The formula is a pH balanced creamy gel that they say is made with a blend of five different skin conditioners so that your skin is left feeling healthy and soft, never tight. The brand explains that they use the same cleaning ingredients found in contact lens solution (polomaxer) – which gives us a pretty good idea of how kind they'd have to be on your skin to be safe for your eyes. Despite this gentleness, the brand says its undoubtedly tough on impurities. Glossier say they replaced a quarter of the water content of the product with rosewater to add a soothing bonus to the cleanser (and a beautiful smell) as well as comfrey root extract which they say will heal dry stressed skin thanks to the fact it contains something called allantion (a type of acid that occurs naturally in the body). Other ingredients include pro-vitamin B5 which Glossier say will help to moisturise (this vitamin is found naturally in mushrooms and cheese) AND something called Aquaxyl which they say will refill the skin's water reserves and improves its barrier to prevent dehydration.
How to use: 
If you're applying this cleanser in the morning Glossier suggest massaging one to two pumps onto wet skin (they suggest storing it in the shower) and then rinse.
To remove makeup on dry skin, gently and thoroughly massage two to three pumps directly onto the eye area for melt away mascara. Next add water, massage over the rest of your face and rinse (this won't work if your mascara is waterproof).
The Healthista verdict: 
'I really struggle to find cleansers that I like because my skin is extremely dry and most cleansers leave me unable to move my face without burying it in a vat of moisturiser afterwards. Glossier were true to their word with this one and I found that I really didn't have any tightness after using this product. It did take quite a bit of product to get all of my makeup off but the final result was a fresh-faced feel and a beautifully floral gragrant scent. The consistency of this cleanser was a smooth, thick liquid that easily glid across my skin.'
Get your own: 
Milky Gelly Cleanser is available for £15 from Glossier here. 
Read more
11 best sweat-proof makeup essentials – from a celebrity makeup artist
3 beauty trends from London Fashion Week and how to get them
7 beauty products I can't live without – Abigail James celebrity facialist