Forget the January blues this Blue Monday. Charlotte Dormon shares 6 tried & tested feel-good mood boosters to help you take on winter
I can't recall the last time I heard someone say, 'I love how positive and motivated I feel on gloomy and cold days in January'.
Most of us wind up feeling like we want to hit the snooze button and hibernate under the duvet all day when it's freezing, rainy and grey outside.
Monday the 16th of Jan is officially the most depressing day of the year in the UK
If you're feeling down, you are not the only one; as today is said to be the most depressing day of the year – Blue Monday.
According to news reports, Monday the 16th of Jan is officially the most depressing day of the year in the UK.
Why? Well, it seems this is due to people having all their bills come in around this time, making us acutely aware of how much we spent over the festive period, along with many of us already throwing the towel in on our well-intended new year's resolutions.
Still not made it to the gym this week? Already given up the new lemon water routine for a strong morning latte. Yeah, we get it; it's not easy to stick to the so-called 'good' habits that we so often want to.
Healthista writer Charlotte Dormon has laid out her personal 'feel-good' morning routine boosters, to help you find a solution to uplift your mood and energy this Blue Monday and throughout the winter.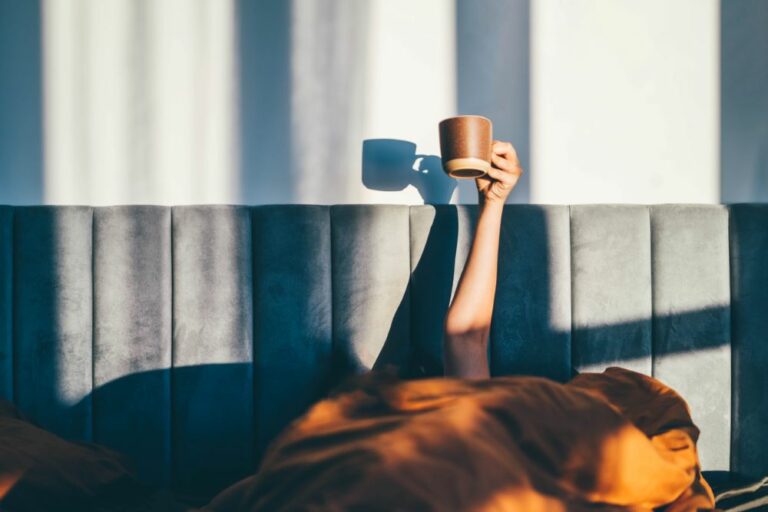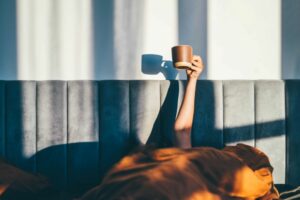 Blue Monday Mood Booster #1 Light up your day with Lumie HALO
Available to buy on Amazon for £144
If, like me, you are someone who suffers from SAD (Seasonal Affective Disorder), or you find it super hard to stay energised throughout the dark January days, you are about to become obsessed with using light therapy.
For the last ten years of my life, I have survived the depths of every UK winter with the help of a light box to give me a significant boost. I find my productivity shoots through the roof.
My morning routine starts with a matcha latte or coffee with a spoonful of Lion's Mane mushroom powder mixed in. Then I sit down in front of sunlight therapy lamp to read, write, visualise or meditate for ten to 15 mins.
The sunlight therapy works like magic in helping my brain feel more energised, positive and focussed for the rest of the day.
I have survived the depths of every UK winter with the help of a light box to give me a significant boost
Although I have purchased a couple of other Lumie SAD lamps over the years, the new HALO is the brand's latest launch, and I feel is their absolute best yet.
Not only does it look super stylish thanks to the design being so sleek and chic, but you are also getting much more for your money as rather than just a few light setting options, you also get the option of multiple light settings to use throughout the day.
Ranging from a soft, warmer light (think gentle sunrise light) to a bright sunlight (just as it would happen during the day with the sun getting brighter).
There is also an option to set it to an afternoon and evening light (think sunset light), that will help you feel relaxed, allowing your body to work with the natural circadian rhythm, which significantly improves your mood and sleep quality.
READ MORE: 4 signs your low mood shouldn't be ignored plus what may help
View this post on Instagram
Blue Monday Mood Booster #2 Turn up your ZEN with CBD
Not for everyone I know, but for me, CBD has been a great leading me in the right direction to boosted 'moodville'.
Most people think of CBD as something you take to help you sleep or feel super ZEN, which is indeed the case, depending on what CBD you buy.
CBD has been a great leading me in the right direction to boosted 'moodville'
Still, for easing daytime dramas and helping me stay focussed, I like to use the London Dispensary Boost CBD oil mid-morning or mid-afternoon to keep my mind feeling more balanced and help me stay in a more positive headspace.
This is especially helpful when I feel overwhelmed with deadlines, meetings, or if I need to commute during rush hour.
This specific oil by London Dispensary, unlike others on the market, is not just isolated CBD but offers a broad spectrum of terpenes blended with mood-lifting ginseng, lemon balm and ginger.
READ MORE: 5 CBD benefits for women you didn't already know about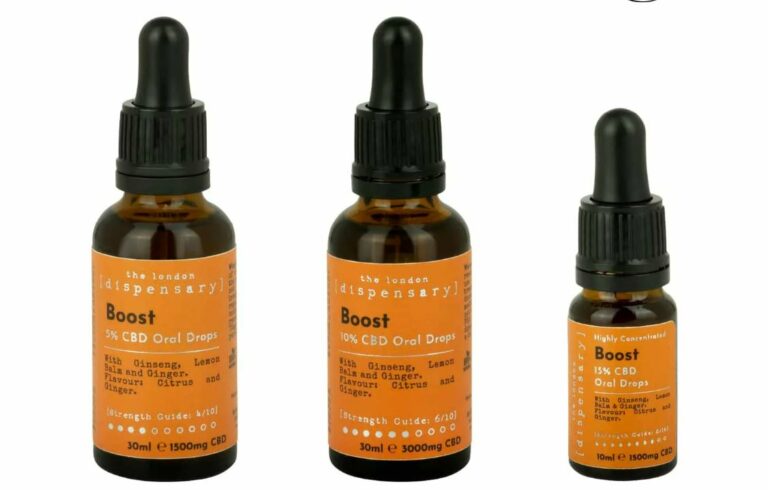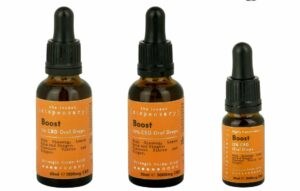 Blue Monday Mood Booster #3 Make a feel-good playlist
Music is my ultimate therapy, and if you haven't yet made yourself a feel-good playlist on Spotify or iTunes, you need to get this going on.
Whenever I feel a dip in my mood or have to pep myself up to do something I don't want to do (like leave my home to get a tube when it's cold, rainy and dark outside, or need to get pepped up for a workout I don't fancy doing), I pop on my Bose earphones and pump my favourite music full blast.
In a matter of minutes, I can feel every cell in my body getting excited and feel less weighed down by the matter that was bothering me. It sounds so simple, but honestly, this is one of the easiest, cheapest and most positive ways to get you into a happier headspace.
READ MORE: 4 surprising ways music could improve your workout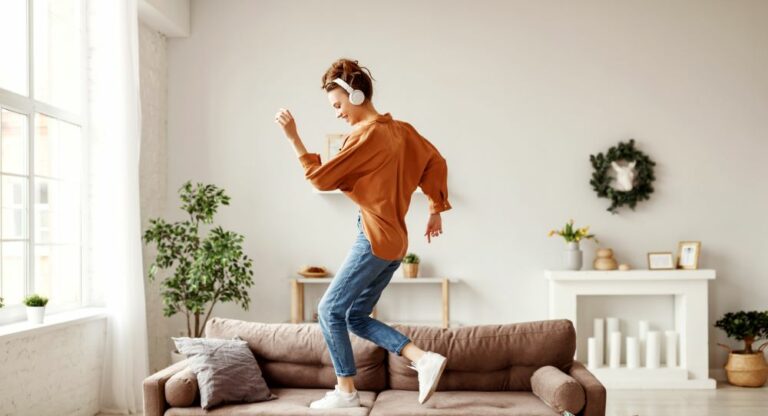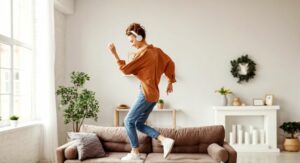 Blue Monday Mood Booster #4 Don't read negative news or look at things that make you feel s*ite
Another simple and incredibly effective way I have found to boost my mood is to avoid reading ANY bad news during the day – especially in the mornings or before I go to bed.
And by this, I mean anything in newspapers, magazines, and on social media that would be sharing news on topics that would make me feel the world was a more scary and depressing place.
I am not saying you need to switch off and pretend that climate issues or war are not happening, but if you fill your mind with stories that make you feel distressed, then it may end up making you feel down and demotivated.
allocate an hour at the end of the week to do it
As soon as I chose to ignore the news, read positive self-help books and listen to uplifting podcasts, I found that my day was better, I felt happier, and was not distracted with worldly worries.
It does not do you any favours when trying to stay in a 'high vibe' state of mind. If you really want to stay abreast of the news, allocate an hour at the end of the week to do it rather than have it festering away and bringing your mood down.
READ MORE: 6 celebs who are changing the way we view depression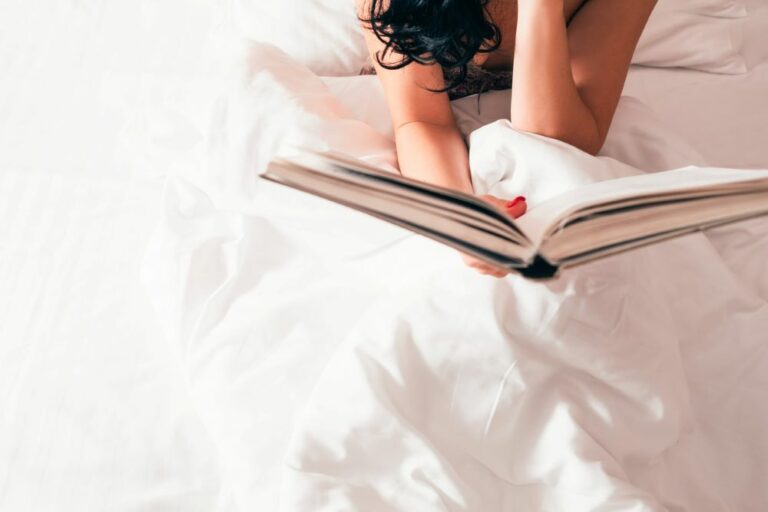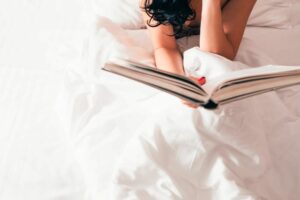 Blue Monday Mood Booster #5 Get your feel-good vitamins in
We all know the importance of a healthy balanced diet. However, it can be super challenging to do this if you follow the guidelines of what you actually need each day to get all your vitamins, minerals, fibre, protein, etc.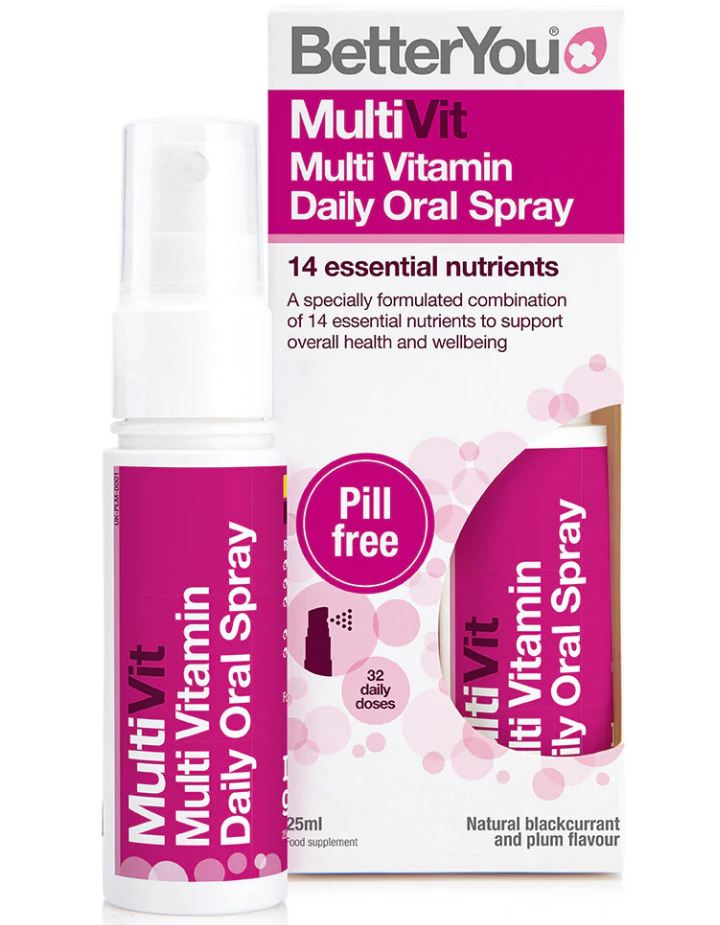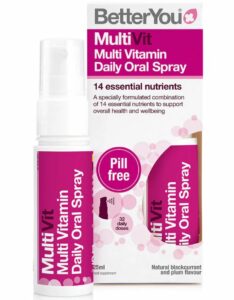 Trying to get your five a day when you are commuting, rushing around and grabbing food on the go, often means you struggle to get enough of the good nutrition that helps our minds and bodies feel more energised and uplifted.
I notice this even more so during the winter when it's dark and cold outside, and most of us end up craving those heavy carbs and sugary treats to get us through.
I have found that taking a multivitamin on a daily basis during the winter months is an excellent tonic to help me not feel as tired in the afternoon and help my overall mood, general well-being and immunity.
I find this especially helpful when travelling for work or staying away from home when I am not able to eat the healthy, nutritious dishes that I would make for myself.
Most recently I have been using the BetterYou multivitamin spray. You don't need food or water with it, and it absorbs really quickly. This is great as I can do it first thing and not feel queasy. It's also good as you can chuck it in a bag and use it on the go, before a class, on the train, etc.
Blue Monday Mood Booster #6 Bounce it out
The Americans call it a rebounder, but we Brits call it a trampoline. But whatever you call it, you need to trust me when I say that this bit of indoor or outdoor kit will be one of your ultimate feel-good tools to help you feel healthy and positive within a matter of moments.
I started using a mini trampoline about 10 years ago after reading that one of my ultimate life coach gurus Tony Robbins uses a rebounder every morning to get his lymph moving, detoxification process improved, and boost feel-good endorphins through a gentle and fun form of exercise.
As soon as I read more about the benefits, I was hooked.  I used to put on my music, and for about seven to ten minutes max, I would bounce up and down, working up a sweat on my rebounder.
this bit of indoor or outdoor kit will be one of your ultimate feel-good tools
I always loved trampolines as a kid, so as an adult, it felt like I was doing something that was almost too fun to be seen as exercise.
There are so many mental and physical benefits of using a rebounder. Studies show that ten mins of jumping on a rebounder is the equivalent of 20 mins of jogging, but causes less wear and tear on your joints.
I love playing some of my favourite rock classics or dance music and bouncing out of that groggy, low vibe grumpy mood. You will feel absolutely amazing and also get fit at the same time.
You do not need to spend a lot of money on a fancy one; many different rebounders on Amazon are affordable, and to save lots of money, I advise shopping for second-hand ones on eBay or Gumtree, so no doubt you will get yourself a good bargain.
READ MORE: 11 no-nonsense fitness facts PT James Smith wants you to know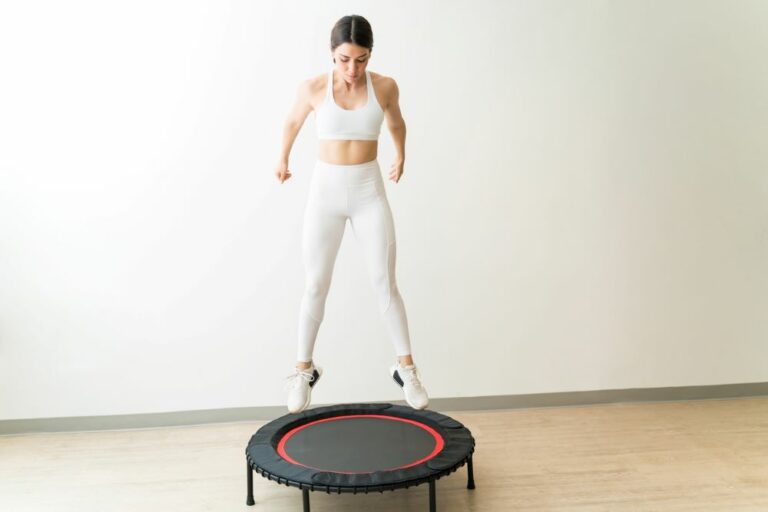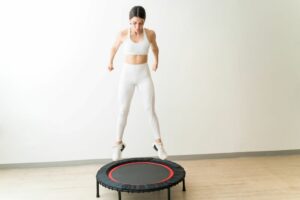 Like this article? Sign up to our newsletter to get more articles like this delivered straight to your inbox.