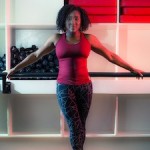 Animal prints are hot this autumn/winter and were all over the runway. A bold look that is not for shy and retiring folk, worn the right way they can really lift an outfit in a fun, fashion-forward way.  Kit Diva shows you how to work this look into your workout wardrobe with pieces in leopard right through to zebra that are cool enough to take you from the studio to the street.
Adidas Women's Tech Super Z, £95
When I saw these Adidas Leopard print Tech Super Z I nearly fell off my chair, too much heat for my feet people!!! If you say to me that you don't like these kicks then you must have sand in your eyes because they are grrrrrreat (I had to get that in).  I mean where do I begin? – leopard print for days with some performance thrown in, and true fitness fashionistas know that you need some leopard in life for autumn/winter 2013.
Also, I got to give it to Adidas for coming out with these kicks because we normally see this kind of edginess and on-trend style from Stella McCartney for Adidas not Adidas mainline.  They have taken this season's animal print trend and ran with it though because when I had a little browse on their site it had gone leopard print-tastic and I am not mad at them for it! Even if you were wearing all black everything (fitness folk love all black) and you rocked up with these on your feet it would be game over 'cos they are that fly.  Dunno about you but I am about to cop a pair myself, just hope they still have some left www.adidas.co.uk
Vie Activewear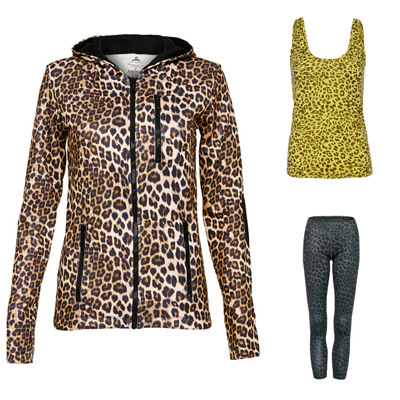 The hottest of all the prints trends this season is leopard print.  It's crossed over into the sportswear/active wear arena this autumn/winter and new Aussie label Vie Active launched by former sales ad. executive turned personal trainer shows you how to incorporate this look into your workout wardrobe.
The label, which is only four and a half months old, uses lightweight, high performance Australian Merino wool, which is breathable, moisture wicking and anti-microbial.  Their signature leopard collection consists of, tanks, bras, leggings, cover ups and tees. Most have flat seams, concealed pockets/zips and block colour supplex which is fade resistant.  They have a wide range of styles so you can go full on leopard or just add a touch. The founders wanted to create a label that was 'fashionably chic but could handle the intensity of a tough workout' and they do it well by seamlessly blending fashion with function and getting the 'street to studio' look just right.
There are so many cool pieces to choose from but these are my top three from the collection which really showcases the different ways you can wear leopard print whilst training. Full version on www.kicksandkit.com
Libby Hoodie, $235 (£146), Lee Superlight Scoop Tank, $79 (£49), Rockell Black Leopard Compression Tights, $140 (£87) www.vieactivewear.com
Leopard Print Taffeta Bag Adidas By Stella McCartney, £95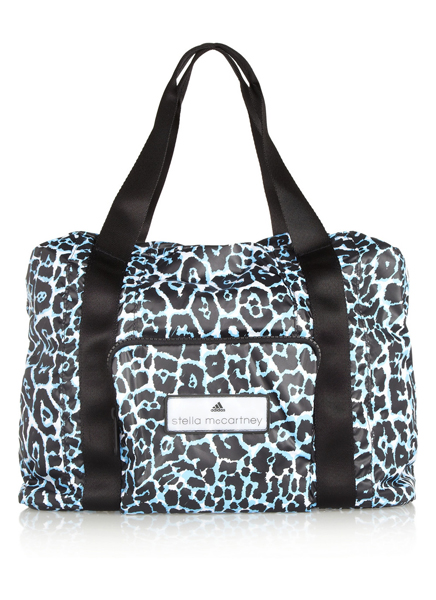 I've been waiting to find a decent, fashion-led, gym bag for ages and finally Adidas By Stella McCartney has delivered one that is good-looking enough to seen outside the confines of the gym locker room. You know me I can't just rock up with any old bag on my arm I need something with a bit of swag to make my workout outfit pop!
A statement bag is a must-have accessory and I think I may, just, have found one to add to my life. This holdall has an on-trend sky-blue, black and white leopard print with a large internal velcro-fastening pouch, three pouch pockets and a zipped pocket that is roomy enough to take to the gym or use on a weekend getaway. Perfect fitness fashion arm candy I say. www.net-a-porter.com
Body Rock Sport Elle slashed snakeskin leggings, $130 (£81)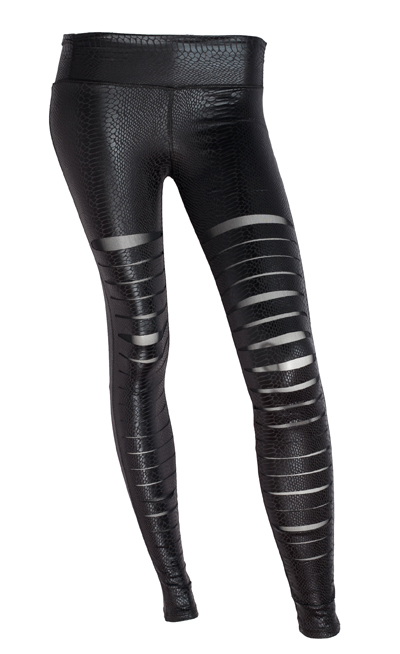 It doesn't get more fashion-forward or edgy than this US label Body Rock Sport and this hawt, not hot, Elle snakeskin (I know snakeskin) leggings are no exception. Founder Kelly Dooley just gets it, always first with the hottest trends that are fresh off the catwalk and then always adds her own kick-ass twist on top.  These leggings are sassy, sexy and sooo on- trend but don't be thinking that these bad boys are all substance and no style.  Body Rock Sport does not roll like that, these leggings are designed to perform and rise to the challenge of any training task you throw at it. Like I said this lady gets it and so will you when you put them on. They ship to the UK so no excuses. www.bodyrocksport.com 
Bjorn Borg Zebra Print Leggings, £35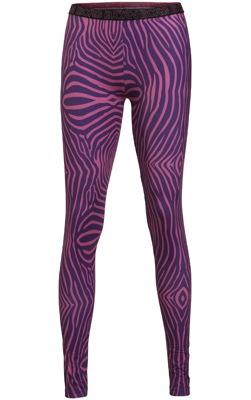 I know when you think of Bjorn Borg you either think of tennis or pants right? Well, they do make pants but they also do a fab loungewear line as well as a sportswear one, which is where I unearthed these fab Zebra print leggings. If you are into your fun, patterned, leggings then these could be exactly what you are looking for. Now they don't come with any performance capabilities so don't be planning on wearing these for you next 10k run.  They are more designed for chilling in the smoothie bar after your workout or perhaps when you've done some more low impact type exercise and at a mere £35 I think they are worth it.  www.bjornborg.com
Kit Diva also blogs at kicksandkit.com. Find out about her training at after9fitness.com
Like this article? Sign up to our newsletter to get more articles like this delivered straight to your inbox.