Keep missing your weekly exercise class due to work or social life? Haven't done that exercise DVD due to the lack of time? The Mini Stepper Twister can help fit in little bits of exercise while you watch telly (and most of us have time for that)
I've never been a fan of monotonous  exercise – I can't seem to `get in the zone`  as so many people do. It's safe to say treadmills, climbers, rowing machines…etc are not for me. Neither are gyms. I'm not keen on working out in front of other people (unless it's a class) and hate the hassle of making time to go.  However, I am a fan of Step so was excited to try out the Mini Stepper Twister by Domyos.
The great thing about the Mini Stepper Twister is how accessible it is. Firstly, it's easy to put together – the hard work has been done for you so you literally just have to add the two stabilisers. Secondly, because it's so small (and colourful – it comes in either pink or green), it doesn't get in the way so there'll be no complaints of that ugly looking equipment in the corner. It's not too heavy either so you can easily move it from one room to the other, no problem.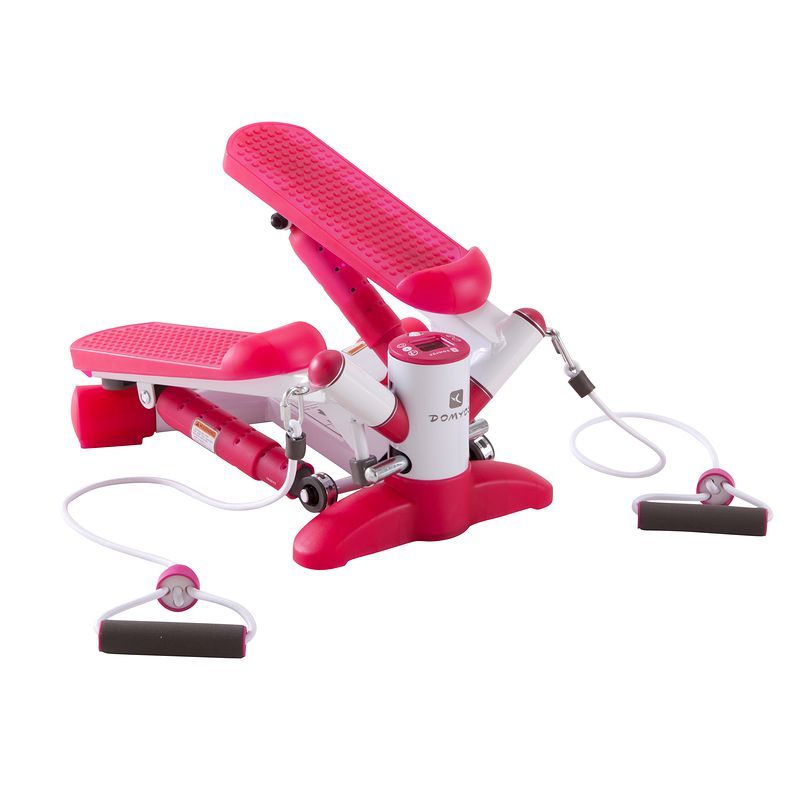 The Twister eliminates the problems of not doing exercise because you've missed an exercise class due to overtime, traffic or some last minute occasion. Or when you haven't done that exercise DVD because your favourite TV show is on, you're still able to work up a sweat and lose calories whilst watching TV. For me, this was the only way I could use the Twister because TV took my mind off the time.
Another problem that arose in my house was the impossibility of exercising in the morning because of noise. FYI – exercising with music blaring out and jumping around like a lunatic on wooden floorboards at 7am can, and probably will, lead to some pretty peeved off family members.
 I also lost just over three pounds which is good considering I didn't make any changes to my diet.

There were times when I wasn't in the mood for working out or got side-tracked but I'd be sitting watching The Voice thinking `What's 20 minutes? Why not do something productive?` So I got up and jumped on the stepper, and I'm glad I pushed myself because I felt better afterwards and probably saved myself from consuming a couple of chocolate digestives. Go me.
According to the manual, the Twister helps tone up your thighs, bum and calves but also your arms due to the elastic handles that are attached meaning your biceps and triceps will also get a workout.
Elastic handles are attached meaning your biceps and triceps also get a workout
Does it work?
I aimed to use the Twister at least three times a week for a month. In the first week I started with 20 minutes, moved up to 30 minutes in the second week, upped the duration to 35 minutes in the third week and finally ended with 40 minutes in the fourth.
I only managed 605 steps (there's a step counter on it) on the first day and was sweating after just seven minutes. It's slow to get started but you slowly build momentum. If you stop, the timer stops after three seconds so you can't fool yourself into thinking you've done more. The stopwatch doesn't lie.
I was surprised to feel the benefits mainly in my arms the next day but not so much in my legs. However, there's a staircase of 75 steps to our office which are a feat in themselves but after four days of doing 20 minutes on the Twister, my legs were aching and shaking, so much so I thought I was going to topple down. However, after a few weeks, the stairs weren't tiring me out so much which was obviously a great sign.
My legs were aching and shaking so much I thought I was going to topple down the stairs.
Moving up to thirty minutes was difficult. After 18 minutes, my legs were really aching and in all honesty, I wanted to give up. But slowing down the pace and having more water helped and I managed 1097 steps. The second and third time were also difficult but I maintained over the 1000 step mark, wahey. My legs were aching in the morning but I felt stronger for it.
It was quite dissatisfying when I did less steps than the time before but in a way, it pushed me to work harder the next time. I viewed it like this – if I managed to do a certain amount of steps within a set amount of time once before, I could get there again.
The table shows how I improved each week…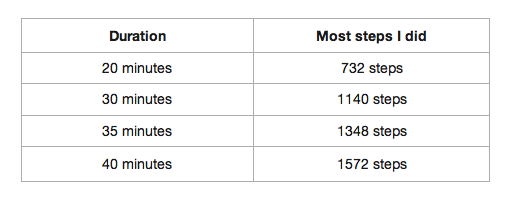 The manual recommends working out three times a week to see and feel benefits, and I did feel stronger and leaner by the end of the month. I also lost just over three pounds which is good considering I didn't make any changes to my diet.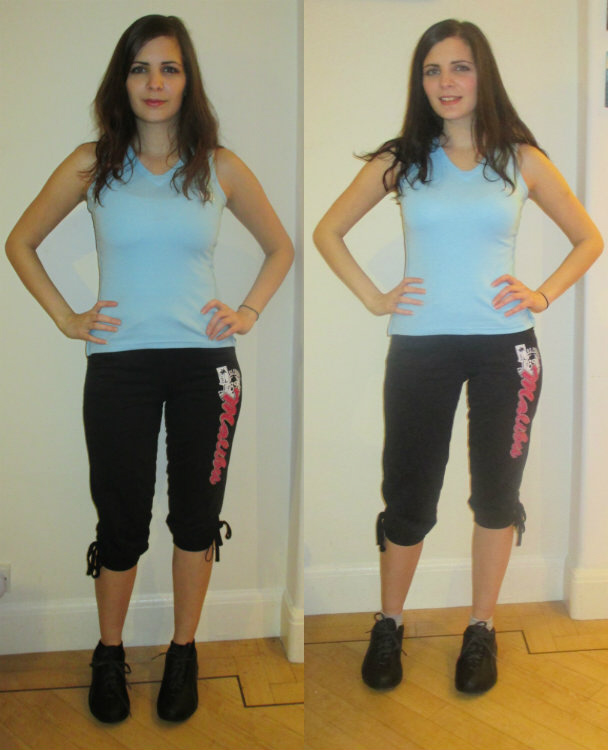 I lost just over three pounds without making any changes to my diet.
I wouldn't buy the Twister as a main exercise tool but as something to work within your exercise regime and for those days when you haven't got enough time to do an hour's gym session or not feeling very motivated. It's small, portable, affordable (£39.99) and works up a sweat so what reason would you have not to use it considering the ease? After all, some exercise is better than no exercise and a three pound weight loss in four weeks is not to be sniffed at.
To purchase your Mini Stepper Twister click here. 
Like this article? Sign up to our newsletter to get more articles like this delivered straight to your inbox.