A luxury villa, personal chef, outside yoga and a blow-up cinema screen that takes you from re-toxing to detoxing all in one place. Healthista's Vicky Hadley reviews a holiday from Chic Ibiza Villas…
The cleansing aroma of fresh roses and musky incense fills the air. I can hear a gentle breeze through the trees over the top of my teacher, Ayda's soothing rhythmic instructions. I open my eyes and am looking out onto mountains on the horizon in warrior pose. This yoga lesson is exactly what I need after an indulgent welcome banquet at Villa Skyfall in Ibiza.
A group of journalists and I headed to the oasis of Ibiza to stay in three luxurious and adjacent villas; Villa Mariposa, Villa Skyfall and Villa Can Blay with luxurious property rental company, Chic Ibiza Villas.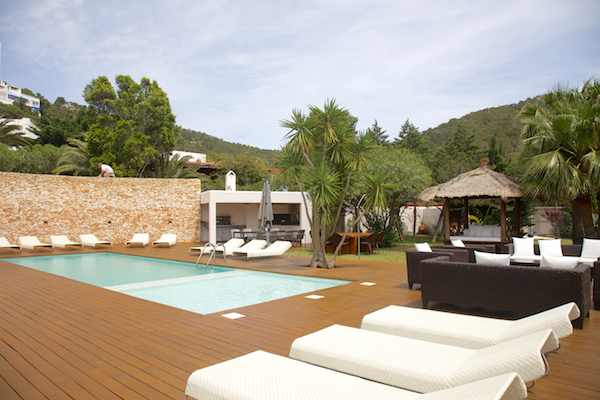 This may seem like an unreachable dream, but with the opportunity to villa share with friends, couples or family, these luxurious villas can actually work out as an economically priced holiday when the cost is split. Chic Ibiza Villas offer an in-house concierge service who can organise your dream holiday completely catered around you. From private chefs to an in-villa yoga class you can create your personalised retreat within Ibiza completely tailored to your wishes. If you've never visited Ibiza before the concierge approach is perfect as it guarantees your holiday is stress free whilst ensuring you don't miss out anything the White Isle has to offer. (The fee for the concierge service is ten percent of whatever you spend).

with the opportunity to villa share with friends, couples or family, these luxurious villas can actually work out as an economically priced holiday
Arriving at the villas I was taken a back by the stunning views that Ibiza had to offer; located in an secluded part of the old town in Ibiza with two sister villas situated next door. Entering the Villa SkyFall and walking into a stunning open planned kitchen and dinning room we were introduced to the concierge and our personal catering company, 'Dallicious', chef duo, Miles and Markito.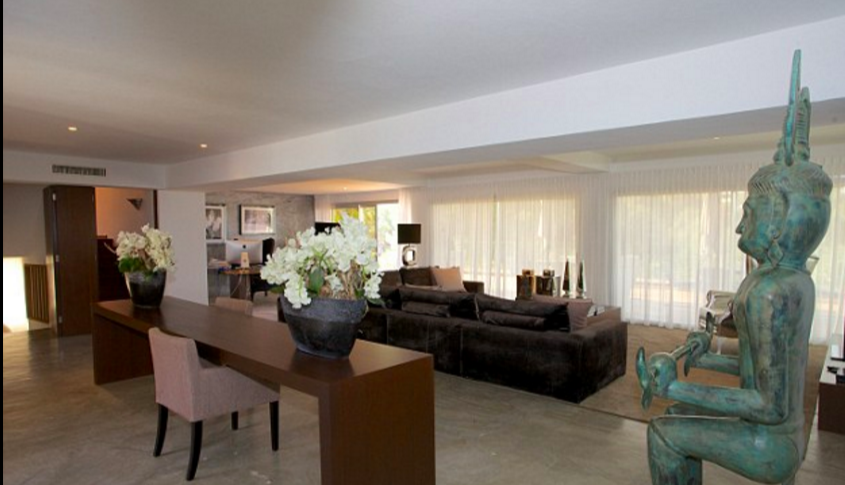 MORE: The fitness retreat where you won't know you're on a diet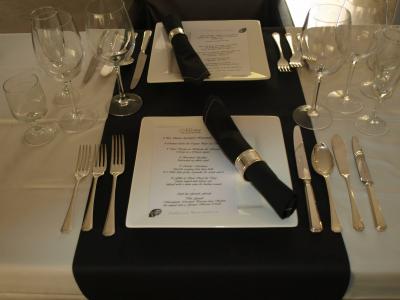 Each guest was presented with their own menu, with their dishes tailored around our dietary needs. Fresh Spanish fish and shellfish were the speciality for the evening. Miles and Markito prepared king prawns and lobsters almost the length of my arm within a delicious and exotic seafood platter. The seafood was accompanied by mixed vegetables marinaded in traditional Spanish spices like sweet paprika and olive oil.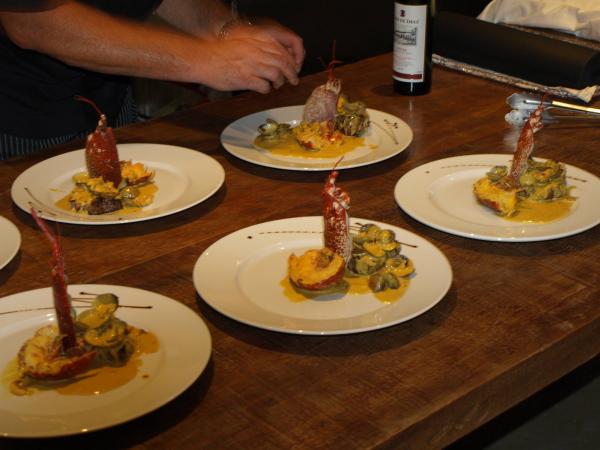 The seafood starter made by Dallicious.
After dinner we went back to our suites to unpack. My suite was located in the Villa, 'Mariposa', which hosted five bedrooms. Two black, leather double beds lay in the centre of the room with french windows looking out onto the private swimming pool.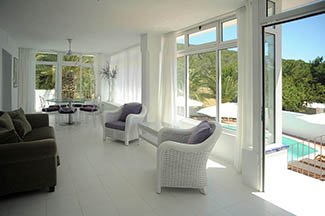 Villa SkyFall which was situated next door, was the grandest and largest of the group and was the central hub of our groups activities. Altogether we were a party of 20 which worked as the perfect size. That evening, our concierge, Krystal, introduced us to the real feel of Ibiza by organising guest DJ Graham Sahara to lead an Ibiza themed in-villa party to welcome us into our first night.
MORE:New luxury spa area Zen Oasis in the Dominican Republic is 'the closest thing to heaven on earth

Even the breakfast was incredible…
The following morning I joined the rest of the group for breakfast. We finally got to see just how beautiful our surroundings were in the daylight and feel the warmth of the Spanish sun. A buffet breakfast was spread out across the table, which again had been prepared by Dallicious. From hard boiled eggs, fresh fruit and cereal there were even vegan options that made me squeal with excitement; including homemade 'tofu scramble' that Miles had prepared with mixed pepper and spices.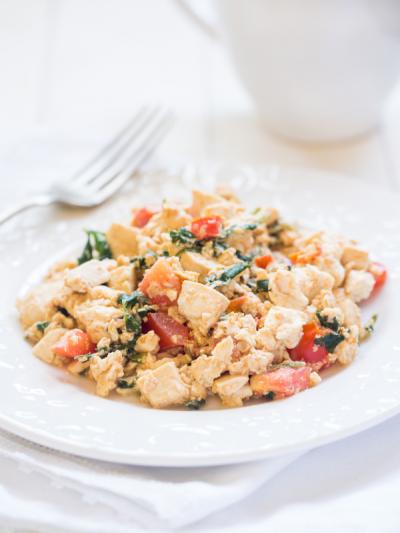 Dallicious prepared all of our in villa meals throughout the trip which included delicious creations including wakame salads, paellas and seafood dishes.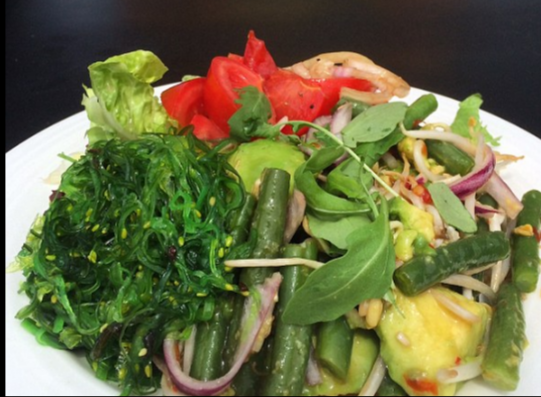 That afternoon we were booked in for a boat tour around the island with Boats Ibiza organised by Krystal. We had the option of delving off on a relaxing sight-seeing boat ride with chilled music and drinks or an adventurous boat trip with rubber-ring gliding – being that the sea wasn't too warm this time of year, I opted for sailing around the island.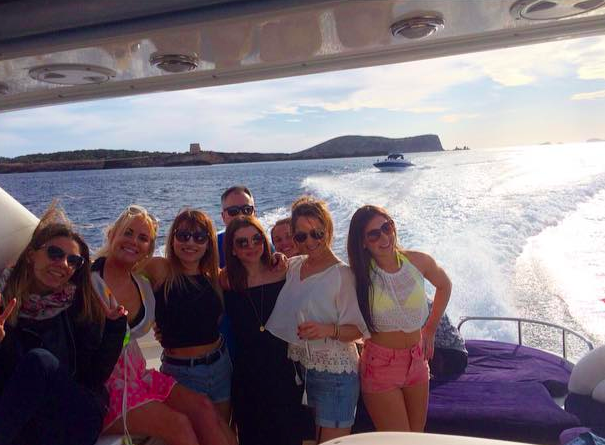 Our boat had an open terrace and we were able to sunbathe on the deck whilst listening to the relaxing Spanish music played on board. Sailing around the beautiful and scenic island made the 'party central' city that Ibiza is famous for seem a million miles away.  We were shown some of the famous sites including ES VEDRA which is a mysterious rock island that is said to be the third most magnetic place in the world, after the Bermuda Triangle and The North Pole. We sailed past a school of dolphins and around the stunning island taking time to relax and sunbathe with the option of having a dip in the turquoise sea. The afternoon sailed by, no pun intended, as we relaxed and reclined happily in the fresh air.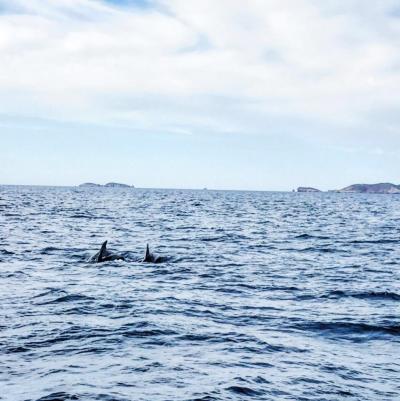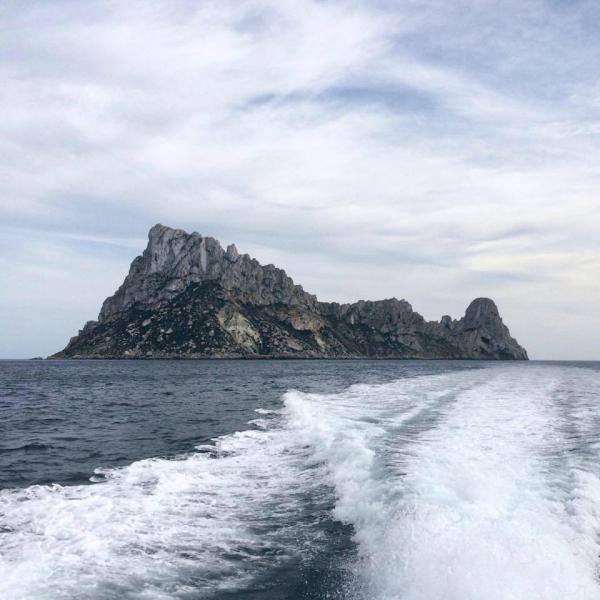 Feeling relaxed and detoxed after our serenic boat trip, our transport cars from World Entourage Ibiza pick us up from the marina and take us back the villas to get our hair done by mobile stylist and makeup artist Danielle Renshaw. I opted for a bouncy blow-dry that Danielle sprayed with sea salt to complete the big, tousled look that left me feeling very glamorous for our first night out in the heart of Ibiza.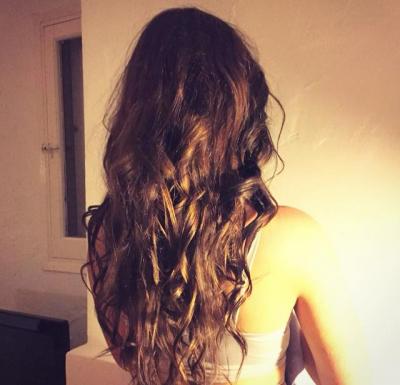 Pre-night out and what I am sure could be considered a stomach liner if you are one who enjoys the odd party, we headed to the stunning Thai restaurant, Bambuddha.  Owned by an Ibiza legend, John Moon, Bambuddha offers a Thai menu that serves everything from the traditional Thai Green Curry to a spicy black cod salad. Bambuddha is the definition of tropical bars, designed with a canopy of bamboo amongst ancient tantric artefacts and statues. It is situated in Santa Eulalia del Rio and has a fashionable, exotic vibe that blends modern furnishings with its old fashioned, tribal exterior.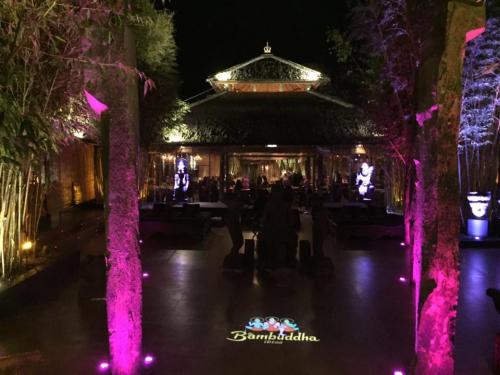 I opted for the Thai green curry as my main with a bowl of sea-salted edamame beans. I'm a huge Thai food fanatic so it takes a lot to impress me when it comes to Thai food. However, Bambuddha nailed it, my green curry was served with mixed exotic vegetables including sweet peppers, aubergine, bamboo shoots and other seasonal vegetables. The curry was creamy and sweet with sautéed vegetables and firm tofu chunks mixed in for an added protein boost.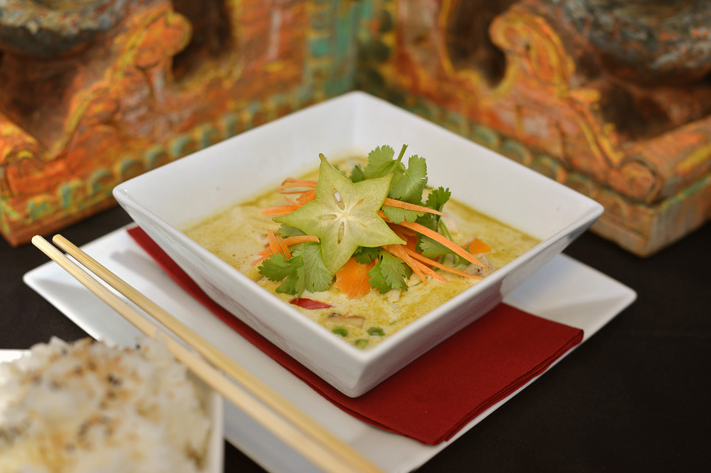 And to detox…
After a night in Ibiza, you may assume the next day would be completely written off and spent lounging by the pool, but Krystal organised a detoxing surprise. We had spent the evening in the award winning night club, Pacha and were definitely feeling worse for wear so when it was announced that we would be having an in-villa yoga class led by yoga instructor, Ayda Ellis, founder of Ayda Yoga it couldn't have sounded more needed.
Breathing in the fresh air and exhaling my toxins, I felt utterly detoxed and cleansed. Ayda, who teaches celebrities including Ellie Golding and Kate Winslet told us that we would all master a handstand by the end of this class. Knowing that I couldn't even manage a headstand inversion I felt dubious, yet she seemed convinced.
The class involved a lot of partner work. In pairs we were to take it in turns at assisting one another into a handstand inversion. Taking a deep breath I planted both hands on the ground and concentrated on keeping my breath steady. Ayda directed me to lift one leg in the air so I was in a one-legged dog yoga pose. Grabbing my leg that was still on the floor and holding my leg in her hands she told me to push all of my weight into her. Feeling completely terrified that I could be too heavy and would end up face-planting the patio I squeezed my eyes shut and obeyed.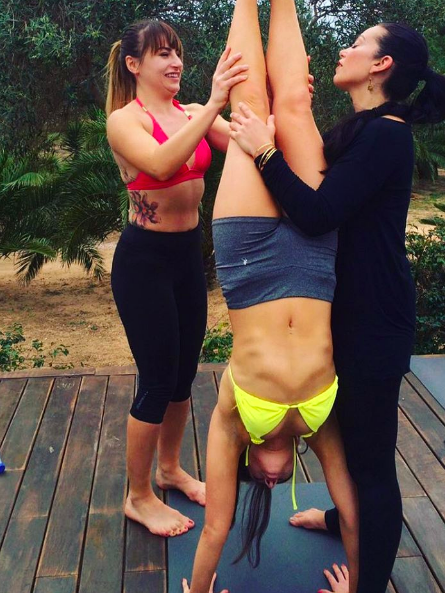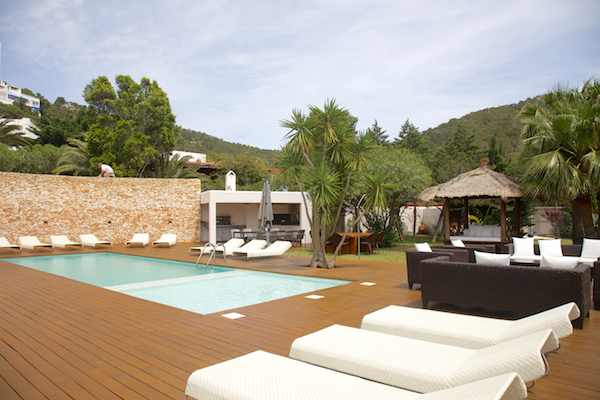 Like magic my leg lifted into the air until I was standing firmly on my hands in a handstand. Ayda held me in the position for a few minutes before releasing me as I let out a scream of adrenaline fuelled excitement and shock.
On our last evening and feeling extremely detoxed and sleepy from our fun fuelled trip, Krystal arranged for a pop-up cinema to come to the villa. A huge blow up screen is erected by the swimming pool and numerous soft lounge chairs with cushions and blankets were placed in front of it for us all to relax on. Beautiful exotic looking candles and lilies were placed around our beds and to float in the swimming pool. We choose the film Black Mass with Johnny Depp, and tuck into boxes of popcorn underneath our blankets in the warm Spanish evening.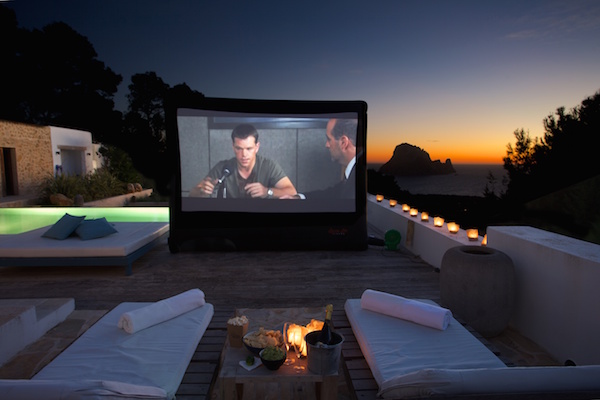 What you need to know:
From cocktail-making to renting a home cinema, to personalised yoga classes or spa treatments it is all completely possible with Chic Ibiza and the best part is that it comes exclusively to you. There is no need to hunt around the island in hope of finding an English speaking yoga teacher.
You can design your holiday totally around what you wish to do, whether it is a detoxing retreat or a activity filled holiday they can arrange it for you.
You can find the cheapest flights to Ibiza at momondo.co.uk.

Villa Mariposa sleeps six couples (price starts from £3495 per week), Villa Skyfall sleeps eight couples (price starting from £7695 per week) and Villa Can Blay sleeps four couples, (price starts from £1395 per week) Visit chicibizavillas.com.

Private dining and personal catering company:  Dalilicious provided a three-course dinner, continental breakfasts and a sea food BBQ at the villa. They are available to book through Chic Ibiza.
To rent a Yacht: We had Boats Ibiza whose equipment included: watersports – water-skis, wakeboard, donut and snorkels as well as unlimited soft and alcoholic drinks included in their package. Prices depend on boat – see full website. 
For Hair and Make Up: We had Danielle Renshaw who charges 120 euros per person for both hair and make-up as well as coming directly  to you. Contact VIP@blowoutibiza.com to book.
Pop-up cinema experience at villa:  http://www.cinemaparadisoibiza.com/
Like this article? Sign up to our newsletter to get more articles like this delivered straight to your inbox.