The 2014 Glasgow Commonwealth Games ended Sunday, and this year British women blitzed the competition, earning over 90 medals, beating the UK men in the silver medal count, and breaking several Commonwealth and world records. Allie Zoranski salutes Britain's super sportswomen.  
ZOE SMITH – Gold for England – Weightlifting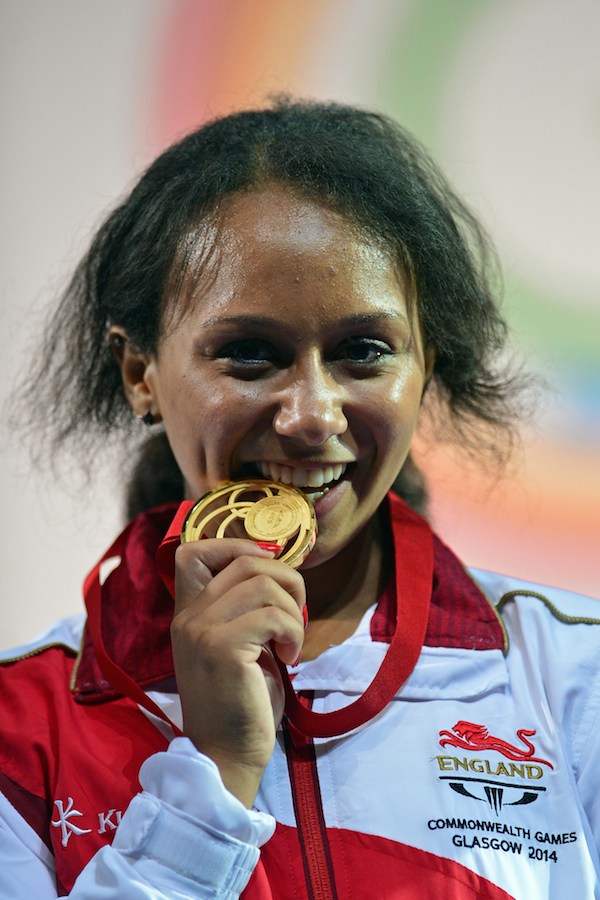 Weightlifter Zoe Smith, 20, raised the bar when she set a new Commonwealth Games record with 210kgs and got gold in the 58kg category. She surpassed the record set by Canada's Mo Turcotte's four years ago in Delhi by 8kgs. Smith almost retired after a long-standing back injury kept her from competing.
She said, 'I can hardly speak I'm so excited. This is a moment I have waited a long time for and I'm thrilled to bits to finally win a gold medal at a major tournament. I can't believe I did it.' Smith was so excited about her first gold at Glasgow that did a backflip immediately after winning and couldn't stop smiling even as she fought tears during her medal presentation ceremony.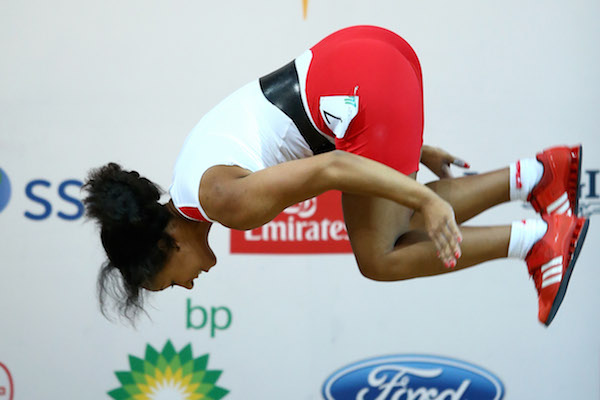 Smith has been called the future of British weightlifting. She won bronze in the 2010 Games when she was only 16, making her the first British woman to win a medal for weightlifting in the Commonwealth Games.
HANNAH MILEY – Gold for Scotland – Swimming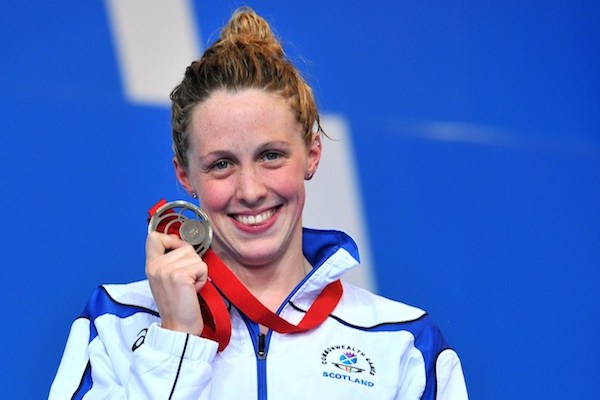 Scotland's Hannah Miley, 24, got gold on Thunder Thursday in the 400m individual medley, defending her title and obliterating her own record with a time of 4:38:27. This was her first gold of this year's Commonwealth Games. She earned another medal in the 200m individual medley race, adding a bronze medal to her collection.
Some think that the two-time Commonwealth champion is too old to compete, but she still has passion for the sport and plans to compete in the Rio Olympics when she is 26. 'This is the first time it has all come together in the right way,' she said. 'It's pretty annoying it's taken me eight years to work it out but I'm like wine: I get better with age.'
NICOLA ADAMS – Gold for England – Boxing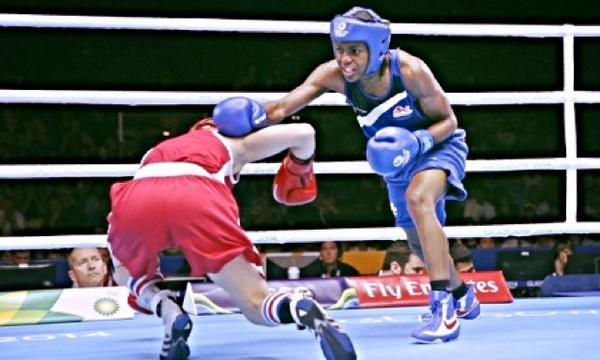 England's Nicola Adams, 31, won the first ever women's boxing final at the Commonwealth Games. It was a nail-bitingly close match. Two judges gave Adams and Northern Ireland's Michaela Walsh the same 38-38 score, but the third judge broke the tie with a 39-37 score. Adams said after winning, 'I thought I had done enough but it isn't about what I think, it is down to the judges and they felt I had given enough to win it. The gold medal was the one I wanted and this comes second only to the Olympic Games. It means everything to me to have won.'
Adams was the first British female boxing champion of the Olympic Games at London 2012. She looks on to Rio and plans on making history again as the only British boxer to be a back-to-back Olympic champ.
JEN MCINTOSH – Silver for Scotland – Shooting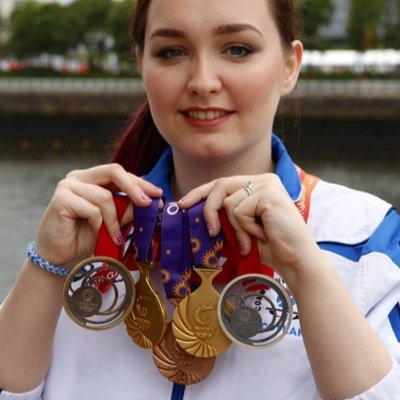 Scot, Jen McIntosh, 23, became the most decorated woman in the history of the Commonwealth Games when she got silver in the 50m rifle 3 positions singles event. McIntosh lost the shootout to Singapore's Jasmine Ser, failing to defend her title, but McIntosh's silver gave her the five medals she needed to break the record. Keeping it in the family, McIntosh took the title from her own mum, Shirley, who won the first women's prone gold in Victoria in 1994.
McIntosh hopes her accomplishment will increase the profile of her sport. Shooting since she was 10, her dream is to win an Olympic medal and plans to join other Commonwealth athletes in Rio. McIntosh's medal was also record breaking for Scotland. They surpassed their previous record of 33 medals. The Scots ended the games with 53 medals.
LAURA TROTT – Gold for England – Cycling Track, Cycling Road
England's Laura Trott, 22, won her first gold medal of the 2014 Commonwealth Games in the 25km points race, where 20 riders compete for points over 100 laps. She and Wales' Elinor Barker each had 37 points going into the final sprint, but Trott surged before Barker in the last moments of the race, giving her enough points to be named the winner.
The double Olympic champion from London 2012 has been battling a kidney infection, which affected her success in the beginning of the Games. Trott told BBC Radio 5 live, 'It's right up there with the Olympics for me after the disappointment of the last two days. To pull it off at the end was great.'
JESS VARNISH – Bronze for England – Cycling Track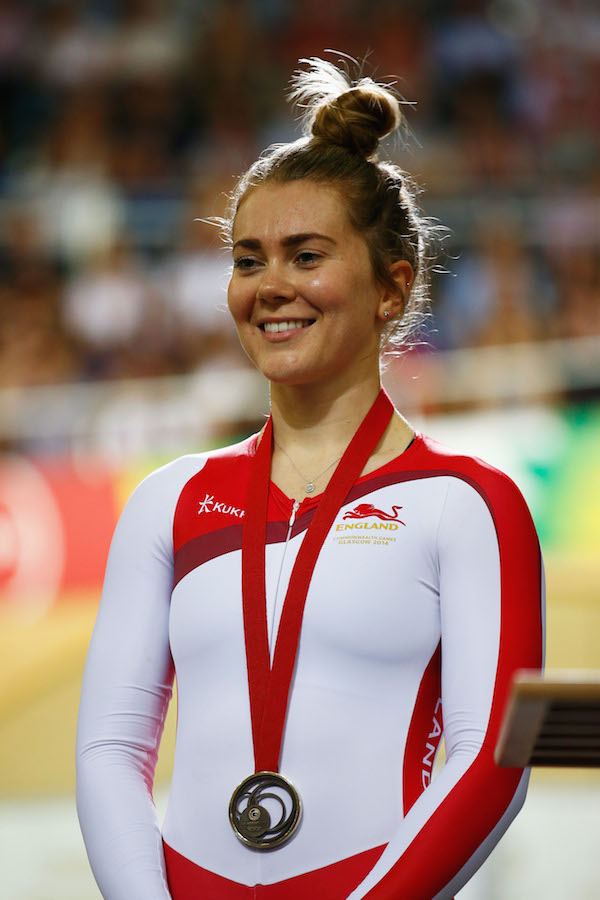 Jess Varnish, 23, sprinted to her second bronze medal of Glasgow 2014 for England in the ladies Individual Sprint. These medals add to her collection of seven major championship medals. In the opening race, Malaysian rider Fatehah Mustapa elbowed Varnish, throwing her off her line. Officials awarded Varnish the victory after closely reviewing the incident, giving Varnish the lead over Mustapa from the beginning.
Varnish was disappointed in London 2012 when she and teammate Victoria Pendleton were disqualified after the team sprint semi-final, making Varnish the only member of Britain's cycling track team to not medal in London. "It's got to be about what I'm going to do next. At the end of the day there's only one person who can help yourself and that's you, you have to take it on your own shoulders," she said.
LAURA WEIGHTMAN – Silver for England – Athletics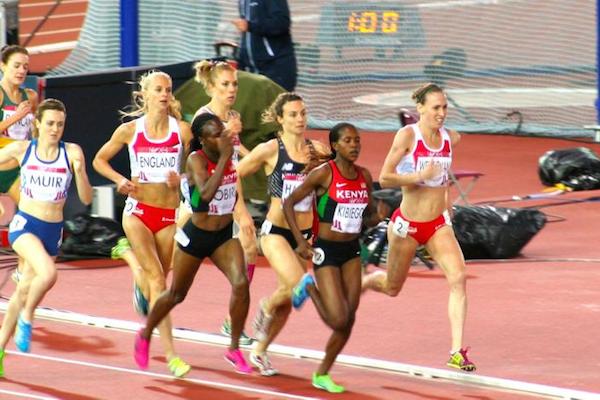 Laura Weightman, 23, won a silver medal for England in the 1500m race with a time of 4:09:24. Weightman was in third coming into the final bend, but in a burst of energy, she pulled into second and remained there to the finish line, holding off Canada's Kate van Buskirk. Weightman was delighted after her finish, bouncing around with a smile on her face and fist pumping the air.
'Words can't describe the feeling when you've crossed the line and you've got the medal you so desperately wanted,' she said. 'Coming off that top bend I was just hanging in for dear life.' Weightman improved from her 11th place finish at the 2012 Olympics, fulfilling her goal of medalling at this year's Games. Four other English athletes took silver that night.
ALICIA BLAGG AND REBECCA GALLANTREE – Gold for England – Diving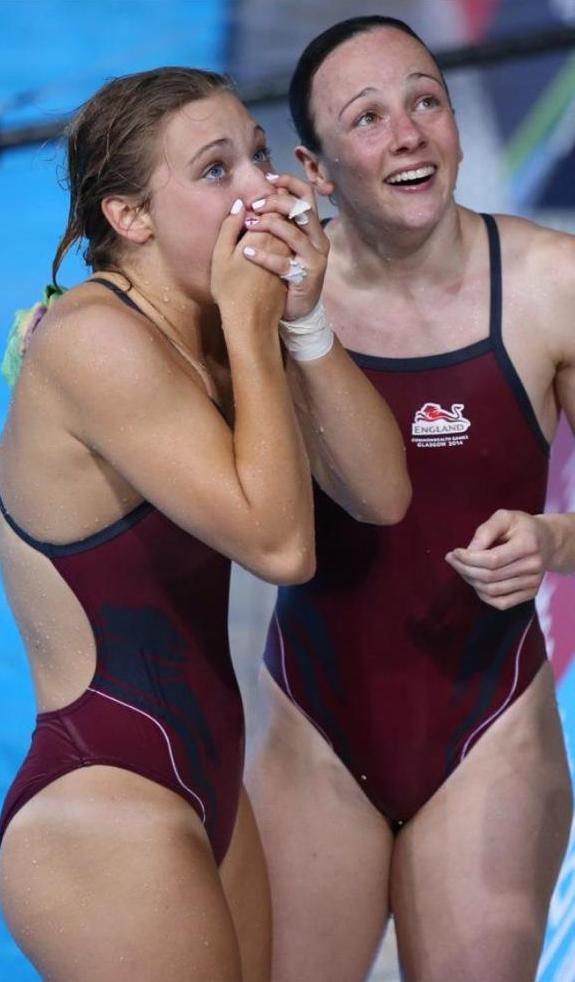 England's Alicia Blagg, 17, and Rebecca Gallantree, 29, took gold in the women's synchronised diving 3m springboard event. The pair moved to first place after their final dive, a three-and-a-half somersault in the pike position. Their final score of 300.24 boosted them to gold. The two were all smiles and hugged each other after the scores were posted. 'I just can't believe it,' Blagg said. 'To do that dive and then see the scoreboard ranked first it was the best moment of my life. Just disbelief.'
The pair had trouble in practice with the dive that won them gold; their timing had been off. Blagg and Gallantree practiced hard on that specific dive in the final days before the competition, and that work paid off. Gallantree said, 'To do it in that situation, last dive, when it really mattered, and to do that to get the gold is just amazing.'
LIZZIE ARMITSTEAD – Gold for England – Cycling Track, Cycling Road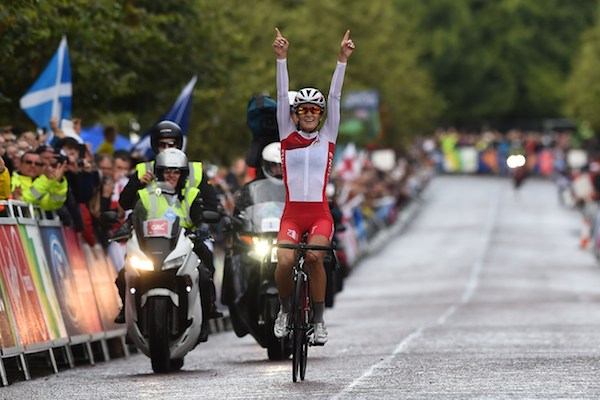 On the final day of the Games, Lizzie Armitstead, 25, battled competitors and the rainy weather to her gold medal in the women's road race. The race was 14km done in 7 laps. A group of seven broke away from the other cyclists with 38km to go, and teammate Emma Pooley opened the gap further with 11.5km remaining. This fueled Armitstead to pull ahead of the group and win by 25 seconds.
Armitstead has performed well in previous races but never got gold. She finished second in both the 2010 Commonwealth Games and the 2012 London Olympics. 'I feel like I deserve this,' said Armitstead. 'I've trained so hard. I'm always on the podium, I don't win that many races. It's just a confidence thing.' And Armitstead wasn't the only member of Team England to medal during that race.
EMMA POOLEY – Silver for England – Cycling Road

In the same race, Emma Pooley, 31, took silver in her final race before retirement. After Armitstead passed her, Pooley drove ahead of the final group to finish 46 seconds before South African bronze medallist Ashleigh Moolman Pasio. This was her second silver of the Games as she finished second in the time trial as well.
Pooley was a huge factor in Armitstead's victory, setting the pace, shutting down breaks and tiring out competitors. Armitstead said, 'I want to say a massive thank you to Emma. Cycling is a beautiful sport and a team sport, which often gets overlooked. So I'm pleased Emma got a silver medal as well.' In her career, Pooley was the 2010 world time trial champ and won silver at the London 2012 Olympics. In her retirement from the sport, Pooley will now concentrate on triathlons.
Like this article? Sign up to our newsletter to get more articles like this delivered straight to your inbox.