Eye creams – what are they good for? From wrinkles and dry skin to puffiness and dark circles we've found a natural eye cream for whatever ails the windows to your soul
Working away at Healthista Towers on Wednesday afternoon, Healthista's food reviewer Charlotte Dormon asked me, 'what does an eye cream actually do? Why are there so many and what are they for?' Soon we were chattering about dark circles, tight skin and fine lines and whether an eye cream could really fix it. Due to skin around the eye being so delicate and affected by everything from the sun, stress and ageing, we have round-up the best we could find. After all, you've only got one pair to care for.
Best natural eye cream for anti-ageing
bareMinerals SkinLongevity Vital Power Eye Gel Cream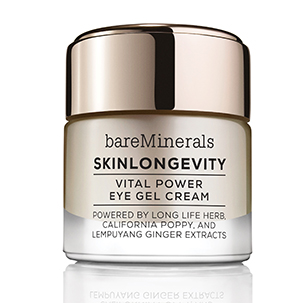 The special ingredient in bareMinerals' brand new eye cream is Long Life Herb, a mineral-rich herb grown on Okinawa Island in the Pacific. According to bareMinerals, it is shown to help defend against the signs of ageing, diminishing fine lines and giving a youthful vibrancy. Other ingredients include the California poppy, a Californian native flower known for its ability to thrive in harsh conditions, and lempuyang ginger, a root traditionally used in Ayurvedic medicine. The complex also includes Hyaluronic Acid, which addresses the look of fatigue caused by daily eye stress.
Food and Lifestyle writer Vanessa says: The formula of the eye cream is so lightweight on my skin, giving it a dewy hydrated. A tiny amount went a long way, and it's perfect for day-time use under makeup or to revitalise the eyes during the day over make-up. The product looks and sounds impressive so I would definitely continue to use it.
Buy bareMinerals SkinLongevity Vital Power Eye Gel Cream, £23
Best natural eye cream for dark circles
Aveda Botanical Kinetics Energizing Eye Crème


Aveda suggest if anything is to revitalise your eyes, it is the power of plants. The blend includes licorice root, which works to diminish the dreaded dark circles caused primarily by the brown skin pigment melanin, whilst plant derived caffeine gets to work on the puffiness. Certified Organic Cupuacu Butter all the way from Brazil seals the skin to make sure it's retaining as much moisture as possible, containing lipids like the skin's own (our skin's lipids are in charge of trapping water molecules). 98 per cent of this lightweight crème's ingredients are naturally-derived, and have been shown in vitro testing to get the skin cells buzzing with energy. 
Food and Lifestyle writer Vanessa says: I applied this light formula to my eyes day and night for a week or so. It relieved the tightness I felt (especially after a long day), and using it in the morning with circular motions refreshed the skin. I love that it doesn't smell overwhelming and doesn't leave any residue. I hope to see a reduction in dark circles, but for now it's woken up the delicate skin.
Buy Botanical Kinetics™ Energizing Eye Creme £28.00
Best natural eye cream for travel

Puffy eyes are taken care of with caffeine in this calming cucumber infused gel, which also contains sodium hyluronate, a superior magnet for hydration. The gel is lightweight and fast-absorbing, and in a tiny bottle, it's useful for quick results on the go. DHC is a Japanese brand which uses Spanish virgin olive oil as the base of all their products, for it is naturally beneficial for youthful and healthy skin.  Mr. Yoshiaki Yoshida, the company's owner, saw the exceptional grade of the oil in Núñez de Prado groves in Baena, Spain, and from his first product in 1980, it has become Japan's No. 1 skincare company.
Digital Director Yanar says: DHC is one of my favourite beauty brands for functional skincare in innovative ways. This eye cream for example is not just a regular cream, but a clear gel texture instead which glides on beautifully and feels hydrating without any tackiness. I love how small it is too which makes it a great handbag accessory especially during colder days (when I used it the most). Just like hand cream I like to moisturise the area around the eyes whenever it feels dry so it's this is a handy product for on the go skin care and great if you travel.
Best natural eye cream for face-lift results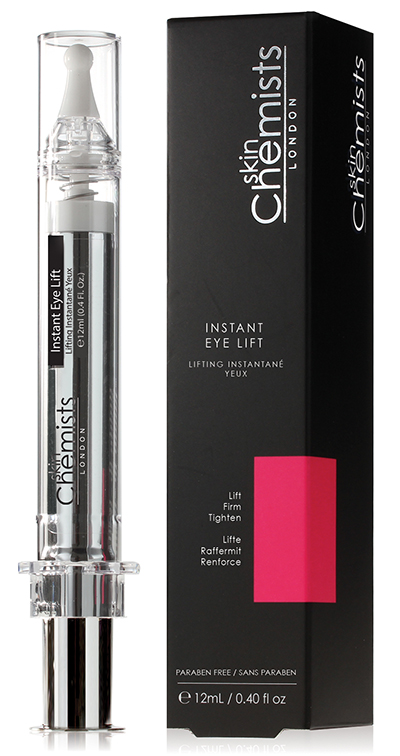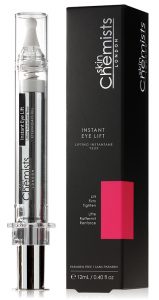 Reverse ageing without going under the knife with this nifty created syringe with an anti-ageing formula. But don't worry – there are no needles involved. Take the tip off the top, pump the product, and swiftly apply around the eyes with the nozzle. It contains active ingredient Magnesium Aluminium Silicate, which skinChemists claims tightens the skin instantly, reducing fine lines as well as deep wrinkles. The eyes are prone to reduced elasticity and signs of ageing first, and a smoother appearance is bound to boost your confidence again. The reduction of dark circles is an added bonus, to give a well-rested look.
Healthista Eats writer Charlotte says: The skinChemists eye lift formula was magnificent. It is like getting a botox shot – it freezes the wrinkles leaves you looking much more awake and fresh around the eyes.  It needs to go underneath makeup, and makeup does not smudge. It is super easy to apply and perfect for a quick fix when your face is looking tired. The specific ingredients used, although not magical or preventive, gave me a much more youthful appearance.
Buy skinChemists Instant Eye Lift £114.90
Best natural eye cream for reducing puffiness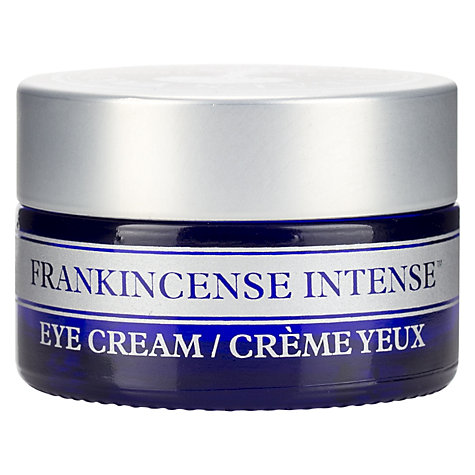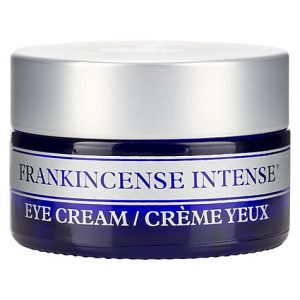 Neal's Yard Frankincense Intense Eye Cream
Frankincense, a rather ancient ingredient, is renowned for its de-stressing properties. It is the star ingredient of Neal's Yard Intense eye cream, which has been clinically proven to reduce wrinkles around the eye area and reduce dark circles and puffiness in just 15 days. Now we are talking! The formula also includes collagen boosting components, synergistic 3-peptide complex and gardenia plant stem cells, to plump the skin. Although it sounds rigorously engineered, this cream is a more natural choice, especially being certified by the Soil Association.
Digital Director Yanar says:  The tiniest of dabs goes a long way with this cream so any  more than half a pea-sized amount and you could end up moisturisng more than just your eye area. That makes this cream quite economical. If you like rich eye creams, this one's for you. Instead of being filled with silicones and other artificial additives all ingredients are 100 percent natural and with lots of natural plant oils ls to make it feel decadent on skin. I didn't notice any puffiness go down but it's a great choice if you're doing an anti-ageing facial massage around the eyes.
Buy Neal's Yard Frankincense Intense Eye Cream £45
Best natural eye cream for moisturising
Embryolisse Smoothie Eye Contour Care Cream
This rather new to the market cream contains a bundle of eye-bag reducing vitamins. Firstly, hyaluronic


acid is a top ingredient for anti-ageing. The body naturally produces it in the joints, nerves, skin, hair, and eyes, but this slows dramatically with age, according to Embryolisse. Used commonly in beauty products, hyalyronic acid can hold up to 3,000 times its weight in water, moisturising and plumping the skin.
Vitamin A stimulates skin renewal, while sesame oil and Vitamin E have been added to slow down the formation of free radicals, the harmful substances that can cause the formation of bags under the eyes. Cornflower extracts contain strong anti-inflammatory and antioxidant properties, which can help soothe irritated or puffy skin. With a generous helping of skin food, seven out of 10 women said their dark circles and puffiness reduced in four weeks of using this eye cream.
Editor Anna Magee:  I am blighted by dark circles and few things work but so much sleep I end up with no life! This cream was lightweight, which is great as heavy creams make my eyes wake up puffy and sore-looking. I had no sign of that with this and it gave a more hydrated look to the area around the eyes. There was a reflective quality about the cream too which I think, either in my mind or really, made the look of my dark circles appear minimised. I got told I look well twice while using it.
Buy Embryolisse Smoothie Eye Contour Care Cream £15
Best natural eye cream for stress relief
Skin Benefits Computer Eyes – Cool Cucumber Eye Pads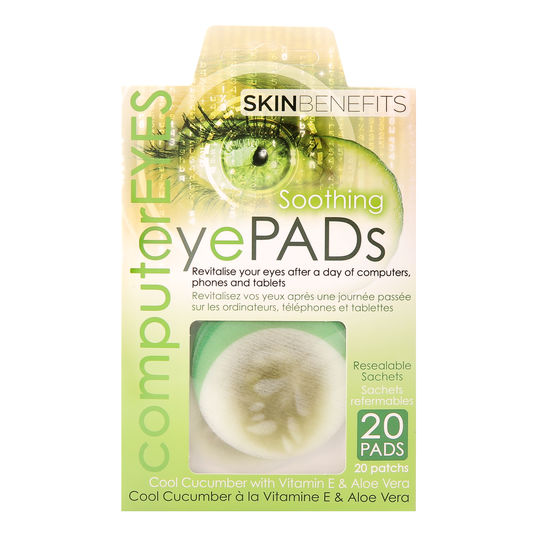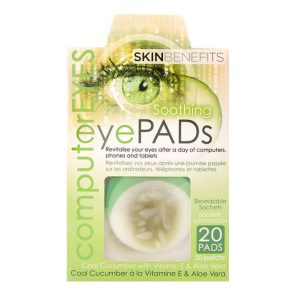 How many of us take time to care for our eyes after a day of staring at a computer, tablet or phone screen? Prolonged daily usage of technology can leave the eyes feeling uncomfortable and stressed, and the appearance puffy and tired. We love the idea of taking time out to soothe the area with an eye mask, which will undoubtedly will de-stress the mind, too. Skin Benefits have infused cucumber in the pre-moistened pads, known for its cooling properties. Green tea, Aloe Vera, chamomile and Vitamin E also do wonders to revitalise the skin.
Food and Lifestyle writer Vanessa says: I have been told before that my lack of energy could just be a case of tired eyes. Taking some time away from the screen to soothe them lifted the discomfort and helped me switch off for a while, too. Putting the pads in the fridge makes them extra refreshing, much like when I've used cucumber slices when pampering. If I could use them halfway through my day I'm sure it would do wonders for my productivity!
Buy Computer Eyes – Cool Cucumber Eye Pads
 by Skin Benefits £4.99
Best natural eye cream for sensitive or eczema prone skin
If you've got dry sensitive skin, the last thing you need is an eye cream that will make matters worse.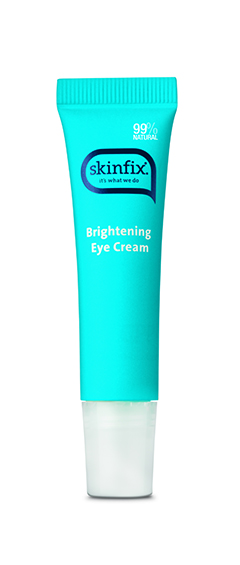 SkinFix are a trusted Canadian problem-solution skincare brand that uses nutrient rich ingredients to restore lipids and protect the skin barrier, focusing on eczema. The Brightening Eye Cream is 96.5 per cent natural, formulated with Healthy Skin Lipid Complex to maintain glowing plump skin. Alfalfa seed extract helps reduce puffiness and dark circles, macadamia oil deeply nourishes, red seaweed plumps the skin and cucumber extract cools and soothes. In 28-day dermatologist led clinical studies, 97 per cent felt this eye cream made the skin around their eyes feel hydrated after just one use. That's impressive!
Food and Lifestyle writer Vanessa says: With dry, sensitive skin, eye creams often do me no favours at all. My eye skin can become dehydrated, flaky and discoloured if I am stressed. I wasn't afraid to apply SkinFix's eye cream, aware it is a brand that is kind to eczema sufferers. It felt lightweight and similar to my everyday moisturiser. It absorbed quickly, and I felt no irritation at all, what a miracle! It feels gentle and not overpowering with strong chemicals.
Buy SkinFix Brightening Eye Cream £12.99
Best natural eye cream for older skin
Weleda Wild Rose Smoothing Eye Cream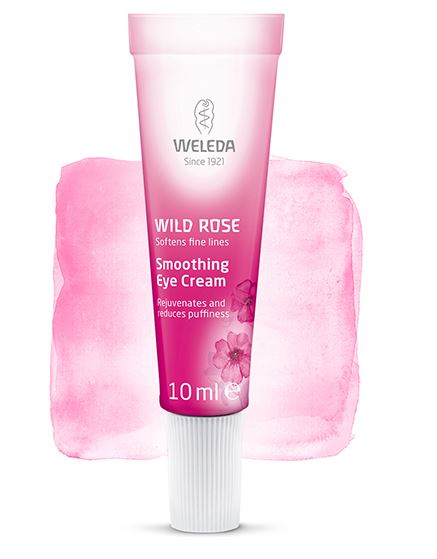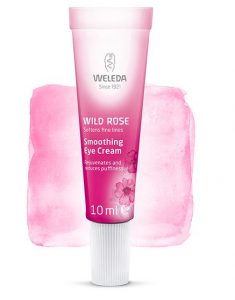 As the skin gets older, it becomes more delicate. Weleda recommend their eye cream for the thirty-somethings and over experiencing tired, irritated or puffy eyes. The gentle cream is unperfumed to avoid more irritation. Instead, the star ingredients are time-honoured eyebright to soothe and organic musk rose seed oil. This contains unsaturated fatty acids which are necessary for the building of hydrolipid mantle (a protective slightly acidic film that acts as a barrier on the skins surface).
Food and Lifestyle writer Vanessa says: I already use Weleda's products because I look for gentle ingredients. Applying to the skin, the consistency was just right, feeling thick enough to really penetrate the skin overnight. I had no negative side effects after using the cream, rather what seemed a brighter complexion after a few uses. It really pays to give more attention to thirsty skin!
Buy Weleda Wild Rose Smoothing Eye Cream £16.95
Best natural eye cream for duo use – lips and eyes
Green People Line Eraser Lip and Eye Serum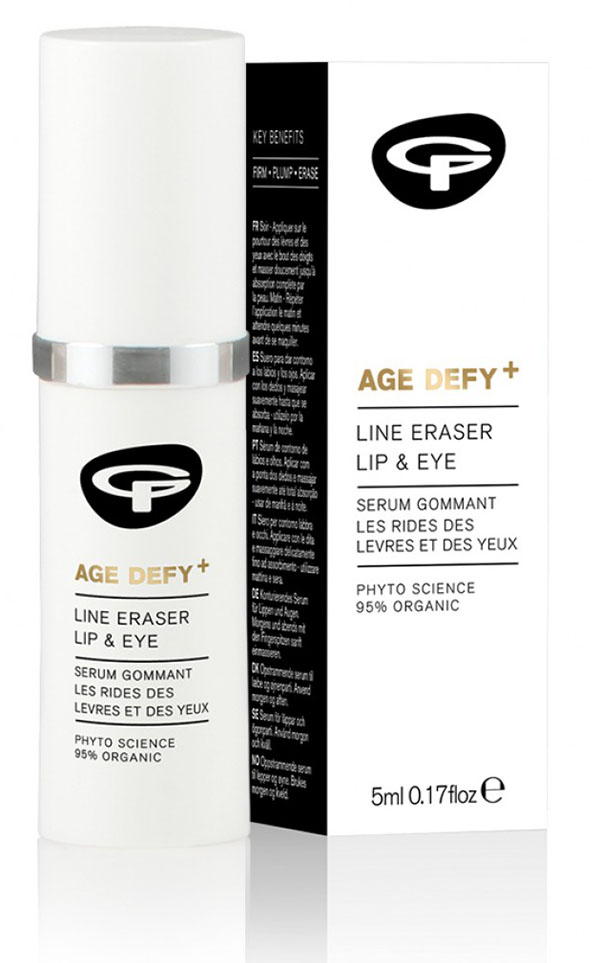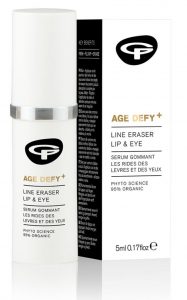 Named the 'hero product' and for obvious reasons, this serum targets not one, but two problematic ageing areas. Accoding to Green People, immediate firming is seen after 15 minutes due to the Argan Seed Extract. But used for at least four weeks, you will see powerful long term results of reduced wrinkles and increased skin elasticity. The brand are recognised as never using nasty ingredients, and instead pump this serum with a whopping 22 youth-enhancing beauty ingredients. These include Sea Holly Stem Cells and Baicalin, which when at work over a 28 day trial, have shown an increase in skin tightness by 27per cent, skin smoothness by 38 per cent and hydration by 95 per cent.
Editor Anna Magee says: I'm a huge fan of instant line erasers. They only ever work temporarily but boy do they work. Trouble is, the ones I like are most definitely not natural. So, I was excited about this revolutionary-sounding serum as it claimed to reduce both eye and lips wrinkles.  I used it as Green People suggest; In the evening I applied to my upper lip and eye contour areas with fingertips and gently massage until absorbed. In the morning, I did the same a few minutes before applying make-up…Well, it is divine. It's so, so so lightweight, a cross between a gel and a light cream and smells unbelievable. It's easily absorbed and honestly, makes the skin feel and look so much healthier and more plump through the day. As ever, the effects only last for the day, but despite that, I am hooked. I'm extra chuffed as Green People are among the natural brands I trust the most. Their products are natural, organic and effective – three things difficult for a beauty brand to achieve (hint: their fake tanning cream is unbelievable).
Buy Green People Line Eraser Lip and Eye Serum £20
READ MORE:
How to get rid of puffy eyes – 2 minute facial massage
9 superfoods your skin needs this spring
9 best beauty products for tired skin
5 summer beauty foods from the A-list makeup artist
Exactly how this 42 year old skin doctor looks so amazing
Like this article? Sign up to our newsletter to get more articles like this delivered straight to your inbox.