Love the taste of beer but hate the taste of regret? We've put together a list of the best low alcohol beers that will have you waking up fresh and fabulous
With party season approaching the dreaded 3am kebab and regret-filled hangover looms. But it doesn't have to. If you love your beer but are laying off the drink or just looking for a beer with an ABV of 3.5 per cent or lower then look no further. We have put together a list of seven of the best low alcohol beers on the market so that you don't have to wake up feeling groggy after a night of socialising and you don't have to compromise on taste.
BEST FOR: Stout-lovers  ADNAM'S SOLE STAR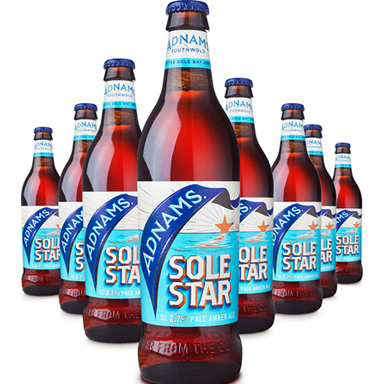 Alcohol content
2.8%
The beer
This beer is low on alcohol content but packed with flavour. It is a pale and amber beer with a light floral and citrus aroma. Chinook and Cascade hops are used in the brewing process to add bitterness to the drink and balance out some of the sweetness. As an added bonus Sole Star is 145 calories per bottle, so you can feel no guilt when you munch down bar snacks with it.
The price
£1.89
The verdict
Our testers LOVED this beer. Our tester Lucy said 'Beer isn't usually my drink of choice but I would definitely drink this one'. Most of the testers thought that the beer would be high in alcohol and it was described as tasting almost like a light Guinness.
BEST FOR: low-calories ERDINGER ALKOHOLFREI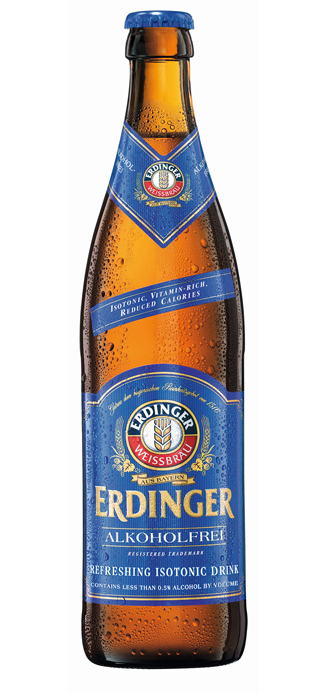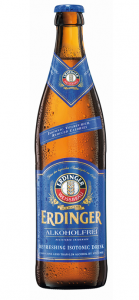 Alcohol content
0.5%
The beer
Erdinger Alkoholfrei is an alcohol free take on a German classic. With 125 calories a bottle it is an option that is a little easier on the waist line than its higher alcohol cousin. Erdinger describes this beer as being for the social athlete. Interestingly this beer is brewed under the German Purity Law for athletes who are conscious of performance but still want to enjoy the taste of beer. This means the beer contains vitamins and micronutrients that help the body replenish immediately after sport. A bottle contains all B group vitamins and high levels of magnesium.
Erdinger describes this beer as being for the social athlete.
The price
£1.69
The verdict
This beer had a great response from our testers. The beer is smooth and fresh and most of the testers were surprised it was alcohol free. Healthista's Colin said that it was a beer he could drink a lot of and it was close to the taste he would look for in an alcoholic beer. A definite thumbs up from the testing team.
MORE: Do you really need to give up gluten?
BEST FOR: Supermalt lovers ST PETERS ALCOHOL FREE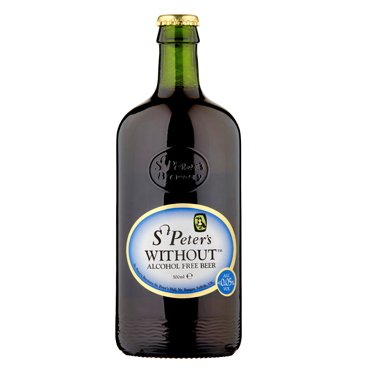 Alcohol content
0.05%
The beer
This beer is a malty beer described by St Peters as totally natural and alcohol free. It's brewed in the same way as alcoholic beer is brewed but contains 0.05% alcohol and 25% fewer calories than its alcoholic counterpart. St Peters also have a range of organic and gluten-free beers.
The price
£1.80
The verdict
This was the biggest Marmite-effect among the testers of our low alcohol beers. Tester Pete said that he was a big fan, but it seemed to be an acquired taste. Healthista's Carly described it as one of the best non alcoholic beers she had tried but wasn't so sure about the smell. Whereas Healthista's editor Anna loved the smell but couldn't stomach the yeasty taste. This is a beer for any Supermalt lovers out there.
BEST FOR: Hoppy flavour ADNAM'S LIGHTHOUSE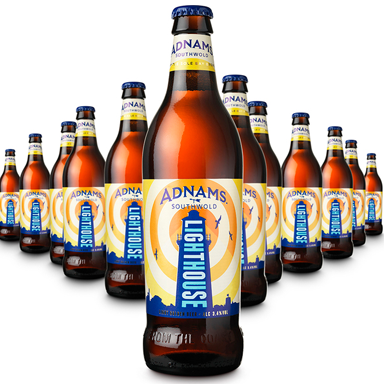 Alcohol content
3.4%
The beer
This beer is light and fragrant with malty flavours and a hoppy finish.The beer is brewed with pale ale and crystal malt leaving it with hints of caramel and toffee. Coming in at 3.4% abv Adnam's lighthouse is by no means the beer with the lowest alcohol content on our list but the malty taste makes it a yummy low alcohol beer that has made it into our top 7.
The price
£2.00
The verdict
This beer went down well with out testers and was described as having a 'trendy taste'. This is a definite low alcohol alternative for those that love a hoppy ale. The only downside to this beer was the aftertaste, which had a mixed review from our testers.
MORE: 5 reasons to try organic wine
BEST FOR: non-beery taste  BELGIAN CHERRY WHEATBEER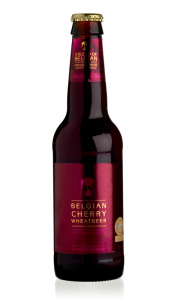 Alcohol content
3.5%
The beer
This is a fruity cherry flavoured wheat beer that is low on alcohol content but big on cherry sweets flavoured taste. It is refreshing and tastes almost like a cider rather than a beer.
The price
£2.29
The verdict 
Our sweet-toothed testers loved this beer. Healthista's Carly's face lit up when she tried the Belgian beverage, 'It tastes like cherry juice! It doesn't taste like a beer' she grinned. The beer has almost a Cherry Sourz quality to it, which made it too sweet for some of our drinkers. For those that love their fruit flavoured drinks but don't want anything too heavy, this is the low-alcohol beer for you.
BEST FOR:  easy-drinking THORNBRIDGE WILD SWAN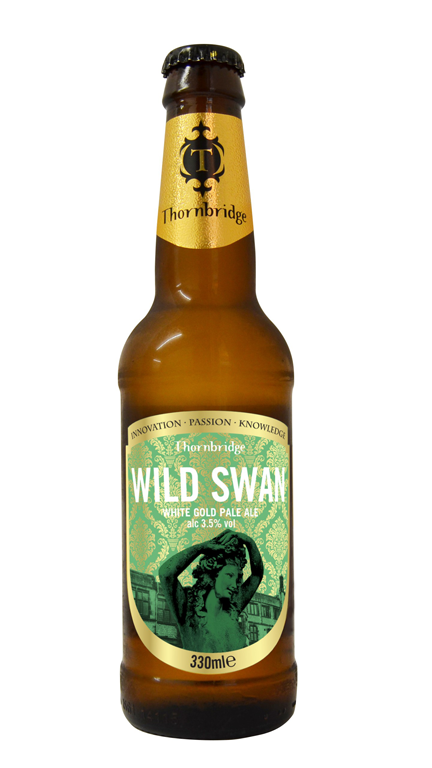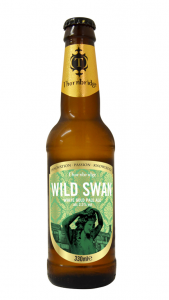 Alcohol content
3.5%
The beer
This beer was crisp and fresh with subtle bitter undertones. Thornbridge describe the beer as having notes of zesty lemon, herbal hoppiness and a little sweet grain. At 3.5% it is strong enough to give you that festive alcoholic taste but light enough to avoid the sore head in the morning.
The price
£2.49
The verdict
This beer was sweet and easy-drinking. It was a favourite of Healthista's Will who described it as 'a nice hoppy drink that would be great to drink when you want to take it slow on a night out'. Some of our testers described the beer almost as fruity in taste, with a grape undertone that made it taste to some almost like a sparkling wine.
MORE: 3 best alcohol free beers
BEST FOR: No alcohol BITBURGER DRIVE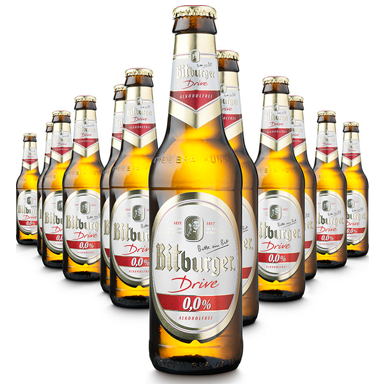 Alcohol content
0.0%
The beer
Bitburger Drive is brewed in Germany in exactly the same way as the full strength Bitburger Pilsner beer. Only when the beer has matured completely, the alcohol is removed using an extremely gentle process unlike other non alcoholic beers that are brewed by stopping the fermenting process.
The price
£1.79
The verdict
Our testers decided that this beer tastes a lot like alcoholic Bitburger. When Healthista's Harry was told this beer was 0% he said 'that is crazy. I would drink this, this tastes like real beer.'  Notes of crude malt and herbal hops come through in the taste and aftertaste has a mild bitterness that makes you feel as though you're drinking alcohol.
MORE: 9 best gluten-free food swaps
MORE: Why Meghan Markle is our hot new girl crush
MORE: 8 signs of alcohol abuse even smart women miss
Like this article? Sign up to our newsletter to get more articles like this delivered straight to your inbox.