Almost a third of Gen Z-ers now don't drink, new figures reveal – which is why we have rounded up the best no alcohol beers we could find
Alongside the recent news that no amount of alcohol is good for you, this news takes England by storm.
The new research, published in the medical journal BMC Public Health and carried out by University College London, revealed that the proportion of 16 to 24-year-olds who do not drink alcohol has increased from 18% in 2005 to 29% in 2015. Just 28% admitted drinking above the recommended limits, compared with 43% a decade earlier in 2005.
Why are more and more people refusing to drink? We think it's all about health. Since the rise of social media in the last decade, knowledge on health is more widely available than it has been in the past.
Fitness and clean eating seem to be in trend in the last few years. For the younger generation, being part of the #healthcommunity is cool, and when there are constant new health challenges and fitness routines coming out, more time and effort is being put into practicing them. Who's got time to drink when it might disrupt your yoga practice?
On top of that, this generation considers itself the more environmentally aware and 'woke' than previous ones.
Being more conscious not only about health but their environments, may also be a contributing factor.
This list of non-alcoholic beers are perfect alternatives for those who want to continue being sober, but want a little treat now and then.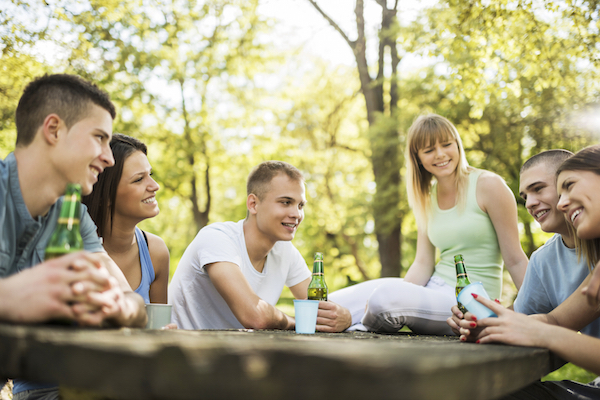 We asked a true beer lover (editor Anna Magee's husband Kevin) to taste test a number of low and no alcohol beers sent to Healthista Towers by the British Beer and Pub Association and found three that got a big thumbs up.  Here's Kevin's taste verdict:
Fosters Radler

Beer drinkers will be familiar with Radler a.k.a. Shandy, typically a 50:50 mix of beer and sparkling lemonade. This drink will satisfy your thirst and is also refreshing during sunny spring days. Kevin described the Foster's Radler as 'pretty lemony' and said 'it tastes like Corona with a lot of lime in it'. This is a lower strength option and contains 2.0 per cent VOL lager. One bottle is made up of 60 percent citrus-flavoured soft drink and 40 percent lager.
Calories per 100ml: 29kcal
Alcohol content: 2.0% VOL
San Miguel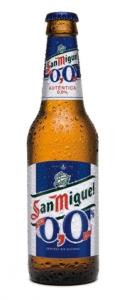 Those of you who enjoy living alcohol-free but miss the taste of beer will be happy to hear that you can enjoy a San Miguel with zero alcohol. You might be a little sceptical when you see alcohol free, the concern is always that it just won't taste like the real thing. Our tester Kevin said that the only difference between the non alcoholic and the standard version of this beer is that the latter will give you a hangover if you have too much of it. 'It actually tastes exactly like the alcoholic version, I loved it' Kevin admitted.
Calories per 100ml: 24kcal
Alcohol content: 0.0% VOL
Beck's Blue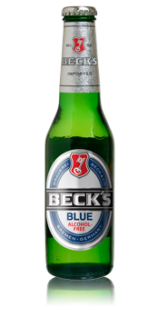 Out of the three beers tested the Beck's Blue has the least amount of calories counting only 14 kcal per 100 millilitres. This is a super light alcoholic drink with 0.05% VOL per 100 ml made from malted barley, hops and yeast. Our tester Kevin said that it is a little bit more bubbly than its alcoholic counterpart and it's slightly less sharp. Definitely worth trying if you are looking for a lower strength german beer.
Calories per 100ml: 14kcal
Alcohol content: 0.05% VOL
More Healthista Content:
5 surprising reasons you aren't losing weight
Run like an athlete – the new London running club showing us how
11 healthiest alcoholic drinks – a nutritionist's guide