If you love the glowing, sunkissed-look of summer, but hate the September sun-damaged skin 'hangover', here's how to fix it, says dedicated sun lover Annabel Meggeson

I don't know about you, but September always spells the end of the honeymoon period for my skin.
It's goodbye you gorgeous heady days of UV-induced collagen boosting and skin tone perfecting; er hello patchy, sun-parched skin that definitely looks older than it did in June. Gulp.
I hardly need to tell you this, but the plumping effect we notice on our skin after sun exposure – the same one that's so gratifying and so addictive – is only temporary.
It's essentially a firefighting process, whereby as the cells succumb to damage from the various strains of UV, collagen is produced, but which ultimately leaves the skin depleted.
And as for that sweet swell of melanin across the epidermis – like all foundation, including nature's own – it wears off eventually, leaving something a lot less grubby looking than when you first 'applied'.
But if you're like me and have enjoying tanning over the summer, what can you do now to mitigate the damage?
Sun-damaged skin fix #1 Switch up your toner
I always know it's September as my skin gets that dry papery feel that no amount of moisturiser can mitigate.
The key here is up the exfoliation. That way you hasten the departure of dead skin cells and other invisible gunk, which in turn helps your moisturiser go deeper.
That's basically what your skin needs when it's on a come-down from summer- moisture. Or collagen. But moisture's easier to come by.
The easiest thing is to use an acid toner every day after cleansing. An acid toner contains skin-friendly acids like AHAs, which help smooth and refine skin; Pixi's Glow Tonic, £18 and Jane Scrivner's Skinfoliate, £26 are classics.

If you already use an acid toner, switch it up to a peel pad. I've just started using Skinbetter Science's AlphaRet Exfoliating Peel Pads (£89 for 30), which contain a tinglesome dose of lactic, glycolic and salicylic acids, and instead of the recommended three to four times a week, I'm swiping one on every day.
Sun-damaged skin fix #2 – Give skin a botanical boost
Once I've primed my skin for moisture using an acid toner or exfoliator, I jump in straight away with a face oil, as they're the best thing for unadulterated hydration.
In my experience, the ones with a high percentage of essential oils are the most compatible with skin, making them especially useful when skin's depleted as well as dry.

I always vouch for Vanderohe No 1, from £33, but you could look for anything with geranium, roman chamomile, jasmine, lavender, and/or rose essential oils.
They can be expensive, but invest once and as soon as your skin's over the hill, switch back to less complex facial oils, of which there are many good ones.
Products to look out for: Jane Scrivner Skin Elixir £29, Botanico Vida Omega Oil, £18.50, and A'Kin Organic Rosehip Oil, £28 all spring to mind.)
Sun-damaged skin fix #3 – Carry around an eye cream
Moisture top-ups should be on your agenda if you're suffering September skin. This is where eye creams come in. They're light enough to pat onto your face during the day, without feeling heavy or disturbing make-up, and small enough to carry around.

Vichy's Liftactiv Eyes £27, is my current go-to, loved for the texture and the ingredients. Dispense a small amount onto your finger and pat it around your eyes and down either side of your mouth, whenever the mood takes.
Finish with a hydrating spritz of Caudalie's Beauty Elixir, £32 – it contains some of the essential oils skin loves so much at this time of year and comes in a tote-able 30ml.
Sun-damaged skin fix #4 – Invest in a gadget
I'm not a great one for gadgets, but this year I'm in such a panic about my September skin that I finally tore into BeGlow's device, which has been sitting in its box for months.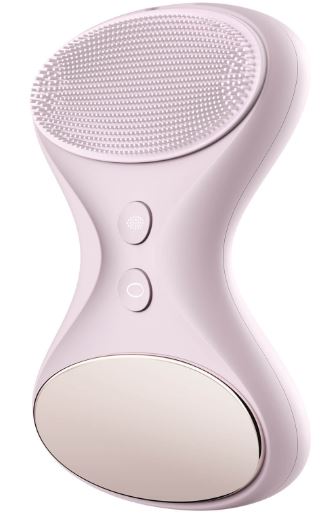 The BeGlow Tia £199, is one of those sonic cleansing gadgets that are competing with cleansing brushes (and if my habits are anything to go by, flannels) for a share of the £1M cleansing market, but its also got this brilliant anti-aging titanium applicator, which stimulates the circulation and muscles in your face.
I use the gently vibrating silicone brush head to give my face an extra deep cleanse. Like exfoliation, this is great for getting rid of gunk, so skin is at its most receptive to skincare. Then massage your face with the titanium end till the skin feels tingly and warm.
It has the kick-start/plumping effect of a day in the sunshine, minus the UV.
Sun-damaged skin fix #5 – Get out the big guns
If you've got the funds, Prohfilo is an excellent treatment that hydrates and plumps skin by flooding it with moisture from the inside out. It costs about £500 at Medicetics.
A series of about ten injections (then another batch of about ten a few weeks later), delivers hyaluronic acid directly into the epidermis.
The hyaluronic acid gets busy holding onto lots of water and stimulating collagen, making the skin look bouncier and more radiant as a result.
It's one of those treatments that's hard to evaluate, but I always notice (and panic) when it wears off. Judging by Prohfilo's popularity and the number of repeat visits reported in clinics, lots of other women do too.
Colleagues of mine also swear by mesotherapy as a boost for dull skin. Known as skin-prick rejuvenation, it fires lots of skin-supporting ingredients, like vitamins, minerals and amino acids, into skin using tiny needles.
Sun-damaged skin fix #6  – Block out time for a facial
Caring for skin is like caring for plants. You can get away with a plain old watering but pay them a bit more attention – a drop of Baby bio here, a leaf polish or change of position there – and they look so much better for it.
For your skin, something as simple as a mask followed by massage will make a difference, or if you're feeling flush, book a facial.
I'm always impressed by Tine Hagelquist's signature facials (available at drsebagh.com), or try 55 minutes of Facialology (£120) at Vaishaly Patel's clinic in Marylebone. It combines her ever popular Signature Facial with reflexology for the ultimate autumn treat.
Sun-damaged skin fix #7 – Keep tanning drops on standby

I'm resigned to the fact no off-the-shelf serum will see off the big patch of pigmentation next to my nose, or even the smaller ones scattered around my cheeks.
As they emerge from the veil of bronze that is wearing off by the day- grubbier-looking than ever thanks to months of wanton sun exposure – the easiest thing is to disguise them.
Step 1: apply Balance Me Gradual Tanning Drops, £30 a couple of times a week (just mix a couple of drops into the Balance Me Vitamin C Serum for subtle even-ing out and glow); Step 2: use a light sweep of bronzer to further the illusion of fresh, even-toned skin.
See you in two weeks!
Relevant Healthista Content:
5 best anti-ageing face massages for glowing skin
Make-up tutorial – 4 steps to beautiful natural make-up
Healthista Content You May Also Like:
The Botox and fillers user's guide – how to not look fake or 'done'
From dry eyes to itchy skin – 5 signs you need omega 7
Got puffy eyes? Hair loss? These 7 vitamin deficiency signs could be ruining your looks
'The new anti-ageing beauty jab that transformed my tired skin'
Like this article? Sign up to our newsletter to get more articles like this delivered straight to your inbox.