For Coeliac Awareness Week, we find six delicious gluten-free recipes from Gluten Free, Naturally by Caroline Byron. From matcha chocolate mousse to courgette muffins, Caroline has your gluten-free menu covered 
Coeliac disease is a lifelong autoimmune disease caused by a reaction to gluten. When gluten is consumed, the body's immune system attacks its own tissues. Gluten is a protein that can be found in wheat, barley and rye. So, that includes pasta, beer, bread, cereal, ice cream, pastries, cookies and cake – the list is endless, and it's full of all our favourite foods. No fair.
This disease is fairly common and affects one in 100 people. Coeliac disease can be treated by following a gluten-free diet for life. You may be thinking that following a gluten-free diet for life sounds impossible, but once you have stocked up on some gluten-free essentials and found some scrumptious recipes, you wont be able to tell the difference between a normal cake and a gluten-free one.
Speaking of scrumptious gluten-free recipes, here are a select few from Caroline Byron's brilliant book, Gluten Free, Naturally.
Gluten-free recipe #1: Leek and asparagus quiche
This dish always reminds me of big family holiday brunches. When I first made it for my friends in the UK, they thought I was making them lunch in the morning and wondered what on earth this crazy American was doing to them.
These days, I am pleased to say that the art of the New York brunch has become more common in Britain. The idea of serving asparagus and leek for breakfast no longer raises quite as many eyebrows as it once did. But whether you have this for brunch or for lunch, it's delicious either way.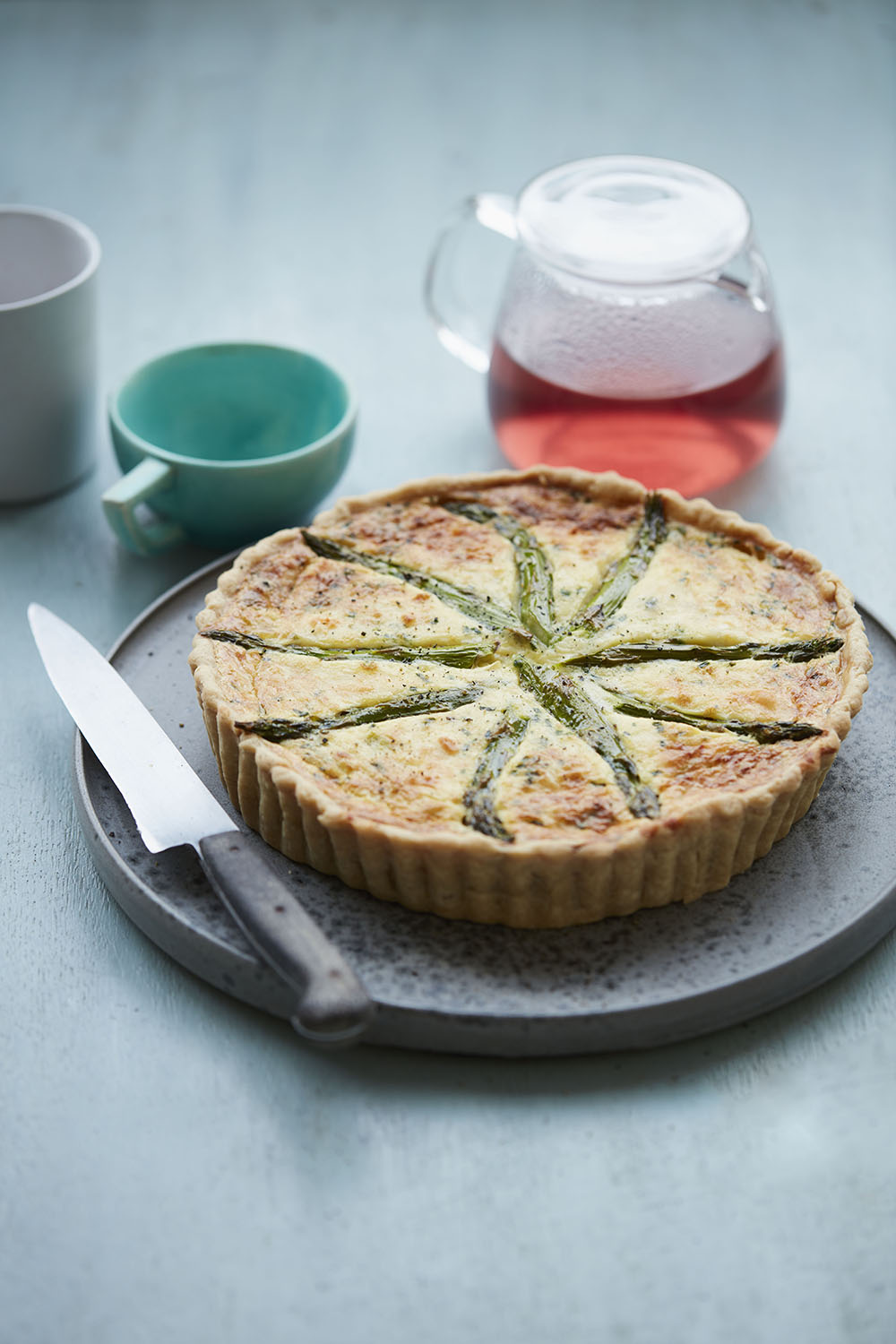 Serves 8
Ingredients
For the pastry:
80g sweet rice flour/glutinous rice flour
25g cornflour
30g millet flour
25g oat flour
¼ teaspoon sea salt
½ teaspoon xanthan gum
80g cold unsalted butter, cut into pieces
3 tablespoons iced water
For the filling:
2 leeks, chopped
3 spring onions, chopped
olive oil, for frying
25g oat flour
40g sweet rice flour
4 large free-range eggs
300ml full-fat milk
2 tablespoons chopped chives
170g strong cheese (half Gruyère and half goat's cheese would be perfect)
a pinch of nutmeg
200g asparagus spears
How to make leek and asparagus quiche:
Preheat the oven to 175°C/gas mark 4.
To make the pastry, combine the dry ingredients in a large bowl.
Add the butter and rub in until you have a sandy texture.
Add in the iced water slowly and mix by hand until the dough begins to come together into a ball.
Flatten the dough into a 15cm round, cover in clingfilm and chill in the fridge for 30 minutes.
Roll out the dough on a gluten-free floured surface and gently lift into a 23cm tart tin.
Trim the edges, then place a disc of greaseproof paper on top and fill with baking beans.
Bake blind for 10 minutes, remove the beans and cook for a further 10 minutes. Remove from the oven and set aside.
To make the filling, sauté the leeks and spring onions in olive oil over a medium heat for 10 minutes, until soft but not colouring. Set aside.
Place the flours in a bowl and make a well in centre. Whisk the eggs and milk together and gradually whisk into the flours to make a smooth mixture.
Add the leeks and onions, chives and cheese to the egg and flour mix (leaving the goat's cheese in clumps). Add the nutmeg.
Place the tart tin on a baking tray and pour the mixture into the pastry case. Arrange the asparagus in a circle on top, radiating from the centre.
Bake for 40–50 minutes, or until set and golden brown.
Serve with a dressed rocket and radicchio salad, if liked.
Gluten-free recipe #2: Filling courgette bread muffins
The courgette in these muffins makes them oh-so moist. They can be eaten pretty much any time of the day, but are especially perfect for an indulgent weekend brunch treat. Store them in an airtight container and they will last for a few days.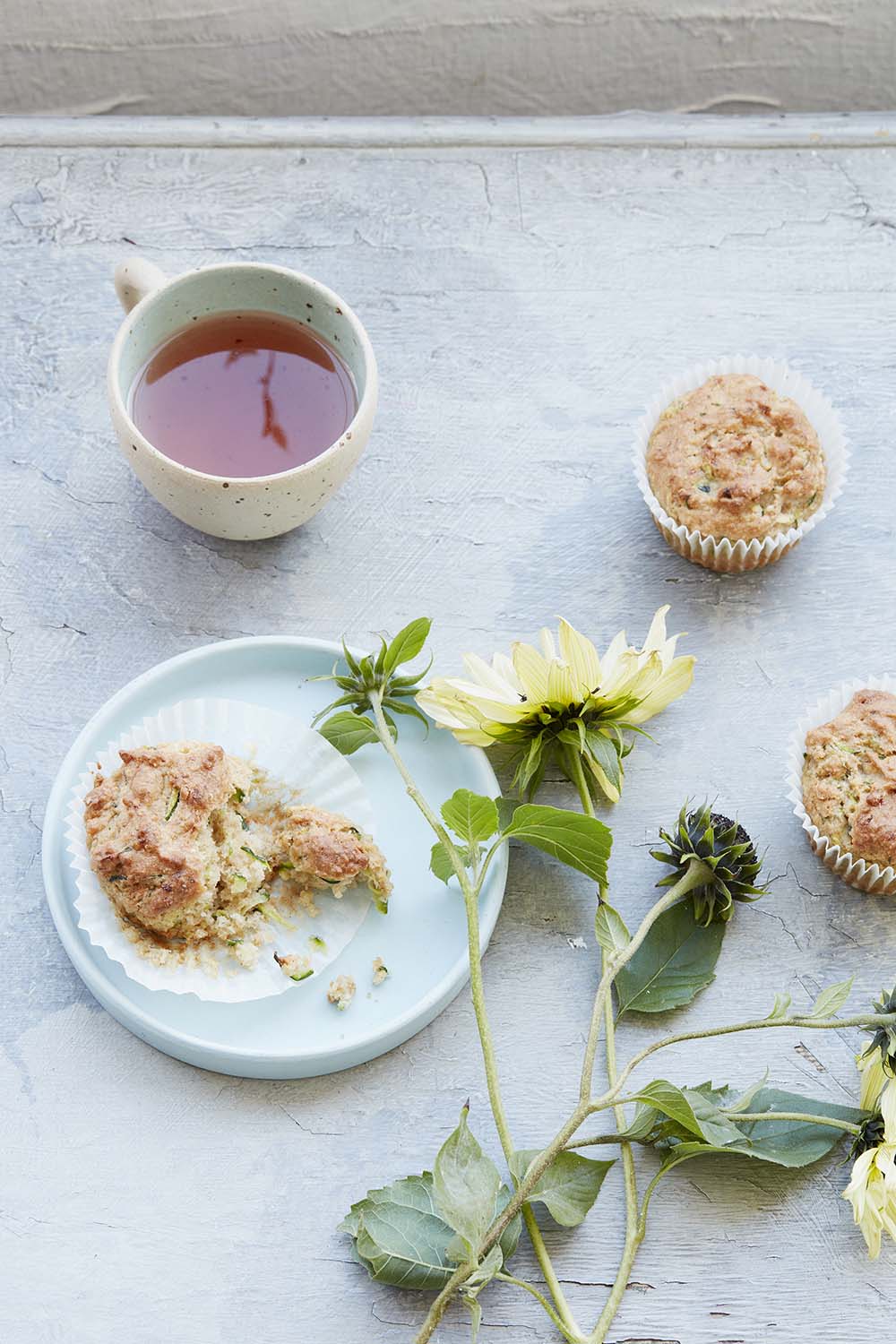 Makes 9
Ingredients
60g ground almonds
45g quinoa flakes
65g sorghum flour
25g tapioca starch
2 teaspoons gluten-free baking powder
¾ teaspoon xanthan gum
¾ teaspoon sea salt
½ teaspoon ground cinnamon
150g maple syrup
50g coconut oil, melted
2 free-range eggs
1 teaspoon vanilla extract
1 courgette, grated
How to make filling courgette bread muffins:
Preheat the oven to 180°C. Line 9 muffin cups with muffin cases or greaseproof paper.
Mix the dry ingredients together in a bowl.
Whisk the syrup, coconut oil, eggs and vanilla extract in a separate bowl and then slowly add to the dry ingredients and mix in.
Squeeze any excess water from the courgette and add to the mixture. Mix to combine, then spoon the mixture to fill the muffin cases three-quarters full.
Bake for 20–25 minutes until golden brown and firm to the touch.
These can be stored for up to 3 days in an airtight container.
TIP: It's a good idea to remove as much liquid from the courgette as possible. Once grated, really squeeze the courgette and drain off any liquid.
Gluten-free recipe #3: Super green falafel
The origin of the word falafel means 'little balls', and there is a reason that these little deep fried balls are so popular throughout the Middle East. I love to freshen up the density of the traditional falafel with herbs. I use fresh, but you can used dried herbs as well. I prefer to use dried chickpeas, which I soak in boiled water with bicarbonate of soda. If you want to use canned chickpeas instead, use 2 x 400g cans and add 2 tablespoons chickpea flour – this mops up any extra moisture and avoids the falafel getting too wet.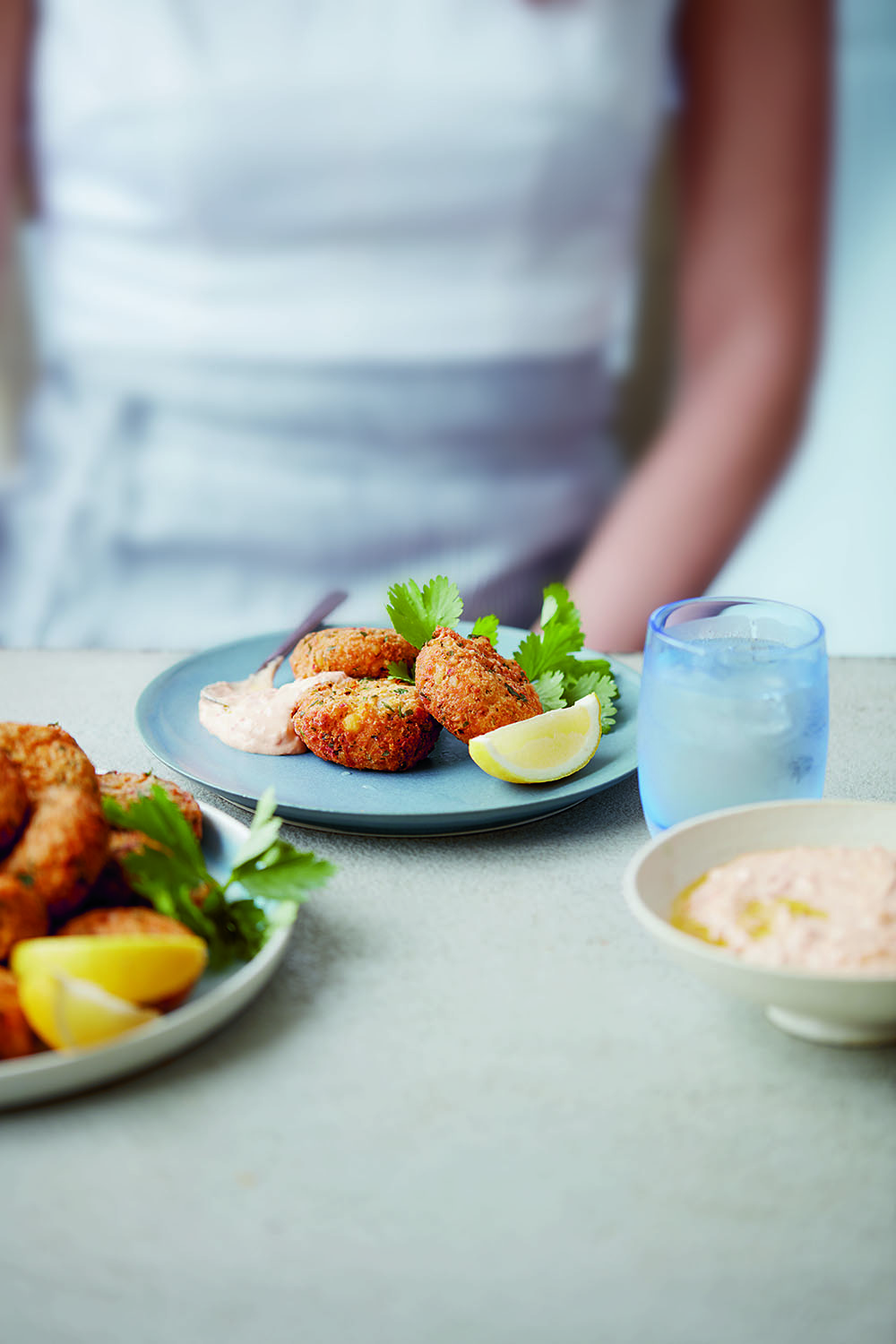 Makes 20
Ingredients:
350g dried chickpeas, rinsed
½ teaspoon bicarbonate of soda
1 large red or yellow onion, finely sliced
3 garlic cloves, chopped
3 teaspoons coriander seeds, crushed
2 teaspoons sea salt
1 teaspoon ground cumin
½ teaspoon freshly ground black pepper
2 teaspoons gluten-free baking powder
4 tablespoons buckwheat flour or chickpea flour
1–2 tablespoons harissa paste
3 tablespoons chopped coriander
3 tablespoons chopped flat-leaf parsley
vegetable oil, for frying
For the tahini sauce:
1 small garlic clove, grated
2 tablespoons lemon juice
60ml ice-cold water
1 large roasted red pepper
1 teaspoon sea salt
¼ teaspoon caster sugar
1½ teaspoons sweet paprika
125g tahini
How to make super green falafel:
Place the chickpeas and bicarbonate of soda in a saucepan and add enough cold water to cover them by at least 5cm.
Bring to the boil over a high heat and boil for 2 minutes, then remove from the heat, cover and leave to soak for 1 hour. Drain.
For the tahini sauce, combine the garlic, lemon juice and water in a food-processor and purée until the mixture is nice and frothy.
Add the roasted red pepper (buy these ready roasted or grill over a hot heat for a few minutes until the skin burns, remove and when slightly cooler remove the scorched skin), salt, sugar and sweet paprika; purée until smooth and then gradually add in the tahini to create a creamy sauce. Set aside.
For the falafels, combine the onion and garlic in a food-processor and pulse until finely ground.
Add the soaked chickpeas and coriander seeds and pulse until the chickpeas are just broken down.
Add the salt, cumin, pepper, baking powder and flour and pulse until the mixture is finely chopped (Make sure not to purée into hummus!)
If the mixture is a little too wet, simply drain off any excess liquid.
Transfer half the falafel mixture to a separate mixing bowl.
Add the harissa to the bowl (to taste), working it in until it evenly colours the mixture.
Add the coriander and parsley to the remaining falafel mixture in the food-processor and pulse until the herbs are finely chopped.
Roll both mixtures into balls (about 4cm in diameter).
Heat a couple of inches of oil in a large frying pan over a medium heat. Add 6–8 falafel balls at a time to the hot oil (this can be a mixture of the green and red) and cook for about 1½ minutes or until they are golden brown and cooked through.
Remove with a slotted spoon and transfer to kitchen paper to drain off any excess oil.
Repeat until all the falafel balls are cooked.
Serve warm or at room temperature, with the sauce for dipping.
Gluten-free recipe #4: Salmon wellington
This is a showstopper of a dish. There is something satisfying about making your own pastry from scratch, but if you don't have the time, then shop-bought is fine too. You can also use skinless salmon fillets and make individual parcels.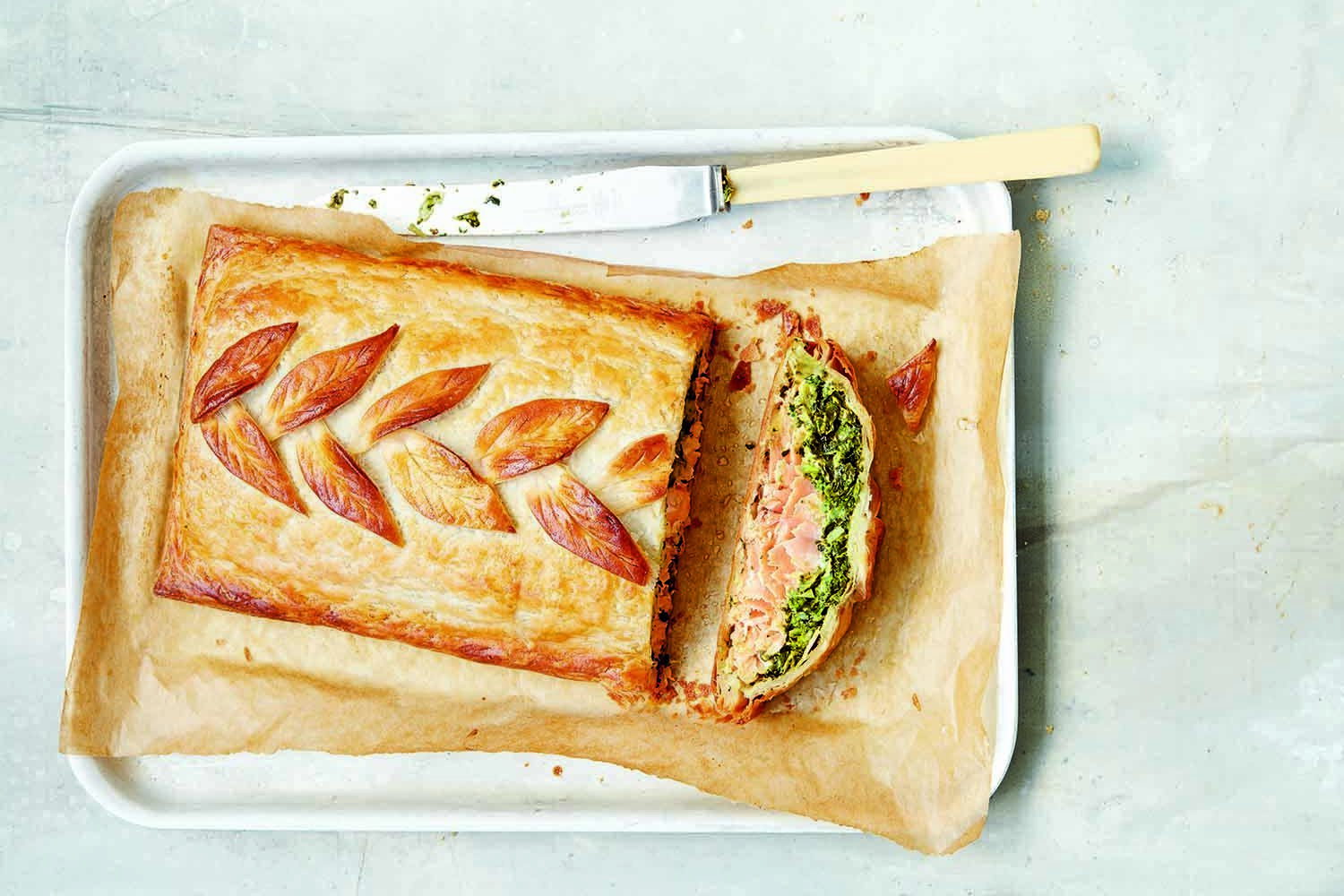 Serves 6
Ingredients
2 shallots, finely chopped
3 tablespoons butter
3 leeks, finely chopped
1 garlic clove, minced
60ml dry white wine
juice and zest of 1 lemon
1kg frozen spinach, thawed
15g watercress
80ml double cream
3 tablespoons chopped parsley
1½ tablespoons chopped tarragon
1½ tablespoons chopped dill
2 tablespoons chopped chives
1 side of salmon, skinless
1 block of gluten-free Puff Pastry (see page 183), or 2 sheets shop-bought
2 free-range eggs, beaten
sea salt and freshly ground black pepper
How to make salmon wellighton:
Preheat the oven to 200°C/gas mark 6.
First, prepare the topping. In a heavy-based frying pan, sauté the shallots in the butter over a medium heat.
Add the leeks and sauté to soften. Add the garlic and soften for a further minute.
Deglaze the pan with the white wine, lemon juice and lemon zest.
Add the spinach and wilt. Add the watercress and wilt, then add the cream and stir over a low heat.
Add the fresh herbs, then remove from the heat and leave to cool, discarding any excess liquid.
If you're using shop-bought sheets, roll one out now.
Place the salmon, flat-side down, on the pastry. Make sure there is a border (about 1.25cm) around the whole salmon, so you can seal it.
Season the salmon with salt and pepper then cover with the spinach and watercress mixture, coating the fish evenly.
Remove the second piece of puff pastry from the fridge and roll it out bigger than the first piece, so that it will cover the salmon completely.
Brush the edges of the bottom piece of pastry with beaten egg, then lay the other piece on top. Fold it over to make a parcel, entirely enclosing the salmon.
Mould the pastry around the fish with your hands, then press the edges with a fork to seal, cutting off any excess pastry. (You can use up any spare pastry pieces by making them into shapes to decorate the top of your Wellington, using some of the egg wash to attach them.)
Chill the pastry-wrapped salmon in the fridge to make sure that the pastry is nice and cold before cooking.
Make 4–5 scores across the top of the pastry parcel, to allow any steam to escape and brush all over with the beaten egg.
Cook in the centre of the oven for 25 minutes, until golden brown and crisp. (The time may vary, depending on the thickness of the salmon.) Serve.
Gluten-free recipe #5: Gooey cauliflower parmigiana
One of my top restaurants is Senza Gluten in NYC. It's 100 per cent gluten free. If you are ever in town, you have to stop by – and always go with an empty stomach! This is my version of their amazing Parmigiana – it's one of my all-time favourites, so I hope I have done it justice.
For breadcrumbs I tend to use Ian's in the US, but I always pick up great gluten-free breadcrumbs at Whole Foods in the UK too. And you can buy them on the internet.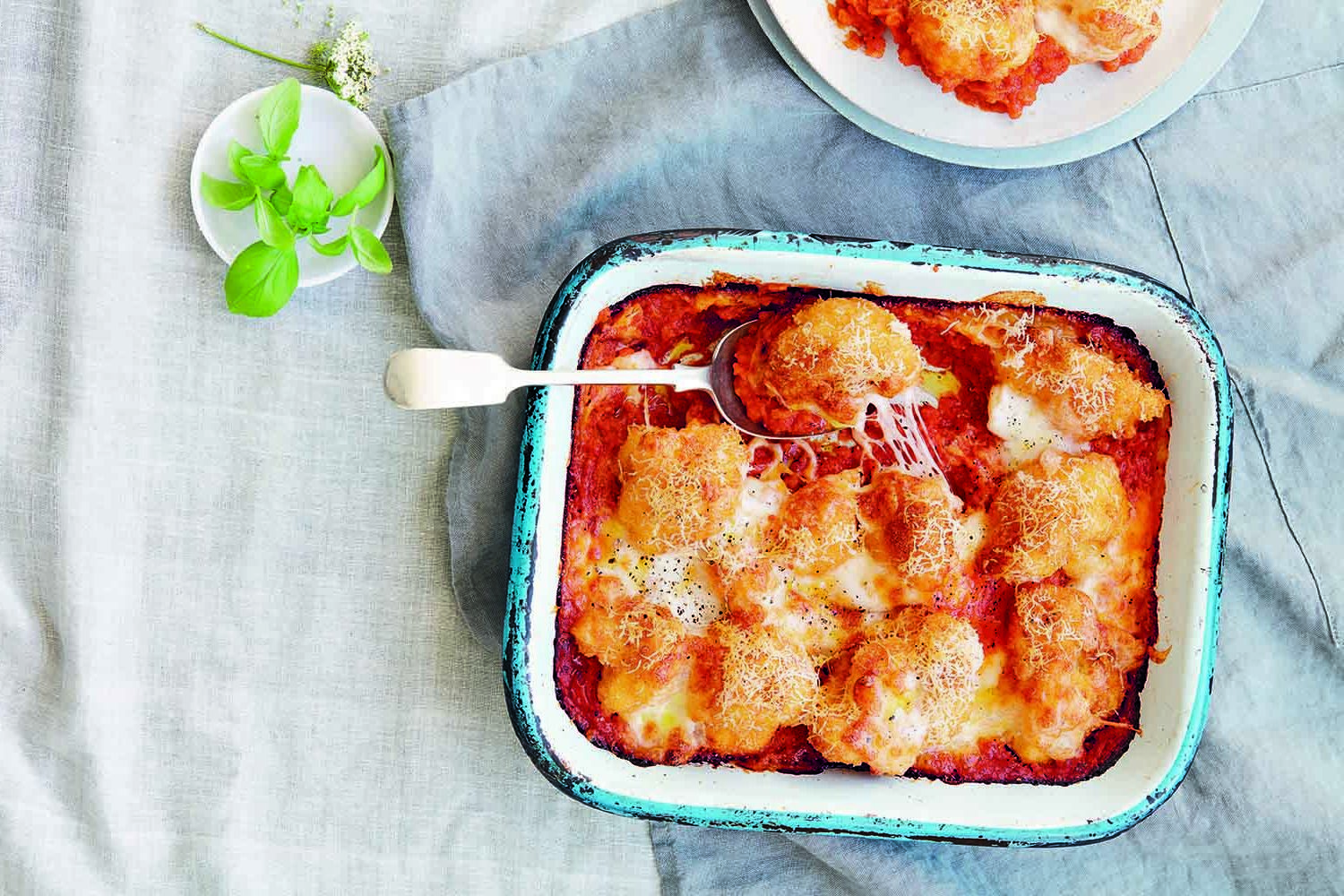 Serves 4
Ingredients
For the tomato purée:
2 onions, diced
2 tablespoons olive oil
1 garlic clove, finely chopped
2 x 400g cans whole Italian tomatoes
½ teaspoon sea salt
½ teaspoon granulated sugar
25g unsalted butter, cubed
For the parmigiana:
1 large cauliflower, divided into large florets
60g gluten-free plain flour
2 free-range eggs, beaten
90g gluten-free breadcrumbs
1–2 tablespoons olive oil, plus extra for drizzling
60g Parmesan, grated
250g mozzarella, torn into chunks, leaving several pieces sliced, for topping
How to make gooey cauliflower parmigiana:
First make the tomato purée. In a heavy-based saucepan, over a medium heat, sauté the onions in the olive oil, until soft, then add the garlic and soften.
Add the tomatoes, bring to the boil, then simmer and reduce down. This will take about 45–60 minutes and the mixture will darken in colour and reduce by about a quarter.
Add the salt, sugar and butter, then set aside to cool.
Transfer to a food-processor or Vitamix and blitz to a purée.
Next, make the Parmigiana. Preheat the oven to 180°C/gas mark 4.
Place the cauliflower florets in boiling salted water and parboil for 5 minutes.
Remove and plunge immediately into a bowl of iced water. Dry off the florets.
Coat the florets in the gluten-free flour. Then coat in the egg wash and, finally, roll in the breadcrumbs.
Gently fry the coated cauliflower florets in olive oil over a medium heat for 3–4 minutes until very lightly browned. Set aside.
Pour a layer of tomato purée into the bottom of a large round casserole (about 22cm wide x 8cm deep), then sprinkle some Parmesan over the top.
Cover with a layer of cauliflower and then scatter with torn pieces of mozzarella. Repeat.
For the top layer, use the remaining tomato purée, then sprinkle the remaining Parmesan and finish with mozzarella. Drizzle with olive oil.
Bake for 25–30 minutes, until golden and bubbling. Serve.
Gluten-free recipe #6: Must-have matcha chocolate mousse
Two of my favourite things in the world – matcha tea and chocolate – in one dish. Heaven!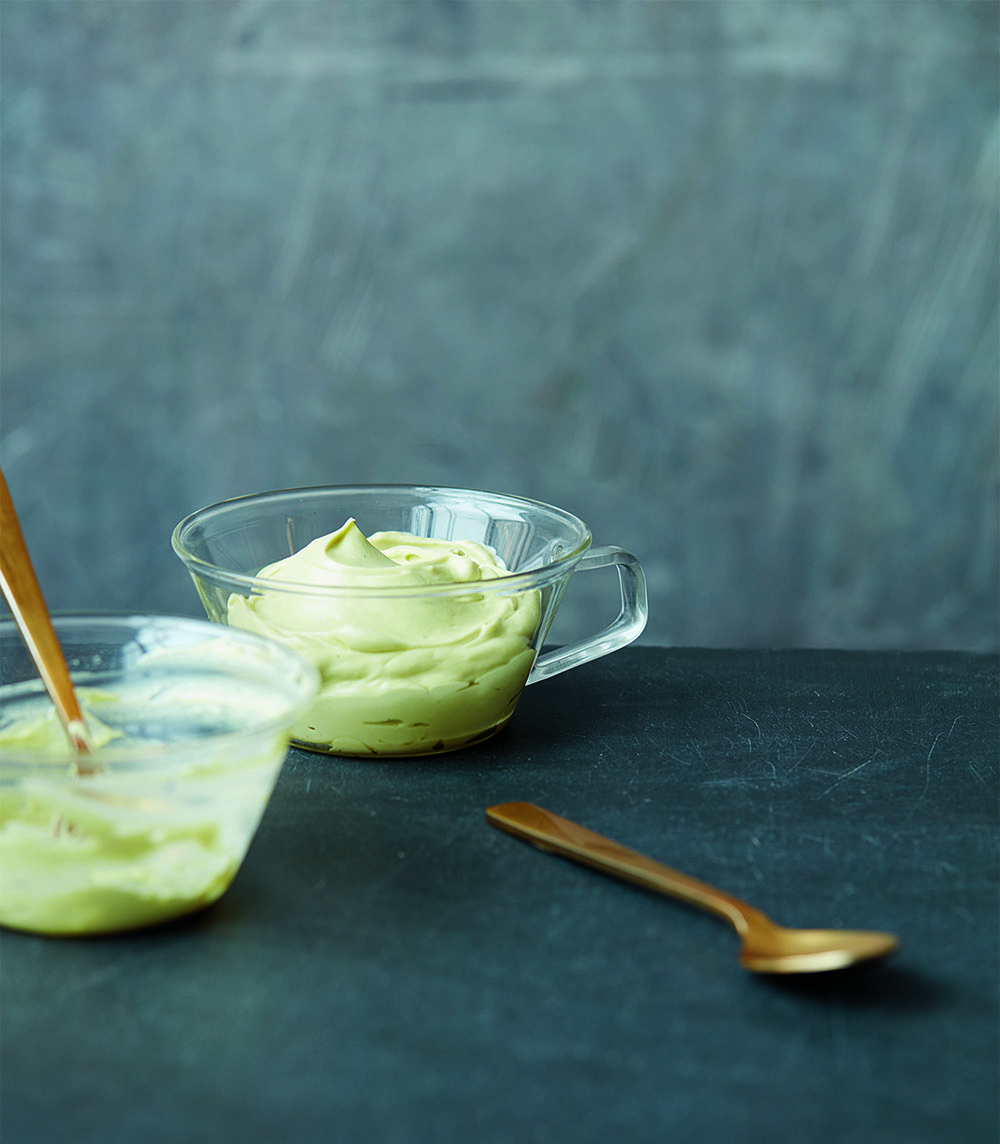 Serves 4
Ingredeints:
1 teaspoon matcha powder (the best quality you can find – I like Lalani & Co)
235ml double cream
100g gluten-free white chocolate
1 vanilla pod
How to make must-have matcha chocolate mousse:
Place a heatproof bowl over a pan of boiling water.
Sift in the matcha powder and then slowly whisk in (with a traditional matcha whisk, if you have one) half the cream.
Add the chocolate and melt, whisking to avoid any lumps.
Remove from the heat and leave to cool.
Halve the vanilla pod lengthways and scrape the seeds into the chocolate mixture.
Add the remaining cream and whisk with an electric hand whisk for 2–3 minutes, until the mousse is just holding its shape – take care not to over-whisk.
Divide the mixture between 4 x 100ml ramekins or glasses.
Chill in the fridge for at least an hour before serving.
Ingredient note
A Japanese staple, matcha has been the hot trend for the past year or two and gives a real sense of calm. Usually taken as a tea, the powder can also be used in cooking. There are different qualities and varieties for this. It has a fantastic bright green colour, which works not only for desserts and ice creams, but also for matcha lattes and sweets.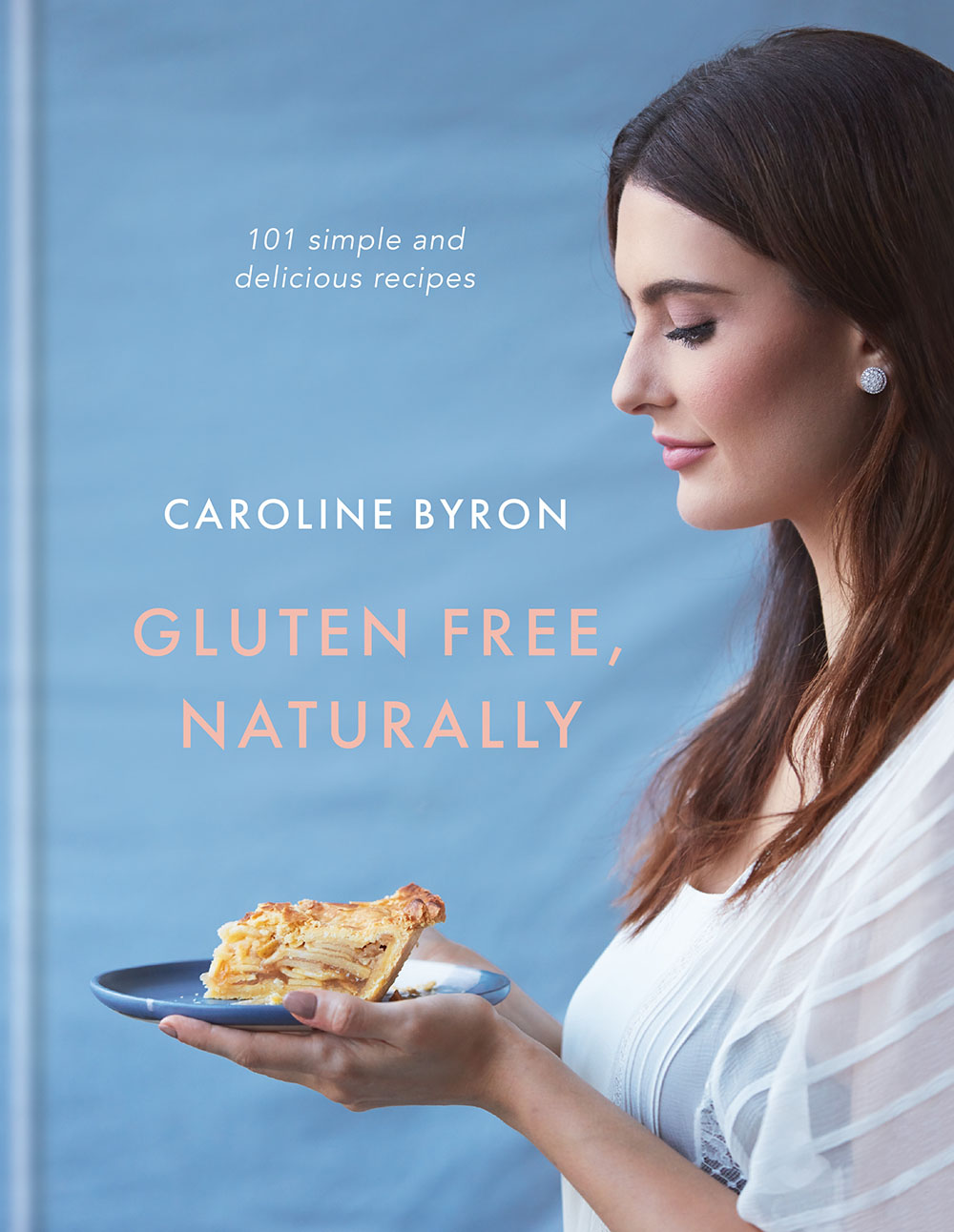 Gluten Free, Naturally by Caroline Byron, is published by Kyle Books for £18.99 octopusbooks.co.uk, and also available to buy on Amazon.
Images by, Clare Winfield.
More Healthista content:
8 signs you have coeliac disease that might surprise you
5 quick and easy low-carb recipes you will LOVE