Cutting down on sugar is always going to benefit your health.  But if your sweet tooth won't allow it, there may be an alternative, say experts
If you're a fan of sweet things, new research suggests looking for lower sugar options may be easier than you might expect.
A new study by Action on Sugar at Queen Mary University of London looked at a wide variety of sweet things including cakes and biscuits and discovered that a staggering 97 percent of cakes and 74 percent of biscuits received a 'red' (high) label for sugar. That means they each contained over 22.5 grams of sugar per 100 grams – over two thirds of our guideline intake for an entire day, which is 30 grams.
In the research, published in BMJ Open last month, the average sugar content in cakes was 37 grams per 100 grams, over six grams more than our daily allowance.
On average, Battenberg cakes (56.4g/100g) contained the highest amounts of sugar, followed by Genoa (45.9g/100 g) and red velvet cakes (44.2g/100g).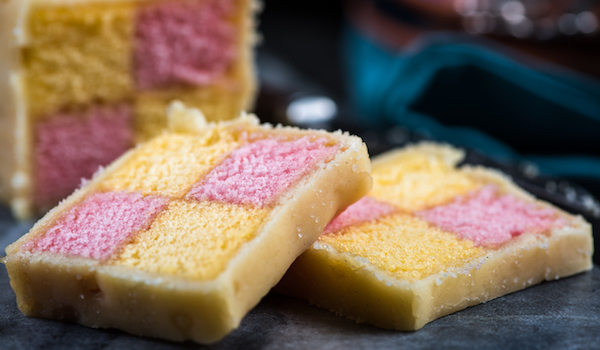 What's more, while in 2016, the government's sugar-reduction program asked food and drink companies to reduce sugar in their products by 20 percent by 2020, experts are now concerned that this hasn't been happening.
So far so depressing. The message? Don't eat cake.
But it's not that easy. We evolved to enjoy the taste of sweet things. In fact, genetic mutations that caused some of our ancient ancestors to crave sugary foods, and to be able to convert the sugar to body fat for future use, ultimately caused them to flourish.
While early primates evolved to crave fruits, that was the only form of sugar available to them.
Now things are different because sugar is everywhere – not only in cakes, biscuits and chocolates but also hiding in plain sight in yoghurts, pasta sauces and condiments.
So how can we have our cake and eat it – that is, our taste for sugary treats – without the consequences of eating too much sugar such as weight gain, an increased risk of type 2 diabetes and more cavities in our teeth.
Sugar is everywhere – not only in cakes, biscuits and chocolates but also hiding in plain sight in yoghurts, pasta sauces and condiments
As the government cracks down even further on sugar, with controls on advertising sugary foods before the 9 pm watershed being considered, experts are now suggesting that perhaps one realistic alternative is to replace our sugar with sweeteners in order to get our intakes down.
But what difference would it make and more importantly, is it safe?
How much sugar should we be eating anyway?
'In the UK, we have the strictest sugar targets in the world which is that just five per cent of our daily calories should come from sugar,' says GP, Dr Gill Jenkins.
'This is because excessive sugar consumption has been related to weight gain, higher risk of type 2 diabetes and dental decay in children.'
The maximum in the UK is 30 grams daily which is about 6-7 teaspoons a day which includes not only sugar you add at the table but also hidden sugars already in the foods we eat, he explains.
That maximum is even lower for children under 11, who should only be having 4-5 teaspoons of sugar daily.
The maximum daily sugar intake in the UK is 30 grams, which is about 6-7 teaspoons a day
'You could exceed that in a typical breakfast,' she exclaims.
'In fact, a bowl of bran flakes, a low-fat yoghurt and a small glass of orange juice exceeds the five per cent sugar target, making it extremely difficult for people to achieve.
'In the UK we've got six out of ten adults who are overweight or obese and that number hasn't shifted for years,' says Dr Jenkins.
'It's up to us as consumers to take responsibility for our own sugar intakes because there is still too much sugar in the everyday food choices we're making.'
How much sugar ARE we eating in reality?
According to the latest National Diet and Nutrition Survey, UK adults, children 4-10 and older people eat about double the recommended daily intake of sugar, so about 60 grams.
If you think that's bad, teenagers are chomping down three times as much sugar as they should be having, the data suggests.
If we could get some of these intakes down, we could potentially not only reduce our obesity problems, but also avoid some 170 operations a day done on children to extract decayed teeth, not to mention a reduction in type 2 diabetes risk.
As for where all this sugar is coming from, the survey – which is the largest of its kind in the UK – suggests most of it is coming from adding sugar to hot drinks, from sugary drinks, from the sugar we add to our baking and from the sugary snacks we buy when we're out and about, Dr Jenkins asserts.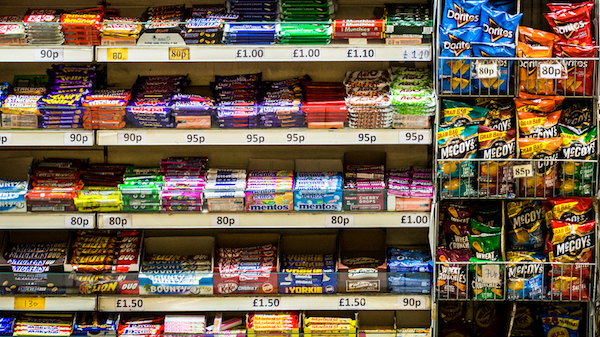 How can we eat less sugar?
To help get our intakes down, Dr Jenkins recommends the teaspoon challenge. 'In general, men should be cutting about eleven teaspoons of sugar from their diets while women should cut out about six and children should cut 12-13 teaspoons of sugar from their diets.'
That sounds simple in theory, but when you think about all the hidden sugars in our everyday foods and the fact that so many of us add sugar to tea and coffee out of habit, it may be easier said than done.
Can using sweeteners help weight loss?
If weight loss is your goal, it seems so. According to new research published in the nutrition journal Complete Nutrition scientists looked at a group of randomized controlled trials on sweeteners and concluded that by encouraging us to eat fewer calories from sugary foods and drinks, sweeteners have a role to play in weight regulation.
The paper also looked closely at the idea that sweeteners, by exposing us to sugary tastes, could increase our desire for sweetness, thus literally feeding a sweet tooth.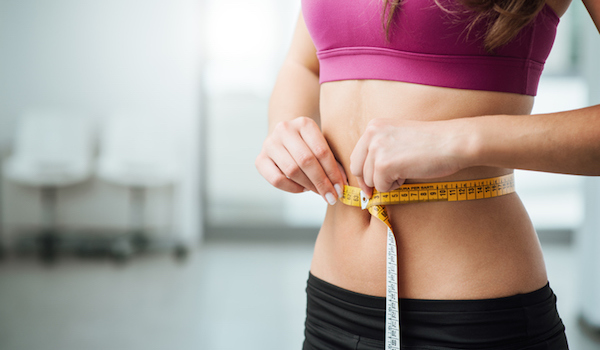 Researchers then compared all the studies where people were given drinks containing low calorie sweeteners compared to water.
'What they found was in the water group they craved more sweet things, sneaking in chocolate or cake later in the day, while those in a sweetener-derived drinks groups had less,' says Dr Emma Derbyshire, a leading public health nutritionist.
'What that study showed was that if you have some sweetness, you feel satisfied so it appears that you're less likely to crave it from other sources,' says Dr Derbyshire.
Indeed, one study which was a systematic review of 16 trials looking at the effects of low calorie sweeteners on weight found that replacing sugar with them in your diet could reduce calorie intake by ten percent, a tiny move that could potentially result in a saving of 28,000 calories and weight loss of 22 pounds a year.
How about tooth decay?
Can switching to low calorie sweeteners help reduce our own and our children's risks of cavities?
'Sweeteners can have a major impact on dental health by removing one of the causes of tooth decay, fermentable carbohydrates which promote bacterial activity and acid production in the mouth which can lead to decay,' says Dr Derbyshire.
'Sweeteners work because they can't be broken down by oral bacteria, so no acid is produced, and that means they may even help protect dental health' she explains.  
Could using sweeteners help if you're diabetic?
'It's possible to enjoy sweet foods and not have a problem with your diabetes,' says Dr Jenkins.
There are currently 3.7 million people living in the UK with Type-2 diabetes and some 12 million who are yet to be diagnosed and are at high risk of developing the disease, Dr Gill Jenkins asserts.
There are two types of diabetes, type 1 diabetes in which patients are dependent upon insulin to process glucose from food, and Type 2 in which they may not need insulin but they still experience high blood sugar because their pancreas can't produce insulin properly.
About 90 per cent of people living with Type 2 diabetes are overweight or obese.
Researchers found that those having a dose of sweetener at the start of the day, for example on their cereal instead of sugar,  experienced blood sugar levels that continued to fall through the day
'In those with Type 2 diabetes, diet, weight and the sugar content in their diets are all major factors that can increase the patient's risk of developing diabetes-related complications such as cardiovascular disease, renal disease, eye disease and nerve disease,' says Dr Jenkins.
Both types of diabetes depend on good blood sugar control, says Gill Jenkins. 'There's lot of evidence looking at how using low calorie sweeteners instead of sugar can impact blood sugar,' says Dr Jenkins.
One study about to be published in European Journal of Clinical Nutrition, researchers found that those having a dose of sweetener at the start of the day, for example on their cereal instead of sugar,  experienced blood sugar levels that continued to fall through the day, whereas those that has sugar on their cereals saw their blood sugar levels spiking – not a favourable outcome if you're trying to prevent or manage Type 2 diabetes or are overweight, Say Dr Jenkins.
'Sugar levels are really important to people with diabetes, not only for helping keep their blood sugar controlled, and therefore preventing the secondary risks of the disease, but also in reducing weight which is beneficial for those at risk of developing type 2 diabetes in later life'.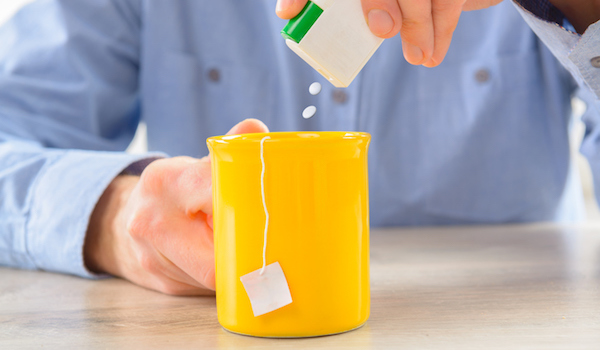 What about safety?
According to the NHS website: 'All sweeteners in the EU undergo a rigorous safety assessment by  the European Food Safety Authority (EFSA), before they can be used in food and drink.
'As part of the evaluation process, the EFSA sets an acceptable daily intake (ADI), which is the maximum amount considered safe to consume each day over the course of your lifetime.
Research is used to determine an Acceptable Daily Intake (ADI) of the sweetener so that consumers stay well within safe limits. ADIs are the amount of sweetener that a person can consume daily for their lifetime without risking any health problems. They are based on laboratory research combined with a huge 100-fold safety factor. These are reviewed regularly as new data becomes available. Surveys show that most people have intakes that are well below the ADI.
'You don't need to keep track of how much sweetener you consume each day, as our eating habits are factored in when specifying where sweeteners can be used,' the NHS website asserts.
Easy swaps to lower your sugar intake
An analysis published in the American Journal of Clinical Nutrition in 2014 included an evaluation of 15 randomised controlled trials where sugar had been replaced with low calorie sweeteners.
The results showed that use of low calorie sweeteners modestly but significantly reduced body weight, body mass index, body fat and waist circumference. The authors concluded that 'substituting low calorie sweeteners options for their regular-calorie versions may be a useful dietary tool to improve compliance with weight loss or weight maintenance plans'.
Make the following swaps and you could save a staggering 96 grams of sugar a day which could lead to a calorie saving of 26,700 calories and eight pounds of weight lost in a year says Dr Emma Derbyshire.
Swap your cereal with a sprinkle of sugar for a sprinkle of sweetener such as Hermesetas Granulated Sweetener (made from saccharin and sucralose), saving 10 grams of sugar.

Swap your morning coffee with two sugars for half a Half a Hermesetas Mini Sweetener (this is much sweeter than sugar so you don't need much), saving 12 grams of sugar.

Swap your blueberry muffin made with sugar for a muffin made with Hermesetas Liquid (great for baking), saving 40 grams of sugar.

Swap your afternoon tea with two sugars with half a Hermesetas Mini Sweetener, saving 10 grams of sugar.

Swap your evening cup of tea with two sugars with half a Hermesetas Mini Sweetener, saving 12 grams of sugar.

Swap your pudding made with sugar with low fat yoghurt with a sprinkling of Hermesetas Granulated Sweetener, saving 10 grams of sugar.
Recipe: Sugar-free chocolate energy balls
Packed with nutrients and quick and easy to make, these mini protein balls are perfect when you need a little boost and taste amazing!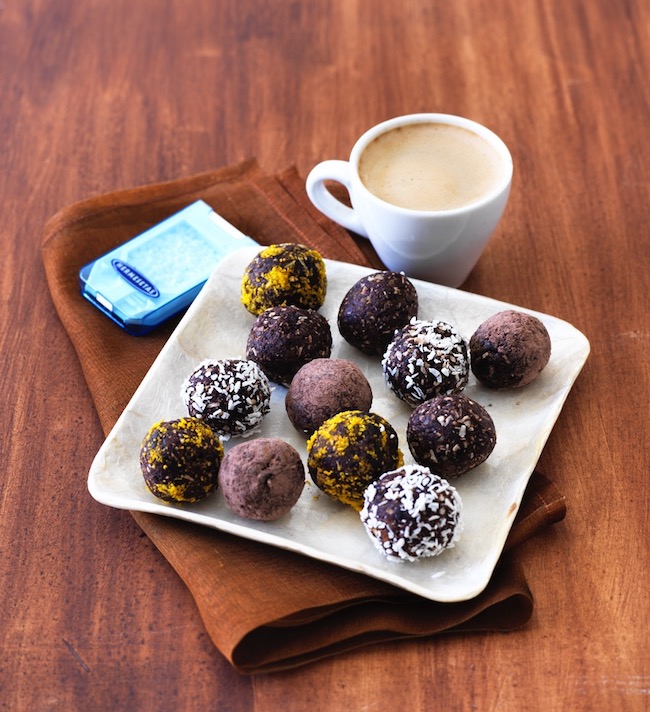 Saves 40 calories (compared to same serving of leading brand)
Makes 16 balls, Prep time 10 mins
Ingredients
100g prunes
100g apricots
30g almonds
30g walnuts
1 tsp vanilla extract
2 tbsp Hermesetas Granulated
30g porridge oats
20g desiccated coconut (reserve a little to serve)
1 tbsp cocoa powder (20g) (reserve a little to serve)
Grated zest of 1 orange (reserve a little to serve)
Juice of half an orange
Method
1. Blend the prunes, apricots, almonds and walnuts in the food processor until they form a paste.
2. Add the vanilla, Hermesetas, oats, coconut, cocoa and orange zest & juice and blend again to form a thick, sticky paste. Don't overblend, the mixture should be quite coarse.
3. Roll the mixture into a sausage shape and cut into 16 pieces, then roll each piece into a ball
4. If you wish, roll 4 balls in cocoa powder, 4 in coconut and 4 in orange zest (optional).
5. Store in an airtight container in the fridge. 
Top tip
Add other nuts or dried fruits, or try with sunflower, sesame or pumpkin seeds. The energy balls will keep for up to a week in the refrigerator. They are ideal snacks before or after exercising.
This story has been sponsored by Hermasetas 

Healthista is giving you the chance to win an incredible spa detox break worth £1750 with spa specialists The Body Retreat at their gorgeous Somerset venue.
To enter, just take our 5-minute Gut Health survey
Related Healthista Content
Sugar-free AND vegan protein muffins – 15 minute recipe
Here's what sugar is doing to your face
I gave up sugar for 30 days and this is what happened
11 easy ways to eat less sugar
Like this article? Sign up to our newsletter to get more articles like this delivered straight to your inbox.