Looking for a plant based recipe to make tonight? These healthy Instagrammers reveal their favourites and bonus…they're all ready in ten minutes or less!
Plant based recipes are taking over the world. With veganism rising 360 per cent in Britain in the past ten years and celebrities from Liam Hemsworth to Jennifer Lopez giving plant based living a sexy new makeover, it's no wonder that being meat-free is the coolest lifestyle choice right now. And where else to ogle at all of the mouth-watering plant based food porn than Instagram? We've rounded up seven of our favourite healthy Instagrammers and their best ten minute plant based recipes.
MORE: The beauty products these fitness Instgrammers can't workout without 
THE SCIENTIST – Pixie Turner 
Followers: 120k
Pixie describes herself as a blogger, speaker, scientist and nutritionist. With an MSc in nutrition, her instagram isn't just easy on the eye but is dedicated to promoting a balanced lifestyle supported by scientific facts. She has been following a plant-based diet for around three years and hasn't looked back since. See Pixie's instagram for colourful, delicious but simple recipes. Pixie says that she loves quick and easy recipes like this ten minute sweet potato and avocado salad.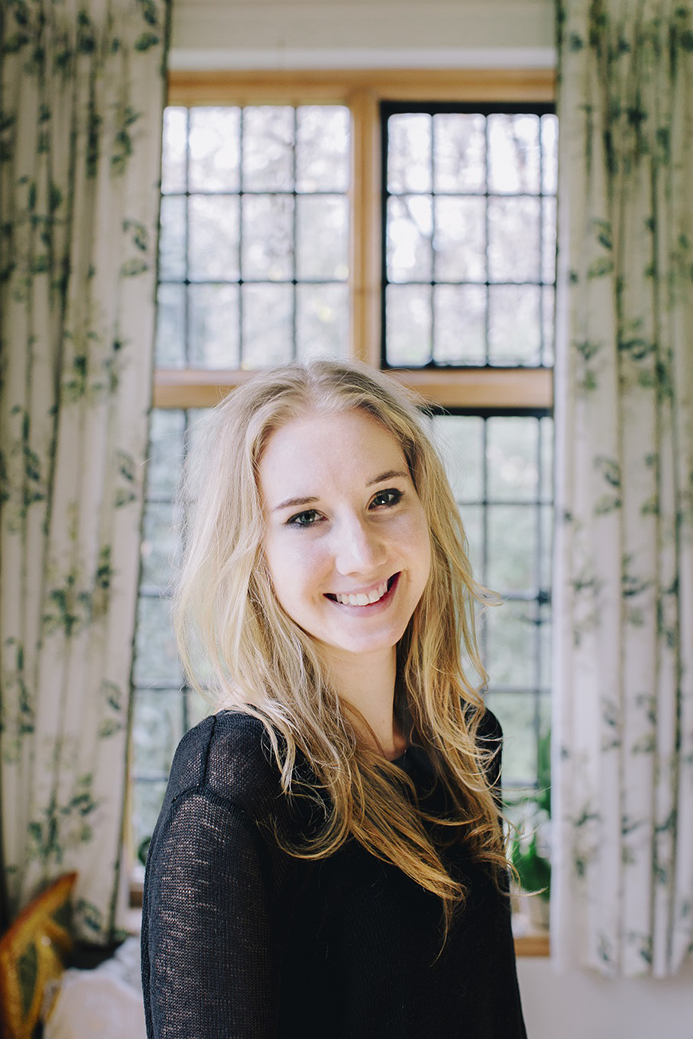 SWEET POTATO AND AVOCADO SALAD
80g mixed greens (I like to use baby spinach and rocket)
80g tenderstem broccoli
50g asparagus tips
100g sweet potato (approx. one small one)
80g chickpeas (cooked)
80g kidney beans (cooked)
1/2 avocado
Pesto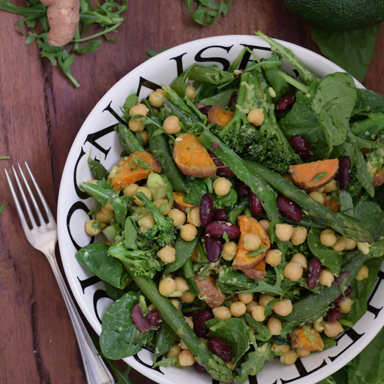 To make
Chop the sweet potato into cubes, sprinkle with a little oil and salt and then place under the grill for around 10 minutes (alternatively you can use an oven but it may take a bit longer).
Steam the asparagus and tenderstem broccoli for 5 minutes.
Drain the beans and chop the avocado into cubes.
If your spinach leaves are quite large, cut them up into smaller pieces that are easier to manage.
In a large bowl, add all the ingredients, and add a few dollops of pesto. Mix until everything is coated.
THE LIFTING VEGAN – Stefanie Moir
Followers: 82.8k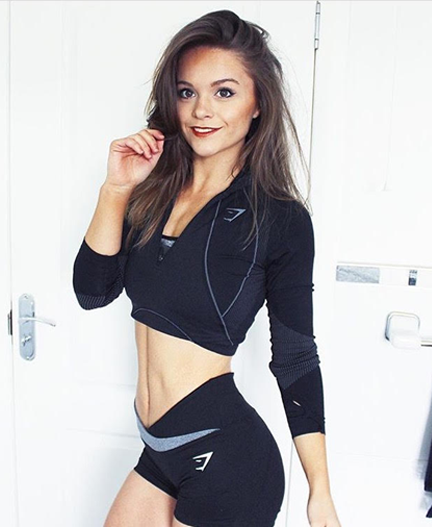 Stefanie Moir is a fitness, vegan and lifestyle blogger and Youtuber. She is big on training and especially weight lifting, which she does 6 days a week. Stefanie has her own fitness community on veganaesthetics.co.uk where you can take part in her 12 week health and fitness challenges. A self professed fan of foods such as vegan chocolate and vegan pizza, Stefanie's favourite ten minute recipe is unsurprisingly sweet. It's banana ice cream. Stefanie describes this as a guilt free recipe that is healthy enough for breakfast and sweet enough for dessert.
EASY BANANA ICE CREAM
3 or more frozen bananas
2 tbsp raw cacao powder
dash of syrup
Fresh berries
Coconut
Nut butter
Granola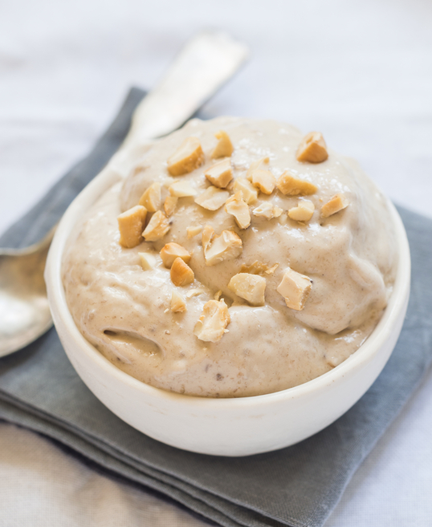 Throw the bananas, cacao powder and syrup into a blender and blend together.
When this is blended to a nice creamy thick texture, pour the mixture into a bowl and top it off with fresh berries, coconut, nut butter, granola and some extra syrup.
THE SPIRITUALIST – Jasmine Briones
Followers: 128k
Jasmine is a plant based nutritionist and lifestyle blogger. She uses her Instagram as a platform to promote veganism, food health and mental and spiritual health. See Jasmine's Instagram for filling vegan treats such as cookies and waffles. Jasmine's favourite ten minute recipe isn't quite as indulgent as some of her dessert themed Instagram snaps though. Jasmine has chosen a hummus and sauerkraut salad. She loves the combination of the tangy, zesty sauerkraut set against the creamy hummus. Jasmine loves this recipe because it is full of probiotics, plant proteins and healthy fats.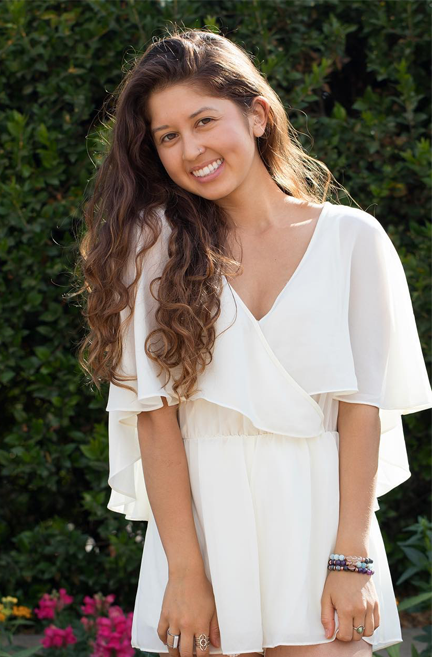 HUMMUS AND SAUERKRAUT SALAD
2 heads of romaine lettuce, chopped small
2 cups fresh spinach
3-4 tbsps hummus of choice
¼ cup dill & garlic sauerkraut
Then add in whatever you prefer in a salad. Jasmine uses
2 cups steamed broccoli
½ block marinated tofu
⅓ cup cooked & seasoned lentils
3 tbsp fresh dill, finely chopped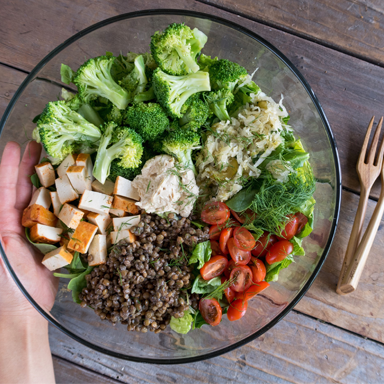 To make
The best thing to do it to add the base ingredients into a large bowl and hand massage the hummus and sauerkraut into the salad.
Wash your hands, and then mix in the remaining ingredients with salad utensils/a large spoon.
MORE: 10 best tasting vegan protein powders
THE ORGANIC MAMA – Jessica Prescott
Followers: 7,888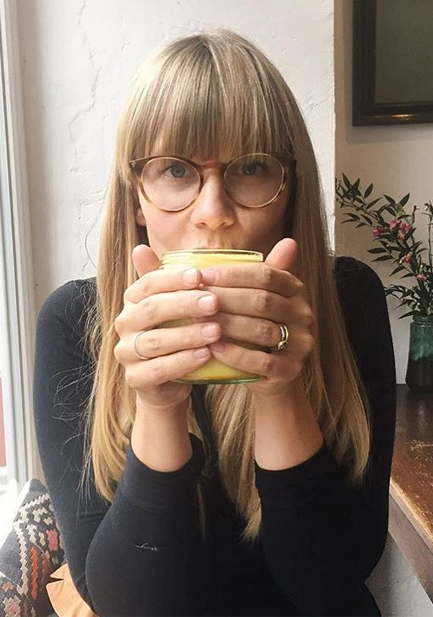 Jessica is an Instagrammer, blogger and author of Vegan Goodness and says she has been experimenting with food for as long as she can remember. Using ingredients that she finds at farmers markets and organic supermarkets in her local Berlin, Jessica lives a vegan lifestyle and shares her amazing recipes on social media and on her blog. Jessica is a mother and self confessed 'birth junkie'. See her instagram for beautiful shots of both her food and family. Jessica's favourite ten minute recipe is a hummus. She suggests changing up the flavour by adding cooked vegetables or fresh herbs. Jessica likes to add beetroot or pumpkin as this makes the hummus vibrant- which she finds makes it popular with kids and adults alike.
HOMEMADE HUMMUS
1.5 C cooked chickpeas
2 cloves garlic
1-2 Tbsp tahini
juice of half a lemon
splash of olive oil
1 tsp cumin seeds or 1/2 tsp of dried cumin
1/2 tsp salt
water
additional salt and pepper to taste
nuts / seeds / fresh herbs / spices to garnish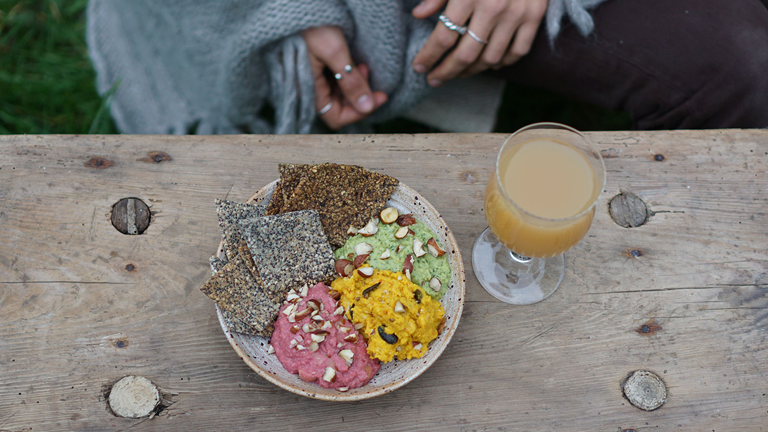 To make
Blend the first 7 ingredients and a splash of water until well combined.
Continue to blend, adding water a little at a time until the desired consistency is achieved (water is what will make your hummus creamy).
Enjoy immediately or store in an airtight container in the fridge for up to 5 days. Jessica finds that it tastes best after being in the fridge overnight, so if she is making it for a picnic or dinner party she always tries to make it the day before
Finally, top with whatever nuts / seeds / fresh herbs or spices you have on hand.
THE SUPER SIBLINGS – Maddy and Alex Weaver
Followers: 529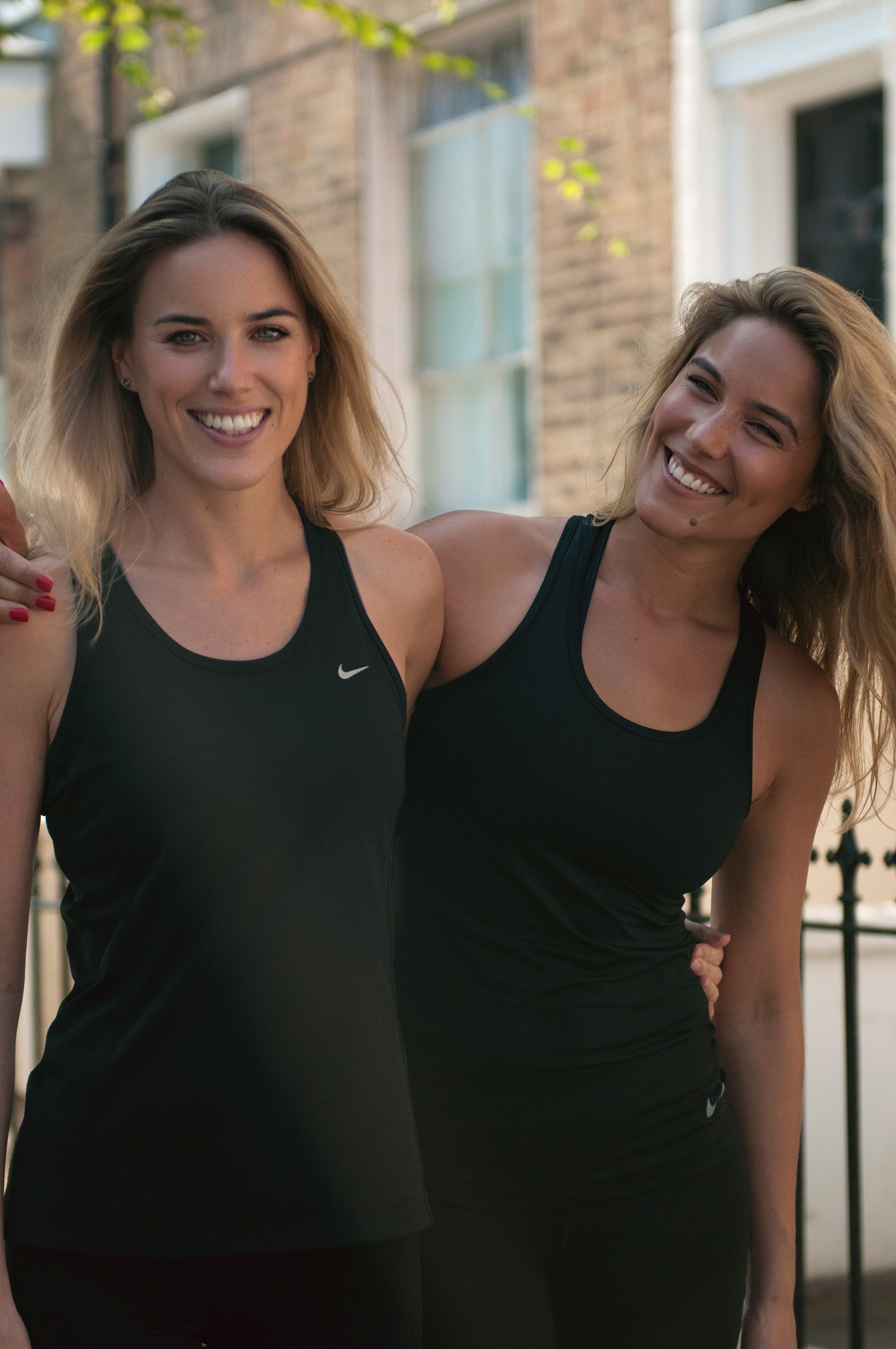 These London based sisters are both personal trainers and nutritionists, running private classes in their East London studio.
Maddy, the older of the two sisters has a degree in nutrition and personal training and her younger sister Alex, a television and film actress has now also caught the healthy lifestyle bug. See their instagram for glamorous fitspiration.
Maddy and Alex's favourite recipe are these energy packed chocolate flavoured protein balls.
COCONUT AND CINNAMON PROTEIN BALLS
1 cup of medjool dates
3/4 of a cup of almonds
3/4 cup cashew nuts
1 tablespoon of coconut oil
1 table spoon of raw cacao powder
1 pinch of cinnamon
1 pinch of unrefined sea salt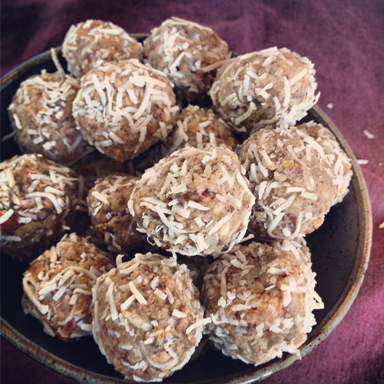 To make
Place nuts in food processor, blend until the nuts have crumbled and are a flour consistency (don't make them too floury otherwise you lose the crunchy texture).
Add the remaining ingredients and make sure you have pitted the dates.
Roll into balls or whatever shape you want then place in fridge or freezer.
This should make you between 15-20 balls.
THE BOWL BABE – Anni Kravi 
Followers: 50.8k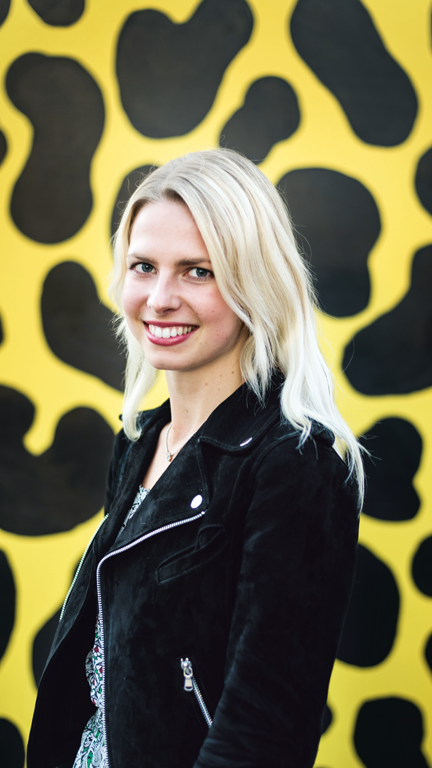 Anni describes herself as an entrepreuner, nutrition student and food artist. She's also the owner and co-founder of DATE + KALE, a healthy plant-based food concept and deli in Helsinki. See Anni's Instagram for a gallery of beautiful food bowls and her blog for some of the brilliant recipes. Her favourite ten minute recipe is a raw breakfast porride as they're super easy to make and packed with nutrients. Anni suggests trying different berry and spice combinations and even adding herbs such as ashwagandha for an extra boost.
RAW MILLET AND BLACKCURRANT PORRIDGE
100ml millet
1 banana
20ml black currants, frozen
20ml almond milk
(1 tbsp  homemade almond milk pulp if availble)
1 tbsp ground flaxseeds
1/3 tsp cardamom
(1/2-1 tsp ashwagandha, optional*)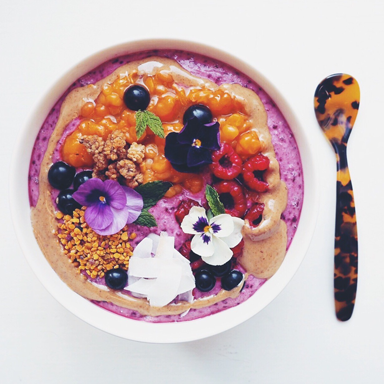 Toppings
1 tbsp  cloudberries
1 tbsp  raspberries
1 tbsp black currants
1 tbsp coconut flakes
1 tsp bee pollen*
1 tsp dried mulberries
a few fresh mint leaves
spoonful almond butter
To make
Rinse the millet thoroughly in at least three waters, then soak in fresh water overnight. In the morning, rinse carefully once more and blend with the remaining ingredients except toppings. Add toppings and enjoy.
*If you haven't taken ashwagandha or bee pollen previously, begin with an even smaller amount and start increasing it carefully when you see how your body responds.
THE CAKE QUEEN – Anthea Cheng
Followers: 66.3k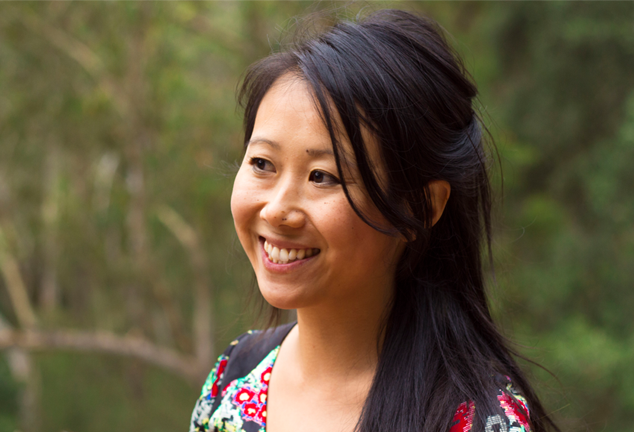 Anthea created Rainbow Nourishments to share colourful and nourishing vegan food with people online and in her local community. Anthea has a passion for creating plant-based foods as she believes they are more sustainable for the world. She also owns a cake business where she designs and creates bespoke raw vegan cakes for people in Canberra, Australia. See Anthea's instagram for cakes and baked treats galore. Following the sweet theme of her pudding-centric Instagram, Anthea has chosen a peanut butter breakfast as her favourite ten minute recipe.
PEANUT BUTTER BREAKFAST
Peanut butter granola
½ cup rolled oats or an assortment of cereals/nuts/seeds in your pantry
1 tbsp peanut butter
1 tsp rice malt syrup
Raspberry chia jam
¼ cup raspberries
1 tbsp chia seeds
Porridge
⅔ cup rolled oats
1 ½ cup coconut milk
2 tbsp peanut butter (optional)
1 banana, mashed (optional)
2 tbsp peanut butter
Plus whatever else you fancy (e.g. cacao nibs, coconut syrup, coconut and frozen berries).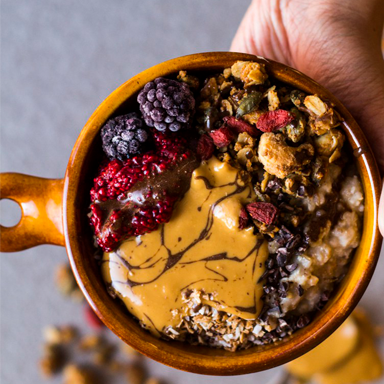 To make
Preheat oven to 180C.
For the granola: Mix all ingredients in a bowl and spread on a lined baking sheet. Bake for 10 minutes or until golden brown.
Meanwhile, for the raspberry chia jam: Mash the raspberries with a fork and mix through chia seeds. Set aside.
Meanwhile, for the porridge: Add all ingredients to a small saucepan over high heat. Bring to a boil for 2 minutes and reduce to a simmer. Stir porridge to make sure it doesn't stick to the bottom of the saucepan. When the porridge has reached your desired consistency, separate into 2 bowls.
Decorate the 2 bowls with granola, chia jam, additional peanut butter and any other toppings as desired.
MORE: 7 best ready meals for a vegan diet
Like this article? Sign up to our newsletter to get more articles like this delivered straight to your inbox.