Silver medallist Jazmin Sawyers shares five healthy lifestyle and food essentials she says are important for everyday life, especially as an athlete.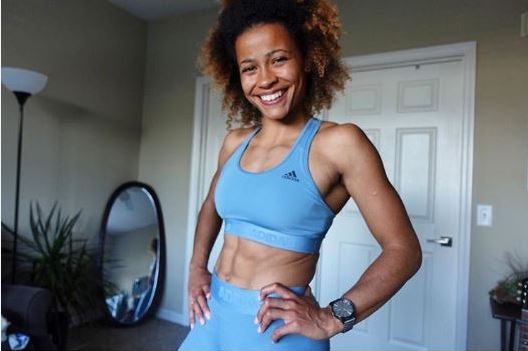 The multi talented Jazmin Sawyers won her shiny silver medal after competing in the long jump at the 2014 Commonwealth Games in Glasgow. Not only is Jazmin a law graduate she is also an Olympic finalist. She took part in the long jump event at the Rio 2016 Olympics, she finished eighth with a best of 6.69m.
But Jazmin Sawyers isn't just an Olympic finalist and silver medalist. When Jazmin isn't competing or winning medals, she is a singer-songwriter who you may recognise after she competed in the sixth series of The Voice UK 2017, securing Will.i.am as her coach during the blind auditions.  Graduate, Olympic athlete and singer – is there anything she can't do?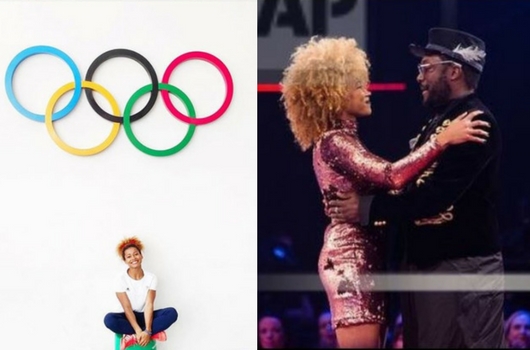 'Jerusalem' (released March 16th, 2018) is the Official Anthem of the Commonwealth Games for TeamEngland.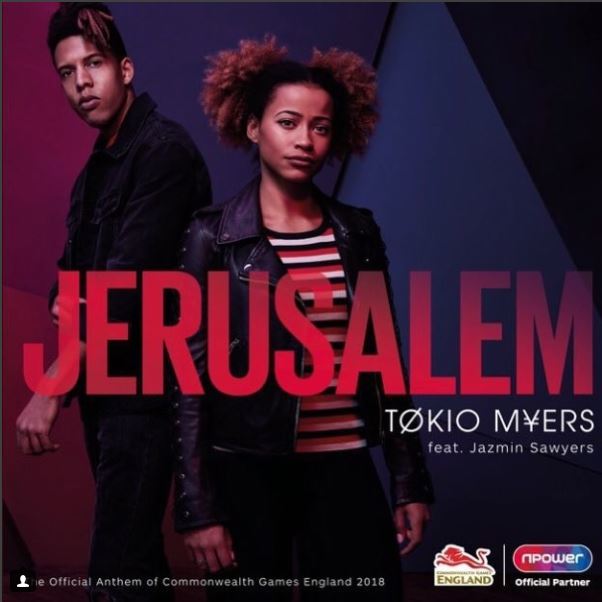 Most recently Jazmin, backed by a 54 piece orchestra and 10 person-strong choir, has featured on Britain's Got Talent champion, Tokio Myers track 'Jerusalem' – a modern take on the well known hynm. Recorded at London's iconic Abbey Road studios, 'Jerusalem' (released March 16th) is the Official Anthem of the Commonwealth Games for TeamEngland. Jazmin and the rest of TeamEngland (sponsered by npower) have flown to the Gold Coast for the official opening of the Gold Coast Commonwealth Games 2018, on 4th April. Jazmin will be competing in the long jump from 11th April and hopes to make the finals on 12th April.
As a successful athlete, we were keen to ask 'the girl who can do it all' to reveal her everyday food essentials and share what food she turns to to keep those nagging cravings at bay.
1. Nutritious snacks – Apples and protein shakes 
Jazmin revealed she doesn't just like apples, she loves them. 'It sounds quite boring but I'll have an apple every single day. There's always an apple in the fridge waiting for me. I will also try and have some kind of protein shake depending what time it is and what time I'm training that day.'
Try: Lean Whey Diet Protein Berry
Sawyers favours the 'sweet stuff'. When we asked Jazmin what it is she craves most she revealed 'I have a massive sweet tooth so I'll always go after sweets and chocolate.' Along with apples Jazmin fights those saccharine needs by having 'Nakd bars, I have those quite a lot too, they're great as a healthy snack.'
Utilising these healthy snack hacks herself, Jazmin also shared her valuable wisdom – 'eat everything in moderation rather than giving yourself insane restrictions, because everything can be enjoyed as long as you're sensible about it.'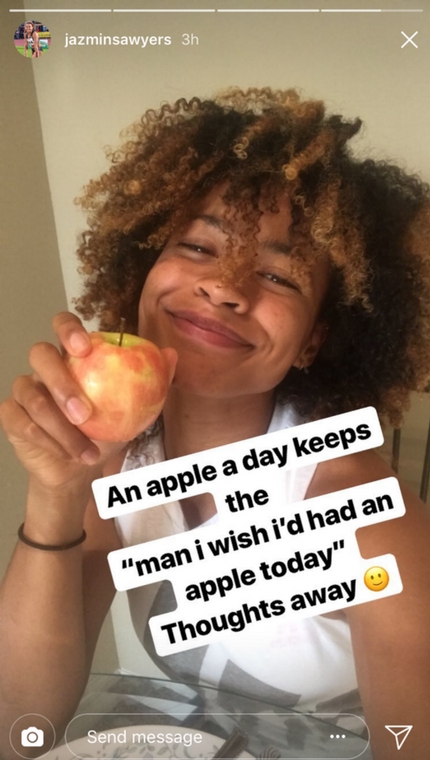 2. Check if you're just thirsty or bored
Ever found yourself snacking, even when you're not hungry? We've all been there, and so has Jazmin. Jazmin advises that its best to 'check if you're just thirsty, sometimes I'll make myself a hot herbal tea or have a glass of water to check if I'm actually hungry, because sometimes you're just thirsty or bored.' So, next time your tummy rumbles, take Jazmin's advice and make yourself a hot drink before you decide to eat anything.
3. Food musts – Eggs and sweet potato 
Interested in what Jazmin typically eats in a day, we learnt that like apples, Jazmin has to have her daily fix of eggs and 'if I haven't got them (eggs) we live really close to the supermarket, so I go out before breakfast to get more eggs, but I try and make sure I always have some.'
Jazmin also revealed that she will 'generally start everyday off with eggs, they're pretty much the staple ingredient for my breakfast. Depending on how hard my training session is going to be that day I'll have sweet potato but it's always going to be an eggs and veg combo'.
What about for other meals Jazmin? 'So I have eggs for breakfast before I train, but after I train I make sure I get some protein in straight away, in the form of a protein shake or if I can get a meal straight away I'll have salmon or something else that's high in protein.' Whether its training day or rest day 'I have eggs pretty much every day, I'll just skip the sweet potato if I'm not training that day. Sweet potato is my go to energy food'.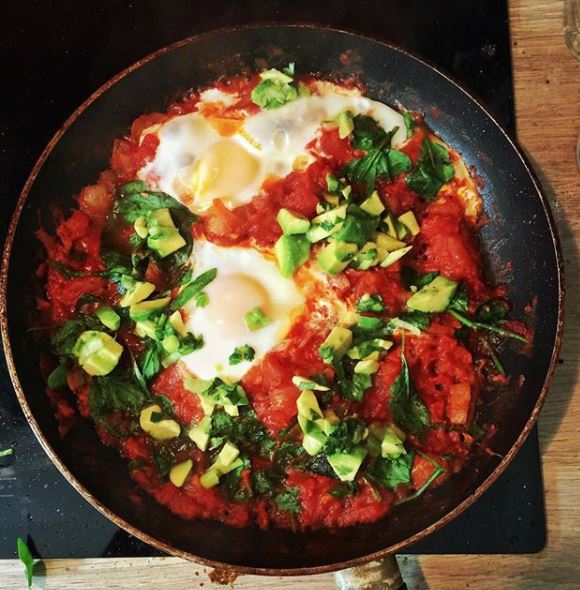 4. Healthy back up supplies
Along with Jazmin's healthy nutritious snacks, sweet potato for energy and the eggs she consumes in abundance, Jazmin also makes sure she has healthy back up supplies. Jazmin claims 'there's always an avocado in the fridge, I've always got spinach, apples and chia seeds.'
5. Getting eight hours of sleep
Is there one essential tip that Jazmin has stuck to and will stick to everyday in preparation for the Commonwealth Games 2018? Yes, though it's not food related. 'I try and be quite specific about getting at least eight hours sleep, but it's more like nine, dealing with the jet lag and trying to get back into the sleep routine will be the biggest habit to try and stick to.' Jazmin explained.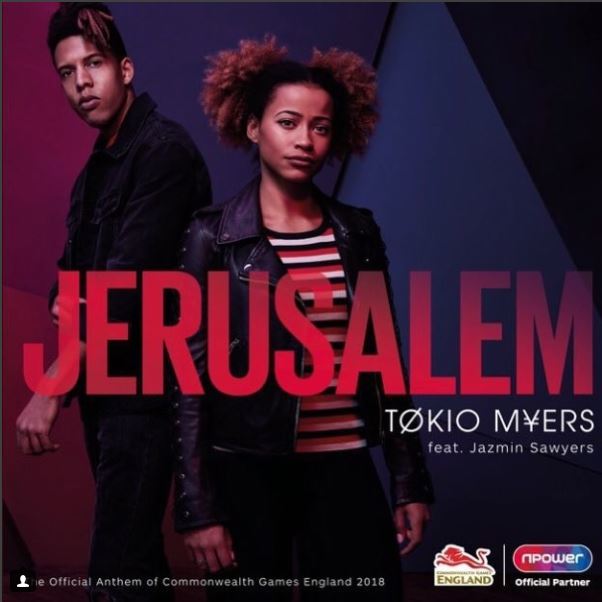 Tokio Myers and Jazmin Sawyers track 'Jerusalem' is Team England's Official Anthem ahead of the Gold Coast Commonwealth Games 2018, sponsored by npower: now available on iTunes and to download on Spotify. The music video is available to view here
The athletes of Team England try singing the Official Anthem
9 Healthy eating essentials athlete Rebecca Adlington loves
3 healthy food essentials I can't live without – Dame Kelly Holmes reveals
My healthy food essentials for weight training – Instagram star reveals
10 healthy foods this Instagram strong woman can't live without
The new rules of healthy snacking
Like this article? Sign up to our newsletter to get more articles like this delivered straight to your inbox.