Organic cafes in London can be a mission to find. Our Healthista Eats blogger, Charlotte Dormon, has scouted and tested the five best around town for breakfast, lunch, and dinner
To eat healthy doesn't mean only eating organic.  As good as this can be for you, it's just not possible, especially if you eat out all the time.  Organic food has many health benefits and the Soil Association (the UK body that regulates standards of organic food and farming) has strict guidelines to make sure that certified organic food is of the highest possible quality and free from pesticides and any unnatural toxins or chemicals.
a number of top chefs prefer to use organic eggs, milk, butter and cream as they thought the taste and quality was so much better
When it comes to organics, I have personally always been a big supporter and try to eat it as often as I can.  Although we are still limited with restaurants in London that are entirely organic, you will find there are plenty of chefs that like to use organic ingredients in their dishes. I was pleasantly surprised by this when researching for my article on London's best places to eat breakfast, as I found out that a number of top chefs preferred to use organic eggs, milk, butter and cream as they thought the taste and quality was so much better.
Now, don't start getting your organic cotton knickers in a twist worrying about whether everything you are eating, is, or isn't organic – as we all know nutrition advice, and what we should or shouldn't be doing can be confusing enough, even for experienced health gurus like me. The most important thing of all is to make sure you keep up with daily exercise, and to eat as much fresh, nutritious and unprocessed foods whenever and wherever you can.
To help you give organic food a go, I've found you London's best organic and healthy cafés to enjoy.
London's 5 Best Cafés To Eat Organic:
1. Daylesford – Pimlico, Notting Hill and Marylebone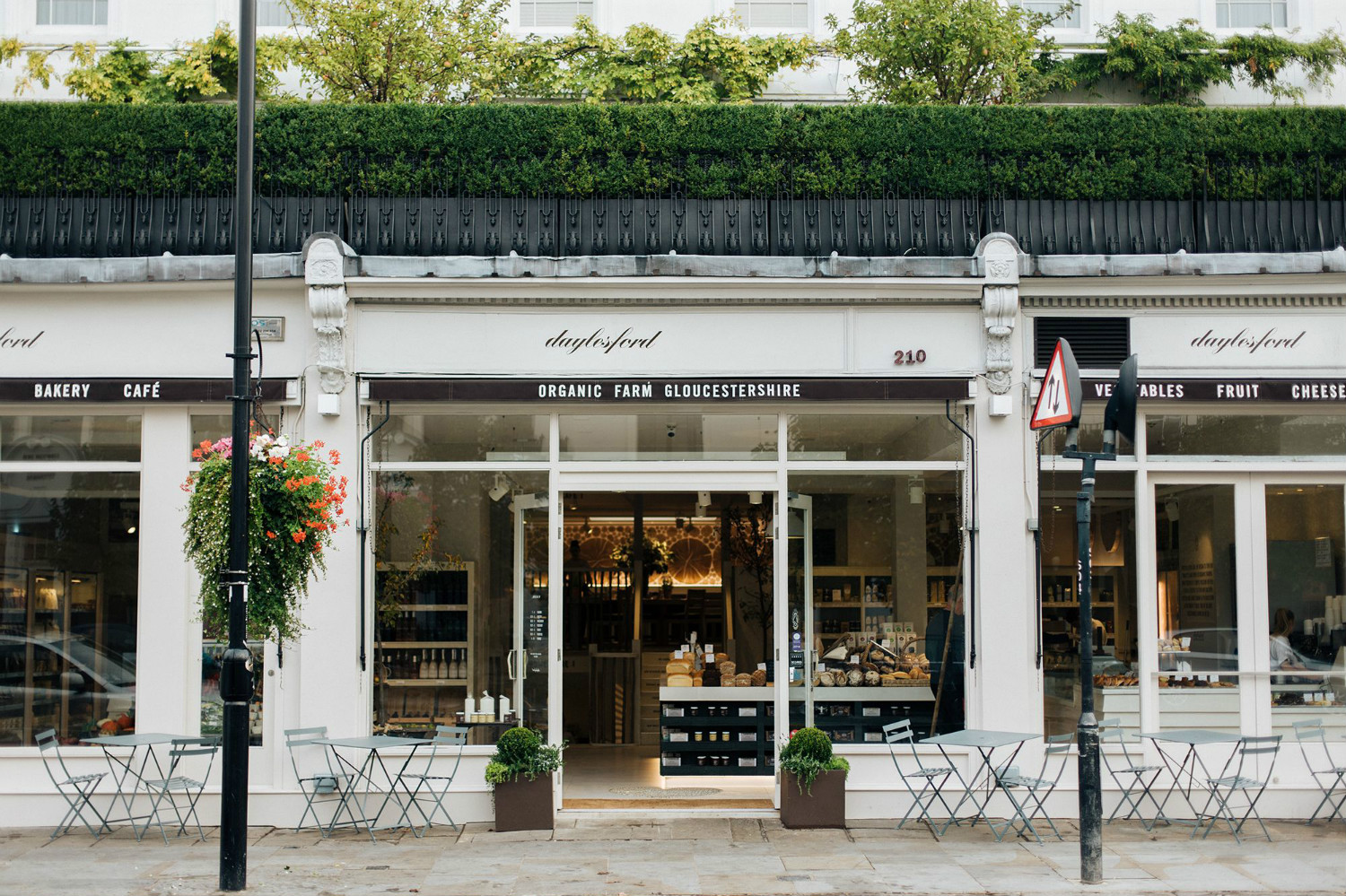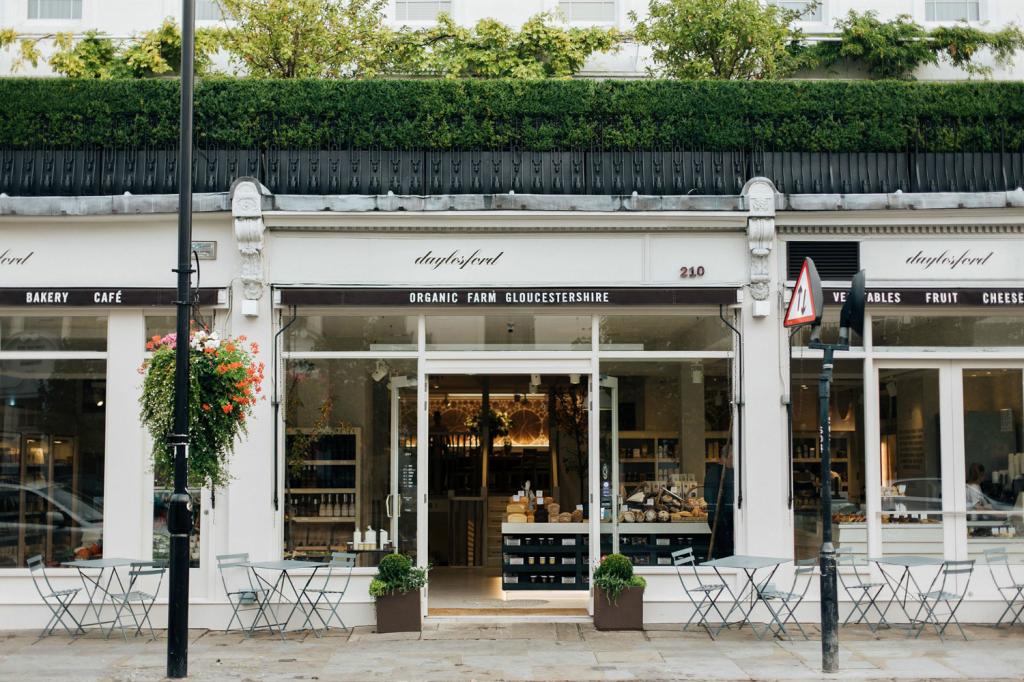 Daylesford is a healthy café like no other, and I would consider it as posh as organic noshing gets in London. Not only does it look as country-chic and stylish as something you see sprawled on the pages of a glossy country homes and interiors magazine, but as all their fresh produce – including all meat, vegetables, fruit and dairy used in the café kitchens – comes direct from their own 2000 acre organic farm in Gloucestershire, Daylesford's well-heeled London customers get themselves a real 'farm-to-fork' organic dining experience without having to get their Hunter boots on.
Founded by Carole Bamford, Daylesford farm, deli, restaurant and café chain was an answer to her frustrations over the unhealthy food her family were exposed to. Worried about the seemingly irreversible decline and pollution of the English countryside, Carole transformed her family's land over 30 years ago to solely organic and sustainable farming.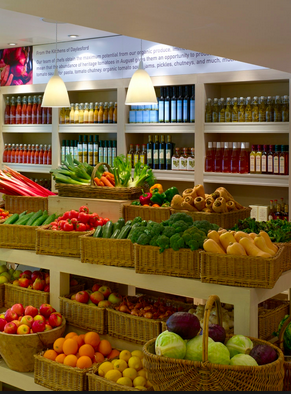 The farm shop and deli nestled next to the café is far better than any other farm shop I have encountered.  Brimming floor to ceiling with everything organic you could want, be that condiments, fruit jams, crackers or dairy-free chocolate.  There is also the organic meat, cheese and patisserie counter that I'm quite sure you will find hard to resist.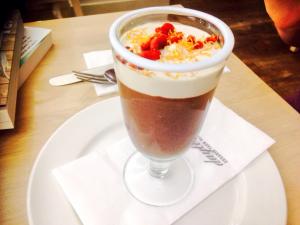 When it comes to going out to eat at Daylesford, there is no specific best time of the day to come, as in my opinion the café offers a fantastic menu for every eating occasion.  Over the last few months I have been for breakfast meetings, catching up on work whilst munching my way through smoked salmon and fluffy scrambled eggs (Daylesford have their own hens and the freshly-laid eggs come straight from the farm), and weekend lunches with friends to try the bone-broth soup and super-food protein salads. l also treated myself one Sunday afternoon to the outrageously good dairy-free, gluten-free raw chocolate, avocado and coconut cream pudding (please note, it is worth going in just for this).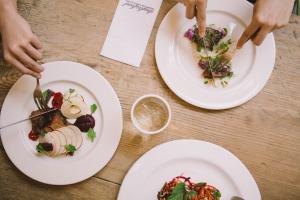 My fiancé Oliver and I went last week to the Notting Hill branch to sample the amazing supper menu – of which we can highly recommend the lberico ham with rye bread for starters, followed with the burger (made of pure grass-fed beef) and the slow-cooked shoulder of pork – all of which went down well with a few tipples from the organic wine and cocktail menu.
To me, the whole Daylesford's brand is classy as a cashmere cardigan and offers you a taste of English country chic at its very best – delivering a high-end organic eating, drinking an shopping experience. There are now three branches in London of Daylesford deli/shop/café's located in Pimlico, Notting Hill and Marylebone.
Please make note, if you do wish to get a reaction like this when you have a dinner party: 'Oh darling it must be Daylesford', I can thoroughly recommend booking in a day at Daylesfords Cookery School.  In just half a day you will watch, learn and have a go at creating a selection of healthy breakfast, lunch and supper dishes. The course is run by Daylesford's own head chef and resident nutritionist, who will have you feeling confident enough to go back home being able to whip up a simple, yet sumptuous nutritious meal in just a matter of minutes.
2. Retreat – Soho and Putney
I discovered retreat café in Soho after heading out of a class at Triyoga. Feeling rather hungry after my hour of twists and downward dogs, I suddenly noticed a cute little café with a juice and smoothie bar conveniently located just right next door to the yoga centre.
Within moments of stepping inside I was head over heels in love with this little haven of deliciousness I had discovered. Not only did they have an amazing choice of juices, smoothies and hot drinks, they also had plates piled high of homemade sugar, gluten and dairy-free brownies, muffins, cookies and cakes. As well as nutritious homemade soups, spelt sandwiches and quinoa salads to name a few – it was without doubt the perfect food for a post yoga bite to eat.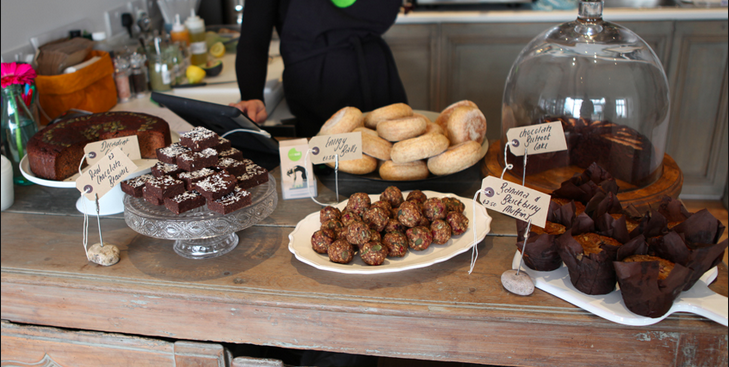 On my last visit with my yoga-loving friend Connie, we tried the gluten-free buckwheat and beetroot wrap, filled with tahini, roasted veg and peppery rocket leaves.  To drink we had a green juice and a berry smoothie, followed by a pudding of lemon polenta and poppy seed cake. Everything we ate tasted great, and though the portions were plentiful, the price was rather reasonable.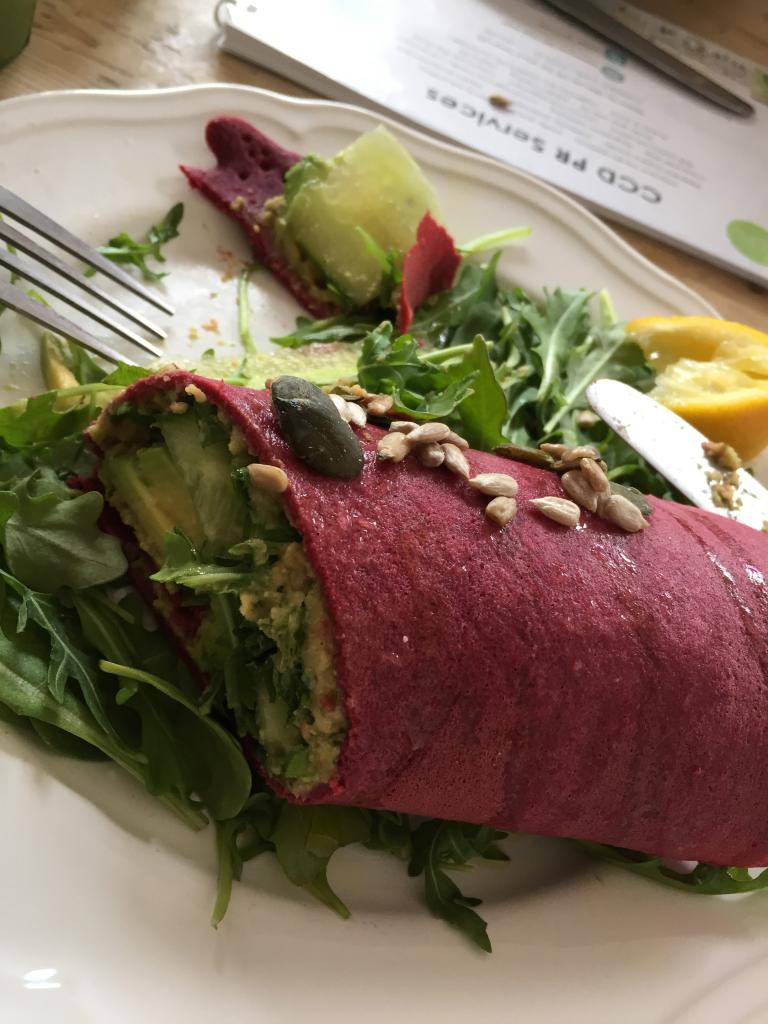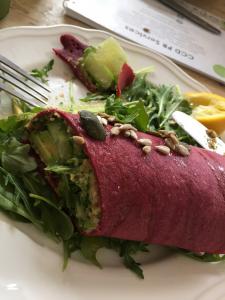 Kimberly Parsons, owner and founder of Retreat café, started her career as a naturopath. Graduating from the Southern School of Natural Therapies in Melbourne. After selling her naturopathic practice in 2008, Kimberly moved to the heart of the Chianti region, Tuscany in Italy, where she worked as a chef, teaching herself the art of Mediterranean cooking. Moving to London in 2010, Kimberly began work as a private chef in Notting Hill before finally building her café business.
I have not been to the Putney branch, but Retreat café in Soho has limited seating, so wouldn't be a great choice if you wanted to come with a group. I would also advise not using this as a place of work to make noisy telephone calls. It's quiet and relaxed in here and I don't think the yoga girls would dig you for this when they are trying to get Zen. For a space to stop, get calm and hide from busy streets of London, Retreat is just the ticket.
Just to note – not every ingredient is guaranteed organic, but their chefs always use everything organic where possible.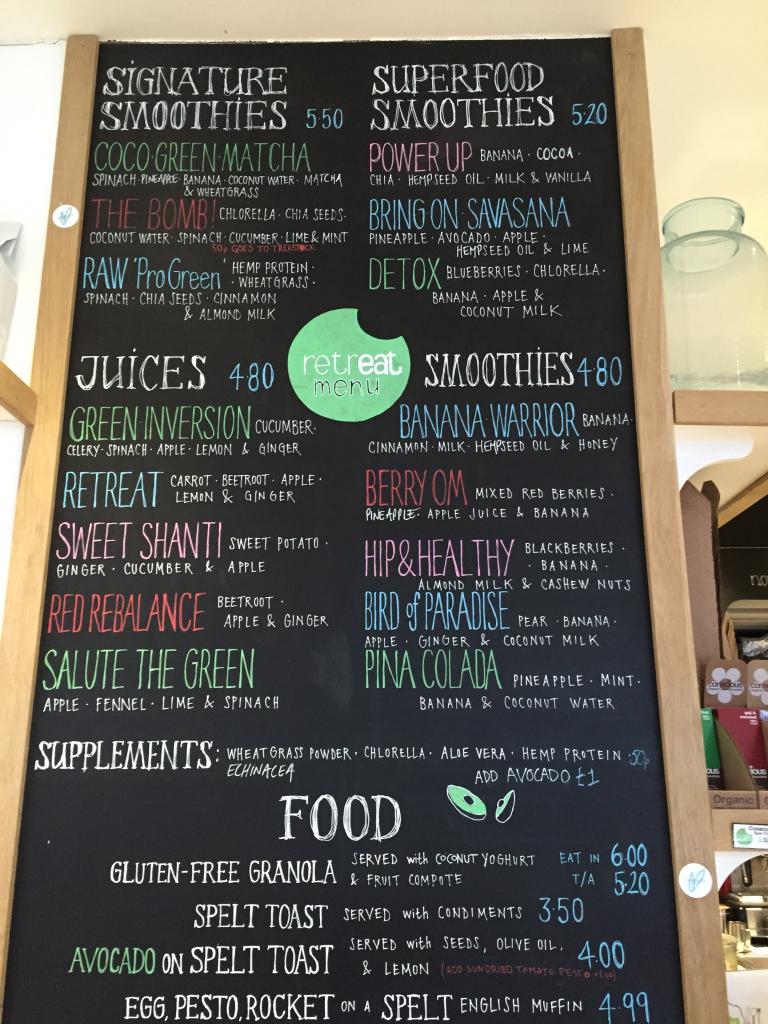 3. Nectar café – at TriYoga in Camden
Nectar café is another winner for those that love yoga and gluten-free chocolate brownies (yep, that is very much me).  A similar set up to Retreat café at Triyoga Soho (both independently owned, but located inside the yoga centre), this peaceful little sanctuary in Camden is another great place to unwind and enjoy a nutritious organic bite to eat.
Set up by Katia Narain Philips, a pioneer of the raw food movement, Nectar café offers a nutrient-rich and delicious all day vegetarian food menu as well as cold-pressed juices, smoothies, vegan, vegetarian and plant-rich foods, aromatic waters, herbal extracts and bio-dynamically grown ingredients.
Breakfast options include organic raw oat and chia seed porridge sprinkled with rose, lime and toasted almonds, and smashed avocado on toast. For lunch and dinner there is a good variety of fresh salads and wraps to eat in or take away, and healthy sugar and gluten-free sweet treats such as raw chocolate brownies and almond, chocolate and tahini cookies (the almond cookie with a hot chocolate is utter bliss).
MORE: Where to eat the best gluten-free pancakes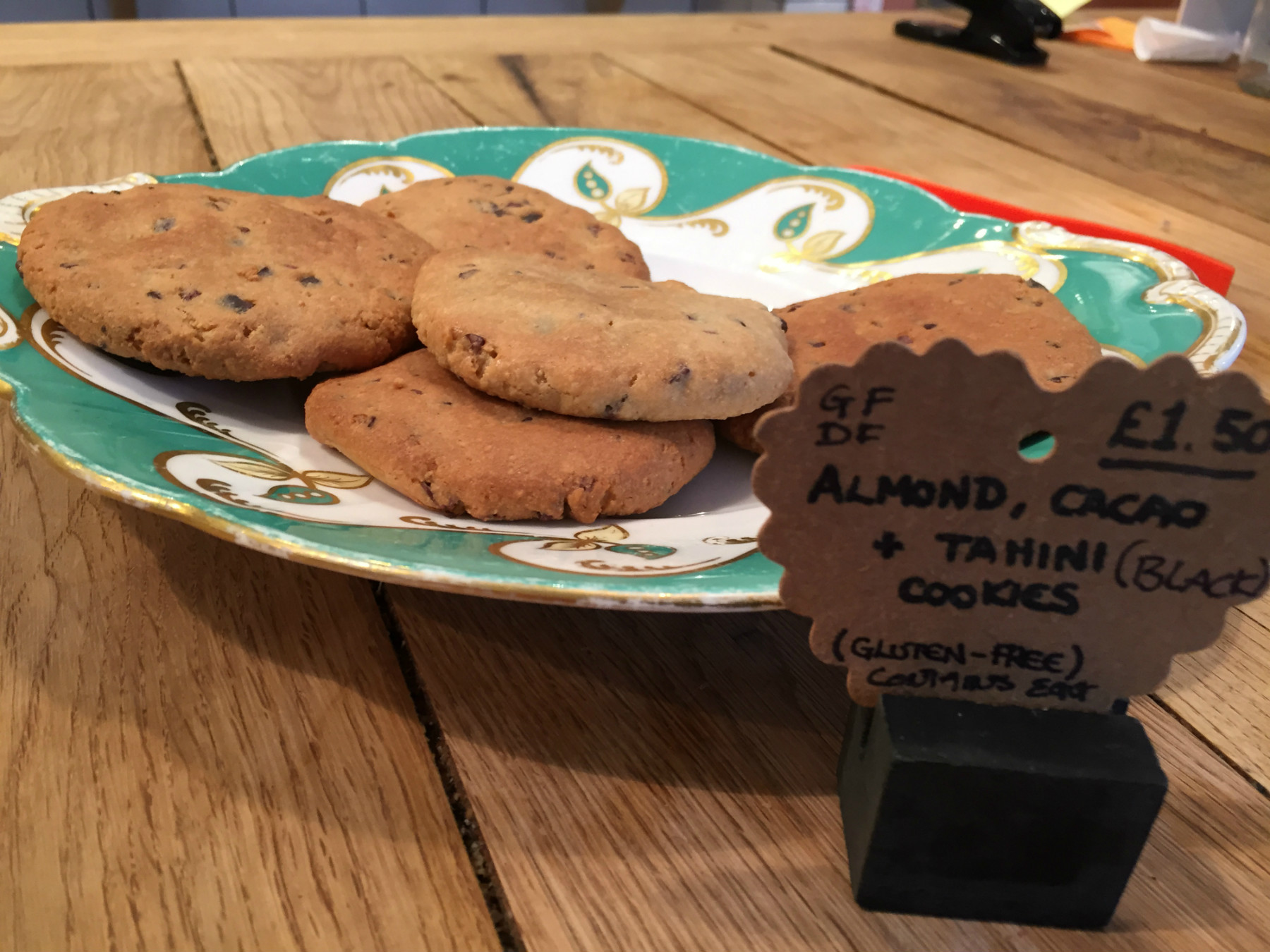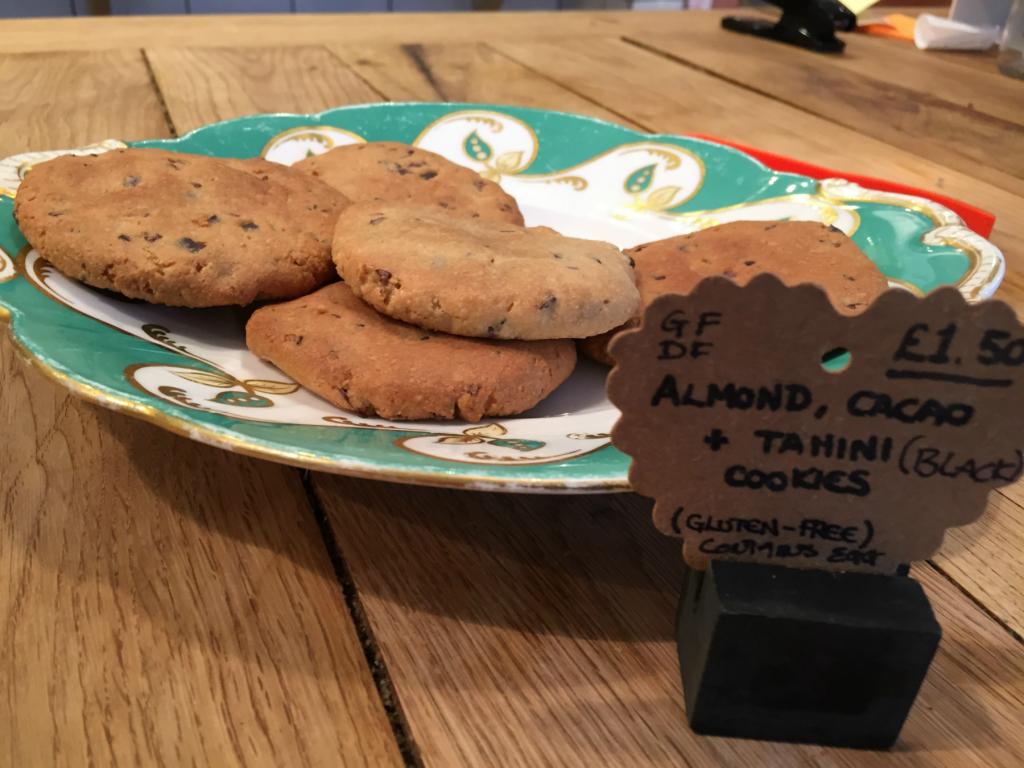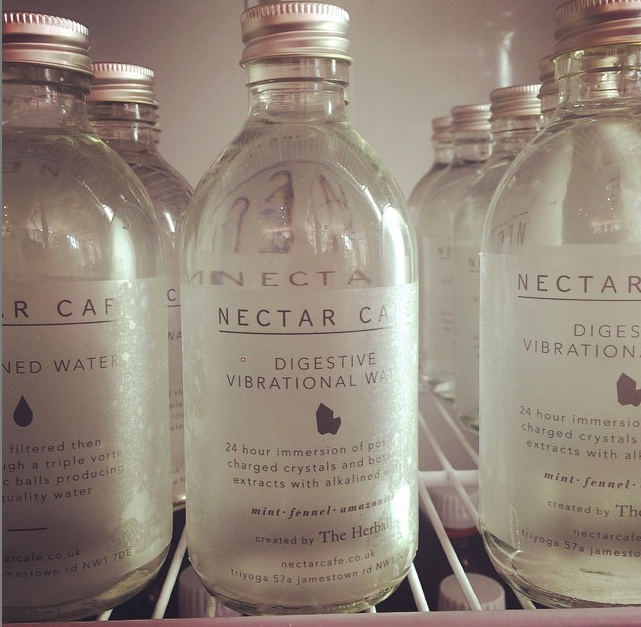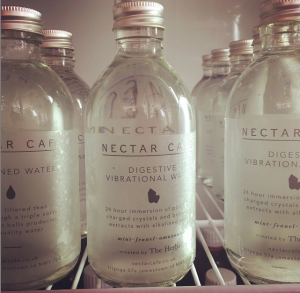 As well as being ahead of the game with their innovative food menu, Nectar is the first café of it's kind in London to sell vibrational botanical crystal infused water. I am not sure of the science behind it all, but the results are created by the water being passed through a filter system twice by triple vortex and then by infra-red FIRO ceramic ball. This transforms the fluid into a high quality, ionised water, to which are then added tinctures, including mint, fennel and echinacea to supercharge its powers. I tried one of them last time I was there after my yoga class and certainly felt refreshed and virtuous for it.
Nectar is a little bigger than Retreat in Soho, so a better choice if you did want to come with a couple of friends, but again, please be mindful that this place is designed more for R&R for people who come to escape the noise of the city.
4. InSpiral – Camden
InSpiral café located in Camden has long been one of my all-time favorite places to enjoy organic, vegan, gluten-free and raw food, and yet another brilliant place to shout about.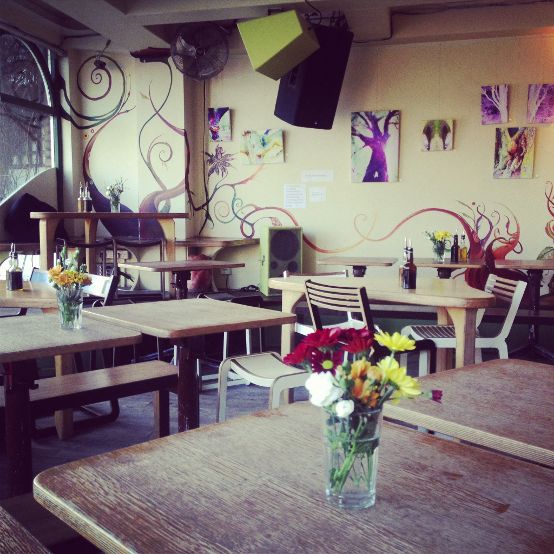 Before eating vegan was deemed trendy, and people posting pictures of their green juice became fashionable on Instagram, the team at InSpiral café had already become successful from making their veggie juices and meals for vegan and vegetarian peace-loving hippies, who just wanted to get their hands on some decent natural food. In 1999 the InSpiral team started out by selling their food at music festivals like Glastonbury, with superfoods like raw cacao, acai and spirulina to give them and their customers the energy to keep them dancing all night and drumming bongos until sunrise.  Without trying to be hip, happening, and now with their raw food menu, these guys have always been the real deal when it comes to pioneering the organic, veggie and vegan diet.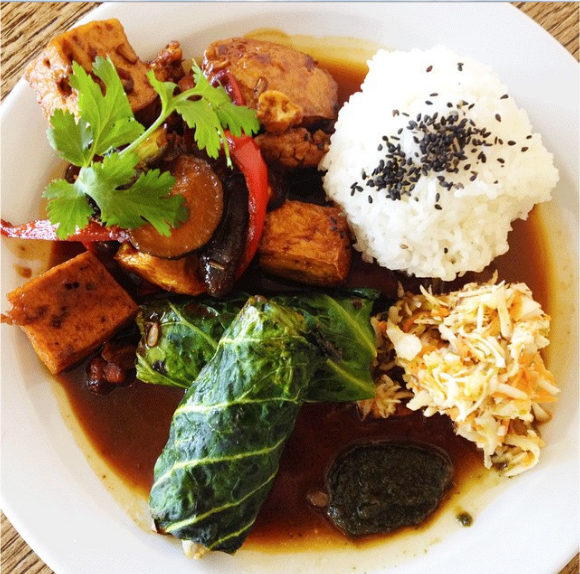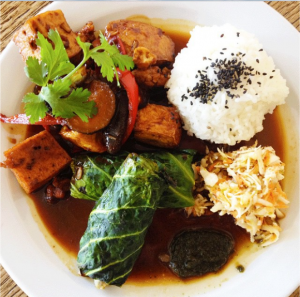 InSpiral still make art and music part of culture and often have live gigs or artists performing most weeks. They firmly believe food is more than just a fuel. They want to create nourishing food that will keep your body healthy whilst sustaining your energy needs.
The food is always good, filling and delicious with plenty of options to choose from whether you fancy a raw sprouted salad or hot pasta.
Don't expect much in the way of glamour here, it's not the vibe or the audience it attracts, but InSpiral is a fun place set overlooking the canal in Camden – which in itself is great for people watching whilst you sip your juice or organic vegan cocktail.
I have eaten many different things over the years I have been coming here, but I am a big fan of the raw pizza and the vegan roast dinner. InSpiral's cakes and chocolate treats are a quite a big deal too, so if you have the room, I would advise finishing with off with vegan blueberry and vanilla cake, or some vegan ice-cream made from cashews.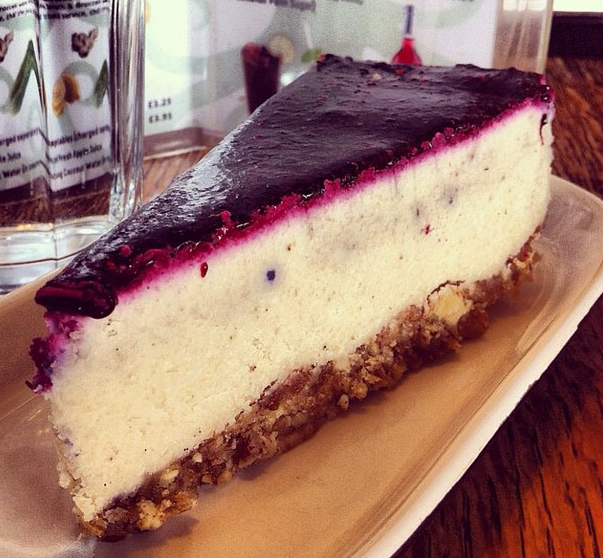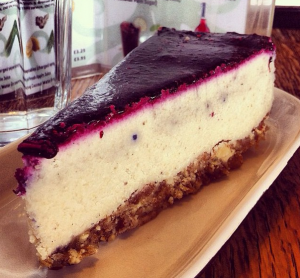 5. Mojo – Soho
One of my other best foodie finds of late is the delicious Mojo café and juice bar in Soho.  Although a reasonably new addition to the London healthy eating café collection, I find myself frequenting often thanks to the consistently good food and friendly service.
MORE: London's best juice bars
Unlike a lot of healthy food cafés that just keep the same food menu for all of time, I really like the fact that Mojo is continually coming up with new recipes, keeping it fresh and exciting for their regular customers by having new and seasonal dishes to try.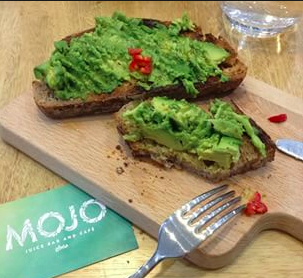 Mojo café is buzzy, bright and full of good energy.  It has a creative and laidback vibe about the place, feeling much more like a fun little café you would find amongst The Lanes area in Brighton rather than in London.
As well as winning with the food, Mojo have a great team of staff who are clearly passionate about the food they serve and well informed when it comes to nutrition. Want to know why green juice is so great? Mojo will give you all the answers. On the main table there is a large bookrack stacked with the most amazing selection of food, nutrition and wellbeing books to browse and learn from whilst you eat your food.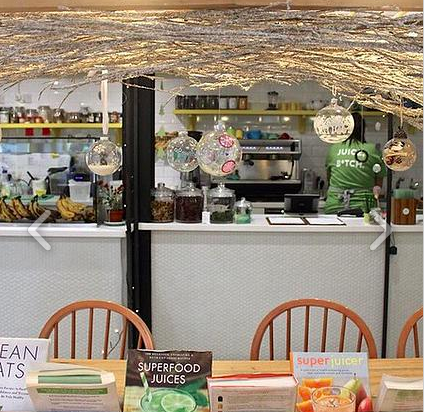 The menu options are predominantly vegetarian and vegan, but you can also get salmon, egg and chicken salads. And there is plenty of choice for those wanting dairy, wheat, gluten and sugar-free breakfasts or lunches.
Some of my favorites here include the 'Work It Out' smoothie.  Made with berries, avocado, almond milk and butter, maca, hemp protein, salt, cinnamon and coconut water. If you're not feeling like solids to start your day, this liquid powerhouse with vegan protein and superfood combo gets you right through until lunchtime and tastes delightful. Lunch tends to vary, but I do like the polenta with roasted tomatoes and basil pesto and for pudding or an afternoon pick-me-up with a cup of tea, the gluten-free carrot cake made with pistachio, cashew and topped with green tea icing – it is simply sublime.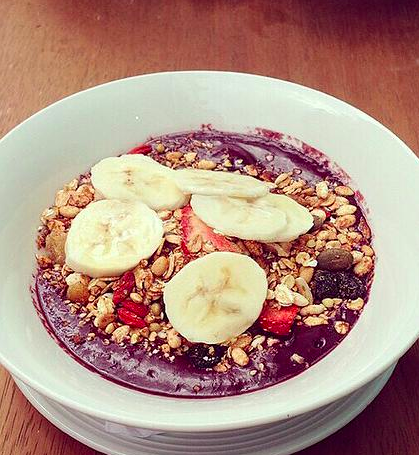 Not all cafés I have recommended use all organic produce, but they do source organic foods and ingredients where possible. Make sure to ask when you visit.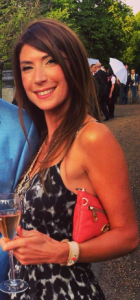 CHARLOTTE DORMON is our Healthista Eats blogger.  She's not a chef, or even that much of a cook.  If it's recipes you're looking for – you're in the wrong place.  But whether it's Sunday lunch or Friday night cocktails, she's the one friends and family turn to when they want to know how to eat out and be relatively healthy.  Each week she'll now be bringing you the same insider knowledge.  We'll drink – and eat – to that. Follow Charlotte on Twitter @lottielurvsu
Like this article? Sign up to our newsletter to get more articles like this delivered straight to your inbox.