Eaten more than ever in lockdown and never want to look at food again? Ok exaggeration much but one of these low calorie meal replacements might help you shed some of those unwanted pounds
Have you already given up on your new year resolution to lose weight? And has lockdown completely ruined any chance of losing some weight?
Anyways, with January in the rear-view mirror, old habits are likely to have snuck their way back in despite lockdown. Which means extra calories here and there and snoozing your alarm rather than heading outside for a workout.
The truth is though, those bad habits, no matter how small can be detrimental to your weight loss efforts. Ultimately, the key to losing weight comes down to how many calories you're consuming and burning off.
he key strategy for losing weight comes down to reducing your calorie intake
Indeed, any weight-loss expert will tell you that the key strategy for losing weight comes down to reducing your calorie intake, this is known as a calorie deficit.
Essentially, this means you need to be burning off more calories than you have consumed, either by not eating as many calories, or burning off the calories you have eaten with increased activity and exercise.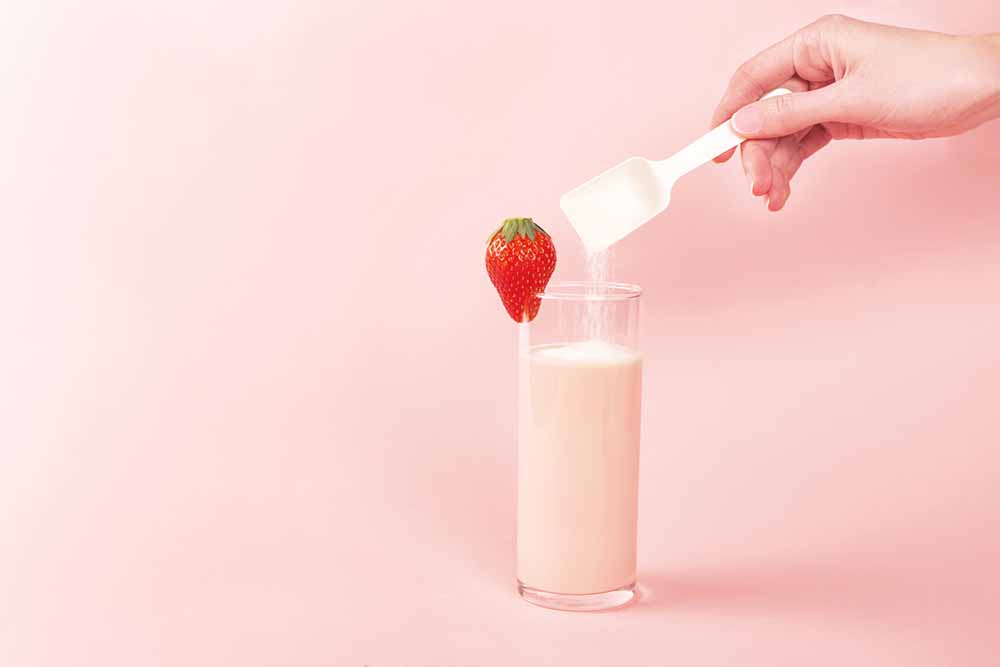 So how can we control our calorie intake? Behold the new 'in' thing – meal replacement shakes.
In fact meal replacements are now a big deal with a huge number of companies creating new and exciting flavours in order to satisfy our taste-buds.
Maybe you need to kick start your weight loss? Maybe you need to maintain your weight for your best friend's wedding in a few weeks? Or maybe you have some dinners planned and you need to calorie control during the day?
Whatever the reason or goal, meal replacement shakes will keep you on track and help you to control your calories where you need to.
So without further ado, here are the best meal replacements shakes that get the Healthista weight-loss seal of approval…
Best meal replacement shake #1 Norvia
Norvia is a nutrition company that launched a plant-based VLCD weight loss system based on meal replacement shakes in 2018.
Their three phase programme to achieve your weight-loss goals is based on a regular diet of three meals and two snacks per day.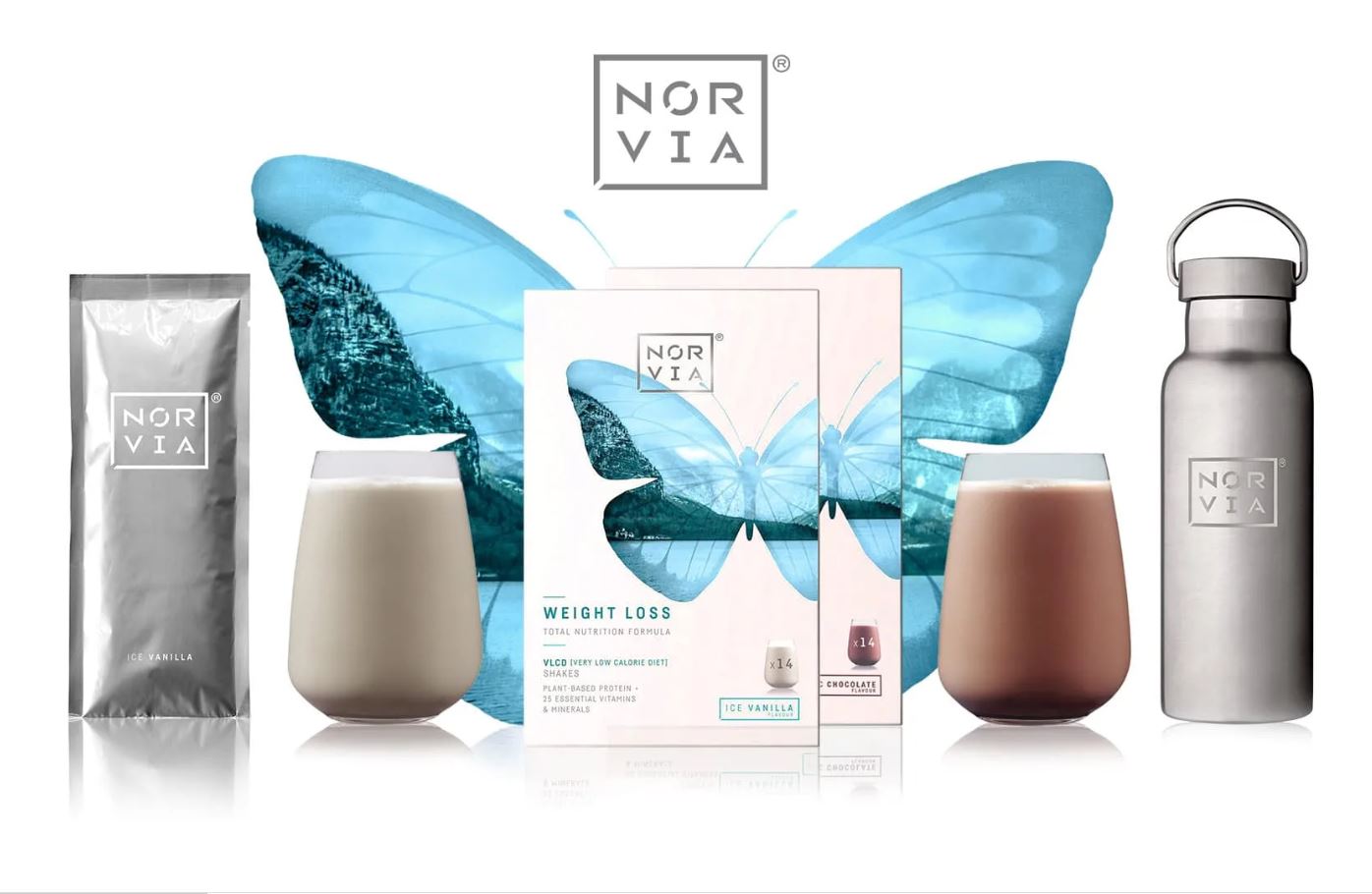 Attack phase
If you're clinically obese, you may want to go on the 'attack' phase of the diet. Which involves having five 140 calorie shakes for up to 12 weeks. Doctor supervision is advised.
5x Norvia shakes a day, approx. every 3hrs.
2L water / low calorie beverages a day.
Eat unlimited low calorie vegetables.
Integrate phase
For modest weight loss though and to simply just eat less where you need to, Norvia recommends replacing two to three of your daily meals with Norvia Weight loss shakes plus one healthy meal and one healthy snack during the day for up to 12 weeks.
3x Norvia a day, plus one calorie-controlled meal (around 500 calories).
2L water / low calorie beverages a day.
Eat unlimited low calorie vegetables.
Maintain phase
Then to further maintain weight loss after this, Norvia recommends replacing just one meal (breakfast, lunch or dinner) with one of the 140 calorie weight loss shakes.
1-2x Norvia a day, plus two calorie-controlled meals.
2L water / low calorie beverages a day.
Eat unlimited low calorie vegetables.
So basically, for fast and effective results start with Attack phase. For slower results and simpler integration into a healthy diet routine start with Integrate phase.
If you're not after weight loss, but need some extra nutritional supplementation after exercise, you can try Norvia Active Performance, designed as an addition to a healthy diet.
Healthista's verdict…
Healthista are big fans of Norvia. In fact when we run out we genuinely have a tantrum. It's just such a yummy meal replacement, you totally don't miss food.
Water, shaker, Norvia sachet, shake and enjoy. It's THAT easy.
Flavours available are Arctic Chocolate and Ice Vanilla, both of which are sensational, the Healthista team couldn't name a favourite.
They aren't too sweet, but aren't too bland either, they are smooth, delicious and taste like a milkshake – what's not to like?
Plus, the drinks do what it says on the tin and really does fill you up.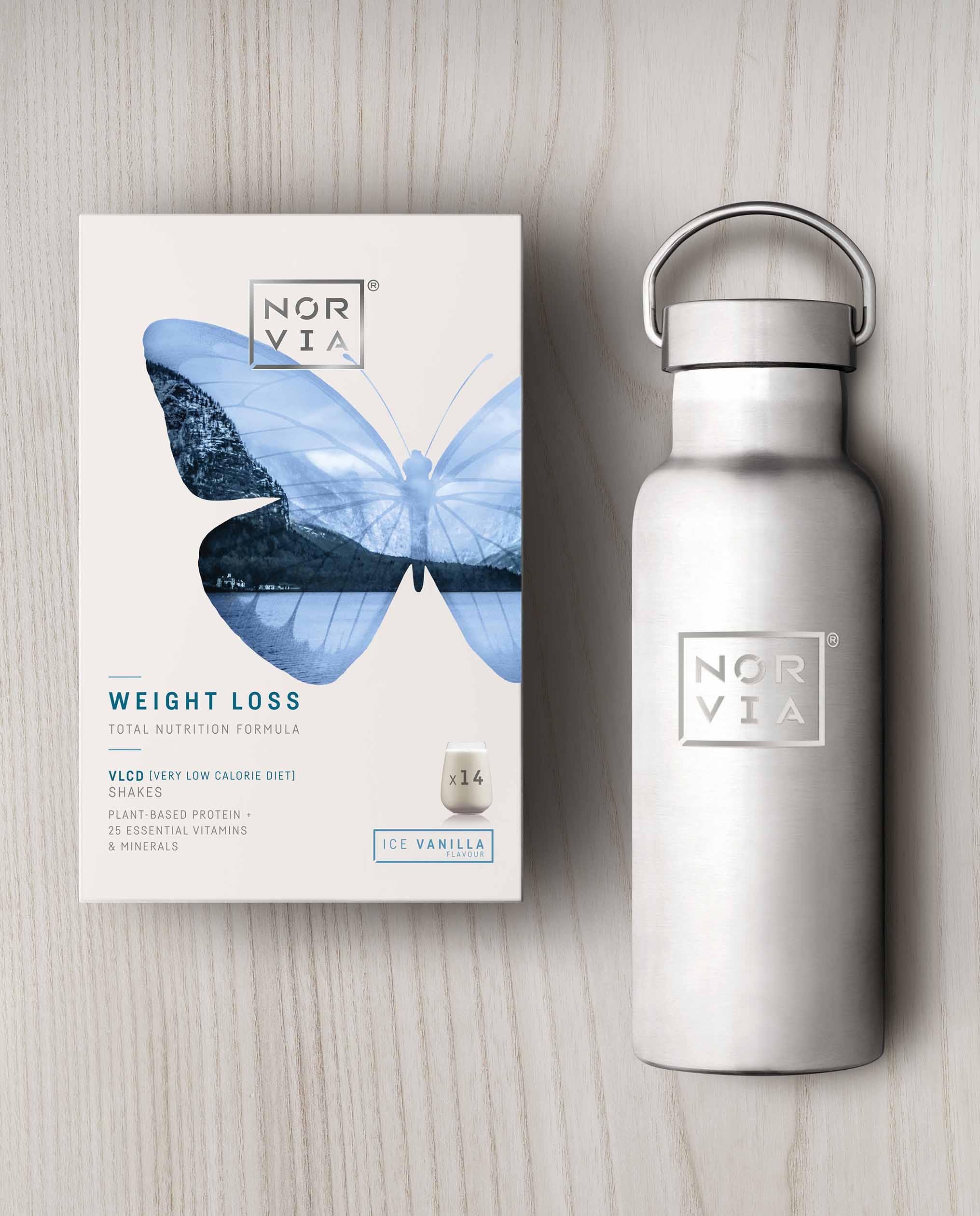 Taste: 9/10
Stops hunger: 9/10
Calories per serving: 140
Single portion foil sachets for maximum freshness and convenience.
Simply add the sachet to water in a shaker and you're good to go.
Norvia Weight Loss (VLCD) shakes  cost EUR 2.49 per sachet/portion and EUR 34.95 for the box of 14 sachets.
Norvia Active Performance shakes cost EUR 2.99 per sachet/portion EUR 29.95 for the box holding 10 sachets are available from Norvia.com.
Follow Norvia on Instagram @norvianutrition.
Ok, so we know that 1:1 Diet by Cambridge Weight Plan diet plan isn't just meal replacement 'shakes', but the shakes that they do offer are SO yummy we simply had to include them and their effective weight loss plan.
If you are looking for a meal replacement programme but need some extra 'one to one' support then 1:1 Diet by Cambridge Weight Plan is the perfect meal replacement diet for you.
This diet certainly isn't boring with over 35 products to choose from including a massive range of delicious meals, shakes, bars, soups, smoothies and snacks. All of their products and meals are around 200 calories.
1:1 Diet by Cambridge Weight Plan range has been researched and tested by experts to provide all the vitamins and minerals your body needs for manageable and healthy weight loss, so you don't need to worry about missing out on any of the key vitamins and nutrients.
All you need to do is find your personal diet consultant in your area, choose the nutritionally balanced products that you love the most and work out the perfect you-shaped plan to get you and your body to where you want to be.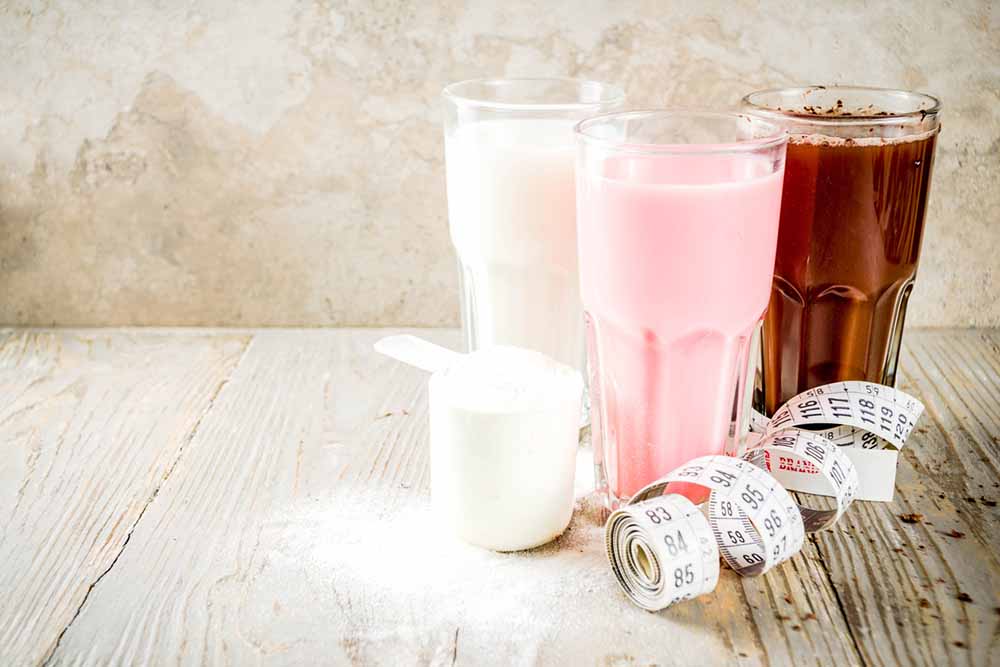 1:1 Diet by Cambridge Weight Plan works in a 'step' plan. Each step of the plan has been tailored to help you reach your goals and with your consultant, you can work out which plan fits in with your life.
There are 6 Steps, but they're not linear, so you can do any step at any time depending on your goal.
Step 1: will help you lose weight quickly and effectively. Here you'll replace all daily food with nutritionally complete meal replacement products. No supermarket shopping is necessary, just pick three or four products per day and voila – 600 to 800 calories a day.
Step 2: three products a day as well as a healthy meal of your choice that is around 200 calories. Think chicken and veg or a tuna salad – 800 calories a day.
Step 3: choose two products as well as a healthy breakfast, lunch and dinner – 1000 calories a day.
Step 4: If you're active, have a hectic job or you're a gym bunny then you'll need a few more calories than most. For this step you'll continue to have a couple of products a day as well as your lunch and dinner, plus an additional snack.
Step 5: teaches portion control and how to make the right food choices to help maintain your healthy weight. You'll continue to cook your food in a healthy way whilst still having one of the products throughout the day.
Step 6: the step that's all about maintenance. You'll still have regular check ins with your consultant for a pep talk every now and again, as well as a reminder of how far you've come. At this step, it's wise to have a few products on you, such as a bar or shake in your bag, just in case the office doughnuts threaten to ruin your progress.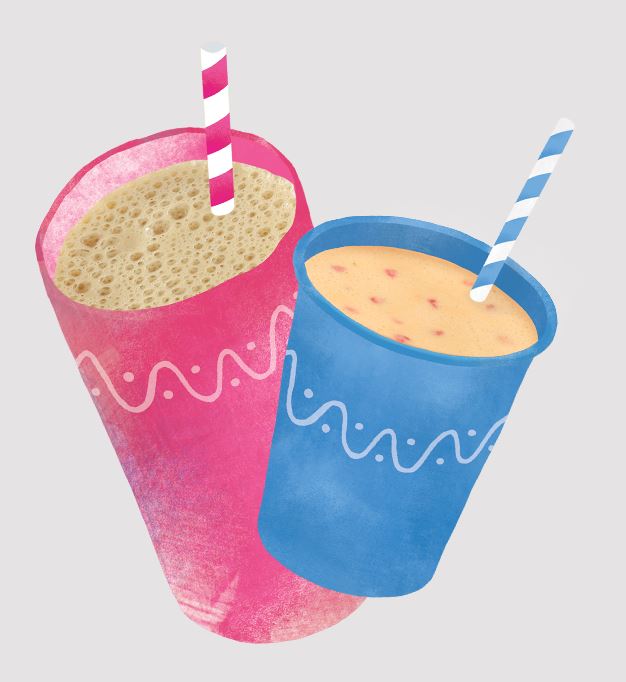 All 1:1 Diet by Cambridge Weight Plan products are either quick and easy to make or you can just grab them and go. But of the extensive range of products, their meal replacement shakes really do stand out. They are seriously delicious – like a McDonalds milkshake only far healthier.
The shakes come in classic flavours such as strawberry, vanilla and banana, as well as other flavours such as chocolate mint, chocolate orange and cappuccino. They are the perfect option for those who don't have the time to prepare meals throughout the day as they're super simple to make, just mix with water, shake and enjoy.
Healthista's verdict…
I myself gave the 1:1 Diet by Cambridge Weight Plan meal replacement plan a go and tested step 2 where I have three products a day and one healthy 200 calorie meal.
I lost four pounds in just one week – I know right. And by the second week I had lost a total of 22 inches from my chest, waist, hips, bum, legs and arms.
The meal replacement shakes really were the highlight of the plan for me, which is why I simply had to include them in this round up.
My absolute favourite flavour was mint chocolate, but I honestly loved them all. Like Norvia, all you need is water, a shaker, a 1:1 Diet by Cambridge Weight Plan meal replacement sachet, shake things up and voila.
Oh and the shakes definitely fill you up, the only thing is they are so delicious I could drink them all day, but I guess that defeats the objective of calorie controlled weight loss…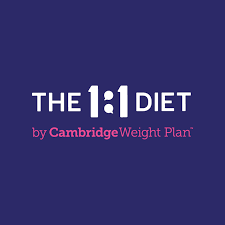 Taste: 9/10
Stops hunger: 8/10
Calories per serving: 200
Prices vary from consultant to consultant, but on average, you'll only pay around £2.60 for a meal.
So, it's cheaper and a whole lot better for you than bad food choices, plus it's super easy to grab and go and you won't have to spend ages in a supermarket or kitchen. Ideal for those who don't have time to get organised.
1:1 Diet by Cambridge Weight Plan is based on research, developed over decades by the top experts in the field and are used in guidelines issued by the American Heart Association, the American College of Cardiology and The Obesity Society for weight management.
Their products contain the recommended levels of all essential vitamins, minerals and other nutrients and have been shown to lead to substantial weight loss through calorie restriction and better dietary intake.
Best meal replacement shake #3 Huel
Everyone has heard of meal replacement and protein brand, Huel.
In fact, Huel is the world's leading complete food brand with a long list of successful products including powder, ready-made shakes and protein bars – aka the ultimate brand of easy healthy replacements, no wonder they are so popular.
Huel is a powdered meal replacement, blended with water to create a nutritionally complete meal in a shake. Plus, Huel is a gluten-free and 100 per cent vegan.
Huel's meal replacement powders contain 26 essential vitamins and minerals, along with the perfect balance of protein, carbs and fibre you need to fuel you through your day.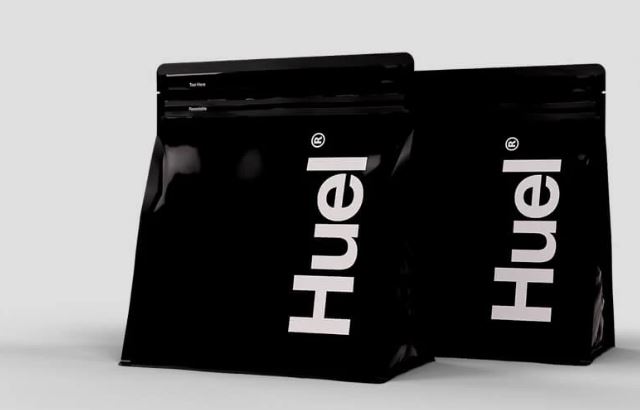 Huel's brand new Black Edition powder contains 50 per cent less carbs, 33 per cent more protein, zero artificial sweeteners and is naturally gluten-free.
Customers can choose between two classic flavours, vanilla and chocolate.
Top tips for making you Huel extra delicious:
Add ice cubes, or try chilling it overnight
Too thick? Add more water
Too thin? Use less water next time
Try plant based milk instead of water for a creamier taste and texture
Healthista's verdict…
The main thing that stands out about Huel's new Black Edition powder, is that it seriously fills you up.
Which means it does the job that's intended of it. In fact one day I made a Huel shake and couldn't even finish it, put it in the fridge and returned to it later on.
Serving sizes can be one scoop (45g, 200 calories) or two scoops (90g, 400 calories).
The two scoops is what makes the shake so filling and thick.
Being this thick makes it seem more like a meal that does satisfy your hunger, compared to some shake that are thinner and less filling.
Huel isn't sweet though, not that we minded that as here at Healthista HQ, we don't necessarily have a sweet tooth. We tried the vanilla flavour.
Healthista editor Anna Magee is completely sold on Huel, I think I have seen her have it for lunch pretty much everyday since we received a bag.
Taste: 8/10
Stops hunger: 9/10
Calories per serving: 200 or 400
After listening to feedback from their community, Huel has increased the protein ratio in Huel Black Edition and reduced the carbs to offer maximum flexibility.
Huel costs just £1.63 for a 400 calorie nutritionally complete meal.
They also offer bulk and subscription discounts, meaning the cost could start from just £1.10 per meal.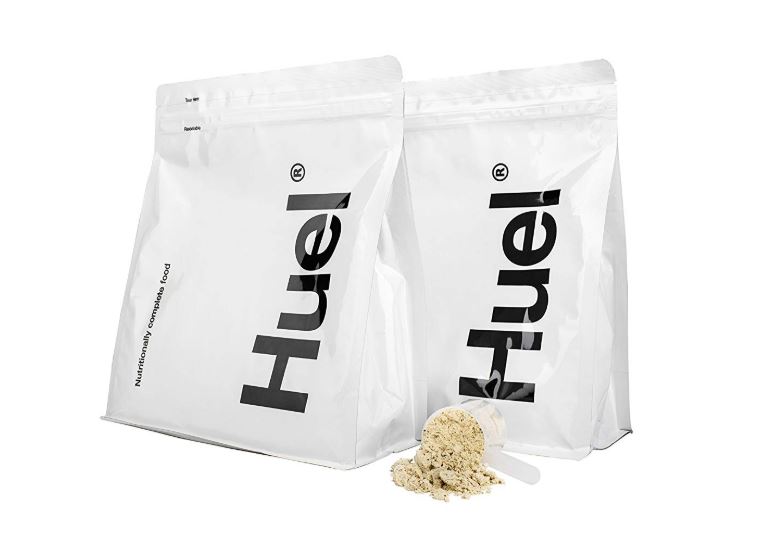 Huel has also released their new Huel Powder v3.0 which is the latest version of their original powdered food formula but with a smoother texture and an improved.
Since their last update two years ago, Huel's new formula has been made with all natural flavours to improve the taste, while not compromising on nutrition.
Huel believes that Huel Powder v3.0 is their best powder yet, and still contains all 26 essential vitamins and minerals, along with the perfect balance of protein, carbs, fibre you need on a daily basis.
Each serving of Huel Powder v3.0 contains 29g of plant-based protein, 7g of fibre and less than 1 per cent of sugar – wowzers.
The new formula features all-natural ingredients, such as ultra-fine oats, tapioca starch, pea protein, brown rice flour, MCTs from coconut and flaxseed.
The main difference between Huel's New Black Editon and their New Huel Powder v3.0 is that there more protein in the Black edition (40 grams compared to 29 grams) as well as being lower in carbohydrates (17 grams compared to 38 grams).
Serving sizes can be one scoop (45g, 200 calories) or two scoops (90g, 400 calories).
Healthistas verdict…
When we first opened our vanilla bag of Huel v3.0, the smell of the powder didn't thrill us. But that first sip? Honestly YUM. Not only is it delicious, it has a strong vanilla taste that is sweet but not too sweet.
Just like Huel's Black Edition, Heul Powder v3.0 is also very thick which makes it seem like more of a meal and is very filling indeed.
The same thing happened to me yet again whereby I actually couldn't finish the drink all in one go. I had a rest and couldn't wait to go back for more.
Healthista may just have a new favourite meal replacement…
Taste: 9/10
Stops hunger: 9/10
Calories per serving: 200 or 400
Huel Powder v3.0 is gluten free, 100 per cent vegan and made with sustainable ingredients.
Customers can choose from seven delicious flavours, such as vanilla, coffee, chocolate, banana, mint chocolate and berry.
For as little as £1.47 per meal, customers have access to nutritious and affordable meals which they can prepare in seconds.
For more info visit huel.com
Best meal replacement shake #4 Fast-800
Seen this famous face before? Doctor Micheal Mosley is a well-known TV doctor famous for his appearances on the BBC since 1985.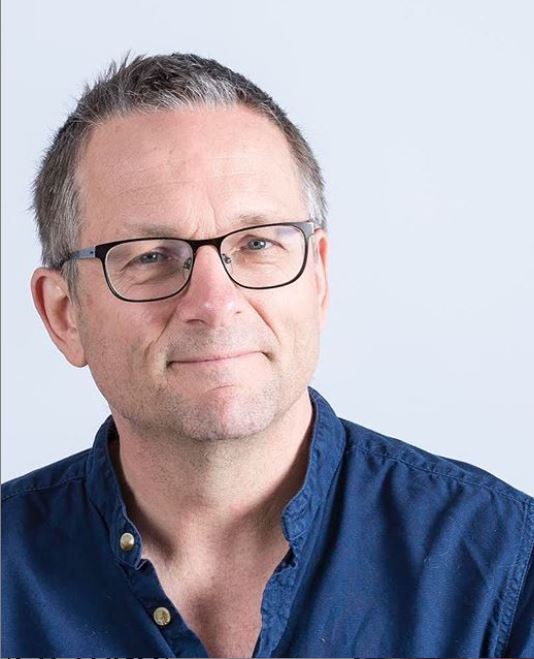 You may also know him as the man who popularised the famous 5:2 diet after appearing the in BBC documentary Eat, Fast and Live Longer, where he discovered the powerful new science behind the ancient idea of fasting.
The 5:2 diet still allowed him to enjoy his food, and when testing out the fasting diet on himself he saw life-changing results.
In fact, Doctor Mosley's Fast Diet has become one of the health phenomenon of our times.
Doctor Mosley has since gone on to write other books including his latest book The Fast 800: How to combine rapid weight loss and intermittent fasting for long-term health, where he brings together the latest science that suggests how 800 calories is the magic number when it comes to successful dieting and maintaining weight-loss.
The 5:2 diet is already pretty simple to follow, whereby for two days a week you only consume 800 calories, it's just been made even easier with their new Fast 800 Shakes.
Although Dr Mosley and his wife Dr Clare Bailey recommend eating real food first, they also understand that people live busy lives and cannot always cook for themselves.
That's why they have developed a convenient yet nutritional meal replacement, low in sugary and starchy carbs, high in protein, fibre and quality fats, formulated in line with their principles to take the stress out of healthy living.
According to Dr Mosley and Dr Bailey, increasing evidence points to the occasional meal replacement shake being essential in maintaining  a healthy lifestyle in today's hectic world.
In fact, research indicates that partial meal replacement (PMR) of food with shakes helps lead to better outcomes than conventional diets alone.
For example, in 2008, the American Dietetic Association compared three randomised controlled trials of weight loss programmes, comparing real food alone to programmes that featured partial meal replacement shakes.
Results found that those using partial meal replacement shakes lost more weight at 12 weeks as well as over one year later, plus they had a significantly lower drop-out rate.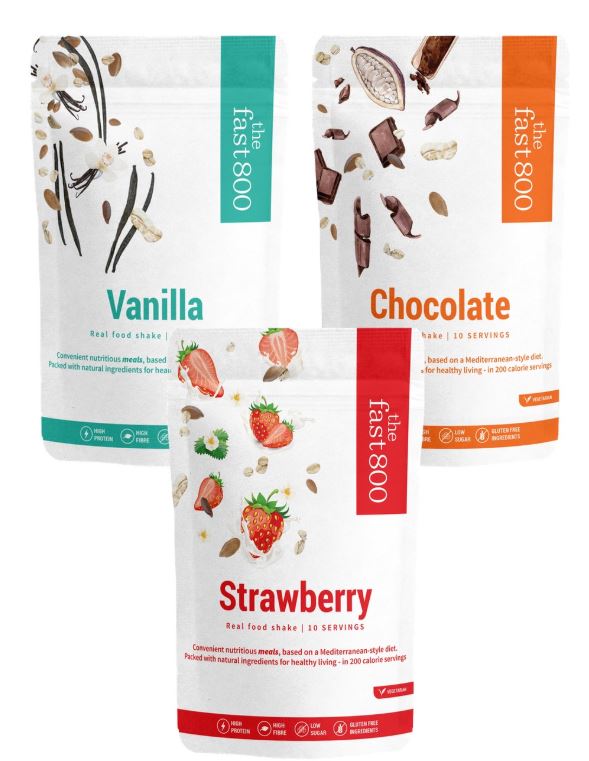 So, whether you want to replace your lunchtime sandwich or your evening ready meal (or both) to help cut down your calories, the Fast 800 shakes will help take the stress out of healthy living and keep you on track.
The Mediterranean style Fast 800 shakes are calorie controlled at 196 calories per 50g serving (that's 5 scoops) and offers 23g of protein.
The shakes are 100 per cent natural, 100 per cent vegetarian and contain no artificial additives.
What they do contain though are a carefully chosen blend of whey or vegetable protein, coconut, almonds, minerals and vitamins.
Slow release and satisfying, the nutrient dense low-sugar/low-carb calories in the Fast 800 shakes will keep you full between meals without raising blood sugar levels.
Containing 25 per cent of your recommended daily intake of 262 essential minerals and vitamins per each 200 calorie serving, to help provide you with the nutrition you need.
The Fast 800, has now launched a brand-new flavour to its range of natural and nutritious shakes – Coffee.  The 200-calorie, coffee flavour shake, contains no caffeine and is packed with natural ingredients containing essential nutrients that will help to support immune systems.
Healthista's verdict…
We tested the Fast 800 vanilla meal replacement and again like Huel, it's one for those who don't necessarily have a sweet tooth. It isn't bland though, just the right amount of vanilla sweet.
What we noticed about the Fast 800 shakes is that it is more grainy rather than smooth, like some other meal replacements. This makes it feel more like a meal. If you do want it to be smoother though you could always give it a whiz in a blender.
I have replaced my lunch a few times with the Fast 800 formula, and although I didn't feel full straight after drinking the shake, I felt that around two hours later, I was no where near as hungry as I would normally be.
So whether you are looking to lose weight or simply support a healthy lifestyle, these shakes can be perfect for giving you that little extra help where you need it.
Taste: 6/10
Stops hunger: 7/10
Calories per serving: 196
As well as the Original shakes available in vanilla, chocolate and strawberry flavours, Fast 800 also sell a vegan range in the same three flavours – yum.
Simply mix five scoop with water or unsweetened almond milk (around 25kcal per 200ml).
You'll get ten shakes per 500g pouch for £18.99 (that's £1.90 a shake).
For more info visit the Fast 800 website.
Day to day stress and busier lives is putting more pressure on people than ever before and that's also having an impact on their diet, as most people can't find the time to buy high quality nutritious food.
That's why Ringana has developed Complete d-eat – the healthy go-to shake with only 200 calories per meal.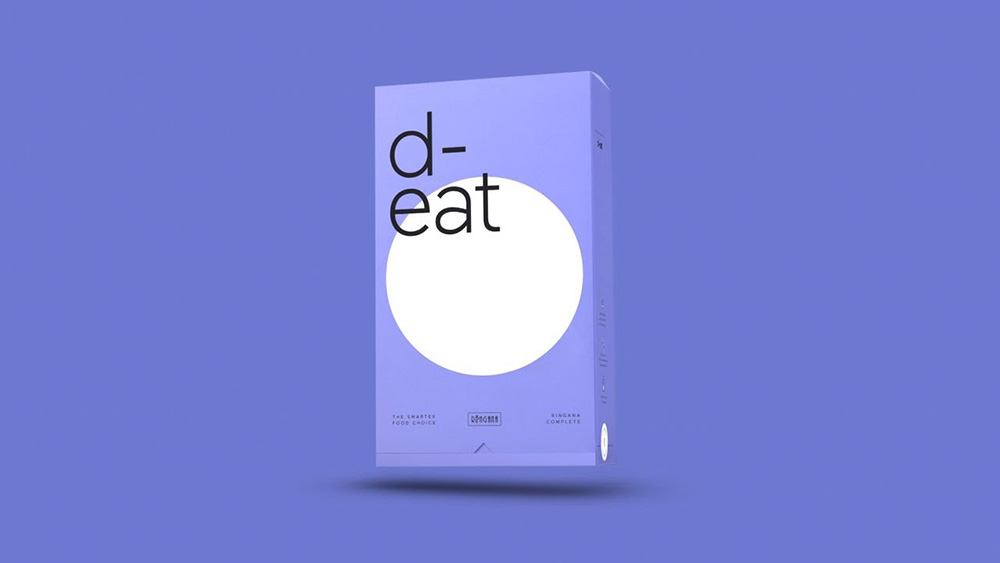 Indeed, one sachet is the same as a full, well-balanced meal that contains all the important nutrients a person needs from a healthy diet, as well as essential amino acids.
The ingredients are all natural with no artificial flavorings, sweeteners or other synthetic additives. Plus, the shakes rely on natural vegan protein sources such as wholegrain rice, linseed, peas and sunflower seeds.
Preparation again is super quick and easy, simply mix 300ml of water in a shaker with one sachet of d-eat and you have your meal replacement.
There are three different phases to the d-eat meal replacement plan.
Weight loss phase
To lose weight effectively, replacing two of your main meals per day is suggested.
As well as this be sure to drink two to three litres of calorie free beverages such as water and herbal teas and ensure you get at least 30 minutes of movement daily.
Continue with this phase until you have reached your desired weight.
Stabilisation phase
During this phase you replace only one meal with a d-eat shake – ideally your evening meal – and eat two normal, balanced meals per day.
Your weight should stabilise or drop slightly more. Once your weight has remained stable for some time, stop replacing your meals with d-eat and move onto the next phase.
Maintenance phase
This phase is to be done once you have reached your feelgood weight, and so that it stays that way you now choose one day per week called your d-eat day.
The principle is simple: one day a week (ideally a weekday) you replace two of your meals with a Complete d-eat shake. On the other six days you eat a normal, balanced diet.
Healthista's verdict…
This meal replacement is certainly that, as after trying testing, the whole Healthista team felt full indeed.
d-eat doesn't have a distinct flavour, in fact it's very neutral. A few Healthistas had to add some coconut milk to theirs as they felt it was too bland.
The thing is, it can't be described as sweet or savory, which makes it very hard to describe the taste, but earthy and mild is what we agreed on.
The texture though can be described as creamy with no grainy bits or lumps, making it very easy to drink.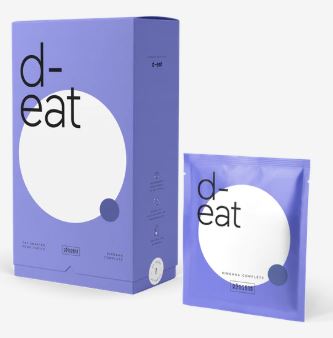 Taste: 4/10
Stops hunger: 7/10
Calories per serving: 200
Don't fancy cooking? Want to lose some excess weight?
Complete d-eat is a complete vegan meal that provides you with all the nutrients you need, and has only 200 kcal.
14 sachets (700g), £51.70 (EUR 59)
For more information visit ringana.com
Relevant Healthista Content:
11 diet and fitness rules Jennifer Lopez lives by
13 healthy eating tips from Chris Hemsworth's chef
Healthista Content you may also like:
Need a protein powder for weight loss? Look for these 6 ingredients
22 vegan protein sources and exactly how much to eat of them
Do you need to add more plant-based protein to your diet?
8 best tasting kombucha drinks
Like this article? Sign up to our newsletter to get more articles like this delivered straight to your inbox.