First, a confession. I hate, hate, hate spin.  But it's not all about me is it?  It's about what's new.  So in the interests of selfless service, I tried BoomBody at Boom Cycle in Shoreditch last night.  The blurb said it would work other parts of the body as well as the legs which I figured meant an easier ride…
I first heard about Boom Cycle when I interviewed it's founder, Hilary Gilbert, a swimwear and underwear model for a feature in Marie Claire about the secrets of women who have to be fit for their jobs.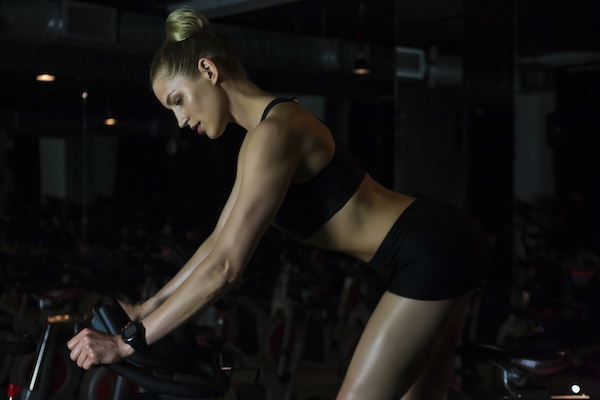 US-born Gilbert is not only unfathomably good-looking, she has one of the best bodies I have ever seen which makes her about the only ad package Boom needs.  Gilbert was open about the fact that she trains hard and eats super healthily to get that body rather than wheeling out the old model line about having a fast metabolism.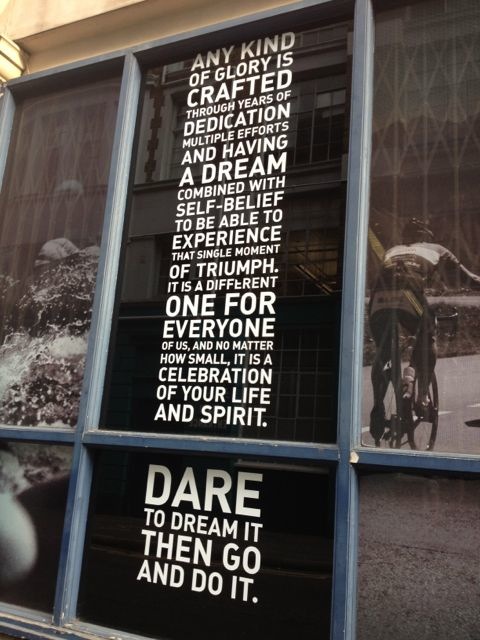 Boom Body is in the middle of the super cool part of Shoreditch just off the Old Street silicon roundabout and on the way over the pavement was a sea of skinny jeaned boys with beards and girls with red lipstick and top buns.  The exterior has on it painted a rather current mix of motivating statements in white-on-black bold lettering.
'Wow, this is loud!' is my first thought walking in – which says more about me and my advancing age than Boom.  It's as loud as any nightclub with the same kind of thumping, hot and moist atmosphere.  It's also small.  It's in a basement with the one studio.  The whole thing has an underground, campusy feel – well it is literally underground – like attending a secret rave party (at least as I remember them in the 90s that is).
The change rooms.  Small.  Tiny in fact, but no one seems to care.  I love that the lockers are free and also that people at the counters smile like they're glad to see you.  The counter features cool niche health brands even I had never heard of – last night there was a sampling of new Plenish juices in novel mixes like cashew milk (the only nut milk I have not seen before).

But make no mistake, the atmosphere and clientele – awash with printed tights and overtly fashionable trainers –  screams cool.  I get the feeling when they're not building youtube empires or doing power yoga in Ibiza that this is where the in crowd come to train.  I can't spot anyone over 30 or vaguely overweight for that matter.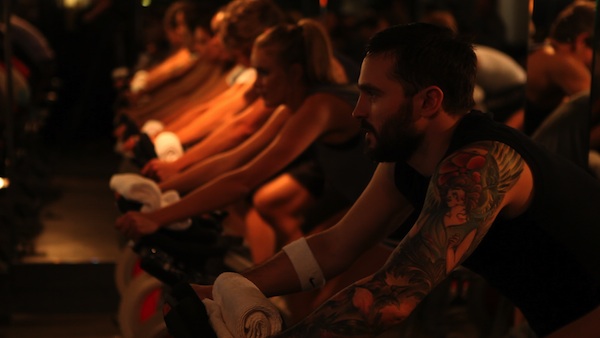 The studio has a nightclub feel to it too.  The walls are dark grey, the lights are low and the music is loud, thumping and clubby.  Each bike comes with a clean rolled up towel that quietly taunts 'Prepare to SWEAT, suckerrrr!'
The instructor, Lara is a smiling, toned fitness machine that looks like she wouldn't want to be anywhere else.  In terms of the staff looking like they're really happy to be there, Boom is rivalled by only the Apple Store.
On to the class, the bit I was dreading.  Well it's Spin.  With a twist.  First, the lights are right down so you can't see your sweating face or your wrinkles and saggy bits in the mirror, only a vague silhouette if you really try you can convince yourself you're actually someone cool and attractive. That was my game.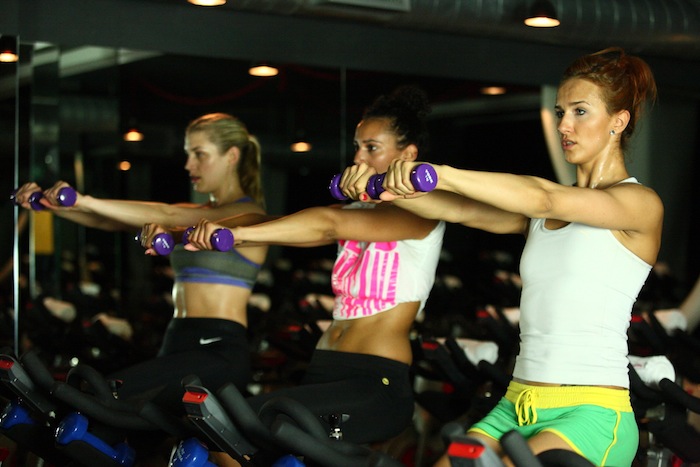 And here's the twist.  You take one, three and / or five kilo handweights to your bike and about 60 per cent of the class is spent utterly smashing your upper body with combinations of bicep curls, tricep curls, masses of core twists, shoulder presses and lifts and still more bicep curls (Lara loves bicep curls).  And throughout, you're cycling and spinning quickly.  Between the upper body resistance sets, you're doing interval sprints on a high gear on the bike as well as steady hill climbs as per a usual spin class.
Lara is encouraging without running around the room singling people out to work harder or pedal quicker (when instructors do this it doesn't motivate me but only makes me want to cry).  It did also mean I slacked my gears off often and looking at my calorie burn – low for spin – this was probably often or I am continuing the lazy theme
By about 15 minutes in I was sweating and by 30 minutes in my hair was drenched. This was an hour long class, making it the longest spin class I've ever done.  Doing the upper body work made it feel less unbalanced than a usual spin class which seems to me to be hunching over a bike after hunching over a desk all day.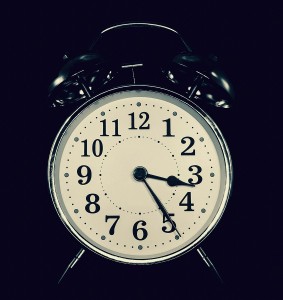 I did the 7.30pm session and by 7.40pm was doing what I always do in spin classes – finding the clock immeasurably interesting and needing to glance at it every second wishing this would all bloody well stop.  But that's the thing with spin classes, does anyone enjoy them? Or do they really only enjoy that damn smugness you feel at the end at having trained so hard – I certainly did and rewarded myself with a Magnum white after dinner thanks very much (more cals than I actually burned but let's not get stuck in the details).
Looking around the room, it must be working because everyone – replete in their printed tights and Sweaty Betty handpicked essentials – wasn't just slim, they were all in good shape.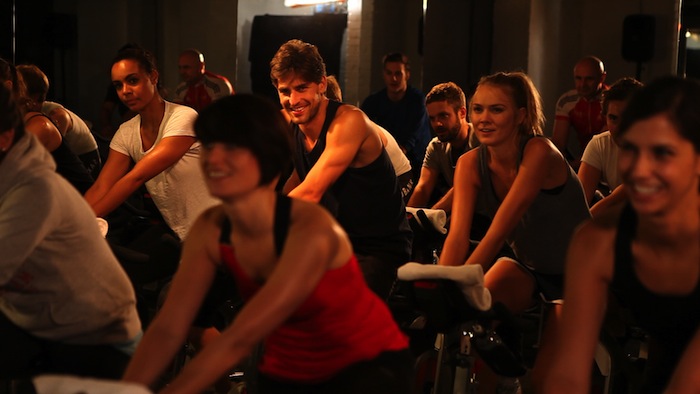 Although I have a spin allergy and generally avoid it like the plague, total body spin on the other hand I enjoyed and could do – would do – again.  It felt more like a more balanced workout than classes focusing only on the lower body and today my butt and inner thighs are killing me.  So too are my biceps, after the might bashing they took at the hands of Lara.  So it's out with the arms (and a little subtle flexing) today.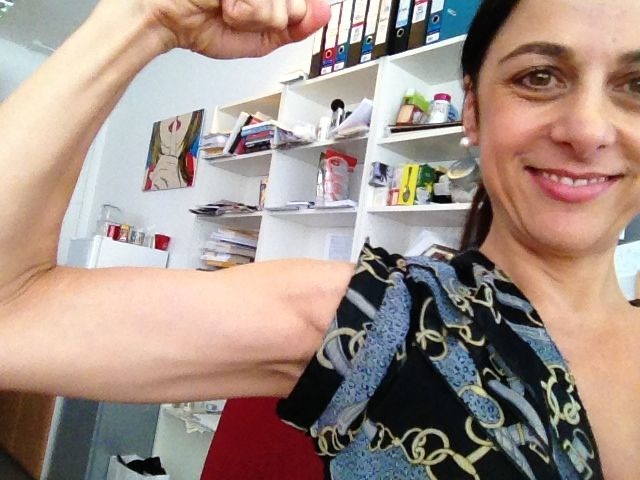 Where: Boom Cycle, 2-8 Scrutton Street, London EC2A 4RT 0207 426 0702
Contact: 0207 426 0702 boommybody.com
How much are classes? £14 bought in credits and you book all classes online
Did I pay? Yes
Calories burned: 209
Calories calculated using the Ki Fit Body Monitor
Like this article? Sign up to our newsletter to get more articles like this delivered straight to your inbox.