Welcome to the NEW Healthista series featuring 30 days of 'Weight loss tips' with Nutritionist Rick Hay. Find out why Real Health Wholefood Women's Multi can help you reach your weight loss goals
January is here again and we can wipe our slate clean and forget about all the feasting that took place over Christmas…that was easy. Now for the hard part, the new year's resolutions. This tends to be health related for the majority of us and usually we set ourselves an ambitious target.
Well, with the help of Nutritionist Rick Hay selecting his best food and supplement choices for weight loss goals, that ambitious target can become reachable. Over the next 30 days we will be providing you with a weight loss tip every day to help keep you fuelled with the right nutrients to keep you on track.
Real Health Women's Multi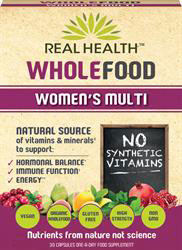 'Exercise is integral to successful weight loss, but maybe you feel lethargic and tired. You may wake up feeling less than ready to exercise and you read those magazine articles that say exercise in the morning but you've got no energy. A great way to overcome this is, is to look at a whole food multivitamin. What it's going to do is deliver things like B vitamins, to help us with energy production. They also help with cerebral function, which can help with mood. This multi delivers selenium and silica. When you look at selenium, it's a really good liver tonic and it also has really good antioxidant properties. Silica, on the other hand, is great for hair, skin and nails. So you're getting the benefit of an immune boost, more energy for exercise and also better hair skin and nails.'
Available for £15.99, 30 capsules, from the Healthista shop