Need to lose weight? Trying to create a calorie deficit? Try one of these low carb dinner recipes that will actually fill you up from the Fast 800 recipe book 
Who else has taken full advantage of the governments Eat Out To Help Out scheme? We certainly did and oh don't the scales know it!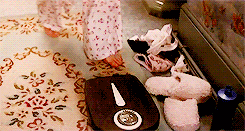 The Government's Eat Out to Help Out scheme, which gave diners 50 per cent discounts up to £10 per person on sit-down meals from Monday to Wednesday ended on Monday 31 August, after the bank holiday weekend.
The scheme, aimed to encourage consumers to venture out to restaurants and pubs after months of staying indoors – and it worked.
In fact, according to government figures, in the first two weeks of August it was estimated that people had indeed taken advantage of the discounted meal scheme a whopping 35 million times with 85,000 restaurants taking part.
Healthista have called upon The Fast 800 Recipe Book
Showing a clear appetite for half-price dining a range of restaurants, pubs and cafes have said they will continue to offer a similar discount at their own expense.
This news may be excellent for some, but others may be panicking that their waistlines will end up suffering the consequences.
That's why Healthista have called upon The Fast 800 Recipe Book to bring you some low carb dinner recipes and inspiration.
Following Dr Michael Mosley's No 1 bestselling Fast 800, the companion cookbook written by his wife Dr Clare Bailey and Justine Pattison – one of the UK's leading healthy-eating recipe writers – features a collection of delicious and nutritious recipes to help you watch your calories.
https://www.instagram.com/p/CBcy6jHADXv/
Whether you're looking to lose weight, cut down your calories, improve your general health or just have a break from heavy meals after eating out to help out a few too many times, one of these low carb dinner recipes is sure to do the trick..
Low Carb Dinner Recipe #1 Mushroom & Chestnut Hot Pot
You'll find dried mushrooms with the stock cubes or in the speciality section of the supermarket. They add
a depth of flavour that makes this dish particularly rich and delicious.
Serve with lots of freshly cooked leafy greens, kale or shredded Savoy cabbage.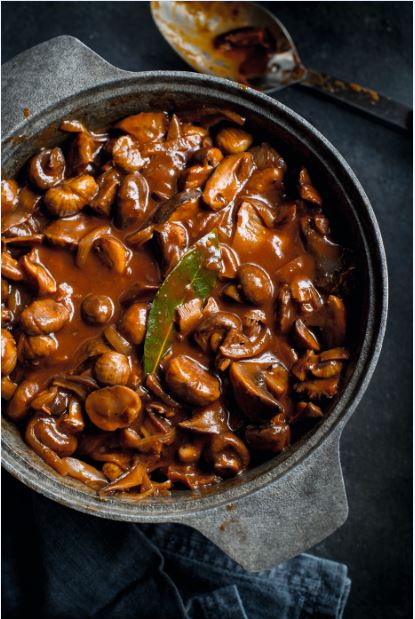 Serves 4
Calories Per serving: 212cals
Protein 5.5g
Fat 7.5g
Fibre 5g
Carbs 24g
Ingredients:
– 15g dried mixed mushrooms
– 2 tbsp olive or rapeseed oil
– 1 medium onion, peeled and thinly sliced
– 400g mixed mushrooms, such as chestnut, shiitake and Portobello, sliced (or halved if small)
– Pinch crushed dried chilli flakes (optional)
– 2 garlic cloves, peeled and crushed
– 1 vegetable stock cube
– 180g cooked and peeled chestnuts
– 100ml red wine (or water)
– 2 tbsp tomato purée
– 1 tbsp fresh thyme leaves (or 1 tsp dried thyme)
– 2 bay leaves
– 4 tsp cornflour
Method:
Place the dried mushrooms in a measuring jug and cover with 500ml just-boiled water from a kettle. Stir and leave to stand for 15 minutes.
Heat the oil in a flame-proof casserole and gently fry the onion and fresh mushrooms for six to eight minutes, or until the onion is softened and the mushrooms lightly browned. Add the garlic and cook for a few seconds more, stirring.
Stir in the soaked mushrooms and their liquor, avoiding any deposits that may have settled at the bottom of the jug. Add the stock cube and stir in the chestnuts, wine or water, tomato purée, thyme and bay leaves.
Season with sea salt and ground black pepper. Bring to a simmer, cover the pan
loosely and cook for about 12 minutes, stirring occasionally.
Mix the cornflour with two tablespoons cold water to form a thin paste, then stir into the mushroom mixture. Cook for a further one to two minutes, stirring constantly, until the sauce is thickened and glossy.
Cook's tips: If you have time, top the finished dish with 200g peeled and very thinly sliced celeriac. Cover and bake at 200˚C/fan 180˚C/Gas 6 for 20 minutes. Remove the lid and cook for a further ten minutes, or until the celeriac is tender and lightly browned (this will add 14cals per serving).
For days when you need more protein and fewer carbs, you could swap some of the chestnuts for walnuts.
Low Carb Dinner Recipe #2 Salmon Salad Bowl
Serve the salad warm as a delicious lunch or supper, or take it to work in a lidded container for a nutritious
and filling packed lunch.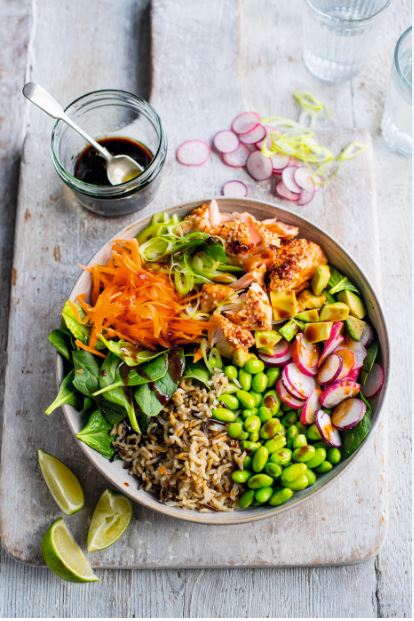 Serves 2 
Calories Per serving: 542cals
Protein 33g
Fat 35.5g
Fibre 6g
Carbs 20g
Ingredients:
– 25 g wholegrain brown rice, or brown and wild rice mix
– 75g frozen edamame beans or frozen peas
– 2 x 120g salmon fillets
– 1 tsp sesame seeds
– Pinch crushed dried chilli flakes (optional)
– 2 large handfuls young spinach leaves or mixed baby salad leaves
– 1/2 medium avocado, stoned, peeled and chopped (see tip on page 40)
– 1 medium carrot, trimmed and coarsely grated
– 2 spring onions, trimmed and finely sliced
– 4 radishes, trimmed and sliced lime wedges to serve
For the soy and lime dressing
– 2 tbsp dark soy sauce
– 1 tbsp sesame oil
– 1 tsp fresh lime juice
– 1 tsp runny honey
Method:
Preheat the oven to 200˚C/fan 180˚C/Gas 6 and line a small baking tray with foil.
Half fill a small saucepan with water and bring to the boil. Add the rice and cook for about 20 minutes, or until tender. Add the edamame beans or peas and return to the boil, stirring. Drain immediately.
To make the dressing, combine the soy sauce, sesame oil, lime juice and honey in a small bowl and whisk well.
Place the salmon, skin-side down, on the prepared tray and drizzle with two teaspoons of the dressing. Sprinkle with the sesame seeds and chilli flakes, if using. Bake for ten to 12 minutes, or until just cooked. (It is ready when the salmon flakes into large pieces easily when prodded with a fork.)
Divide the leaves, rice and beans or peas between two bowls. Add the leaves and arrange the avocado, carrot, spring onions and radishes alongside. Flake the salmon into the bowl (leaving behind the skin), drizzle with the rest of the dressing and serve with lime wedges for squeezing over.
Cook's tips: Make the full amount, even if you only need one serving, as the rest will keep well in the fridge for the next day.
The dressing contains 39 cals per tablespoon – without the honey. Feel free to add it to a different salad but don't forget to add the extra calories.
Low Carb Dinner Recipe #3 Creamy Cashew & Tofu Curry
Thai-style curries always seem to go down well and this one is low on carbs but high in flavour. If you don't like tofu, try Quorn pieces instead.
Please note, some curry pastes contain fish sauce.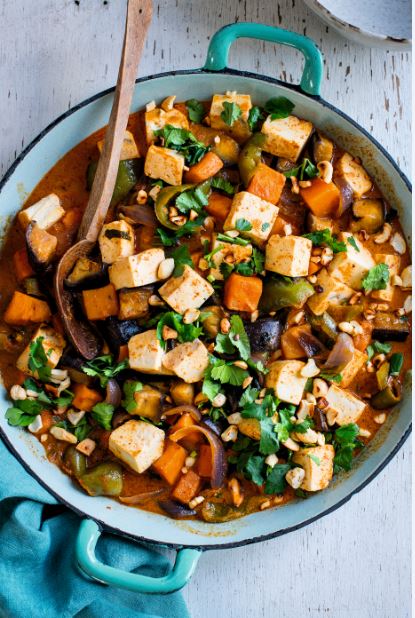 Serves 4
Calories Per serving: 598cals
Protein 20g
Fat 43.5g
Fibre 10.5g
Carbs 26g
Ingredients:
– 2 tbsp coconut or rapeseed oil
– 1 medium aubergine (around 225g) cut into roughly 2cm chunks
– 1 medium red onion, peeled and cut into 12 wedges
– 350g butternut squash, peeled, deseeded and cut into roughly 2cm chunks
– 4 tbsp Thai red or green curry paste
– 1 × 400ml can full-fat coconut milk
– 100g cashew nuts, roughly chopped
– 1 large pepper (any colour), deseeded and cut into roughly 2cm chunks
– 20g fresh coriander, leaves roughly chopped
– 280g firm, or extra-firm tofu, drained, cut into roughly 2cm cubes
– 300g cauliflower rice (see page 242; optional)
Method:
Heat one tablespoon of the oil in a large pan or shallow casserole over a high heat. Add the aubergine and stir-fry for four to five minutes, until golden brown. Transfer to a bowl.
Reduce the heat, add the remaining oil, onion and squash to the pan and fry gently for 5 minutes, stirring regularly. Add the curry paste and cook for one minute, stirring constantly.
Stir in the coconut milk, half the nuts, the pepper and 100ml water. Season with sea salt and ground black pepper. Cover the pan loosely with a lid, bring to a gentle simmer and cook for ten minutes, stirring occasionally.
Stir the aubergine and half the coriander into the pan and return to a simmer. Add the tofu, cover and cook for a further five to six minutes, until the aubergine is softened and the tofu hot. Add a splash more water if the curry reduces too much.
Sprinkle with the reserved coriander and cashew nuts, and serve with freshly cooked cauliflower rice, if using.
Relevant Healthista Content:
5 quick and easy low-carb recipes you will LOVE
12 best low calorie foods to eat when you're REALLY hungry
Healthista Content you may also like:
Jillian Michaels says these 11 fat loss tips will help you lose weight and keep it off
5 protein-packed vegan recipes we're loving from Gaz Oakley's new cookbook
15 best-tasting nut and seed butters you didn't know you needed
What these health experts eat for breakfast
Like this article? Sign up to our newsletter to get more articles like this delivered straight to your inbox.