From indulgent chocolate to new year health essentials, Healthista's Vanessa Chalmers picks the best Christmas gifts for healthy foodies  
I've been testing and tasting foodie products all year so I know a thing or two about what might delight the healthy foodie in your life. As a healthy food lover and cooking enthusiast myself, these are the picks I simply have to shout about.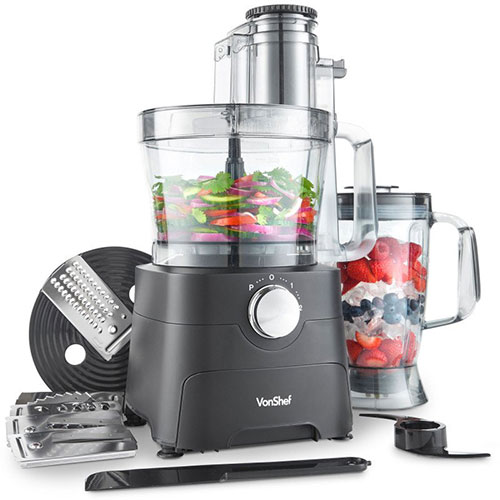 How many times have you looked at a recipe and groaned when it says 'blitz in a food processor' – something you don't have? No 21st century kitchen is complete without one, but which one to go for? Ticking all our boxes is the VonShef 1000W which comes in at a totally affordable price of under £65. Chopping, grating and shredding are a chore of the past, because this nifty little machine can do it all for you to save time. Being able to blend together dips, purées and sauces makes experimenting with recipes so much more achievable, and you'll soon be making raw flapjack and protein energy balls until the cows come home. It comes with a range of equipment; a large 3.5-litre bowl to make large quantities with, a 1.8-litre blender jar for whipping up shakes and a variety of blades that tuck neatly away in an integrated drawer. We doubt you'll need any other appliances once this bad boy shows you what it can do.
Available for £64.99 from Amazon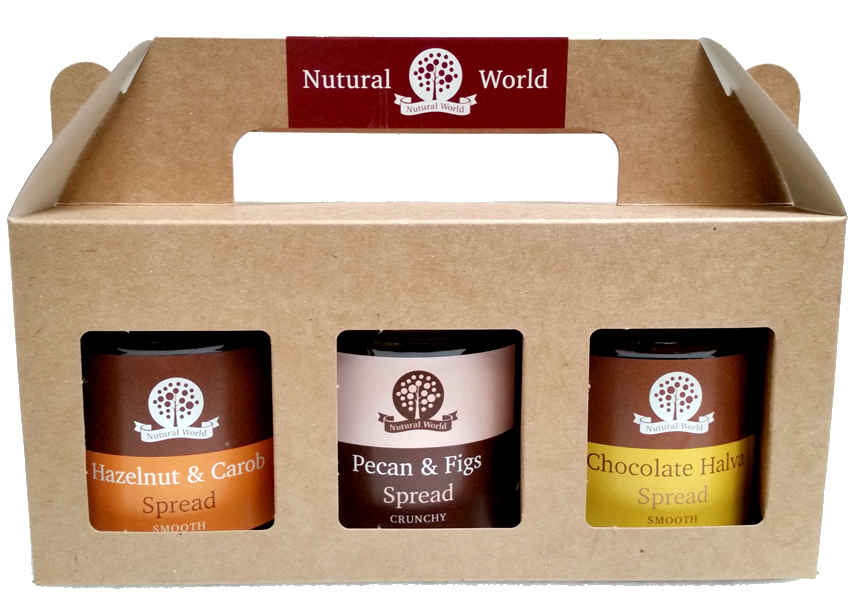 Don't stop at peanut butter this Christmas. There is a whole world of decadent nut butters, and if you have a friend who is obsessed with the stuff, they will love his bundle from vegan friendly brand, Nutural World. Pecan and Fig has to be our favourite of the three, with a warming sweet Christmas pud smell despite being 90 per cent pecans (lightly roasted) and free of added sugar. You can't go wrong with Hazelnut and Carob and Chocolate Halva either. If you're looking to take it to the next gourmet level, the Luxury Nut Butter Collection consists of Pistachio, Macadamia and Pine Nut.
Available for £15.99 for three 170g jars from Nutural World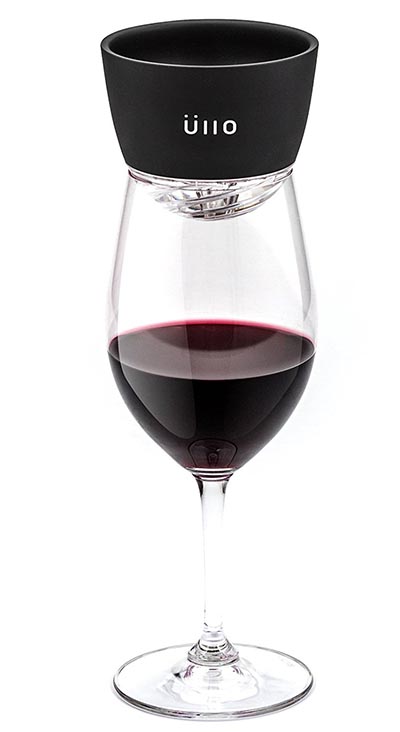 Somewhere in a dream parallel universe hangovers don't exist. Until then, we are super-excited about a new product, Üllo Wine Purifier, which can help filter toxins in wine to avoid the dreaded morning-after-misery. Sulphites are used in wine as a preservative during transportation and storage of wine in order to prevent against oxidation and bacterial spoilage. But once that cork is popped, they are no longer necessary. Sitting atop your glass or carafe, the Selective Sulfite Capture technology in Üllo acts as a magnet to remove the sulphites with the aim of restoring wine to its natural state – a luxury service for wine snobs. This can change the flavour of the wine, most noticeable removing any strong bitter tastes in some. You can also breathe air into wines by twisting the aerator, perfecting the balance for your own preferences. Each purifier (made of plastic and silicone) can sit on a variety of glasses and carafes and comes with four single use filters. There is also a travel bag so you can be a wine snob across the globe. There are currently no clinical trials proving that the removal of sulphites prevents against a hangover, but we are certainly willing to be guinea pigs.
Available for £69.99 from Amazon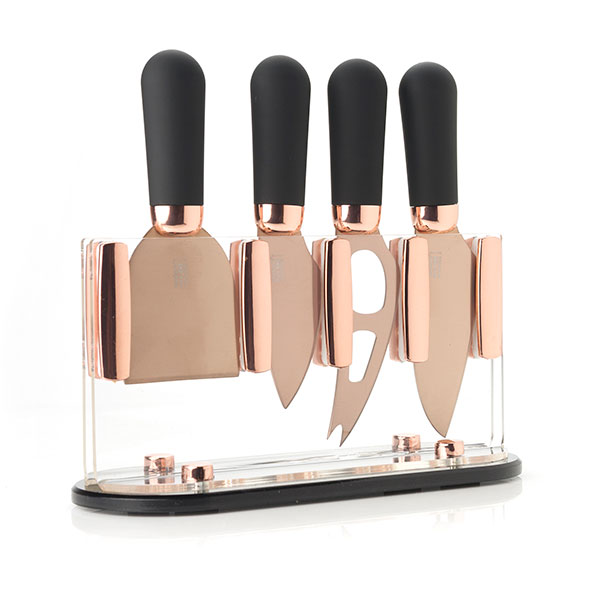 Novelty cheese items continue to make Brits jump up and down in excitement, and who can blame us? This Christmas, please your foodie friend with this cheese knife set to make the Christmas cheeseboard even more special, especially at a festive party. In rose gold, it's a stylish addition to the kitchen loved by celeb chefs such as Nigella. The clear acrylic stand holds four different high quality knives created by Taylor's Eye Witness who have 150 years' experience in the business. For soft, hard, Parmesan and flat, these knives all have a soft touch handle for optimum control and the perfect slice every time.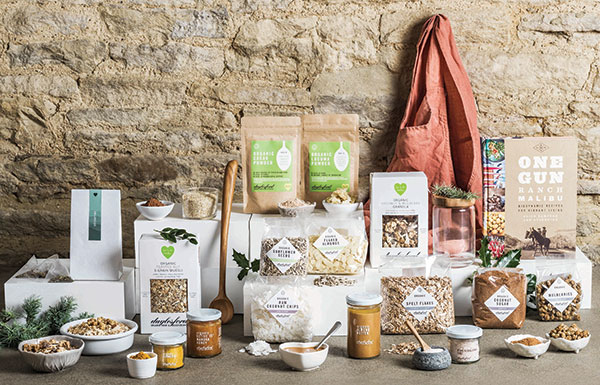 Christmas is for indulgence and new year, a new, healthier you. But that's easier said than done whilst Quality Street loiters on your kitchen counter for days. Give this gift to the person who need a little support to get going and they will thank you. The hamper basket includes a whopping 47 healthy items, the type of things you only dream of having your kitchen cupboards stocked with at any one time. A lot of the essentials are there – quinoa, cider vinegar, sunflower seeds and brown rice – as well as some more speciality ingredients such as kombucha, coconut sugar and spelt flakes to get experimenting with at leisure. If the new healthy regime is getting a bit too much, there is also a few treats such as chocolate raisins and raw chocolate almonds. Superb.
Available for £299 from Daylesford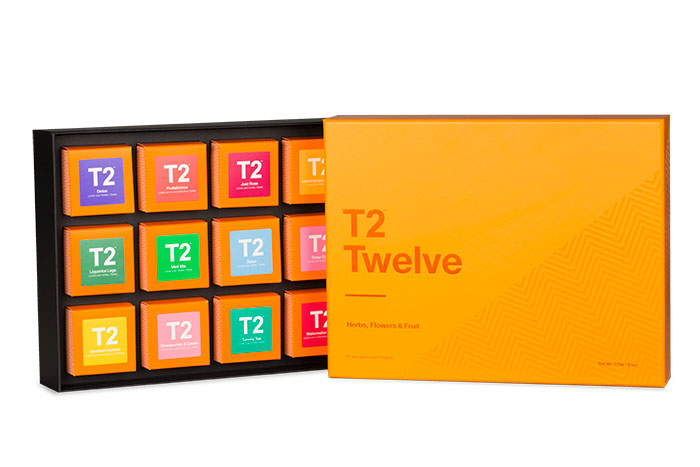 When was the last time you tried a new tea? Creatures of habits, we have our favourites, but step into the T2 world and it'll blow your socks off. With such a vast selection making choosing impossible, T2 have put together only the best of the bunch to get your journey started. There is something for everyone with T2's classic exciting flavours of freeze dried strawberries, brittle pieces, vanilla and even yoghurt crispies, and global influences of green tea and traditional soothers such as fennel and liquorice. For a more refreshing selection, the T2 Herbs, Flowers and Fruits takes things back to basics. Brews to detox, relax, sleep well and wake up are all featured. The best part? They are all caffeine free.
The T2 Twelve Favourites and T2 Twelve Herbs, Flowers and Fruit available for £44 from T2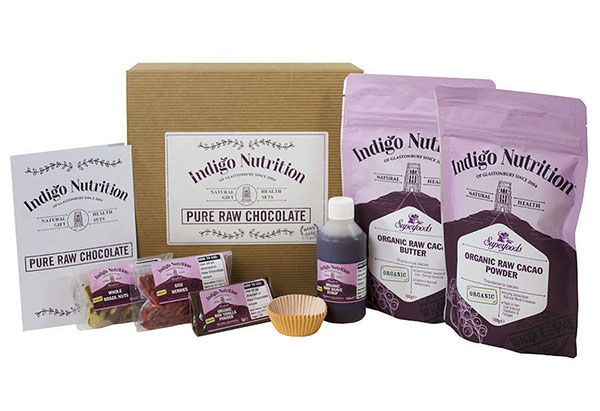 The art of chocolate-making can be brought to your own kitchen with Indigo Herb's nifty homemaking kits. Inside, you'll find everything you need to make 20-25 small chocolates using organic cacao powder, which is surprisingly good for your health. High in vitamin C, calcium, iron and flavonoids, it's a treat most definitely worth the calories. Cacao is also one of the top ten magnesium rich foods, which is a great natural supplement for women during the monthly cycle due to its ability to relieve muscles (we knew there was a reason we craved chocolate). To flavour the dark chocolate, you'll find organic cacao butter, organic raw agave syrup, goji berries, brazil nuts and organic raw vanilla powder inside the kit – all vegan, dairy-free and gluten free, you may notice.
Available for £16.99 from Amazon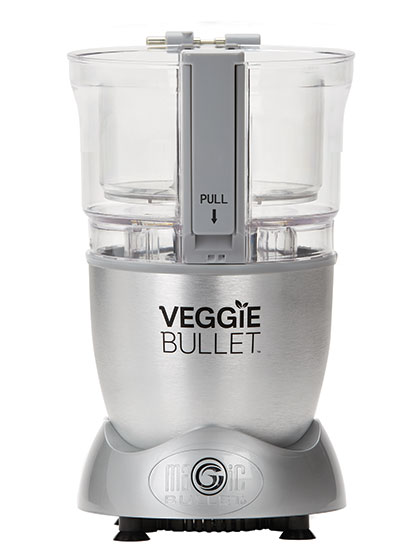 A slightly novelty gift for those who need a helping hand with their veggie consumption, the Veggi Bullet (from Nutribullet), offers the whole package of shredding, slicing and spiralizing your veg and fruit. Preparation for fresh and healthy meals is super quick, a gift from god for those who admit they turn to takeaways in times of laziness or large families that take hours to cook for. The spiralizer creates medium size noodle shapes from vegetables, making carb heavy meals like pasta suddenly super healthy and colourful on the plate. If you're stuck for ideas to begin with, a book of 70 recipes is a great bonus. We were also surprised at the size, not too clunky like many multipurpose appliances.
Available for £98.98 from Amazon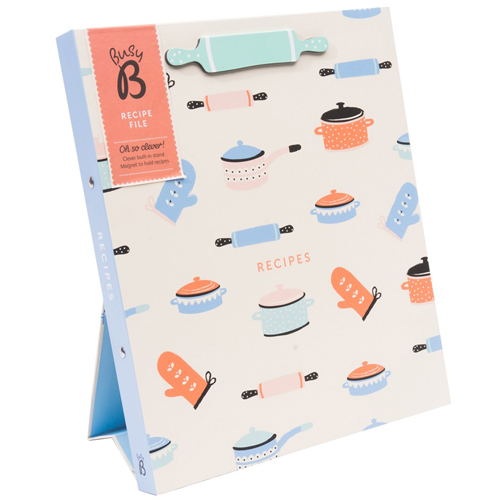 Any foodie will be familiar with the sight of recipe magazine cuttings littering their kitchen. This A4 Recipe Storage File, which doubles as a recipe stand, is a convenient solution, divided into sections you can personalise such as desserts or veggie dishes. There's even some empty sheets thrown in where you can note ingredients, directions and cooking times for recipes handed down the generations on a tatty piece of paper.
Available for £15 from A Place For Everything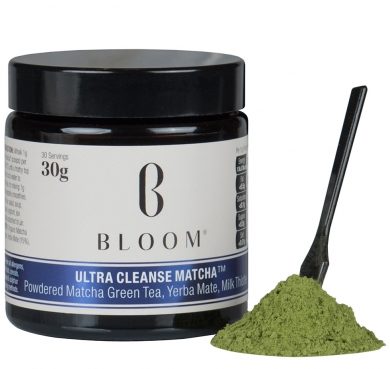 What's all the fuss with matcha? A superfood backed by science, the green tea has benefits ranging from anti-ageing, de-stressing, stronger bones and fresh breath. As 2018 approaches, so do our health resolutions, and matcha could be your new best friend by helping with metabolism and weight loss. Studies have shown that people who drank green tea daily (four cups a day for two months) lose significantly more, so it's no wonder the stuff is popular. We are a fan on Bloom's Ultra Cleanse, because it contains yerba mate, another proven weight loss support, and milk thistle, a detoxifying herb commonly used after indulgent periods like Christmas.
Available for £16.99 from the Healthista Shop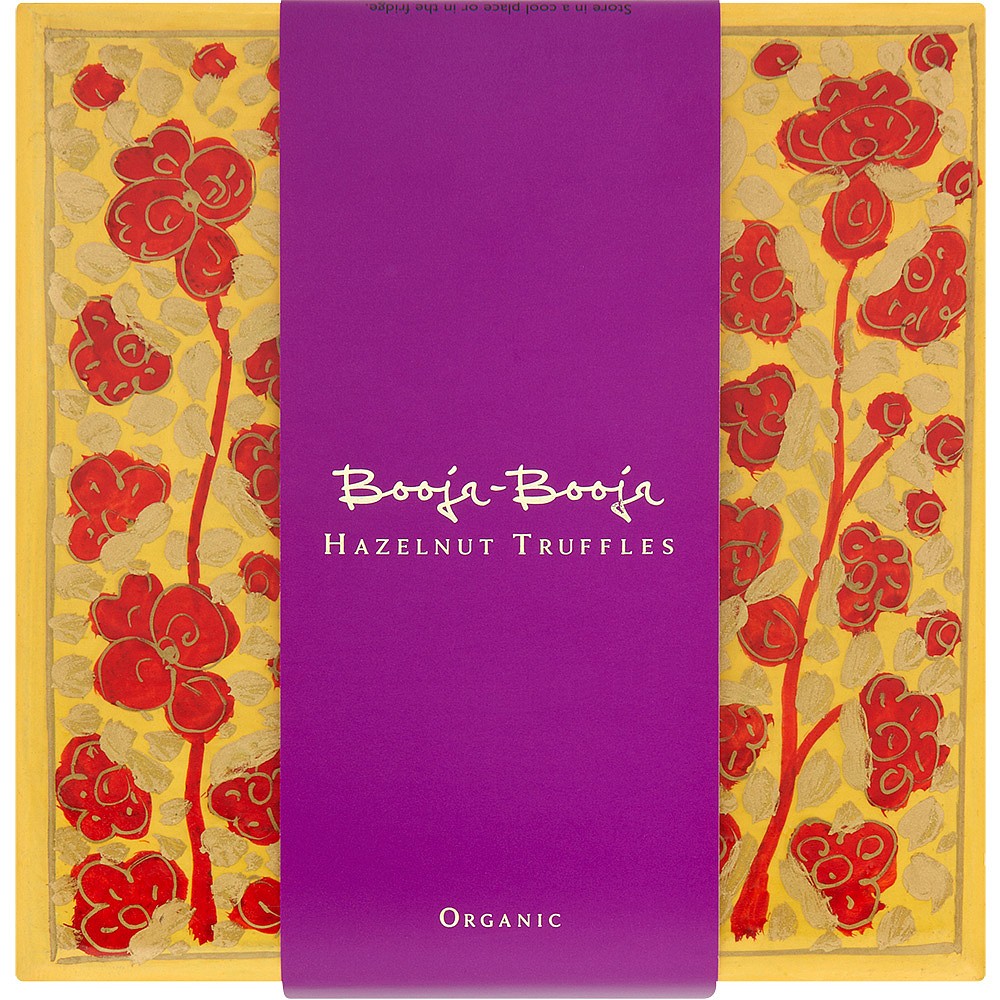 There's nothing quite like opening a special box of chocolates on Christmas Day. Watch your gift recievers face light up once one of Booja Booja's magical truffles enter their mouths. So rich, intense, fudgy in the centre and healthy – say what? Yep, these Hazlenut Truffle chocolates are the healthiest you'll get to indulgence heaven, using only chocolate (cocoa solids, cane sugar, vanilla), coconut oil, hazelnuts and cocoa powder, all organically sourced. It's no surprise Booja Booja have won 86 awards and 19 alone for the Hazelnut Truffles, with dairy-free, gluten-free, soya-free and vegan people in mind. The boxes themselves are worth the money, beautifully handpainted by talented artists in Kashmir, India.
Available for £19.99 from the Healthista Shop
Stocking fillers for foodies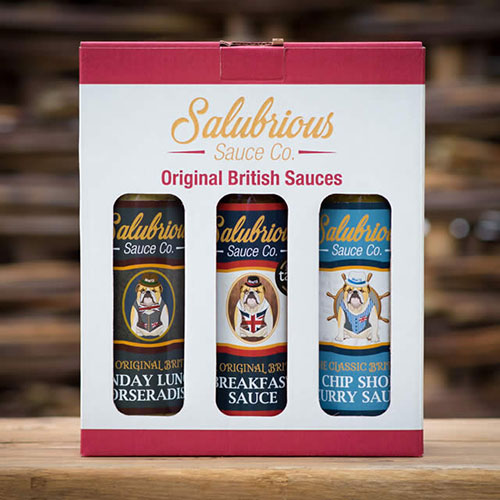 Perfect for a lover of British meals – and probably NOT the healthiest thing on this list but hey, it's Christmas – Salubrious Sauce is here to shake things up. The brand took inspiration from the nation's love of three British dishes – a full English, Sunday roast and fish and chips, and their blends make our regular condiments suddenly seem very boring. The gift set allows you to select three from the following; 'British Breakfast Sauce', a rich tomato relish with hints of brown sauce and chilli, 'Sunday Lunch Sauce', using wholegrain mustard and spicyhorseradish, a tangy 'BBQ' and the most unique, 'Chip Shop Curry Sauce' – at last, someone has answered our prayers.
Available for £10 from Salubrious Sauce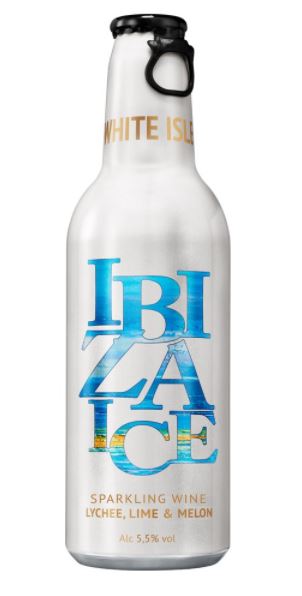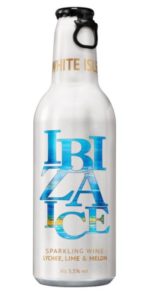 'Mindful drinking' is the buzzword of the moment, and although it sounds fun-sucking, Ibiza Ice does not. Loved by celebs such as Binky Felstead and Rita Ora, the refreshing sparkling fruit wine is low alcohol (with 5.5 per cent alcohol) takes the fear away from alcohol's empty calories, using 100 per cent natural ingredients such as Austrian mountain spring water and flavourings from fruits such as apples, pears, lychee and watermelon.  It's 60 calories per 100 ml with compared to some wines and spirits gets you saving a little on calories too. We also like that the recyclable bottle has a ring pull cap – convenient for when festival season comes round.
Available for £1.99 per 330ml bottle when you buy 6 from DrinkSupermarket.com
Move over pumpkin spice. There's a new latte in town and it's actually got health benefits. Sweet Revolution's Reishi Chai Latte uses reishi, known as 'the mushroom of immortality and longevity' for centuries in Chinese medicine and a superfood which modern research is proving has impressive anti-ageing properties that may help fight Alzheimer's. Ancient kings and emperors drank reishi tea up to 2000 years ago, but Sweet Revolutions have flavoured the mushroom with the popular Eastern spice mix chai, coconut milk and nectar for natural sweetness. Simply add hot water for a mug of frothy comfort at 170 calories, or whizz with a blender to make it extra creamy.
Available for £7.95 from Sweet Revolution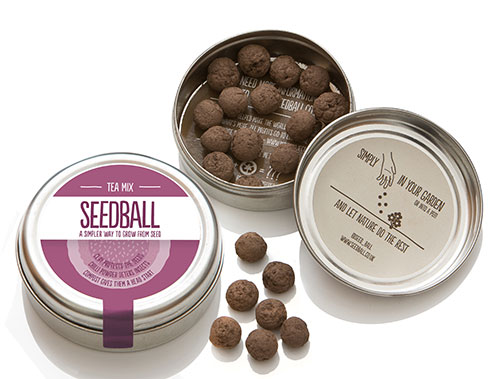 A present for tea lovers with a difference, Seedball's Tea Mix, with 20 balls and 100 seeds, lets you grow your own herbal tea at home. If tea wasn't satisfying enough as it is, you can now watch the plant sprouting over four weeks within their own mini ecosystem. The final products are infusions of Chamomile, Anise and Mint, all of which help to relax, unwind, aid digestion and boost the immune system. Seedball is all about sustainability too, using recyclable materials, donating to community projects and more.
Available for £5.99 from Seedball
Biona Organic Pomegranate Hearts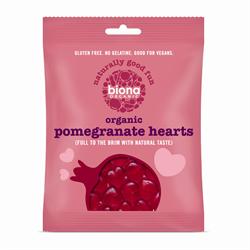 The perfect last addition to a stocking, Biona's Organic pink hearts are bursting with flavour made with real pomegranate juice. Vegans can munch away at this treat, which is free from dairy, gluten, lactose, nuts, wheat, yeast and even artificial flavourings and colours. Yet Christmas indulging never tasted so sweet.
Available for £1.79 from the Healthista Shop
MORE CHRISTMAS GIFT GUIDES
15 best gifts for fitness lovers
10 best experience gifts for the person who has everything
15 best gifts for beauty junkies
Like this article? Sign up to our newsletter to get more articles like this delivered straight to your inbox.