Dieting is not the answer for weight loss, says therapist Sally Baker and author of How to Feel Differently About Food
. Here she shares 13 ways to lose weight without dieting
With the new year comes plenty of 'I start my diet on Monday', 'fasting starts today' and 'time to starve myself for summer' statements.
But the truth is – dieting doesn't work (especially in the long run).  Therapist Sally Baker shares 13 ways to lose weight without dieting.
#1 Observe the emotions that might be triggering you to over-eat
One of the first steps for changing your behaviour is learning to check-in with how you're feeling, which will increase your intuition and self-awareness. Taking the time to acknowledge your authentic feelings can interrupt your established habits of turning to food when feeling angry or sad.
#2 Notice if you're regularly bingeing on sweet things at certain times of the day
Mid-morning energy slumps or afternoon drowsiness can make you crave a quick sugar fix to help drive you through the day. Instead find ways to add more protein to your breakfast or lunch to help you to stabilise your mood and keep you feeling fuller for longer.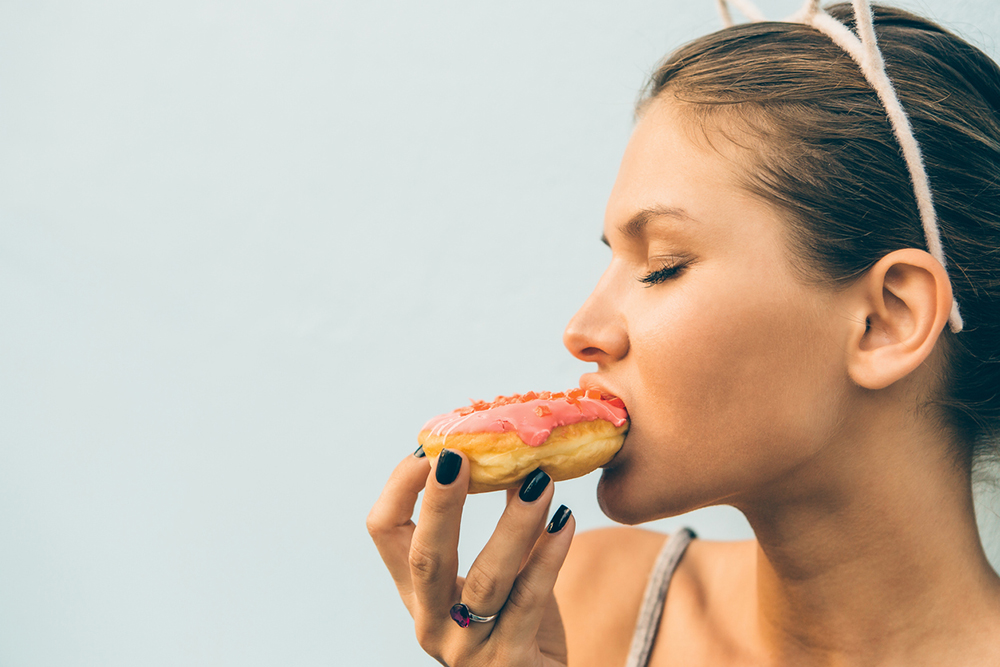 #3 Make the times when you eat your sole focus
Zoned out eating is when you eat while doing something else such as surfing the net; working at your desk; or watching television. The act of eating is your opportunity to honour yourself with good nutrition so take the time to source the best food you can and really appreciate this act of self-loving kindness.
#4 Prepare your own food
The act of preparing real food is a fundamental stage for your mind and body to recognise that you are about to eat.
The sight and appetising aromas of your meal cooking causes physiological and psychological reactions including signals from your brain to your stomach to release digestive enzymes in the expectation that food is on its way.
The whole process of cooking from scratch aids digestion leading to increased satiety. You may well find you need to eat less to feel contented and full.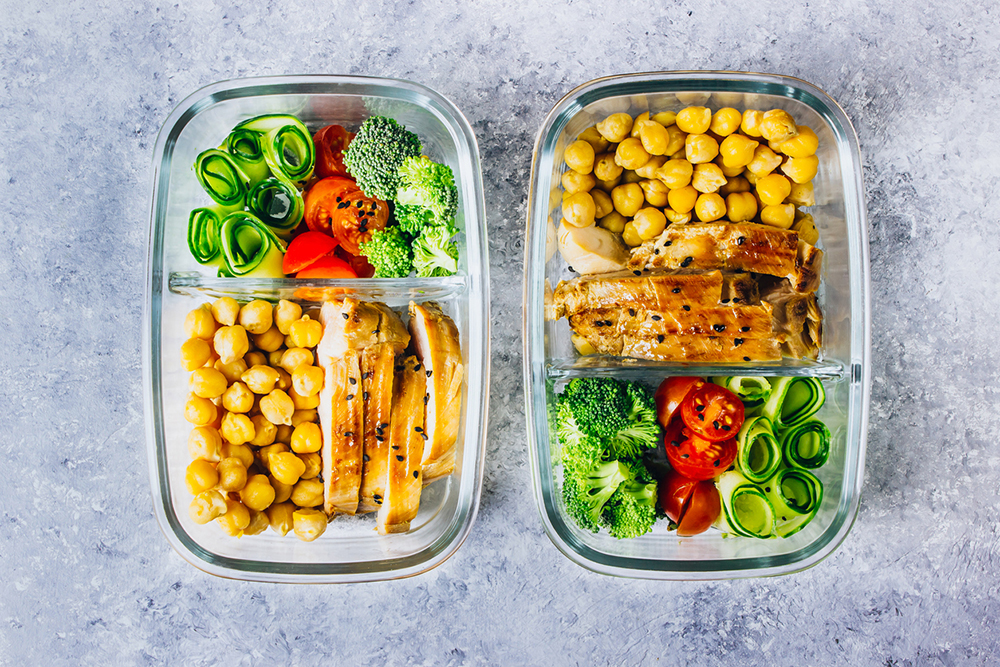 #5 Mouth full – hands empty
This mantra helps to remind you to put down your cutlery between mouthfuls of food. Eating hurriedly doesn't give your body time to register when you are full.
It takes time for the messages from your stomach to register with your brain that you have eaten enough. This mantra helps to slow down your eating until it becomes your natural eating pace.
#6 Always sit-down to eat
Find a quiet place to sit and eat that is away from your desk so your mind and body can be receptive to the nutrition you are providing for yourself.
Alternatively, turn the TV off and take a breath or two to help you to feel more relaxed before your meal. Stress hormones in the body inhibit the digestion of nutrients so it is beneficial to be as relaxed as possible at meal times.
#7 See everything you plan to eat on a plate
Eating anything including biscuits or crisps from a packet makes it much harder to keep track of how many you've eaten.
Tip the biscuits, crisps or sweets into a bowl first to increase your awareness of how many you are eating and then focus on what you are eating. You may well find you still satisfy your desire while having eaten less.
#8 Reduce your portion size by reducing your plate size
Optical illusion can play a part in managing your portion sizes. The trend for oversized plates encourages larger food servings. Choosing a smaller plate tricks your mind not to notice your smaller portion or a deep bowl with a narrow opening gives the impression of eating plentifully even with a smaller sized serving.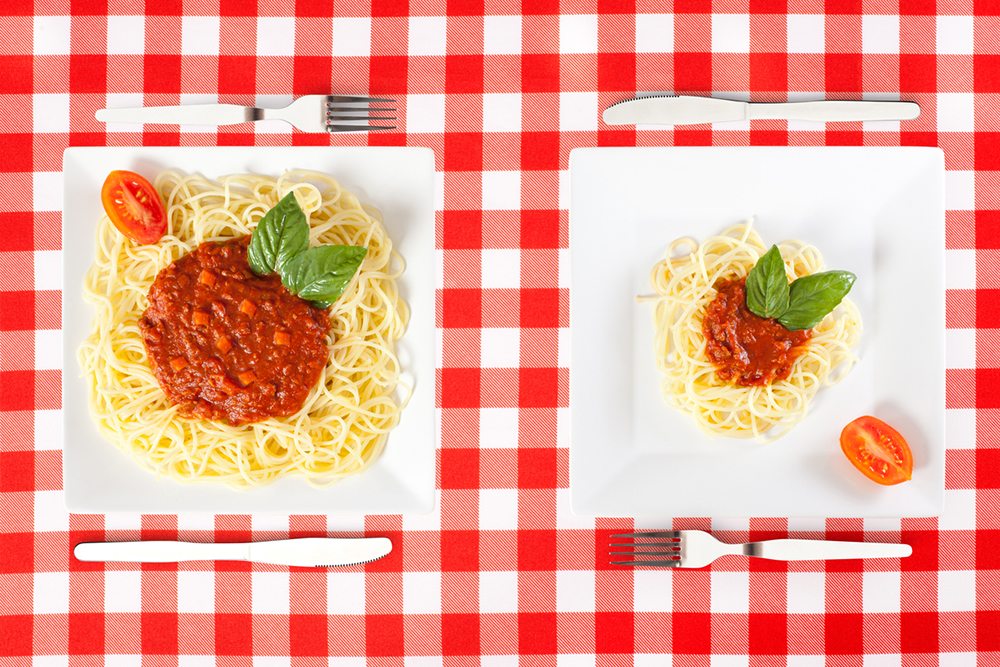 #9 Break the eating rules imposed on you.
Any parental pressure when you were growing up to clear your plate can make you feel uncomfortable as an adult about leaving food on your plate.
This can compel you to eat more than you want. Remember whether you eat it or not the food will still end up as waste so make it your new rule to throw away food you don't want the moment you have finished your meal.
#10 Find new ways to reward yourself
Compensating or rewarding yourself with food after a tough day are popular defaults for emotional eaters. Consider new ways of treating yourself that do not revolve around food.
How about running a bath with essential oils for an indulgent soak or telephoning a friend to share the news of your day? What activities did you use to enjoy doing that you haven't done for a while? Find ways to incorporate them back into your life.
#11 Are you eating your emotions?
Swallowing down food is often a way of avoiding uncomfortable feelings. If you feel compelled to eat when you know you're not hungry take a moment to focus on how you're really feeling.
By simply acknowledging your feelings of anger, frustration or sadness it can be enough to break the binge eating spell and is a necessary step to dealing with what is actually eating at you.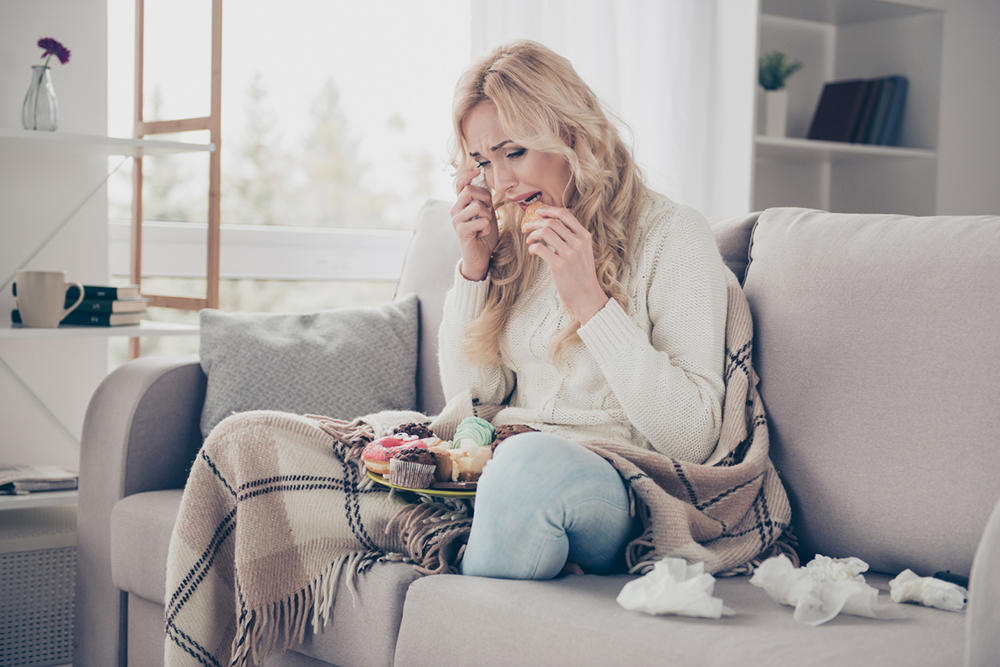 #12 Raise your bar and demand more
Eating foods to make you feel better or to distract yourself from life's challenges are indicative of feeling disempowered or overwhelmed. What incremental, small changes could you make to improve how you feel about yourself?
One perhaps surprising way is with walking. It is nature's way of calming and grounding yourself through regulating your breathing. Even a short daily stroll outside can shift your mood and help you to feel refreshed and renewed.
#13 Track the source of your negative, self-critical voice
We all have an inner critic to some degree but if your inner voice is particularly acerbic or judgemental about your body size, shape or what you eat then it is worth exploring where it originated.
Becoming aware of one's inner critic is the first step to silencing it for good. A lot of your self-judgements happen just below your conscious awareness and they might act like a constant drip-feed of disparaging and unkind comments.
Focus on how you speak to yourself and question in your mind the assumptions you believe about yourself. Most likely they are negative and self-limiting. Learn to be your own best friend instead and speak to yourself with kindness and respect.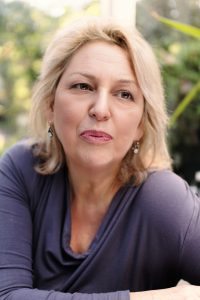 Sally Baker is the author of How to Feel Differently About Food
, £12.08 on Amazon, published January 2017.
A therapist specialising in resolving self-sabotaging behaviour, Sally began her therapeutic training several years ago working with women survivors of sexual abuse and domestic violence.
More Healthista Content:
7 hay fever remedies recommended by an actual doctor
5 anti-ageing foods proven by science
9 diet rules this celebrity personal trainer lives by
7 best wellness festivals in the UK